Windows
How to check the status of your hard drive in Windows 10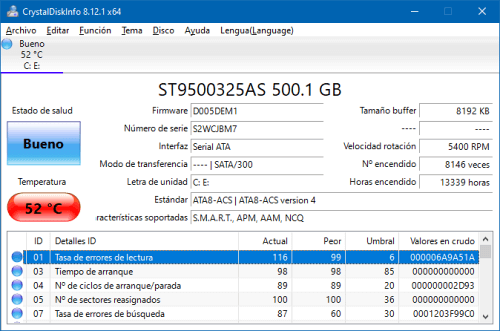 You don't want to be surprised by the partial or total loss of all the information on the disk. It is a very good idea to check the status of your hard drive for errors, and in Windows 10 there are several ways to do this.
The hard drive is the most precious piece of hardware in a computer, since all your valuable information and files are stored there. In the event of a claim, the only way to recover is if you previously made a backup copy of your files.
However, you don't want to be surprised by these types of headaches. It is better to make sure by doing the hard drive check in Windows 10 and avoid being surprised.
Check hard drive errors in Windows 10
There are several ways to verify or test the health of a hard drive in Windows 10, and below we will be detailing some of them.
#1. Check in BIOS
If your computer is relatively modern, you can surely run a hard drive test, regardless of the operating system.
To enter the BIOS of your PC or laptop the method may vary depending on the manufacturer and model. Enter the previous link to enter your BIOS according to your computer model.
Once inside your BIOS, the instructions for doing a hard drive test may vary depending on the motherboard manufacturer. But it is not that difficult to find the options for check-up or diagnosis.
#2. Optimize and defragment the disk
If you have noticed that your hard drive has gotten slow over time, then you should check how fragmented it might be. Although SSDs don't need defragmentation (sometimes they do need optimization), we still rely heavily on HDDs.
You can defragment your non-SSD drive using Windows 10's built-in utility.
Just type "defragment" in the Start menu, select the Defragment & Optimize Drives utility, and when it opens, click Analyze.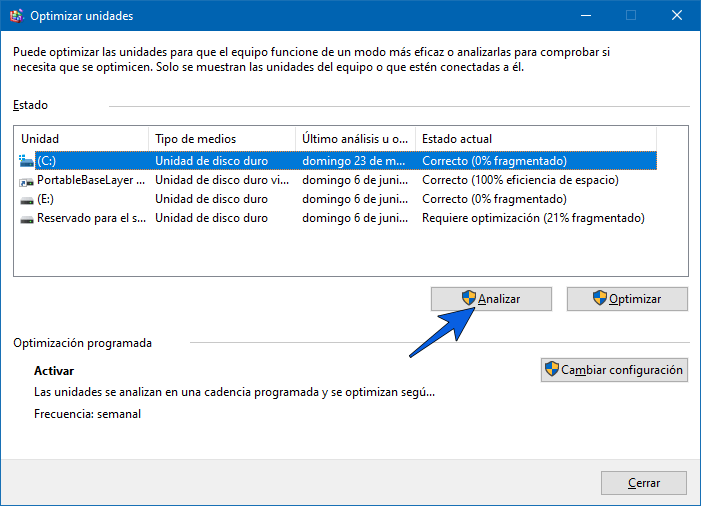 So if the system detects disk fragmentation, click Optimize.
#3. Use the disk manufacturer's utility
Hard drive manufacturers often provide their own hard drive diagnostics program free of charge so that you can monitor the health and performance of your hard drive.
First you must know what is the model and manufacturer of your disk. If you don't know, press the Windows + X keys simultaneously, and choose Device Manager from the menu that appears.
Once inside the Device Manager, expand the Disk units group and copy the model number of the hard disk. Then, paste this model number into your favorite internet search engine to see more detailed information about the disk, including the manufacturer of the disk.
Knowing the manufacturer of your disk, now go to the official website of it and look for its disk utility.
Depending on the manufacturer, each utility works differently, but they should have diagnostic functions that allow you to know the status of your hard drive.
#4. Use WMIC interface
WMIC is a command line interface that allows you to perform various administrative tasks, including doing a hard disk test.
It is a basic tool that provides little information, but is integrated into Windows and is fast and easy to use. It will just say if the disk is "OK", Pred fail ", and so on.
Type cmd in the Start menu and select to open Command Prompt as administrator.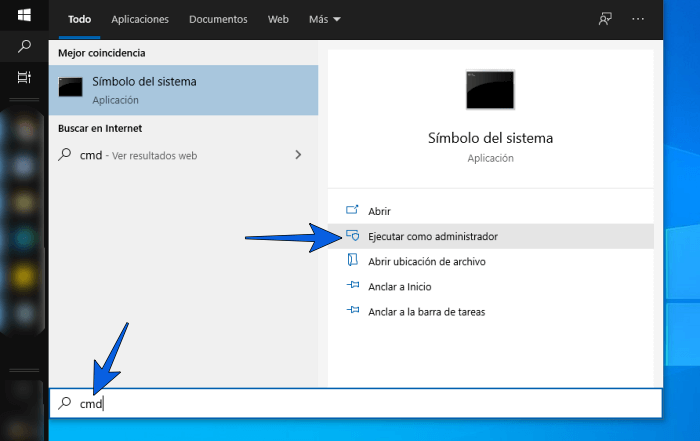 Once open, type the following command and press the Enter key :
wmic diskdrive get status, model

After a few seconds of processing, you will be able to see the test result of your hard drive.
#5. Windows 10 ChkDsk
ChkDsk is a built-in Windows utility that helps you analyze and repair disk drives, informing you if there is a bigger problem.
The utility is widely used to check hard drives for system errors and bad sectors. It's pretty basic, focusing on finding system errors and bad sectors.
To use ChkDsk you just have to right click on the unit you want to verify and select Properties.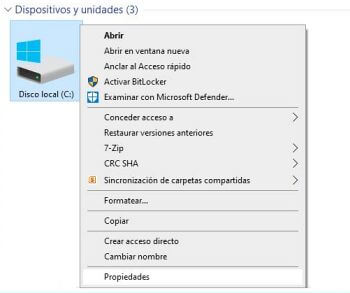 Now select the Tools tab and click the Check button .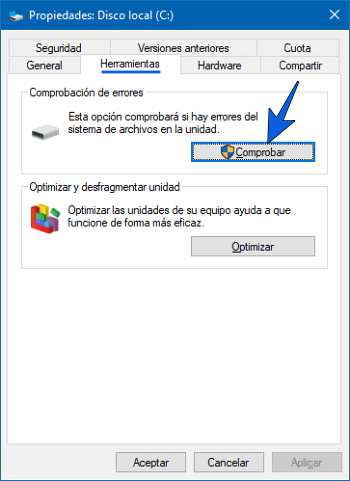 A small window will open. In our case it is indicated that the unit does not need to be examined, since Windows does it periodically.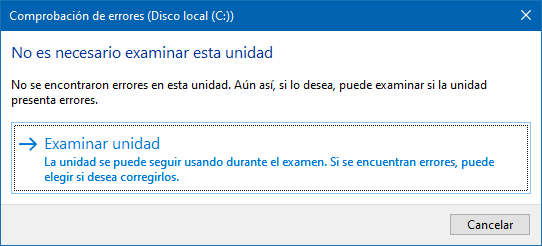 Anyway, you can click Browse Drive to get a specific detail of the hard drive status.
# 6. ChkDsk CMD Windows 10
You can also use the same ChkDsk utility but from the Command Prompt command line. This will give you more versatility and options than the previous option.
Although it gives you many options or combinations, the most commonly used command to perform a full disk check and repair is:
chkdsk C: / F / R

Open a Command Prompt window as an administrator, type this command, and hit the Enter key .
# 7. CrystalDiskInfo – program to diagnose the hard disk
You can use a third-party program to diagnose your hard drive, which provides more information about its condition. One of the most popular for this is CrystalDiskInfo.
CrystalDiskInfo is a simple to use and lightweight tool, but very powerful. It will present you with information such as disk status, disk type, functions, temperature, read and write error rate, etc.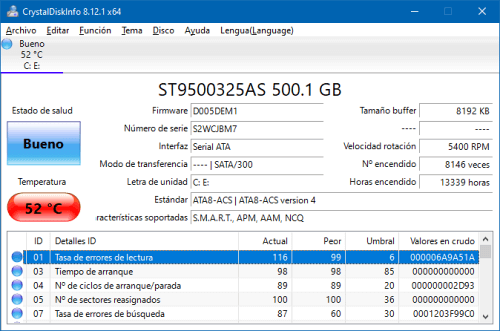 You can download and install CrystalDiskInfo totally free. Just make sure to do the custom install, so you can uncheck the extra utility (advertisement).
You just need to run the program and you will see all the information on your hard drive on the main screen.
Test the health of the hard drive
These are the most accessible methods to check the status of the hard disk in Windows 10. As you have seen, we end up with a very powerful program to perform this task, offering a large amount of information.
But if you are one of those who do not understand these details much, the utilities built into Windows will be enough to tell you if your disk is fine or if it has problems, and possibly repair it.