Windows
Hide folders in windows to protect your private files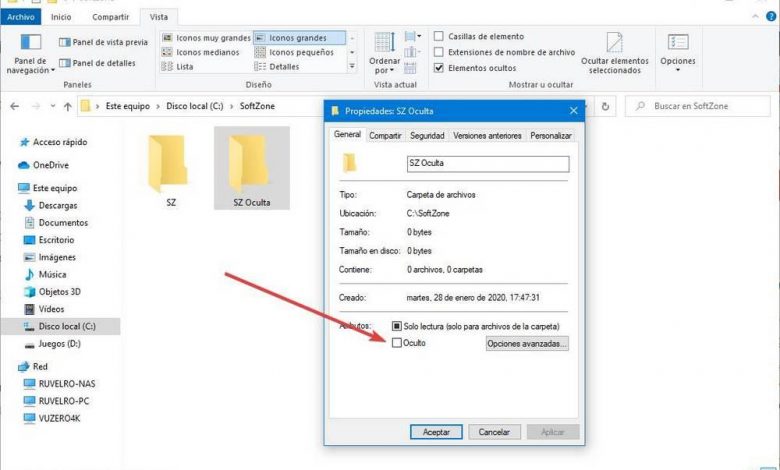 By default, when we open a drive (such as C) or any folder on our computer, we can see all the content that is stored in it. And any user who has access to our PC can also see it without problems. However, surely we have ever had a folder on our PC that we wanted to hide and protect to prevent other people from seeing it. This can be done in many ways. Although the simplest and fastest is through the function of hiding folders that Windows offers us within the properties of any file.
When using Windows there are several ways to prevent other users from accessing our folders. For example, one of the most used and effective is through permissions. However, setting access permissions on a Windows computer is quite complicated, especially for users without advanced knowledge. And also, if someone manages to enter with our user account, it will not help much.
Within the attributes of all the files and folders on our computer we can find one that allows us to mark them as "hidden". We can do this in several ways: we can create hidden and undetectable folders from CMD, or manually modify the attributes of folders and files from the properties window.
Without a doubt, the easiest and fastest method for all users is the latter. And also Windows allows us to choose if we want to show or hide hidden files from the file explorer itself.
How to show or hide hidden files in Windows
Until the arrival of Windows 10, to show or hide hidden files we had to go to the configuration options of the file explorer and in the view tab locate the entry " show hidden or system files ". However, thanks to the Ribbon interface of the Windows 10 explorer, the process is now much faster.
What we have to do is open the "View" tab on the top bar of the file explorer and we can find a box called " Hidden elements ".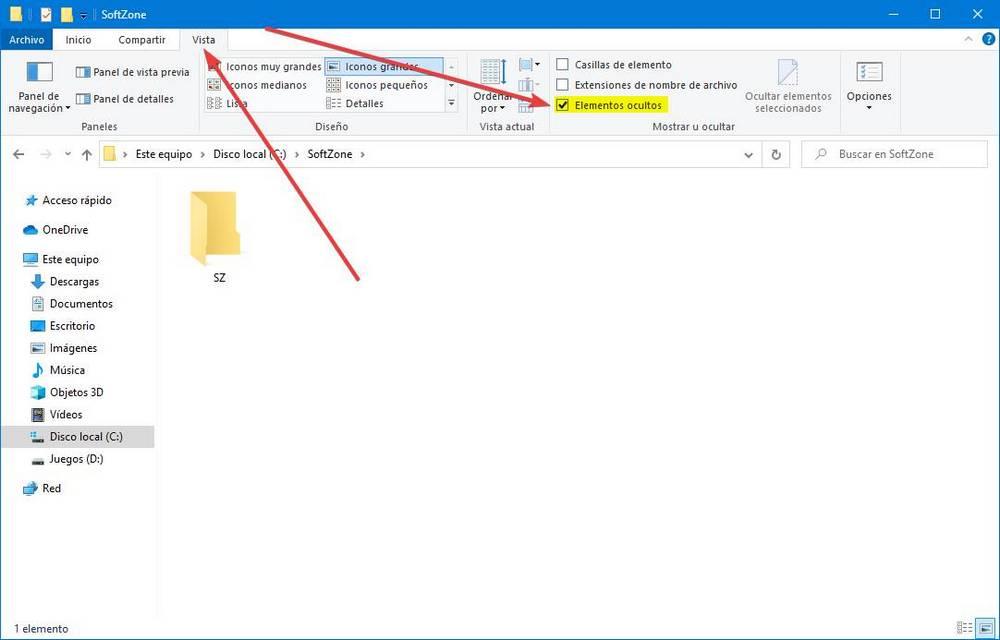 By default, this box is unchecked. This means that all hidden files and folders will not show up in the file explorer. If we mark it, these files will appear when we open a folder, although they will do so with a shading that will indicate that they are hidden.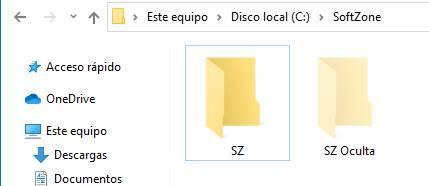 How to hide files and folders from the properties window
To hide folders or files in Windows, what we must do is click on the file or folder with the right mouse button and open the properties window from the context menu.

We will be able to see, among other things, the size of the folder, the elements it contains and other useful information. What interests us is at the bottom, in the "attributes" section. Specifically the "Hidden" box .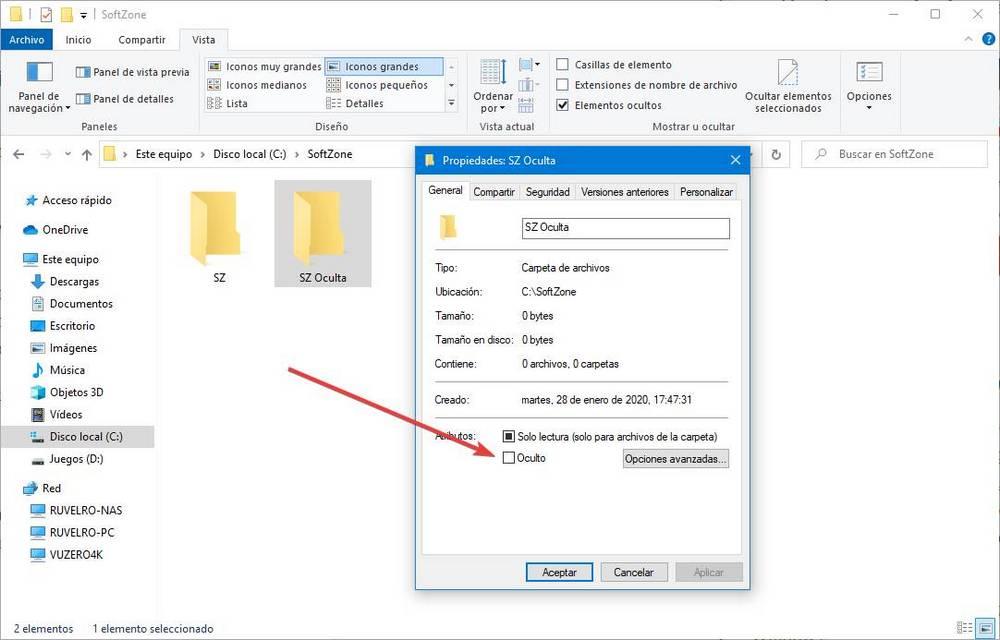 We mark this box and click on apply in the window. And then, to accept. We already have the hidden folder on our computer. If we have checked the box to show hidden elements, this folder will appear with the shading that indicates that it is hidden. Otherwise, it will directly disappear, it will not show up. But it will actually be there.
Programs to hide folders
When it comes to hiding folders in Windows, we can also use third-party applications that have been developed for this purpose, offering better functions than those of Microsoft's operating system.
HiddenDIR
It is a small and portable program that has been designed to help us hide folders, so that we can prevent other users from accessing private data. Therefore it is a useful application for administrators who share their computer with other users. In addition, it gives us the ability to restrict access to the program by password. We can download HideenDIR from this link.
Free Hide Folder
We are facing a computer security software that will allow us to hide folders privately. We can do this with just a few mouse clicks. This program is protected by a password that we can change or delete at any time. We are talking about 100% spy file free software, it does not contain spyware, adware or viruses. We can download it for free from here.
How to show a hidden file or folder again
In case we no longer want to continue using a hidden folder in Windows 10, the process to unhide it is very simple. We go back into the properties window of the file or folder in question, and uncheck the "Hidden" box .
We apply and accept the changes and the folder will behave like a standard folder, for everyone to see.
Is it really safe to hide a folder?
The truth is that, despite being an interesting, practical and quick function to carry out, in terms of security it does not contribute anything. Any user can configure Windows to show hidden system files and folders, as we have explained, and have access to them without problems.
If we try to list the files and folders of a directory with the command «dir», it will not show those that are hidden. Although we can execute " dir / a ", and then they will appear. The same happens if someone enters our computer with a Live-CD. You will have unlimited access to the entire system.
If we really want to protect our data and prevent other users from entering it, what we must do is encrypt it with software like VeraCrypt. In this way, even if they are in sight, no one will be able to enter them.