Windows
Guide to taking to screenshot in windows

There are functions that Windows, Microsoft's operating system has integrated for years , to which we do not give the importance they have. Either because of its simplicity, for example the function of taking a screenshot is not usually taken into account, despite its importance.
However, it is enough that for a moment we stop to think what we would do if this functionality to which we refer, did not exist. The truth is that it would be a bit annoying to have to resort, necessarily, to third-party applications. But fortunately that does not happen, since with the push of a button, we can already create an image file with the content of our screen. It is very possible that at first and due to the advanced current functions that systems like Windows present us, this is something that may seem a bit simple, but it is not. In fact, we won't miss this direct screenshot functionality, until, for whatever reason, we can't use it. It will be then that we will really realize its enormous value and utility.
There is no doubt that this simple action greatly streamlines our daily work with the team, all depending on the type of tasks we usually carry out with it. It is true that with the passage of time and Windows updates, Microsoft has been expanding the possibilities in this regard.
However, if there is an element that has represented this function for years, that is the ImpPnt key, or known as «Print Screen».
The ImpPnt key, that great forgotten to take screenshots
And this is a key that we do not usually give the importance it has, but that helps us a lot on a day-to-day basis with the PC. Surely, as most of you already know, with this functionality built into Windows, to capture the entire screen, just press the ImpPnt, or PrtScn, key on the keyboard. At the same time it is worth mentioning that after this, the screenshot will not be saved as a file, but will be copied to the system clipboard.
Therefore, in order to make use of it, we will be obliged to have a tool for editing any image. In fact, it is enough that we do it through one as simple as Microsoft Paint itself that has Windows integrated. Then, in a blank document, we can paste the screenshot using the key combination "Ctrl + V", for example.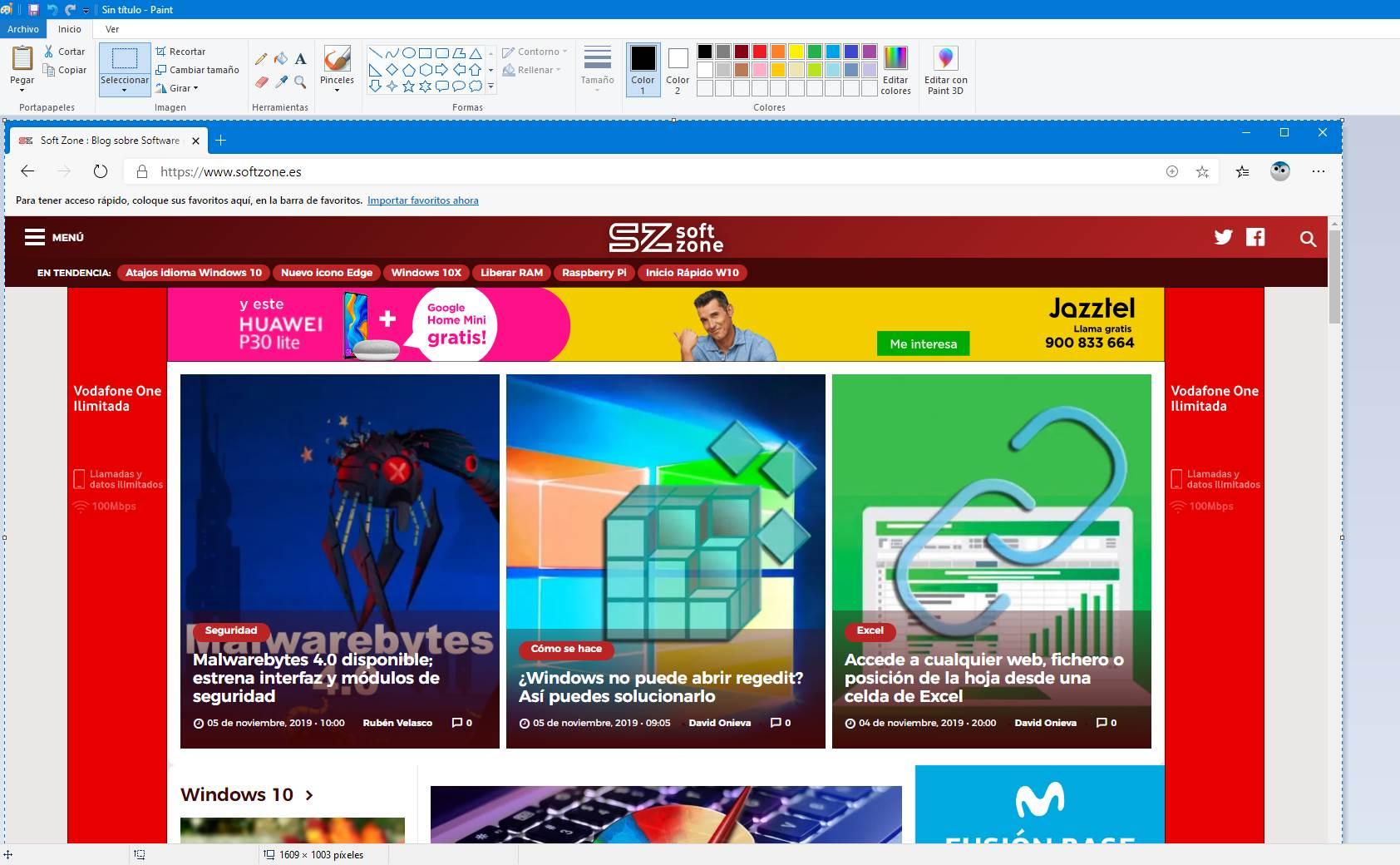 After these steps we will see the capture as such, and we can save it by creating the corresponding photographic file.
Use the print screen key to open the Snipping app
If we want to directly open the clipping application that Windows also integrates when pressing this key, this is something we can do from the System Configuration application . Specifically, we will have to go to "Accessibility", where we can activate the "Direct access to print screen" option.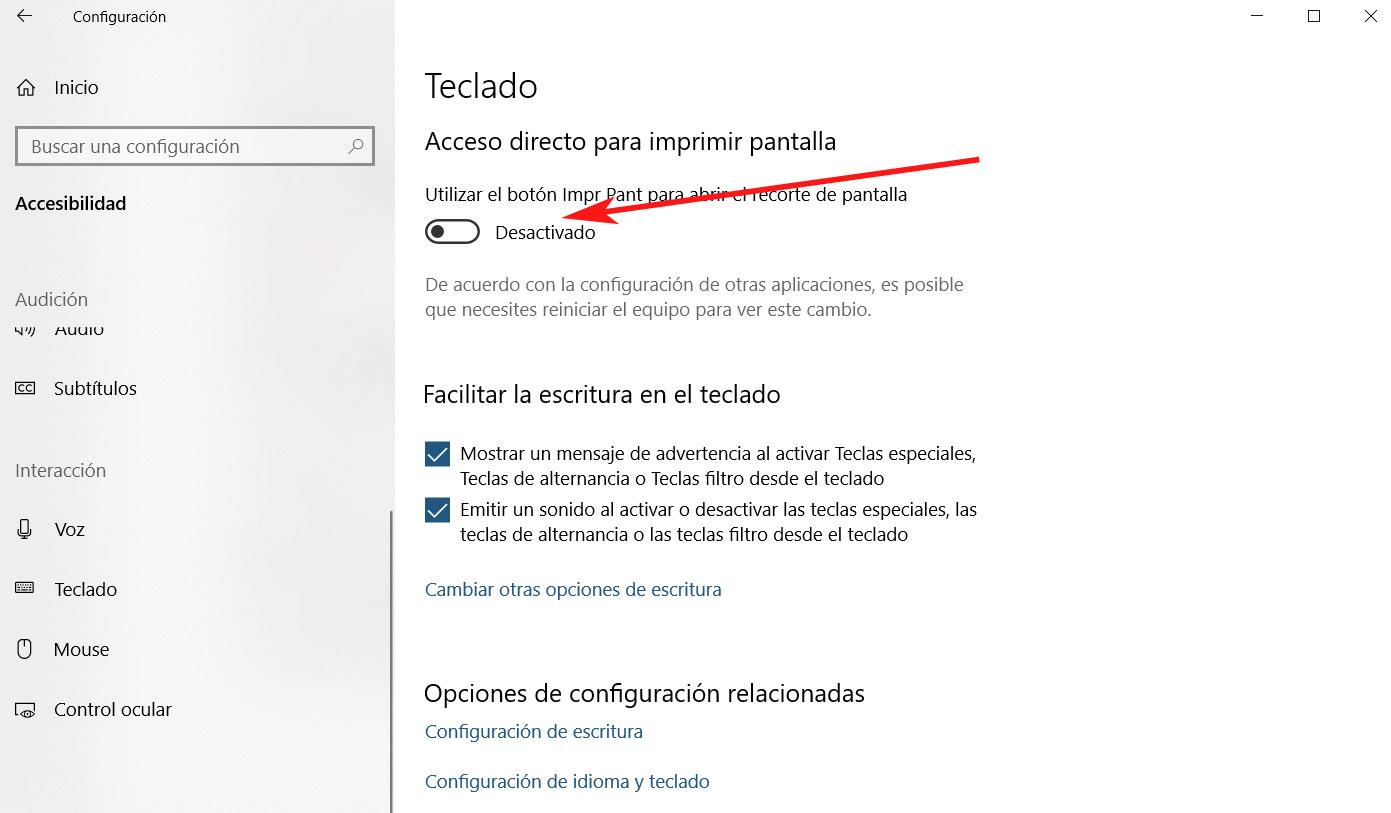 Keyboard shortcuts for printing screen in Windows
At the same time and in order to get even more out of this functionality that we are talking about, we can make use of some key combinations, as we are going to see. For example, if we want to speed up the process, we can use the combination "Alt + ImpPnt". This will allow us to make a capture only of the active window, so it will also be copied to the Windows clipboard for further processing.
On the other hand, in the event that we do not want to go through the aforementioned image editing program, we can also use the combination "Windows Key + ImpPnt". With this, what we achieve is to capture the entire screen, but in this case the image file will be generated automatically. Say that the computer screen will go dark for a moment, indicating that the capture has been made . Then we will only have to go to the "Images / Screenshots" folder, where we will see the file that has been generated by itself.

And to end this section, say that we can also choose to use the shortcut "Windows key + shift + S". With this, what we are going to achieve is to directly access the Snip & Sketch function . Therefore, from the controls that appear at the top of the screen, we can choose the type of screen capture we want to carry out. For example, with this we will have the possibility to select only one area to take the screen capture.
Windows 10 Snipping Tool
With everything and with this, if what we want is to personalize this task of capturing screen a little more, we can also choose to use the Snipping Tool . This is already integrated into Windows 10 and allows us to access somewhat more advanced functions in this same sense. Also known as Snip & Sketch, this is a relatively new tool that replaces the Snipping Tool, the functionality of this type that has been with us since Windows Vista.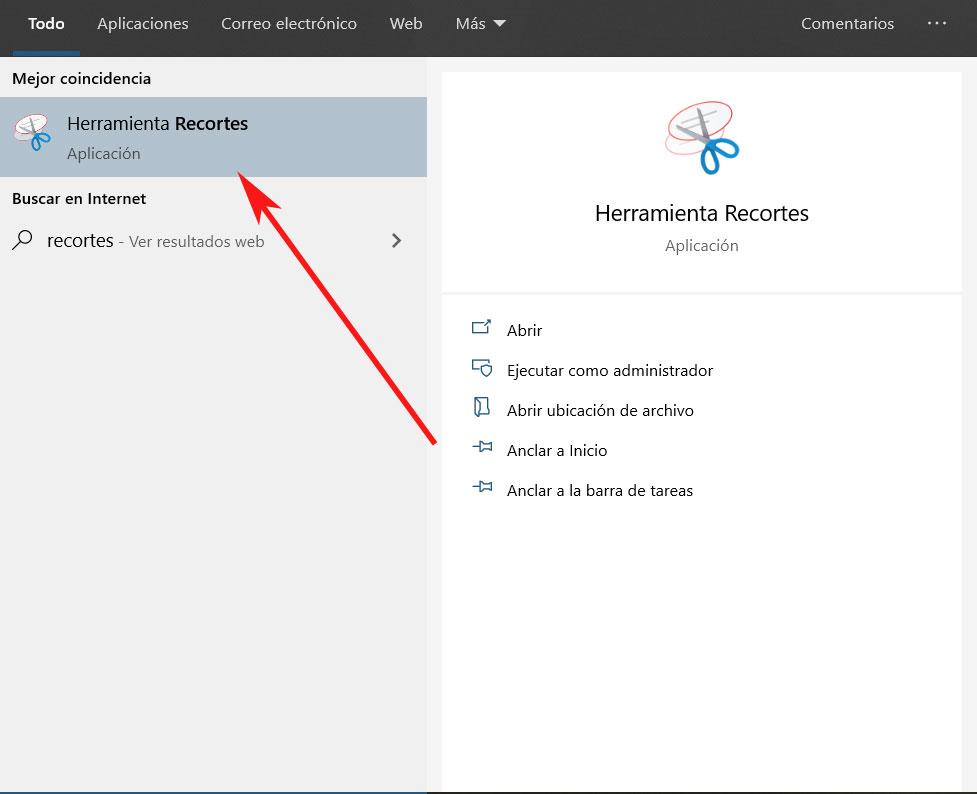 However, this new one, how could it be otherwise, is an improved version and something more powerful to take screenshots. To be able to access it, for example we can type the term "Cuttings" in the search box of the Start menu. Once we click on the link, the window corresponding to the application as such will appear. In this we find a menu at the top in which, for example, we can choose what type of screenshot we want to take.
So we can choose to capture a rectangular shape, a free shape, a window, or the full screen. At the same time, we can also click on the new button, so that the new tool called "Trim and annotation" opens . This will tell us to use the combination of keys that we have mentioned previously, "Windows key + Ctrl + S" so that the Snip & Sketch controls appear .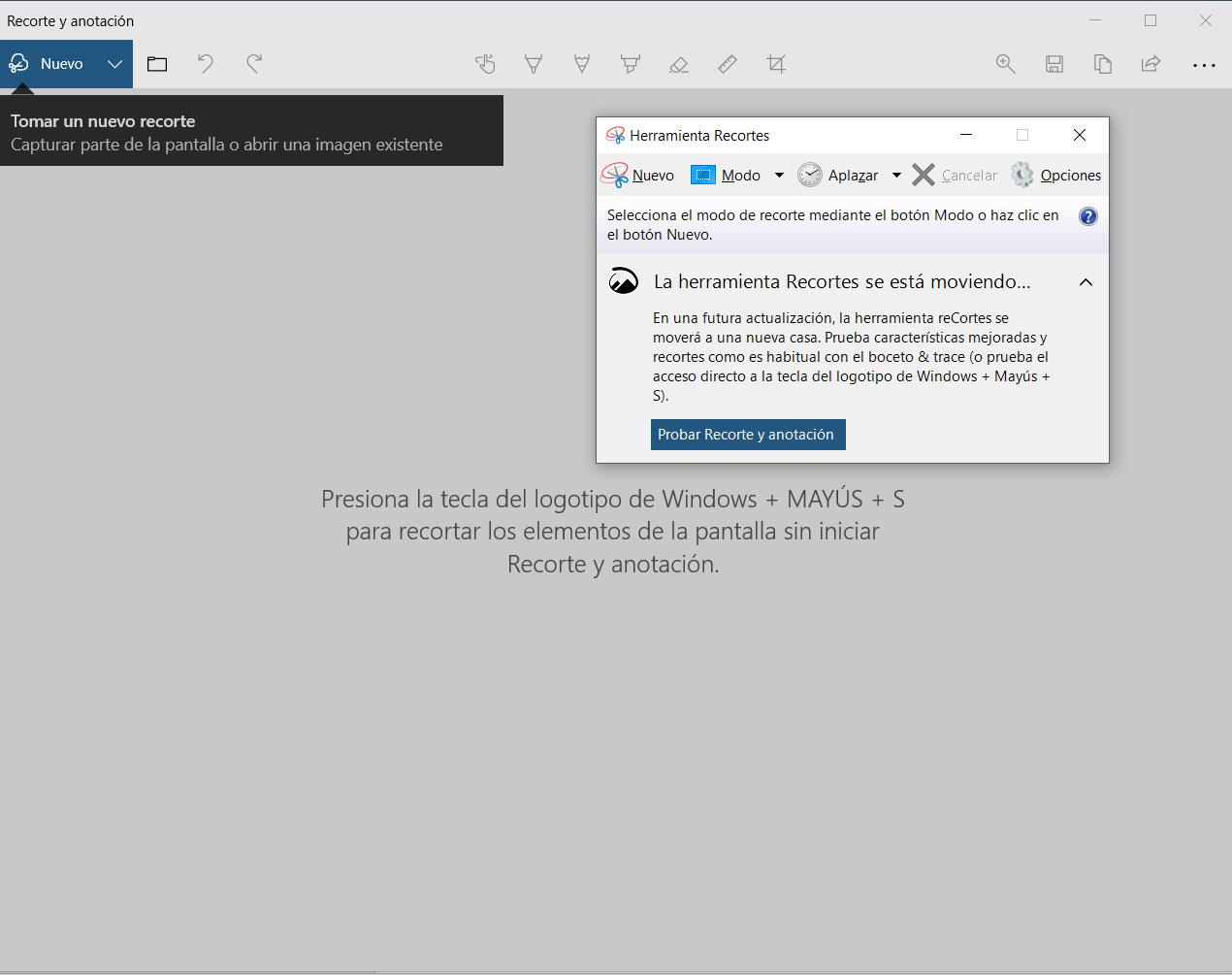 Once the capture that interests us is made, "Cut and annotation" allows us to make annotations and changes directly in it. For all this we can make use of the tools that it offers us such as a pencil, a pen, marker, etc.
Win + Shift + S to take screenshots
Now we are going to talk about a keyboard shortcut of Windows itself that will surely be very useful when capturing all of just a part of the screen. Furthermore, this is intended to greatly accelerate this process. Thus, when using the keyboard shortcut Win + Shift + S, the corresponding toolbar will open.
It is true that most of us know the ImpPnt key that we find on all keyboards, close to Del. However, this has an important limitation, and that is that it can only be used to take a full screen capture and copy it to the clipboard. After that we can paste the image into any other software and save the file. But now we talk about an improved all thanks to the keyboard shortcut option Win + Shift + S.
To do this we just have to press these keys, choose a type of crop, select an area and we can save the image. Here it is worth knowing that we have several options when it comes to clipping as such. These options are placed in the upper part of the window after pressing the mentioned key combination. So we can choose a rectangular cutout, free-form, just a window or dialog box, or the full screen

Then, once we have made the corresponding selection, the mouse cursor turns into a "+" sign. What this tells us is that the capture mode is working so that we can define the capture area if necessary. Once the desired selection is made, we can now release the cursor. At that moment the screenshot of the selected area will be copied to the Windows clipboard.
At that time, we have the possibility to paste the image of the capture in another program. That will allow us to edit the new image to use it where we are most interested. Another option that we can use is to click on the Windows notification that appears after the capture is made. This will open it in the Crop and Annotation application .
Use the game bar to capture the screen
Windows 10 introduced a novelty especially designed for gamers: the game bar. From it, it seeks that users have quick access to an overlay menu from which to control the broadcast on social networks, communicate with friends and control computer performance.
We can launch this game bar manually at any time by pressing the keyboard shortcut Windows + G. In the bar that appears at the top we can see an icon shaped like a camera.

By clicking on this icon, a widget will appear that will allow us to start recording video, or take a screenshot.

By clicking on the capture button we can take the photo. We can even anchor this widget on the screen so that it is always visible and we can take screenshots at any time with a single click on the corresponding button.
Programs to easily take a screenshot
These are the different possibilities that Windows offers us when it comes to capturing the screen. In addition, we achieve this in a native way , although perhaps there are more than we thought at first.
However, we can also choose to use one of the many programs that help us to capture the screen, save it in a file and even edit it before saving it. Some of the best known are: