Windows
Give more useful to windows 10 thanks to its optional features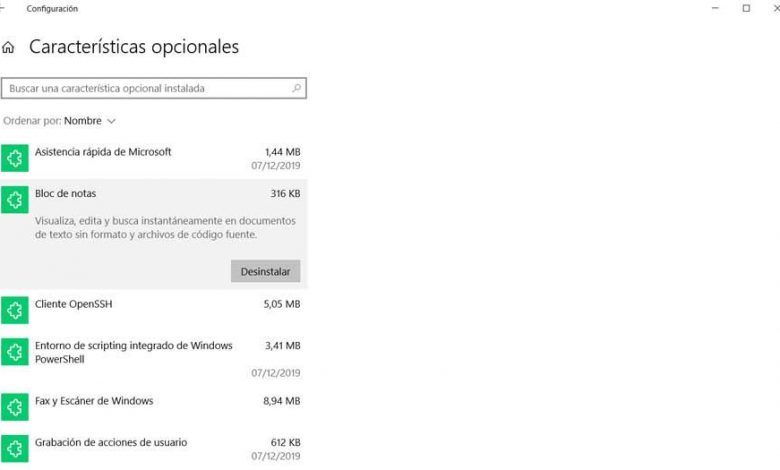 As the years have passed, Windows has evolved into a feature-packed operating system. Some of them have been around for a good number of years, while others are implemented based on new updates.
The truth is that some of these features of the operating system that we are talking about are better known than others. Everything will depend on their use, usefulness, or if they are simply more or less visible, as we will see. We tell you all this because the operating system itself has a series of somewhat hidden features that can be very useful to us, but at the same time we can activate or deactivate.
Something that we must bear in mind is that Windows 10 is an operating system full of very interesting functions. They help us get the most out of our PC on a day-to-day basis with it. That is why Microsoft, aware of all this, helps us as much as possible. This is the case, for example, in which we are going to focus on these same lines. In concept we refer to a series of optional features that the operating system itself makes available to us.
That is why we will talk about all of them below so that you can take advantage of them in the event that we need them in the future.
What are and where to see optional Windows features
By this we actually mean a set of optional functions and features that can be activated or not depending on the needs of each one. Some of these are designed especially for companies and more advanced and professional users, hence they are not well known by most. Also, they are not too visible, so we must first know where to locate them. And it is that in this case the firm based in Redmond prefers to keep these additional functions a little more hidden than usual. Possibly this is due to their exclusivity or the business focus of some of them.
But of course, at the same time we must bear in mind that if we are not going to make use of some of them, they are only there to consume valuable disk space. That is why in these same lines we will talk about these Windows features . At the same time we are going to show you how you can activate and deactivate them in Windows. This, as you can imagine, will help us to leave operational only those that we are really going to need. First of all, what has to be clear is that some of them are found in the system's Control Panel, while others we see in the Settings application .
Manage Windows features
Therefore, as we tell you, a good part of these Windows features are going to be found in the popular Control Panel of the operating system. Thus, in order to see what we have at our disposal here, we only have to access it. Once here, we go to Programs / Activate or deactivate Windows features.

Next is where we are going to find a list that contains the functions that we have talked about. In addition, next to each of the inputs, we will see a switch that gives us the possibility of activating or deactivating each of them. It is for all this that, if necessary, you may consider the elimination or deactivation of some of these proposals. Therefore, we will talk to you in detail about the real usefulness of each one of them so that you can make the most appropriate decision in each case. Of course, if in the future you want to bring them back to the system, we will only have to reactivate them again.
Control Panel Features Utility
.NET Framework 3.5 – Required to run applications compiled with this version of .Net.
.NET Framework 4.8: same as the previous case for version 4.8.
Multimedia features: activates multimedia functions of the operating system itself .
Work Folders Client: used to synchronize folders in a work environment.
Telnet client: add a Telnet client to connect remotely to other computers.
TFTP client: allows you to send files through the Trivial File Transfer Protocol or FTP.
SMB 1.0 file sharing protocol support: enable this protocol to share files over the network.
Remote Differential Compression API Support: Enables the algorithm to compare files.
Legacy Components: Enables the use of DirectPlay over DirectX.
XPS Document Writer: Allows the system to work with this document format.
Print to Microsoft PDF: activates the function of some programs to send content to a PDF.
Internet Explorer 11: allows the use of Microsoft's web browser.
Internet Information Services: enable Microsoft FTP and web page server .
Microsoft Message Queuing: Enables the already deprecated MSMO server.
Hostable web core: Allows certain programs to host their webs using the IIS core.
Virtual machine platform: allows us to virtualize the operating system.
Windows Hypervisor Platform – Enables the kernel or engine for virtualization.
WAS Service – Service directly related to IIS.
Printing and document services: activates the services necessary to work with printing, scanning and fax devices.
Simple TCPIP services: enables network services such as echo or daytime.
Windows Subsystem for Linux – Enables the use of Linux distributions directly on Windows.
Windows Identity Foundation: Enables the use of the old .NET identifier.
Windows PowerShell 2.0 – Activates the new PowerShell.
Windows Projected File System – Allows the Projected application to manage the file system, making them appear as files and directories.
Windows TIFF IFilter: enables the indexing service included in the system.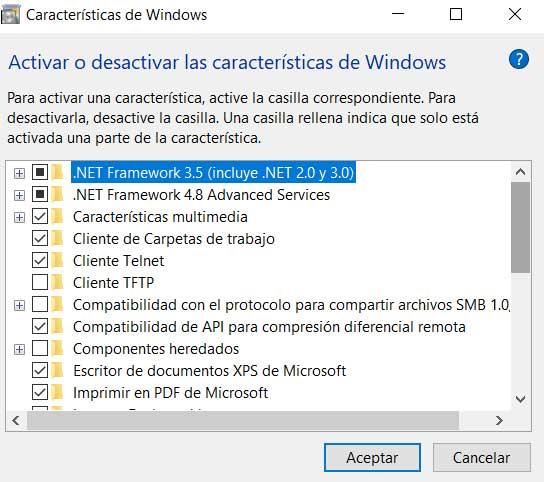 Using optional Setup features
But as we mentioned before, those are not the only optional features that we have in Windows 10. We have another list that we can manage in the Windows Settings application. We can access it through the Win + I key combination. It is worth mentioning once we get to this point, that the Configuration application is increasingly important for Redmond. In fact, little by little it is diminishing the importance of the Control Panel. What's more, for a long time there has been speculation that Configuration will end up imposing itself and the Control Panel we are talking about, disappearing.
Well, for the case that concerns us in these same lines, once we have the corresponding window on the screen, then we go to the Applications section.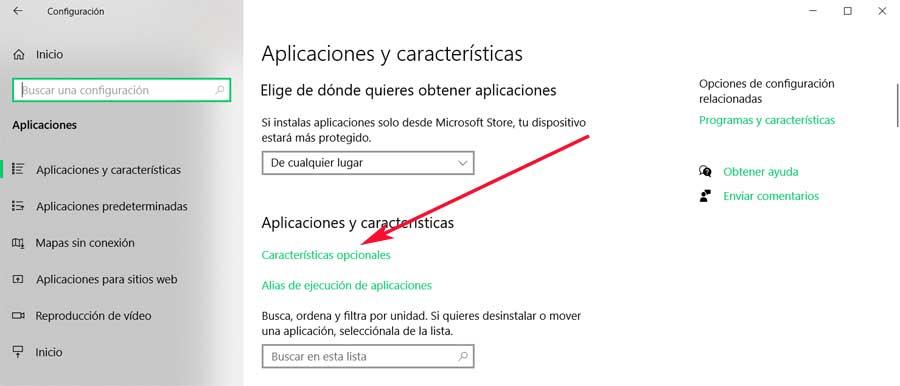 Here, as in the previous case, we also find a series of applications that we can eliminate if we wish. Yes, in this case the entries are more understandable than in the previous case, as you will see. In fact, next to each one we find the size it occupies on disk in case we want to eliminate them. To do this, just click on it, and click on the Uninstall button. These are the options that we are going to find here:
Microsoft Quick Support: Turn on support for Windows.
OpenSSH client: service that allows us to connect to remote desktops.
Notepad: Windows text program.
Windows PowerShell built-in scripting environment – Enables PowerShell scripting .
Windows Fax and Scan – Allows the integrated use of these devices in the system.
User action recording: records the steps that are carried out on the PC.
Internet Explorer 11: allows us to eliminate the browser.
Microsoft Paint: to delete the photographic program from the system.
Mathematical recognizer: allows the use of mathematical formulas in Windows.
Windows Media Player: we can remove the media player.
Windows Hello face: Enable biometric use of Windows Hello to access your computer.
WordPad: allows us to eliminate the word processor.
Therefore, as we mentioned before, from here we can eliminate some applications integrated in Windows 10 that we never use. Of course, we do not recommend touching these functions that we have just talked about if we do not know exactly what we are really doing. This is basically because the deactivation of some of these could affect the operation of some other elements of Windows 10 in an indirect way.
Specifically, we refer to elements of the importance of the system's remote desktop, PowerShell, Windows Hello, etc. And it is that this is an operating system that internally is much more complex than it seems at first. That is why if we are expert users, we can get the most out of it thanks to all the customization functions that it offers us.