Windows
Get the most out of news and interest in windows 10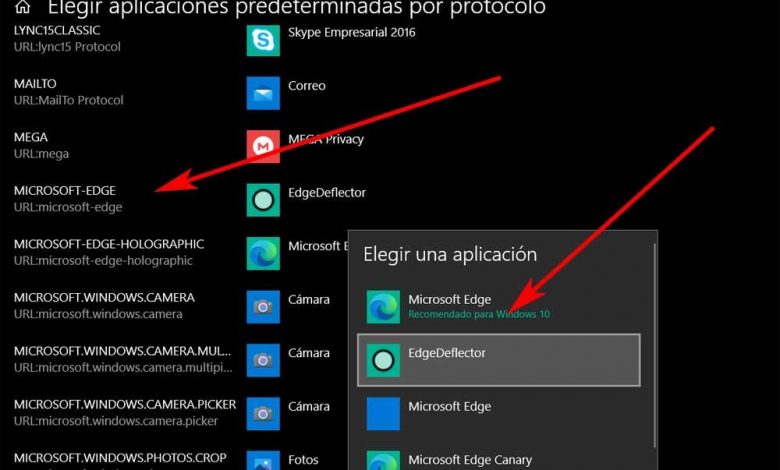 News and Interests is a very useful function that has come to Windows 10 to stay and that will be of great use to us. It is a widget that offers us a good amount of data and interesting information that we can also customize to suit our needs.
The first thing we should know in this regard is that News and Interests is a new widget that at first we find ourselves in the Windows 10 Taskbar. It is located on the right side of it, next to the battery, volume , WiFi, etc. Thus, this allows us to quickly access certain local information such as the weather or traffic in the area. At the same time we will have the possibility to see the latest news, sports results, stocks, etc. All this is arranged in the form of stackable blocks similar to the Live Tiles on the Start menu.
At the same time, it is also interesting to know that the function appears on the Bar in the form of an icon that shows the current time of your location. We see this near the notification area and it has been designed to improve the use of Windows 10 and do without other apps or the mobile phone. But that's not all, but we must also know that News and interests is very customizable. This means that we have the ability to configure the content that appears here. Thus, when we find something interesting but we do not have time to look at it carefully, we can save it in this section to see it later.
How to open News and Interests
As we mentioned, this is something that over time little by little was reaching all the compatible versions and we find it in the Taskbar.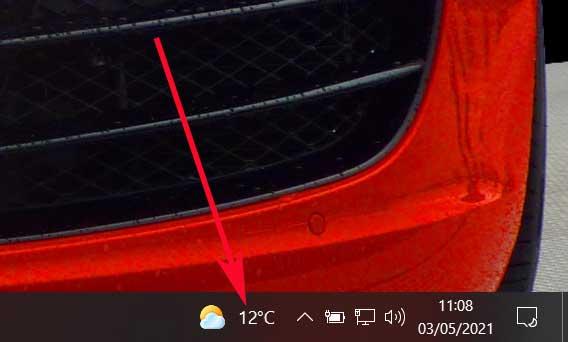 That is why we are going to see how to customize and start using this News and Interests functionality below. The first thing we should know is that in Windows 10 the function we are talking about is very easy to use. We already told you that it appears on the right side of the Taskbar with an icon that shows the current temperature.
If we right-click on the aforementioned Bar, we find a new entry called News and interests. Here we have the opportunity to customize the view of the icon as such, or hide the functionality.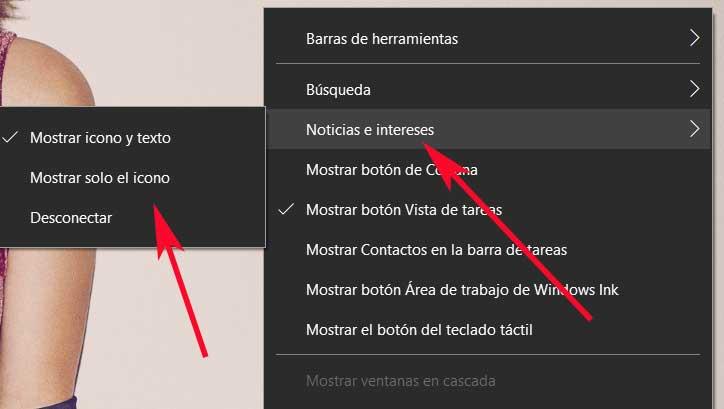 Therefore, we can open the widget by hovering over it or clicking on the icon. Its behavior is similar to that of the Start menu, showing two columns with various sections.
In principle, on the right side we find the weather and other information of interest such as financial data, sports or traffic.
Hide News and Interests cards
Say that we can scroll through the cards of this functionality as we scroll down with the mouse. But of course, at the same time we have the possibility to hide some of these information cards if we wish. We can find two types of cards, those that are specific news, or those that show fixed information that varies, such as meteorological information.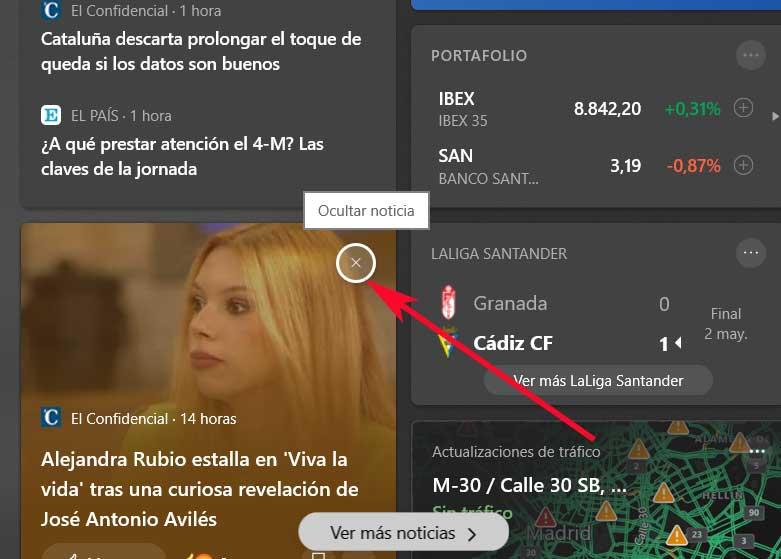 Well, in the first of the types, we find directly with a cross like those of conventional windows, so we just have to click there. On the contrary, there are other cards that show a button with three dots called More Options. Here, to close that card we click on it, located in the upper right corner, and select the Hide option.
Set up card information
We already told you before that there are some of these cards that could be considered as fixed, but that their data vary over time. Take as an example the cases of weather and traffic cards. Therefore, so that what is offered by these is as useful as possible, we can configure them. By this we mean the possibility of changing the location if necessary. In the same way, in the finance card , we have the possibility of adding new values ​​that we want to follow.
We can achieve all this by clicking on the button represented by three horizontal dots in the upper right corner. Here you will see the option to Edit location, or Add symbol in the finance one.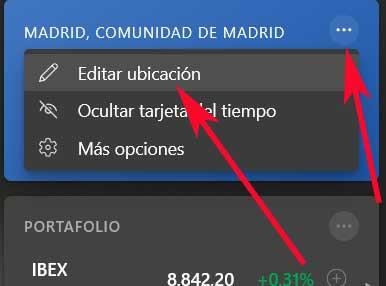 Like and share news
Here we are going to find news that will be of interest to us, and others that are not so much. Therefore, if we see a news item that we like, we can press the thumbs up button.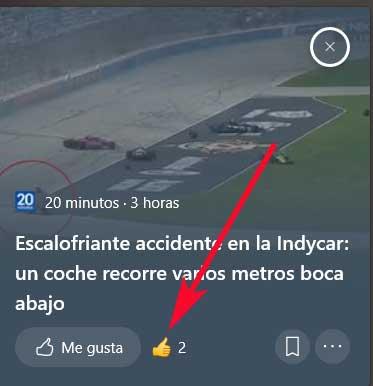 On the other hand, we can also click on the More settings button and select the Share button to take the link or share it. We will do this through the social networks in which we have an account. But if we don't have time to read that information at that time, we have an option to Save for later so that we can read that news later. It is worth mentioning that it is stored in the My saves section of your account.
How to personalize content and news
We already told you before that, as expected, this is a function that we can customize a lot. Thus, once we access the window as such, at the top we find an update button. This allows us to load the most recent content on MSN, which is the web that this functionality is fed. Keep in mind that the function itself learns our preferences by analyzing what type of news you ignore and which ones we open.
But this will take a while, so we can also help News and Interests. To do this, all we have to do is, from time to time, click on the button of the three points of a news that interests us, or not. Thus, we will only have to click on »More or Less stories like this one.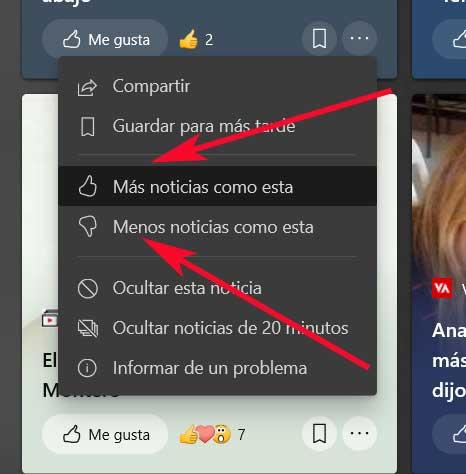 With all this, what we achieve is to educate the functionality and indicate what are the types of information that we would like to find in this section when we access it.
Another method to personalize the contents that we are interested in finding in this section is by clicking on the Customize button. This is found in the upper part of the widget window and leads directly to a new window that opens in the browser. In this way we have the possibility, from it, to add your personal interests in terms of types of news and topics. In the same way, from that same window we will be able to see the media that over time we hide in News and interests, or see those that we are following at that moment.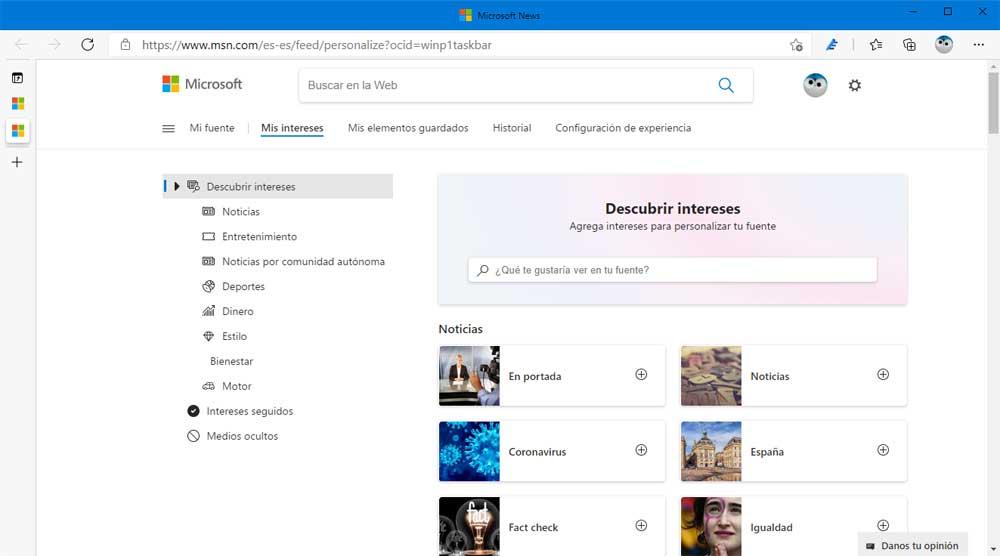 In the same way, from here we will have the opportunity to search and add new sources, or even filter news by your Autonomous Community.
Turn off News and Interests
But of course, it can also be the case that we are not interested in having this function in Windows about which we have spoken. Therefore, if we wish, we can make it disappear from the operating system's Taskbar. This is something that we achieve in an extremely simple way, as we will show you. Thus, to deactivate News and Interests, all we have to do is click anywhere on the aforementioned System Taskbar.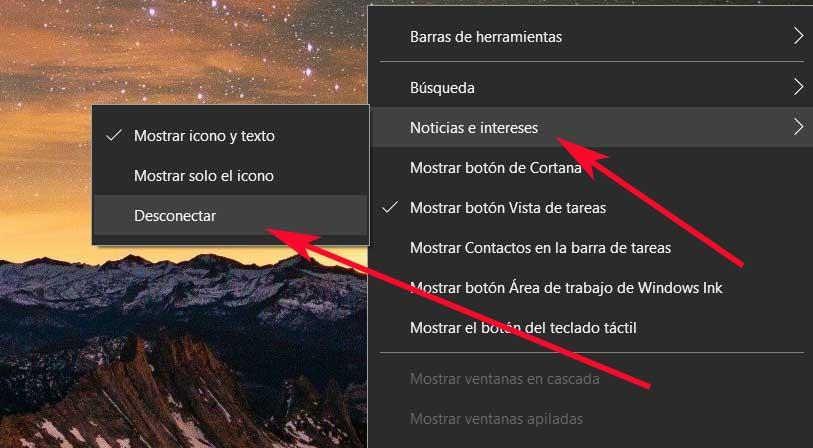 Thus, in the News and interests section, all we have to do is click on the Disconnect entry. This is something that we can obviously change whenever we want from this same menu.
Make News & Interests open in Chrome
As we have mentioned, all this is something that we have the possibility to customize so that information that really interests us is displayed. Of course, here the only thing that can be somewhat annoying is that any link that opens in News and interests, will open in Edge. This happens regardless of the user's default browser on Windows. This may not seem like a typical Redmond browser problem, but we may want to use something else like Chrome or Firefox.
In the event that you want to use Chrome when opening links here, we will have to use a third-party program. This is open source software called EdgeDeflector that we can download from this link on its GitHub page. Once the program is installed, we go to the Windows Configuration application through the Win + I key combination . Here we are in the Applications / Default applications section where at the end we find a link called Choose default applications by protocol.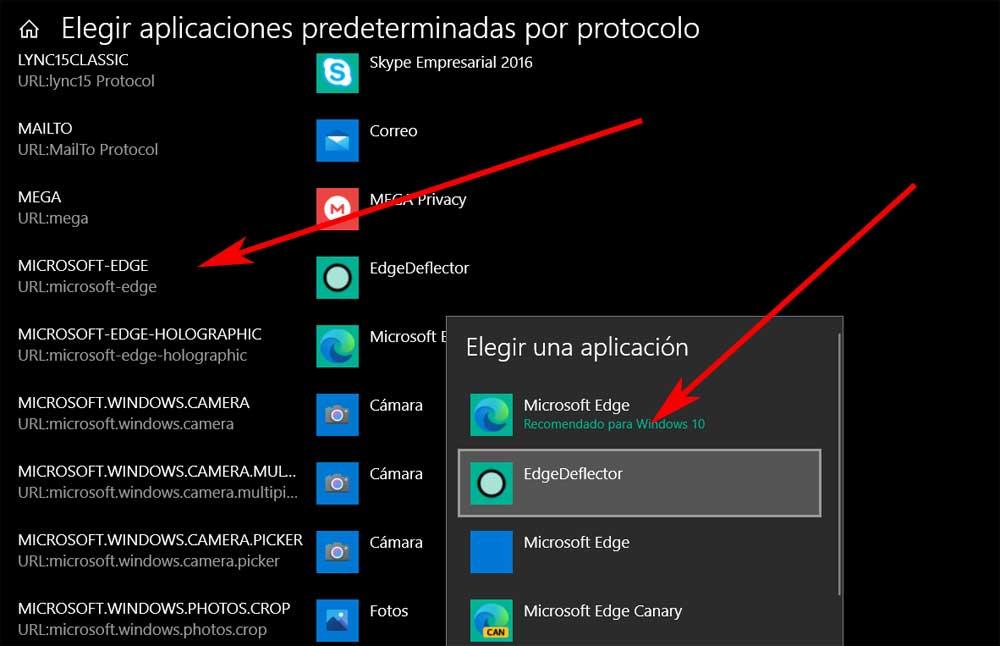 When the list is complete, we look for the Microsoft Edge entry, and click on it to associate the program downloaded before EdgeDeflector with it. Therefore, from that moment on, when we click on a News and Interests link, the results will automatically open in that default browser, be it Chrome, Firefox or any other.