Windows
Format usb and hard drives larger than 32gb in fat32 from windows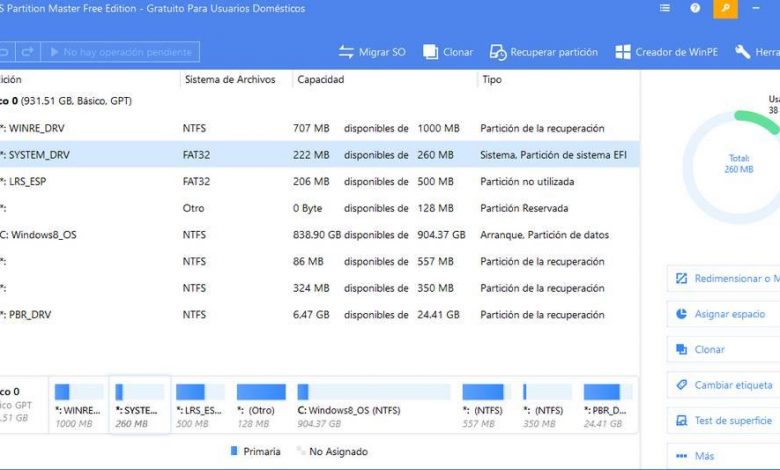 Surely we have all heard of the FAT32 file system at some time. This file system is one of the ones that have been with us the longest and, although it still works today, the truth is that it has many limitations. Operating systems, such as Windows, try to get users to use different, more modern file systems that allow them to make better use of their space and have other features and improvements. But there are times that, for compatibility reasons, we have no choice but to resort to old formats, such as FAT32. And when this time comes, we run into trouble.
Limitations of FAT32
If FAT32 still exists today, it is for compatibility reasons. Not all TVs, consoles, mobiles, computers or devices support NTFS, EXT (Linux file system) or APFS (macOS file system). Therefore, the only way to ensure that a device works on all sites is by using the most compatible file system.
However, FAT32 has many limitations. One of the best known, and probably the most annoying, is that it only allows us to save files of, at most, 4 GB in it. In addition, the theoretical maximum size of a drive in this format is 16 TB, although in practice no more than 8 TB can be used.
In addition, this file system is not prepared to optimize SSD drives or Flash memories, as well as it does not have other advantages that we can obtain with other different file systems, such as:
Possibility to configure file permissions.
Create and save a journal of changes that can help us quickly recover from errors if the computer crashes.
Supports creating instant backups.
Supports file encryption.
Although exFAT is, broadly speaking, an evolution of FAT32, this file system does not achieve, by far, the same compatibility as the old system.
When to format in FAT32
If this file system has so many limitations, why should we use it to format a hard disk, an SD or a pendrive? The main reason is compatibility.
It is true that NTFS or exFAT are far superior, in every way, to FAT32. But they tend to have very limited compatibility. Televisions and other devices do not get along with these file systems. And some (like some TVs, or the Nintendo Switch itself) tend to corrupt the partition tables of exFAT systems by using a poor quality driver.
If we bet on FAT32 we will have to assume the above limitations, but we make sure that our device works perfectly on all computers and devices where we connect it. And it is much more difficult than using it on certain machines to corrupt the data.
Programs to format in FAT32
If we try to format any drive larger than 64 GB from Windows we will find that the only compatible file systems to choose from are NTFS and exFAT. Depending on the type of drive, we can also find some other file system, such as REFS. But no FAT32.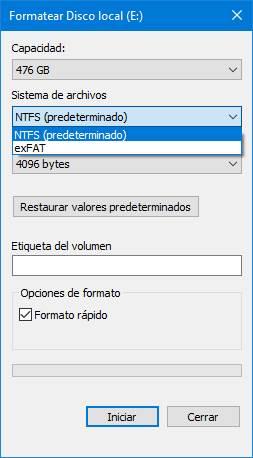 Therefore, if we have to use this old file system, it is necessary to resort to third-party programs that allow us to do so. And these are the best and fastest for it.
FAT32 Format, an essential program that you should always have at hand
FAT32 Format is, broadly speaking, a graphical interface for the fat32format tool. Thanks to this program we will be able to format, in seconds, any drive in this format, bypassing the restrictions of Windows itself.
To use it, all we have to do is choose the letter of the drive we want to format (we must pay attention to this so as not to make mistakes) and indicate to the program the default name that we will give to said drive.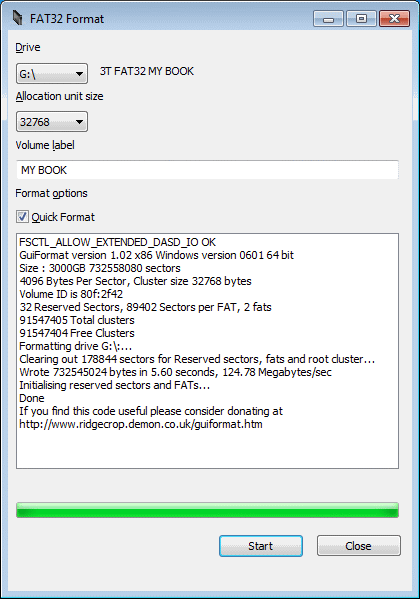 We can do a quick format of the unit (that is, erase the index of files without replacing data, in a few seconds) with the option "Quick Format" or choose a complete format by overwriting all the data on the disk to erase it completely.
We click on the «Start» button and it will comment on the process of erasing the unit and the FAT32 format will be applied to it. Of course, if the hard drive is more than 8 TB, we can only use this space, and the rest will be unused. When it is finished, the hard drive will be ready, and we will be able to save on it all the files we want, as long as they are less than 4 GB.
We can download this program from the following link.
Minitool Partition Wizard, one of the best programs to format disks
If FAT32 Format falls a bit short, we can always resort to other much more complete programs that will also allow us to create partitions or format drives to other formats. One of our favorites is the Minitool Partition Wizard.
This program is a complete unit and partition manager that we can use for free on our computer. With it we will not only be able to format any drive to FAT32, but also to other file systems such as NTFS, exFAT and even EXT.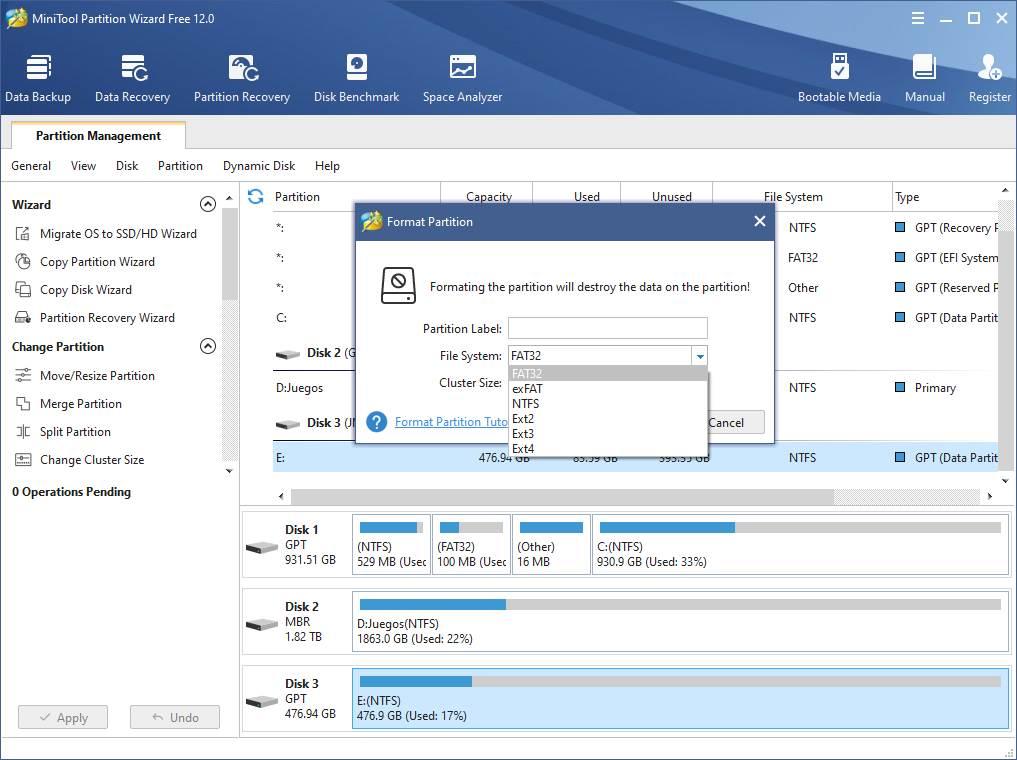 If you want to download this program, you can do it for free from here.
EaseUS Partition Master, another complete partition manager
Another alternative that will allow us, among many other things, to format drives to other file systems without the restrictions of Windows is EaseUS Partition Master. This partition manager is very similar to the Minitool tool, with the difference that the free version is somewhat more limited and more advanced users may miss some functions. But to format drives to other file systems we should have no problems.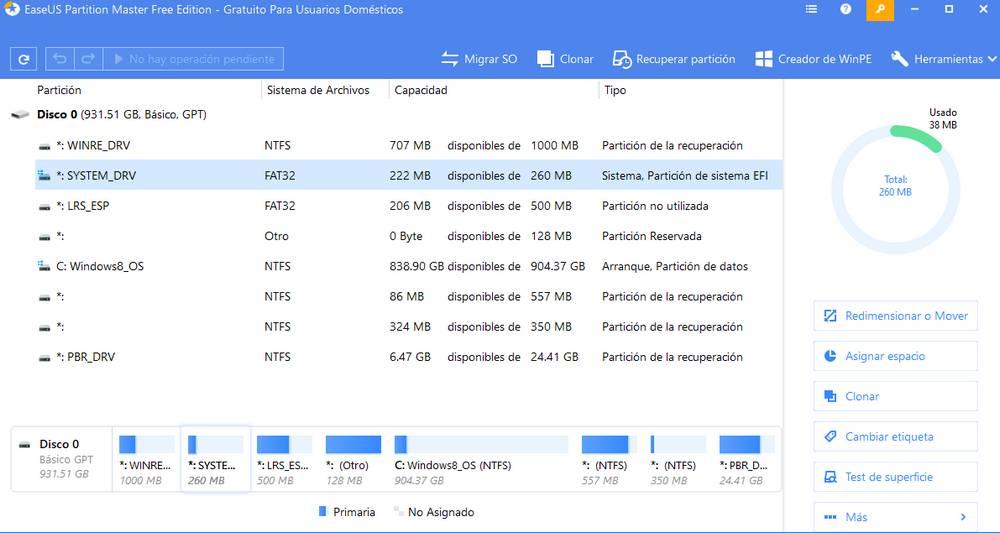 One more interesting alternative that we can consider if we need to use this old file system. We can download the free version from the following link.
Using PowerShell as a PowerUser
If we do not want to resort to third-party programs, there is a little trick, for more advanced users, that will allow us to force the formatting of any drive to FAT32: PowerShell, the Windows 10 console.
What we must do is open a window of this console, with Administrator permissions, and execute the following command in it (substituting X for the drive letter):
format /FS:FAT32 X:
We must pay attention to the drive letter so as not to make mistakes, since the process erases all the data on the drive. When we are sure, we simply press the Enter key and let this tool format the unit itself. Depending on the size, and its performance, the erasing process may take more or less time. We must wait patiently for it to reach the end.