Windows
File explorer opens very slow? So you can fix it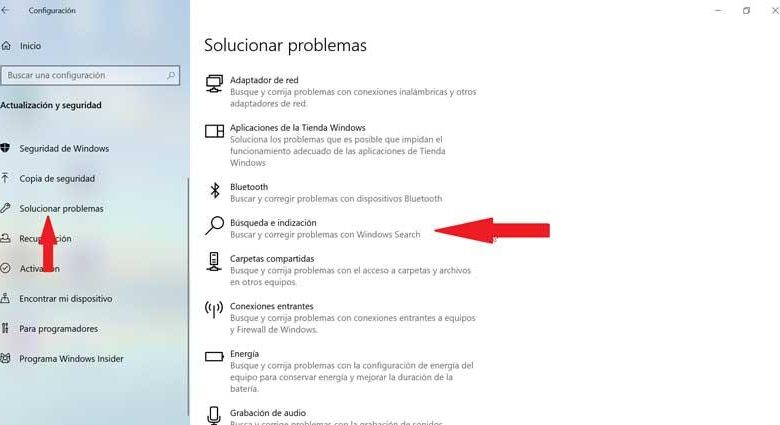 If we use as a personal computer, one with Windows operating system, surely we use the File Explorer on a regular basis , since it is one of its most used features. In general, its use is quite efficient, being quite fast both in its opening and the speed in which we move and execute the elements that compose it. But it is possible that on occasion we notice how the Explorer starts to run slower than usual, without knowing how to solve it. For this reason, today we are going to see the possible solutions so that Windows Explorer returns to normal.
Although Windows File Explorer tends to open quickly even when it has to display large folders, there may be times when it takes longer to open. These are cases in which it takes more seconds than usual to open or we notice that the movement between folders is not as smooth as it should be. This is something that can make us despair, especially if we use the computer to work, since surely we will not know the origin of the problem or what to do to solve it.
Performance issues in Windows File Explorer
File Explorer is one of the most used applications in Windows. With it, we can copy, move and edit files within the same window. Also, we can stop, cancel, pause and resume any copying process, so it is a tool that plays an important role within the operating system. But, despite its advantages, File Explorer can give problems, since it can sometimes become slow or extremely slow, making it extremely difficult to use. Although it has never been characterized by its speed, a slower use of it can make us despair. One of the symptoms that can make us indicate this problem is the poor performance we obtain when copying or opening files, which can be of great importance for users who work manipulating and managing a large number of files on a daily basis.
The causes of this poor performance can be several. Among the most common, it may be that we have a full history causing a negative impact on the Explorer, that there are errors with the thumbnail cache or that we have too many open processes, among others. Both the presence of one of these factors and the accumulation of several of them, can cause the application not to respond in the usual way. Therefore, today we are going to see different ways that Windows has to try to solve the problem.
Fix slowness when opening File Explorer
Next we are going to show you some tricks that will be able to help us solve the problem of slowness when opening Windows File Explorer. We can try each one of them, until we find the one that can end the problem and the explorer works again as the first day.
Restart Windows Explorer
Sometimes the problems that do not seem to have a solution, have it in the simplest way possible, so, if we notice that the File Explorer is slow, we can try to restart it. In this way, both the Explorer and all the processes associated with it will be "refreshed". To do this, we must access the "Windows Task Manager", and in the "Processes" tab we locate the "Explorer". Right-click and a drop-down menu will open where we must select "Restart. " Once restarted we will check if it now runs normally again without slowdowns.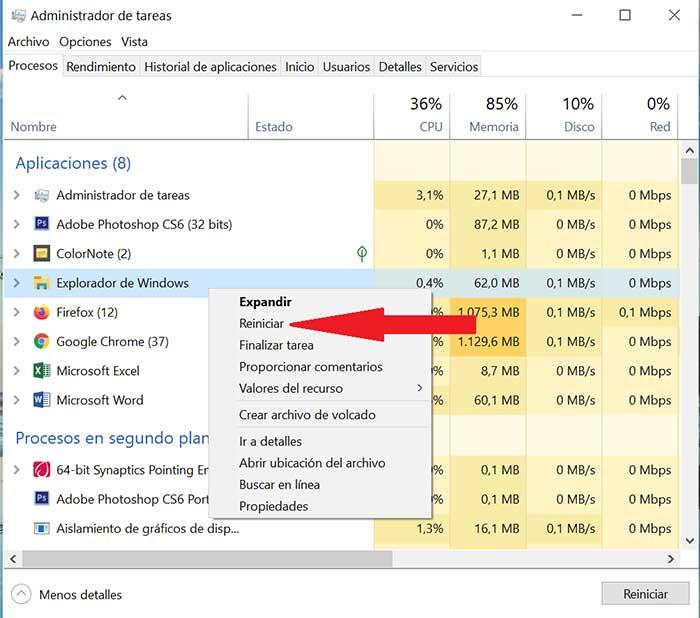 Clear File Explorer history
Windows has quick access to launch File Explorer quickly both to the files and folders that we have used most recently, and it also has a history where all the information is saved. So much information in the history can have a negative impact on the browser causing unwanted slowdowns, so we can choose to disable this function.
To do this, from Windows Explorer, click on the "Vista" tab and then on "Options". Here, within the "General" tab, we move to the bottom, to the "Privacy" function, where we will press the "Delete" button. This will take care of clearing all the history of the browser, which should help to be more fluid once we start it again.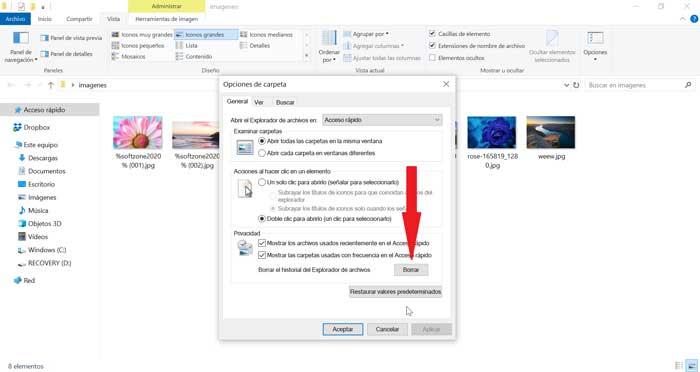 Cache of buggy thumbnails
It is possible that, when opening folders with a large number of files, we notice that the process of loading the thumbnails is too slow, so it is possible that they contain errors, so we must proceed to rebuild them.
To do this, we open the File Explorer, and right-click on the "C drive" in Windows, selecting the "Properties" option. Now, in the "General" tab, we must select "Free up space". We make sure that the Thumbnails box is selected and click "OK".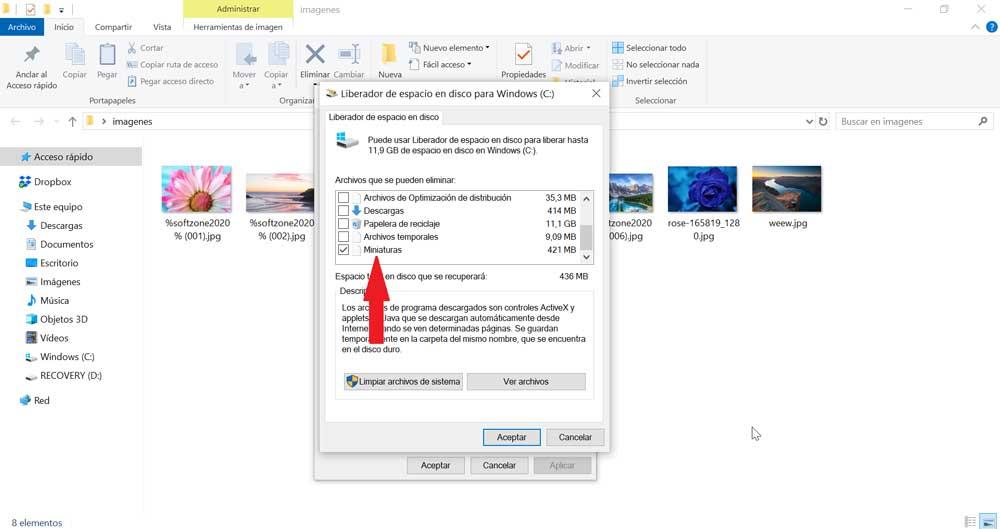 Reset folder options
If we choose to reset the folder options, we must know that this will also cause the folder designs that we have previously configured to be restored, although it is a good option to speed up the opening and fluency of Windows Explorer.
To proceed to restore the folder options, we must open the "Explorer" and select the "View" tab. Here we click on "Options" and a new window will appear. Now click on the "View" tab and then click on the "Reset folders" button.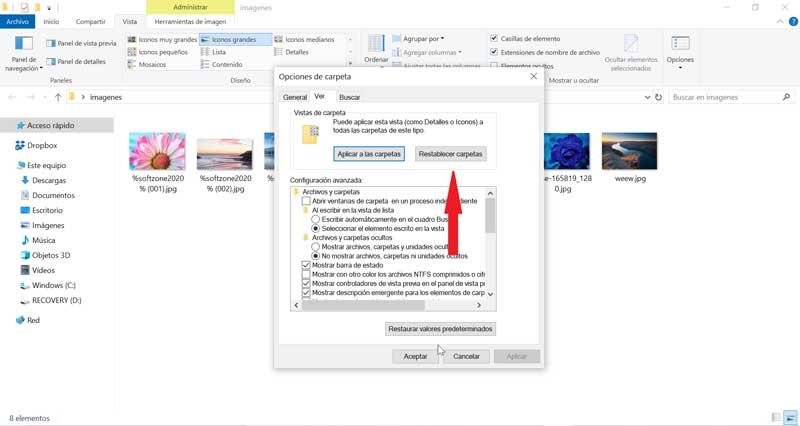 Folder optimization in Windows 10
Windows 10 has a function that allows both the access and the search of folders to be as complete as possible, which can also be a problem in the case that we have large folders, since it can negatively affect the File Explorer performance, causing further slowdown of it.
Therefore, we can try to disable this function. To do this, we must right-click on the folder we want to edit, and select the "Properties" option. A new window will appear where we will click on the "Customize" button. Here, in the option «Optimize this folder for …», we must choose «General elements». We must also activate the box "Also apply this template to all subfolders". Click on Apply and finally on OK.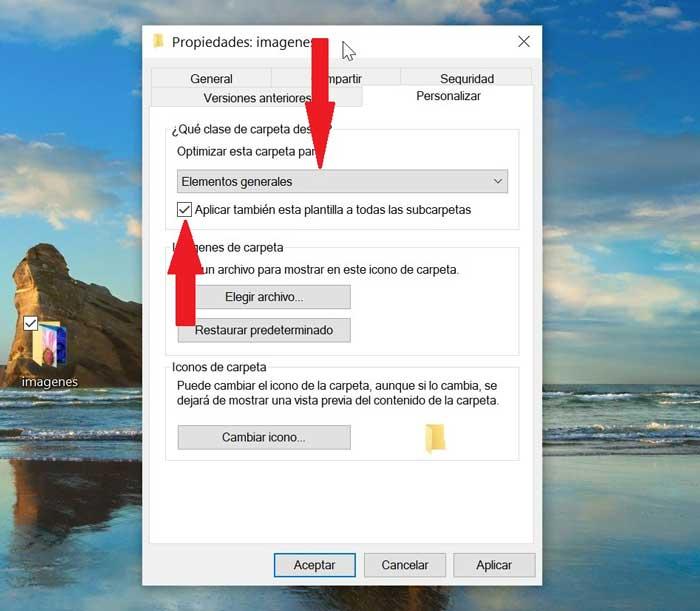 Run SFC
The SFC (System File Checker) function can be found in Windows 10 and is used to check the status of system files for errors, allowing corrections to be made on them. This can help troubleshoot File Explorer slowdowns, so try it out.
To run the SFC we must open the "Command Prompt" with Administrator rights and execute the sfc / scannow command . The application will take a few minutes and when finished it will give us the results obtained and how to solve the possible errors found.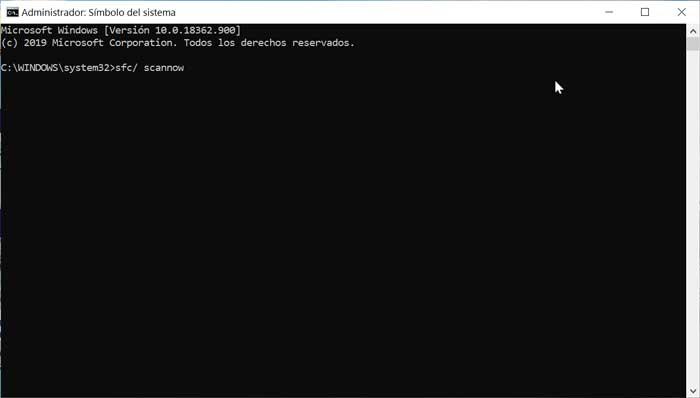 Windows troubleshooter
Using the Windows 10 troubleshooter can help us with our File Explorer fluency issues. To do this, we go to Settings by pressing the Windows + I keyboard shortcut. Here we select "Update and security", and then the "Troubleshoot" tab. Finally, we execute the "Search and indexing" option.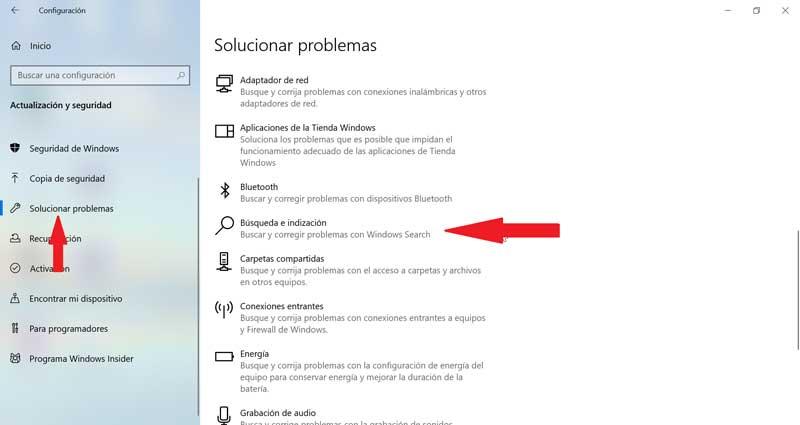 Close open File Explorer processes
As surely most of you will already know first-hand, this File Explorer that we are talking about here, is one of the most used elements in Windows. In fact, on many occasions we work with it but we do it automatically, without being aware of all of it. But when there is a problem like the one described, with it, it is when we really realize its real importance. Well, to say that this prolonged opening in time of which we have spoken, may be due to the fact that some Explorer process has not closed as it should.
Although we have closed the corresponding window of the function, the process, one or more, may have remained open, so we only have to end them. This is something that we achieve from the Task Manager, which we access with the key combination Ctrl + Shift + Esc. Thus, in the window that appears and with the File Explorer closed, we look for a process of the same to end them with the right mouse button.
Nothing works? Try these alternative explorers
In the event that we have not been able to solve the problems of slowness of the browser, we can always look for an alternative among third-party applications that can give us better performance than the Windows application itself. That is why we propose a couple of free alternatives that we should try:
My Commander
It is one of the great free alternatives that we find to Windows Explorer. It is very light and has different additional functions that will allow us to increase your productivity. It has a built-in search engine, support for creating jump lists in Windows, file filters, multiple renaming, branch directory view, improved search functions, etc. All this makes it an ideal tool for advanced users who are able to exploit all its functions. We can download it from their website.
Explorer ++
Another application that can be useful as an alternative to Windows File Explorer, which is characterized precisely by being light, easy to use and fast, as well as being portable. It will allow us to work with two or more directories at the same time, which allows it to be faster when moving files from one place to another, thus to know at all times which folders we have open. We will also have different views, a file browser, as well as other options with which we can adapt this tool to our daily uses. We can download Explorer ++ for free from here.