Windows
Everything you need to know about the desktopini file in windows 10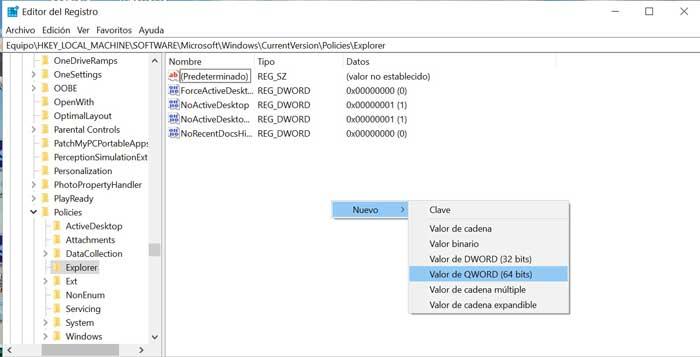 Our computer is full of all kinds of files that we need to use at any given time. In the same way, it has others that are specific to the system configuration and that are hidden to prevent the user from manipulating, modifying or deleting by mistake and can cause certain problems in Windows. Despite being files that cannot be seen with the naked eye, there are ways to show them, so on some occasion we may have come across the annoying desktop.ini file , which can be quite annoying if mixed with our own. personal files.
What are desktop.ini files
The desktop.ini files are hidden files that were created by the system in order to store information about the configuration of the File Explorer folders in Windows 10. These types of files are not associated to be opened with an application nor are they associated with a particular program, although it can be opened with Notepad.
These files can be present, not only on the Desktop (as its name indicates) but we can also find them in other folders. These small files have some settings that are related to the configuration of the folder in which they are located. Here, we can find specifications such as the icon that shows the folder, the background color or other series of parameters such as the locations of the system files.

How to view desktop.ini files and other hidden files
If we want to see the desktop.ini files, we must enable the option to show hidden files in Windows. To do this we must open any folder from the File Explorer and click on the "View" tab . Next, on the right side of the toolbar, we must check the box "Hidden elements" so that in this way they can be shown.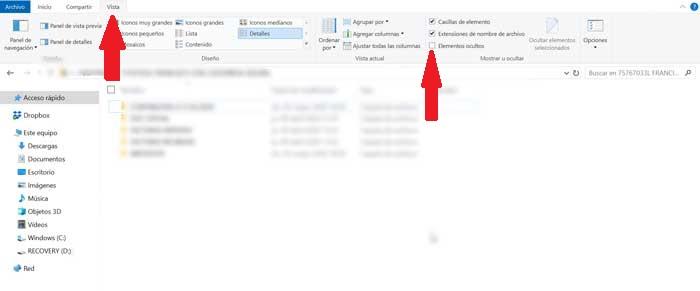 Once the desktop.ini file appears on the Desktop or in one of the folders that contains it, we can open it and check its content with Notepad. We can also change the content, but it is something that we must be careful and not change anything that we are not sure about.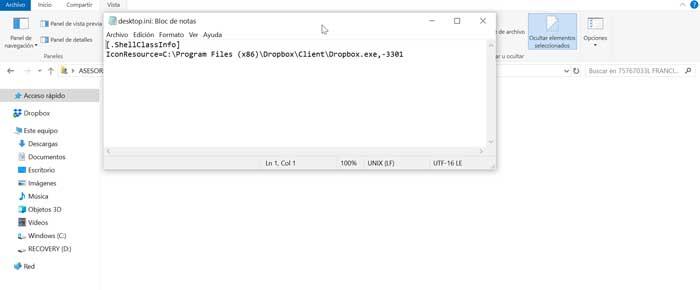 What happens if a desktop.ini file is deleted
If, for whatever reason, we decide that we are going to delete a desktop.ini file from a specific folder, we must know that this will cause all the customization and configuration options that we had added in that folder to be restored. Therefore, if we want to leave the folder as it was, we will have to customize it again, which will cause the file to regenerate automatically. In addition, its elimination can cause problems when opening Windows Explorer or generating thumbnails in the folders.
Therefore, the most natural thing is not to have the need to delete them, since if we do not want to view it, we have the opportunity to hide them and they will no longer disturb our visibility.
How to hide the file
The desktop.ini file is a file that is hidden in our system, so in general we should not see them unless we have activated the option to view hidden files. If this is the case, we will only have to deactivate this option so that they disappear from our vision.
To do this we will only have to open a folder from the File Explorer and click on the "View" tab . Now we just have to uncheck the "Hidden elements" box located on the right side. Simply with this simple action we will stop viewing this file as well as any other hidden file or folder without having to delete it.
How to delete desktop.ini files and prevent them from being regenerated
As we have commented previously, deleting a desktop.ini file does not have any real utility. Therefore, if what we want is to stop seeing it, just hide it. If you still decide that you want to delete it, it will be as simple as selecting it and pressing the «Delete» key. Of course, you must bear in mind that once we restart the computer the file will be generated again, so to permanently delete it we must change it in the Windows registry.
Modify the Windows registry
If we want to delete the files and they stop regenerating, we must do so by modifying the Windows registry, at our own risk and expense. To do this, we must press the keyboard shortcut Windows + R and the execution box will appear. Here we will write "regedit" and press enter.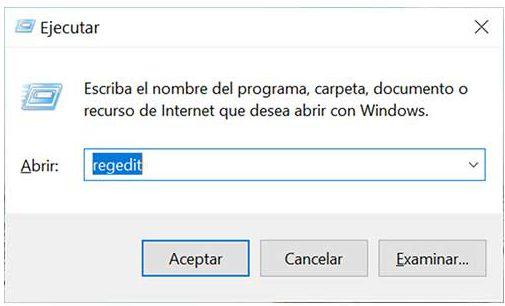 Once we have entered the registry we must access the following address: HKEY_LOCAL_MACHINE SOFTWARE Microsoft Windows CurrentVersion Policies Explorer. Here we will have to look for the UseDesktopIniCache value of type DWORD and we will double click on it to set the value to 0.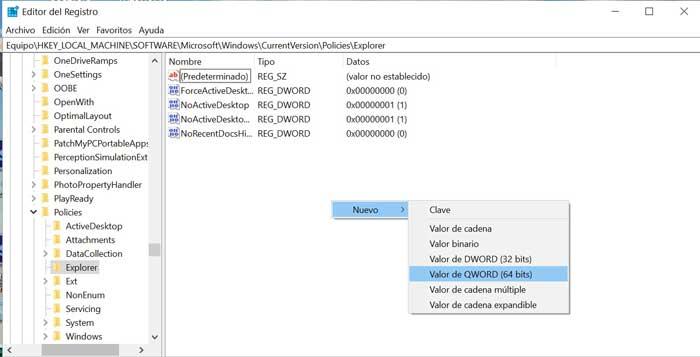 In the event that the value does not exist, we can create it. To do this, we right-click on the explorer key and select «New». Next, we choose the DWORD Value (32 or 64 bits) and name it as UseDesktopIniCache, setting the value as 0 by default.
Use programs
There are also programs specialized in searching and deleting all these files from our computer at once. One of the most used for this purpose is the popular CCleaner, although most Windows cleaning and optimization programs will also allow us to carry out this task.
What these programs do is, when they analyze our hard drive in search of junk and unnecessary files, mark these files as such so that, when cleaning, they disappear from our computer. Generally, the option that allows us to choose whether or not to clean these files is related to the size of the window or the position cache.
We do not save space since they are very small files, and we will not make our PC work worse either. What we will see is that, after deleting these files, the appearance of the windows is restored. Therefore, we will have to re-customize its appearance by hand.
How to rebuild it after deleting it
As we have explained, this is not a critical system file. That is, if we delete it, our computer will not malfunction, nothing will happen. However, what we can notice is that some custom settings (for example, the folder view) are not saved correctly.
This file should be created automatically by Windows without us having to do anything. As soon as we delete it and try to save a custom view, it should appear again, unless we have configured our Windows so that it is not. If the file is not automatically generated again, all you have to do is restart the computer so that, after booting up again, it will regenerate the file without problems.
If it is an external storage device (a hard drive, for example), then we will have to disconnect and connect it again.
Could desktop.ini be a virus?
Generally, it is a legitimate file created by Windows itself. Therefore, we do not have to worry. However, it may happen that a virus uses a false file with this name to save its configuration or to store some type of information.
Being an INI file, it is not encrypted and the information stored inside is not obfuscated. Therefore, to find out if it is legitimate or may be related to a threat, simply double-click the file and analyze its content. If we find in it what we have seen in the previous steps, it is a legitimate program. Otherwise, if it has instructions or weird content, it can be dangerous.