Windows
Download cursors and customize the windows 10 mouse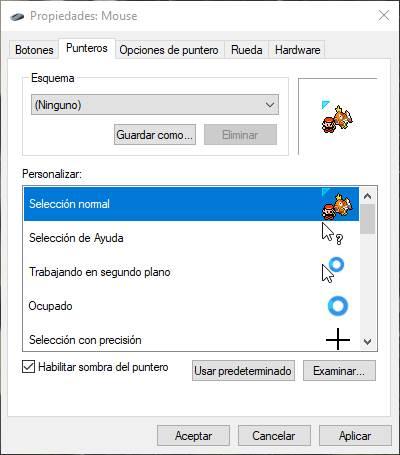 Windows 10 customization is a topic that both users and Microsoft are taking more and more seriously. That is why the firm is including new functions in this regard so that its clients can have greater control of the system, as happens with something of the importance of the mouse.
At other times in the past we have already seen how we can customize the appearance and function of various sections of the operating system. However, in this case we are going to focus on the mouse, on customizing its appearance, among other things. Keep in mind that we can set a size or color different from the predetermined ones in this important element. That is why in these same lines we are going to tell you how to change and customize the mouse in Windows 10 to the maximum.
Because we are more than used to using it, the mouse is an element that on many occasions goes unnoticed, all despite the fact that we are constantly using it. However, we must bear in mind that being able to use this element in the best possible way will substantially improve our experience in Windows 10. Therefore we are going to show you in these lines the multiple customization options that we can use. And we must bear in mind that on many occasions we will not really realize the importance of this element, until something happens with it. By this we mean that, for whatever reason, it stops working, or this is not the same as always.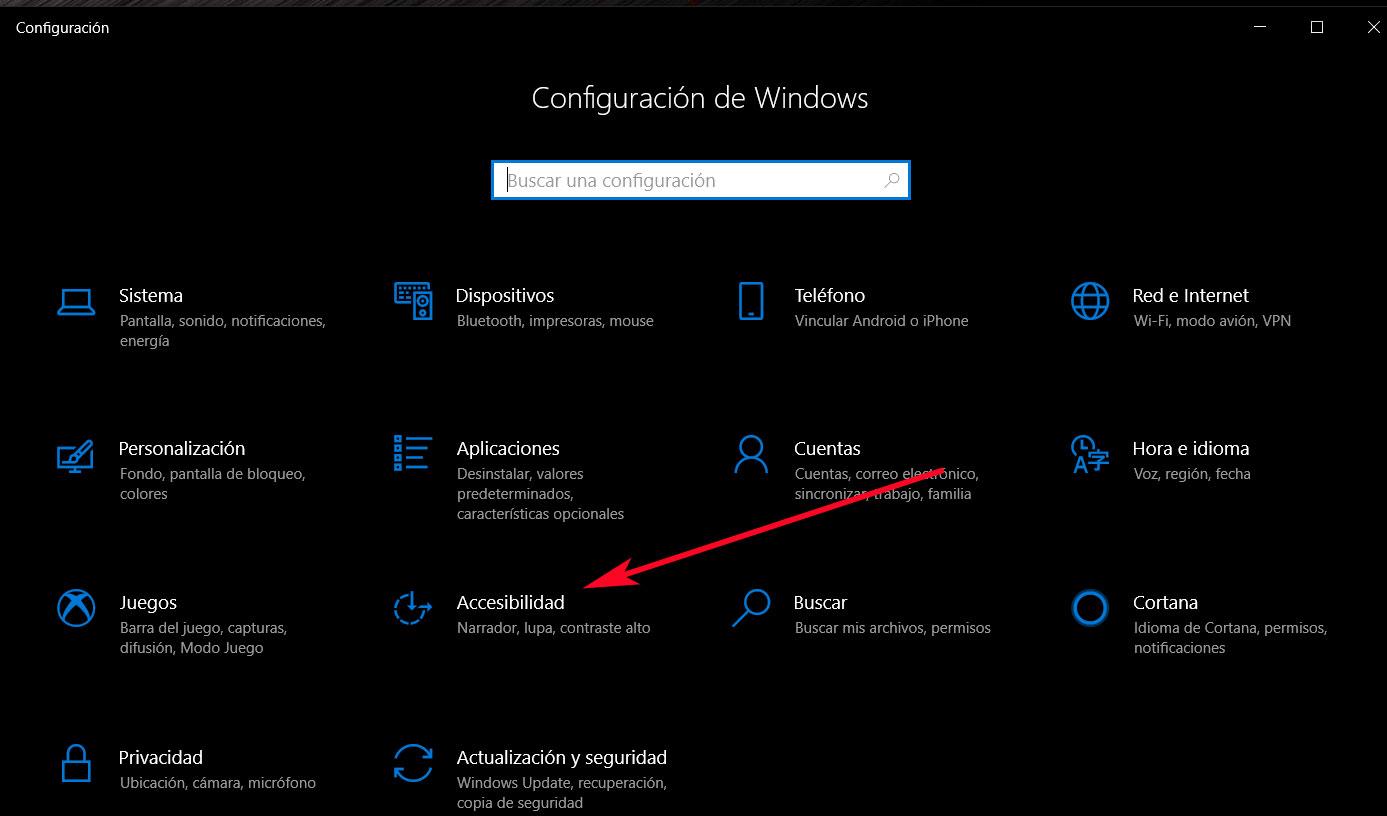 When it comes to customizing this element, it is true that there are third-party programs that help us in all this, but in this case we are going to do it directly using the functions offered by the same system, without third-party developments. To say that in the beginning and as we are used to for years, the cursor or mouse pointer can be used in white or black. But that is something that has changed in the latest updates, as we will see.
Advantages of being able to customize the mouse pointer
The mouse pointer to which we refer here is one of those Windows elements that we use so regularly and continuously that we do not realize its importance. It is possible that on many occasions we only begin to value it when it stops working or fails, as we told you before. And we must bear in mind that this is an element that we have in view at almost all times in Windows, especially when with the mouse we need to click on a link or menu.
That's when we most need all of this to be on point, effective and distinguishable. Otherwise, using the mouse can become very uncomfortable. It is true that we are used to the default configuration that Windows offers in this sense. But sometimes the customization of the pointer can make us more productive and faster in the system itself .
Make the most of the mouse pointer in Windows 10
We will achieve all this from the Windows 10 Configuration application , which we access through the "Win + I" key combination. Once in the new window that appears, we decided to click on the "Accessibility" option. This is a section of the system that integrates a good number of Windows customization and adaptability functions. These are located, as we can see, on the left side of the interface, so now we go to "Cursor and pointer".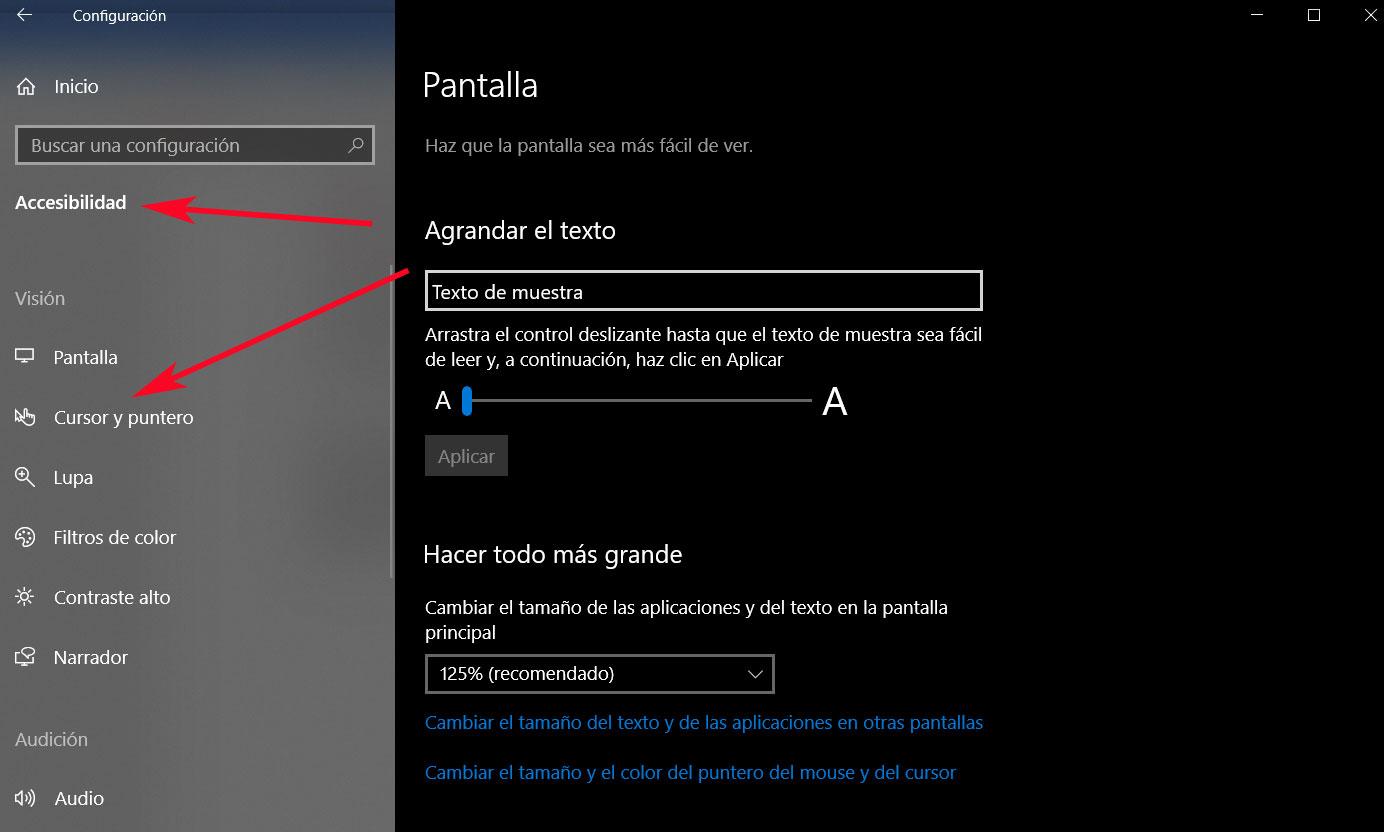 Here where we are going to find all those functionalities that refer to this important component. Therefore, we can start with the customization process, as we are going to see. Thus, the first section that we are going to find is the one that refers to the size of the pointer as such. To adjust it, the system offers us a sliding bar that will allow us to check the change in real time. In this way, as we move said bar, the size of the cursor will change instantly, which will be of great help to get an idea of ​​how it looks.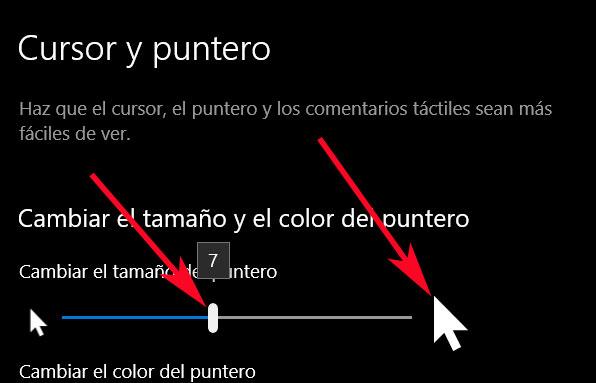 This will be useful for those who have a problem with their eyesight, or who simply work more comfortable with a larger pointer. But that is not all that we will be able to do from here, since at the same time that we can customize the size, we will do the same with the color. The first two options that we find here refer to the classic design of the mouse, that is, white or black. At the same time, a third option will allow us to choose a mixed one, so this element will change depending on the background color of the screen on which we are located.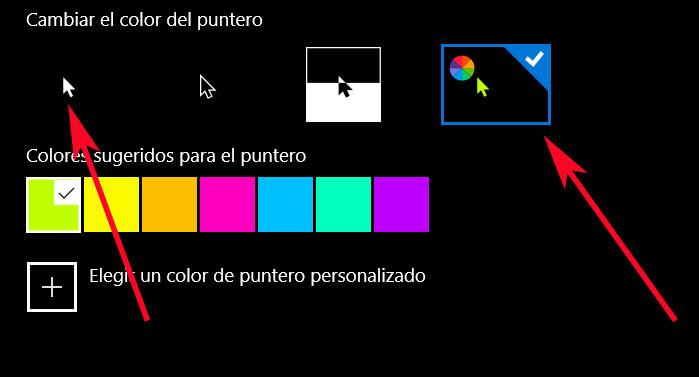 But perhaps the most striking thing once we get to this point is the possibility of adding another tonality to the mouse pointer. Therefore, if we want to give a somewhat peculiar aspect to this element on the screen, we can opt for the last option. By clicking here, Windows 10 itself will propose a series of colors so that we can choose any of them. However, even more interesting is knowing that we can also define our own tonality, all with just clicking on "Choose a custom pointer color".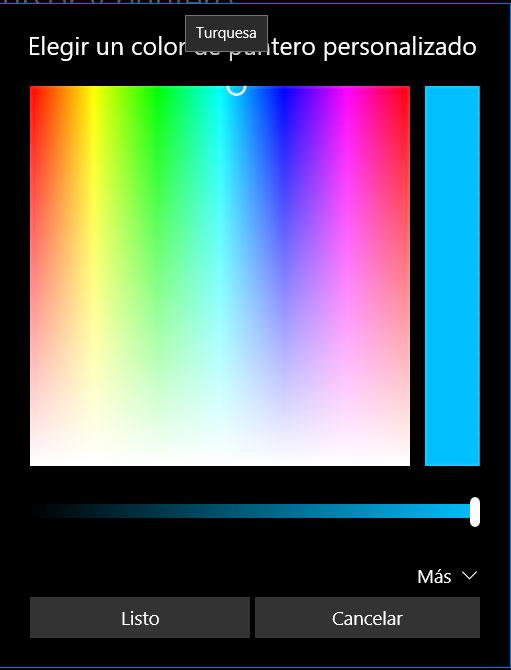 Enhance your Windows 10 experience with customization features
Thanks to everything seen so far, we will be able to adapt to the maximum the appearance of the mouse pointer, both in size and in tone. But at the same time we can specify here the thickness of the pointer when writing texts, for example, in Microsoft Word. This refers to the line that follows as we type characters in any editor. Therefore, we can make it larger in order to locate it more quickly.
But although it seems that these are all the customization functions that we are going to find here, we will see that it is not like that. As we can see on this same screen, a little further down, we still have a link that says "Additional mouse settings". By selecting this, we go to a new window that proposes other configurable options. However, these will no longer refer to the pointer, but to the general behavior of the device.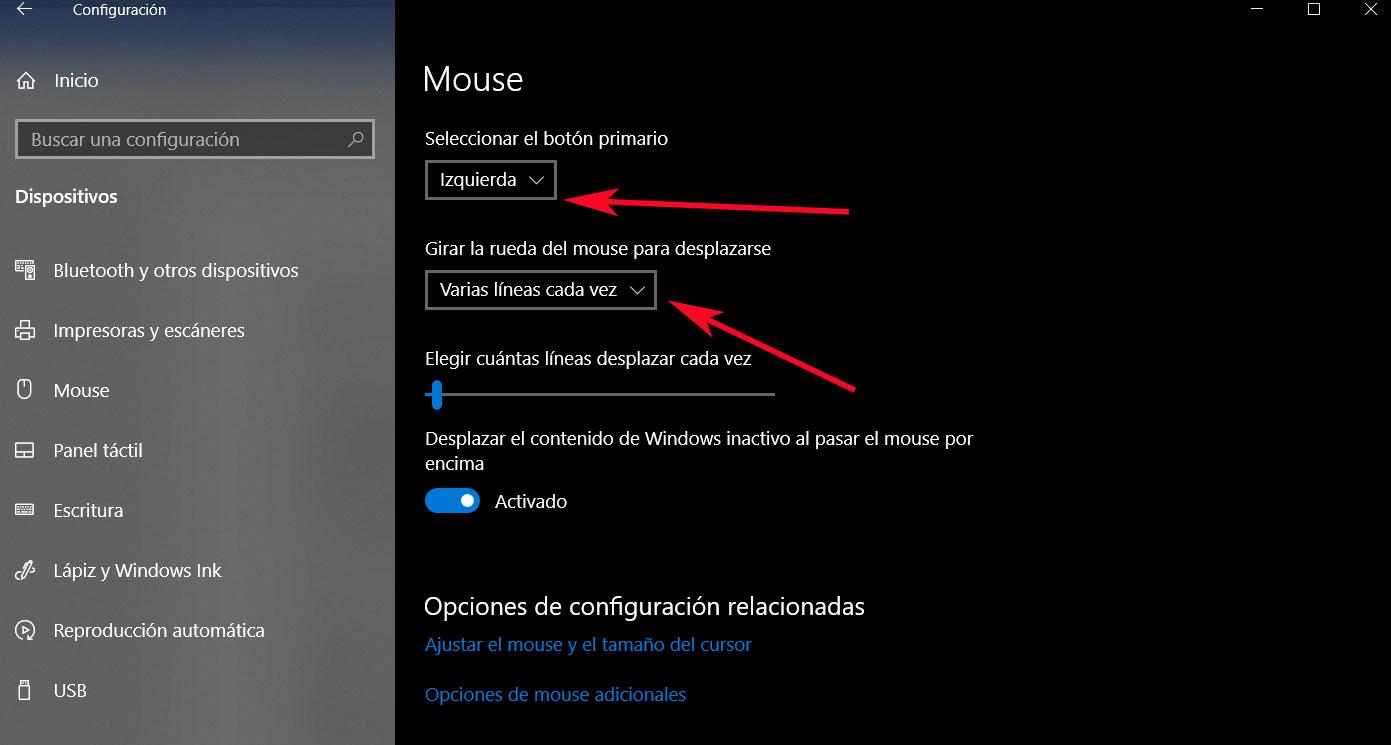 In this way, from the section that we have on the screen, we will have the opportunity to establish, for example, which will be the main mouse button. Although it is generally the left one, as we see this is something that we will also be able to modify. We can also tell Windows 10 the scrolling lines that are going to move when we use the mouse wheel . This will allow us, among other things, move faster in the browser to making scrolling in websites, or move along the text documents.
This is something that we can define both in full screen that it will scroll, or to be a little more specific, in an exact number of lines. As we have seen, all of this is going to be of great help when it comes to customizing the main mouse parameters in Windows 10. In this way, with just a few minutes wasting, we adapt the behavior of something so important to our personal needs. as is the mouse. And this is an element that we are using constantly. Therefore, being able to optimize its operation is something that we should do as soon as we install the system on a new computer.
Best websites to download cursors
It may happen that the cursors that come by default in Windows 10 do not like us. In that case, what we must do is search the Internet for the mouse icon that we like the most, download it and change it manually in our operating system.
For this, we can resort to a large number of web pages. However, the best ones, totally free, and with the greatest number of different and personalized cursors that they offer are:
DeviantArt. It is one of the websites with the greatest variety of resources to customize Windows that we can find. In it we will find a large number of cursors, both static and animated, that we will be able to download and configure in our Windows.
Cursors-4u.com. A web page dating back to the 90s or early 2000s. On this website we will also find thousands of different cursors that we can download to use in Windows 10, resources of all kinds ordered by categories. Even the page itself changes the mouse to a random one while we navigate through it.
RW-Designer. Another alternative from which we will be able to download all kinds of curious cursors to use in our Windows. Along with DeviantArt, it is one of the websites that is most updated in this regard, so we will be able to find even cursors inspired by modern games.
Finally, if we are not convinced by any of the cursors that we can find on these websites, we can always create the pointer we want. We can use a program like Photoshop or GIMP to create the cursor on a 32 × 32 px canvas, and save it in BMP format. Once done, we look for a website to go from BMP to CUR and voila, we will have our new cursor ready to configure it in Windows.
In case we want to have an animated cursor, we must find a way to convert the animation to ANI format.
Change the mouse cursor to a custom one
But on the other hand, it may be the case that what we really want is to go one step further in this regard. With this, what we want to tell you is that not only do we have the possibility to change a multitude of parameters of the pointer itself from Windows, but we can change it completely. In this way, instead of being forced to modify the appearance of the element that Windows offers us by default, we can choose one to our liking and with a preferred design in advance.
For example, if what we want is to have an animated course, at this point we should already have either the cursor in CUR format, or the animation in ANI format. These are the formats of this type that the operating system will be able to recognize and implement for use. Thus, once we have chosen and downloaded the new cursor from any of the websites listed above, let's start it. Therefore, the next step will be to go back to the Windows Settings application. In it we only have to go to the Devices / Mouse section.
A new window will appear on the screen in which we only have to click on the link that says " Additional mouse options ". This is located at the bottom of the panel on the right of this section that we indicate.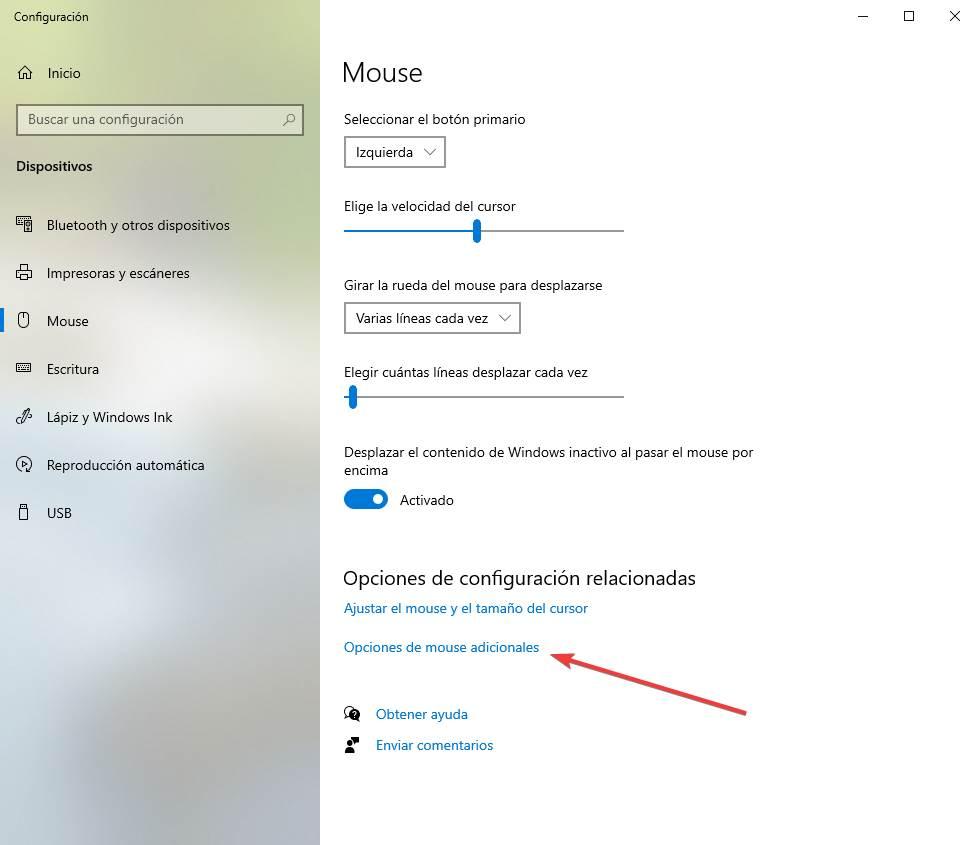 In the new window that will open, we will select the "Pointers" tab and here we will be able to see all the cursors that we have configured, as well as the different schemes that we have saved from other occasions. In the "Customize" section, which appears in the lower half of the window, we select the type of cursor we want to change and click on "Browse". This will allow us to select the new mouse pointer that we downloaded before and that we want to use in Windows, since we have it saved on the hard drive.
Now we will have to find the cursor that we have lowered and select it to configure it. The mouse pointer that we used so far will automatically change to the new icon. Of course, as we mentioned before, this must have a format compatible with those supported by the Redmond system. This is something that can be extended to both fixed and animated cursors.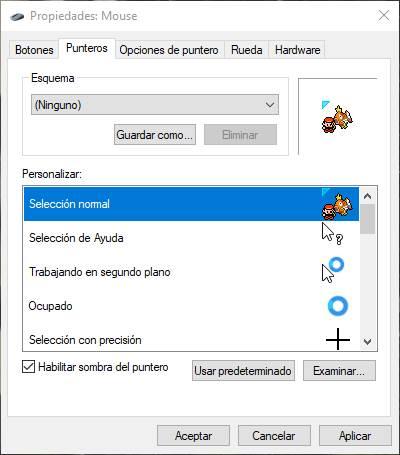 We repeat the same process for all the cursors that we want to change. We can mix between fixed and animated pointers. When we have our schema created, we can save it so that we can easily return to it at any other time. We simply have to click on "Save as" and give it the name we want.
Once done, click on "Apply" and that's it. We will have our new mouse cursor scheme ready. In this way, the step that we have just taken is just another of the many that we have the possibility to carry out to have a much more personalized and own Windows. This will help us, not only for aesthetic reasons, but also for functionality.