Windows
Do you use two screens in windows? So you can configure them separately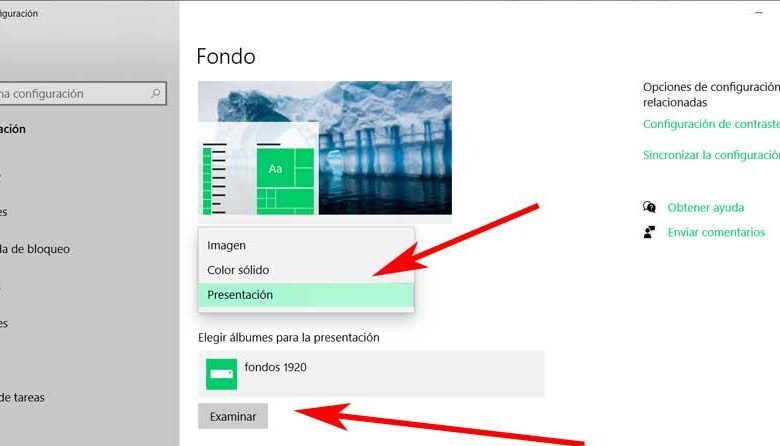 Day-to-day work with our PC has intensified over time to become the professional base of millions of users. To facilitate all this, the developers of operating systems such as Windows or Linux, and their corresponding applications, offer us advanced functions. This is precisely the case that concerns us in these same lines, the use of several screens.
Many are those who today carry out a multitude of tasks of the most diverse nature from their computer equipment, hence they need certain functionalities. Furthermore, here we must not overlook the fact that the computers we use in our daily work are often also our leisure center . Thus, we use them to spend the afternoon once we have finished the working day.
Therefore, at this point and as many of you already know, we need advanced systems and programs that allow us to get the most out of the PC. Here both office automation solutions come into play, as well as design, photographic treatment or video playback . This will allow us to use the equipment in all kinds of environments, in the best way.
Having said this, in these lines in particular we are going to talk about a use that is becoming more widespread, we are referring to the use of two screens simultaneously. As you can imagine, we refer to the use of several screens connected to the same computer, and working simultaneously.
Advantages of using multiple displays in Windows
And is that currently many users have two screens on their computers in order to try to increase their performance in front of the computer. This, among other advantages, allows them to work with a much larger desktop, with multiple applications running at the same time, which has a direct impact on productivity. In the same way, in this way they will be able to copy information from a window in a much faster and more effective way, or run programs and perform tests in several windows simultaneously.
The truth is that the utilities and advantages of using multiple screens in Windows are infinite, everything will depend on the imagination that we throw at it. And it is always going to be a great advantage to be able to work with multiple windows of different applications, without having to switch from one to another in order to have it in view. But of course, somehow we are going to have to manage the work with both elements, something that we achieve from the Windows Settings application, as we will see.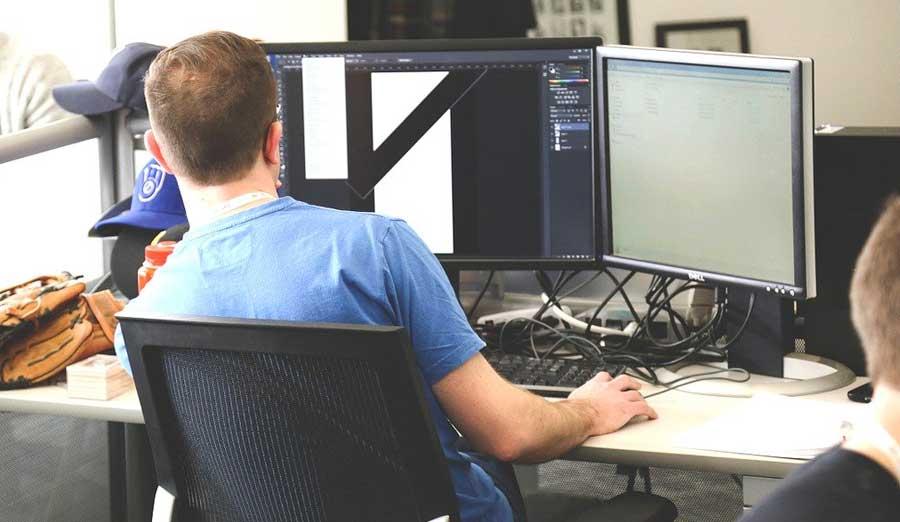 Another of the most common uses that are usually made when working with two screens simultaneously is to separate the professional from the domestic. With this, what we want to tell you is that you can use one as the main one to work with Office, for example, and another to be able to read our social networks and similar applications. Well, in order to manage the operation of both devices independently, Windows tries to make things much easier for us.
How to use different backgrounds and resolutions on Windows monitors
As an example, as you can easily imagine, in most cases here, both screens are not going to be the same. By this we mean that they can be of different sizes, or equally support different resolutions. In addition, a good part of these users choose to use different desktop backgrounds in order to avoid confusion.
What's more, sometimes we will even need to make changes to use different resolutions. That is why we are going to show you how to set different wallpapers and resolutions for each monitor in Windows 10 below. As we mentioned before, this is something that we will be able to carry out from the versatile Windows Configuration application . We access it through the Win + I key combination.
Use different resolutions on the two screens
As we mentioned before, it is very likely that both monitors are not the same size or support the same resolutions, but this is not a problem. At the same time, it may be the case that, for whatever reason, we need to use different resolutions on both devices, all depending on the type of work to be developed.
Therefore it is very common that when using two monitors in Windows, we have to set different resolutions. To do this, from Windows 10 Settings, we access the System option.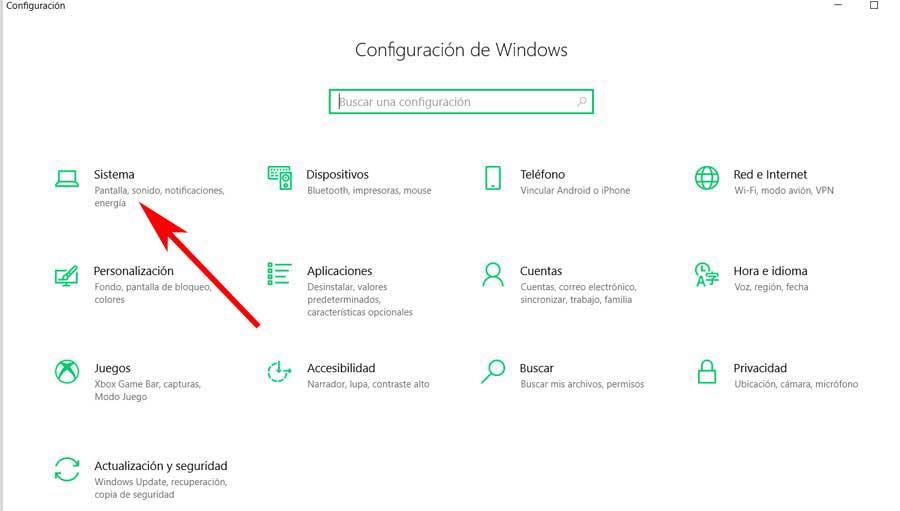 Here, in the Multiple screens section, we can choose Extend these screens from the drop-down list that appears, for example.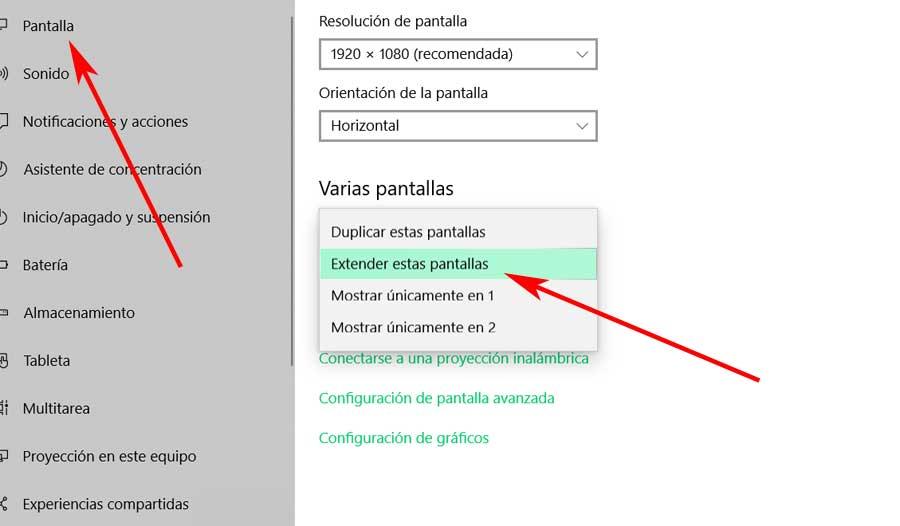 After that, at the top of this section, we will see a graph where both connected devices are already clearly distinguished and separated by 1 and 2 in large.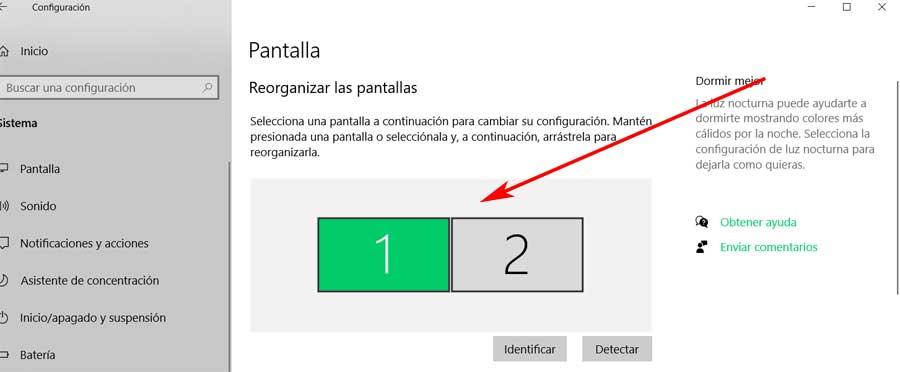 Well, to be able to establish their corresponding resolutions, we only have to click on each one of them and go down a bit in this same section. Thus, we will see that another section appears, in this case called Screen resolution, where we will see that the resolutions supported by the currently selected device appear in a drop-down list. Then we no longer have to choose the appropriate option, choose the other screen at the top, and repeat the process.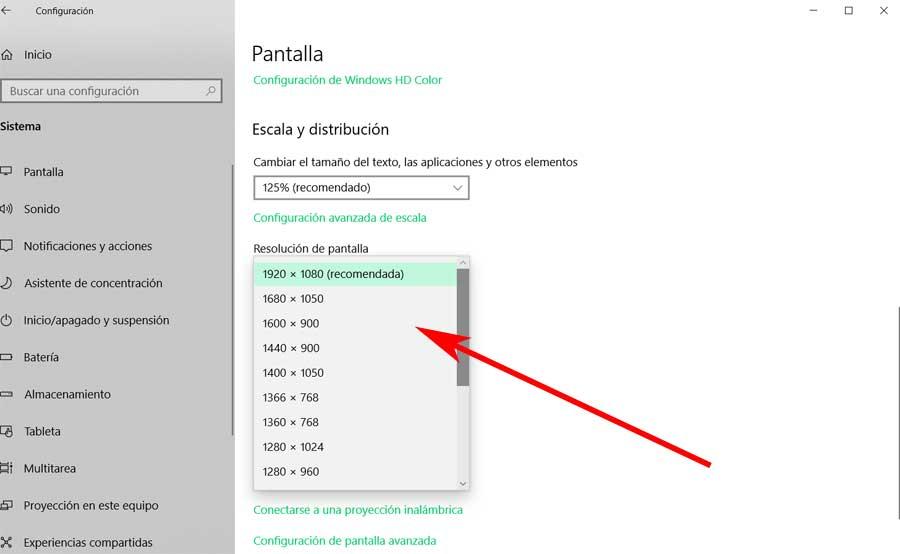 Set different backgrounds on the two screens
Keep in mind that Windows 10 allows us to set different desktop backgrounds. We will be able to do all this to clearly distinguish both work desks, also without the need to use external applications. Well, for this we return to the main Settings screen, and in this case we opted for Personalization. Once there, we select the option called Background that is located in the left part of the window.
Here the option that interests us the most in this case, and which could be the most comfortable and effective, is to use the Presentation mode, in the section also called Background on the right panel. We say that it is the most comfortable, because that way we will have the opportunity to choose a folder with various desktop backgrounds that will change automatically. This is something that we do by simply clicking on the Browse button to choose that disk folder.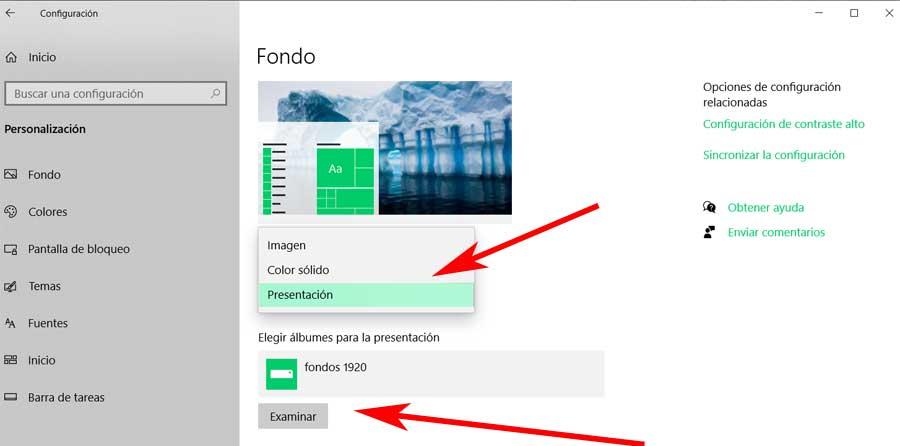 In this way and if we are working in Extended mode with both screens, as is the most common and we showed you previously, Windows 10 itself will be in charge of changing the funds. This means that at all times we will have different backgrounds, among those of the presentation, in order to distinguish the two desks from the screens well.