Windows
Do you use two monitors in windows? Decorate the desktop with thess backgrounds

More and more users are forced, for professional reasons, to spend a good part of the day sitting in front of a PC. In most cases, as the data says, this will happen with a computer based on Microsoft's Windows 10 system . That is why, due to all that time, we usually look for the best solutions and measures to work in the best way.
Although only a few years ago it might seem something of science fiction, to achieve this the use of more than one screen has become, in these times, something common. To all this we must add the enormous number of functions and features that the Windows system itself offers us to be able to customize its interface. This allows us to adapt everything that this software is capable of offering us, to our personal needs. Thus, the current Windows 10 gives us the opportunity to prepare the equipment both on a functional and aesthetic level, and in this way try to improve our productivity.
There are many elements that we can use in this case, especially in everything that refers to the interface of the operating system. For example, the themes and desktop backgrounds that we have talked about so many times. These allow us to give a much more personalized look to the Windows desktop in just a few steps.
How to change the Windows desktop
In addition, this is a modification that we can achieve in a few steps, as we are going to show you below. To do this, the first thing we do is go to the Windows Settings application through the Win + I key combination . In the window that appears, in this case we have to opt for the Personalization section .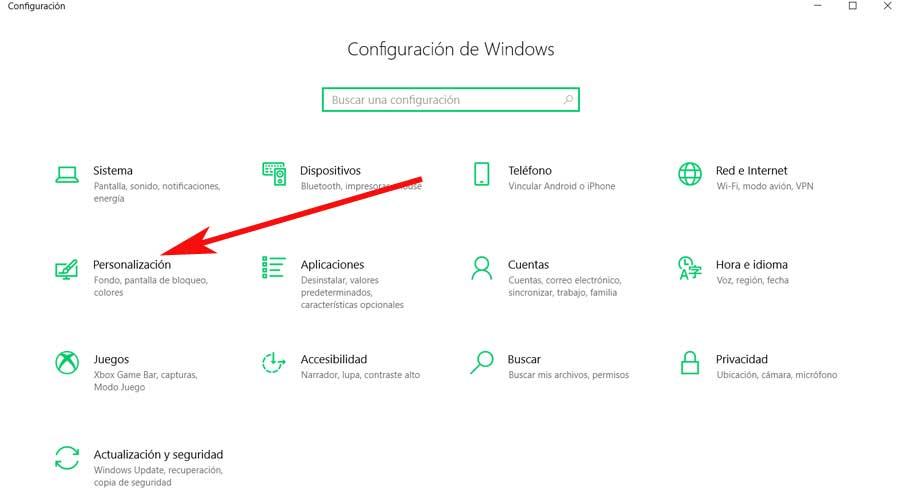 Next, in the section on the left of this interface, we see a section called Funds, which is the one that interests us in this case at hand. It is worth mentioning that from here we will already have the possibility of establishing a fixed image, or a presentation with backgrounds that change from time to time automatically.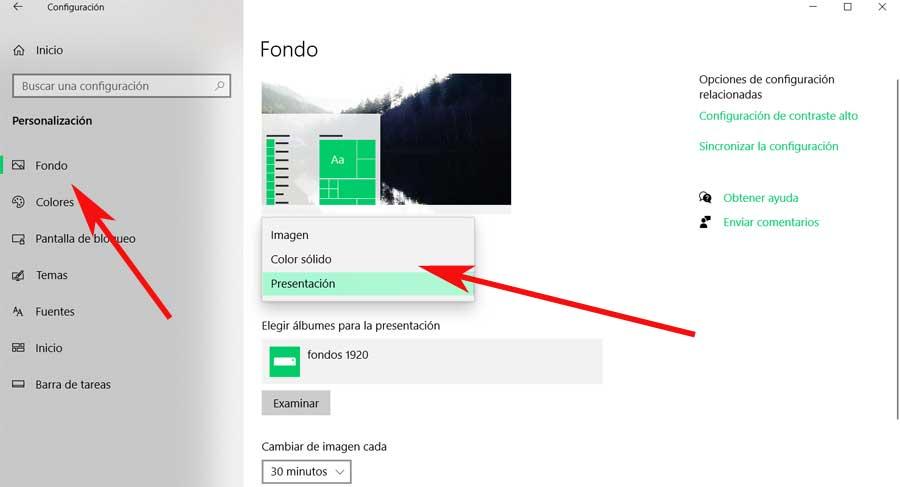 As we told you, with these simple steps we can give Windows 10 a more personal look and to our liking, all for free. But it may be the case that we use two screens simultaneously, as we discussed earlier. Well, it should be mentioned that in that case, we can also use desktop backgrounds that are valid for multiple monitors, as we will see later.
Change Windows background with Windows 10 Photos app
Another possibility that we have at hand in this same sense, is to use the System Photos application. This is the one that we find by default as a Windows image viewer when we do a clean installation of the operating system. To say that this particular application is gaining more and more followers, with which its use increases over time. Thus, it is worth mentioning that it will be of enormous use to us when establishing a certain image that we have chosen, as a Windows wallpaper.
For this we only have to open the corresponding file with this UWP application that we are commenting on. So once we have it on the screen, just click on any place on it with the right button of the mouse. At that moment, in the contextual menu that appears, we will only have to select the option Set as / Set as background.
How to use multiple displays in Windows 10
In order to configure the use of another additional screen in the Redmond operating system, again we have to access the System Configuration application. However, once we see it appear, in this case we opted for the System section. Here we locate the Screen option in the left panel, while in the right we click on the Connect to a wireless projection link.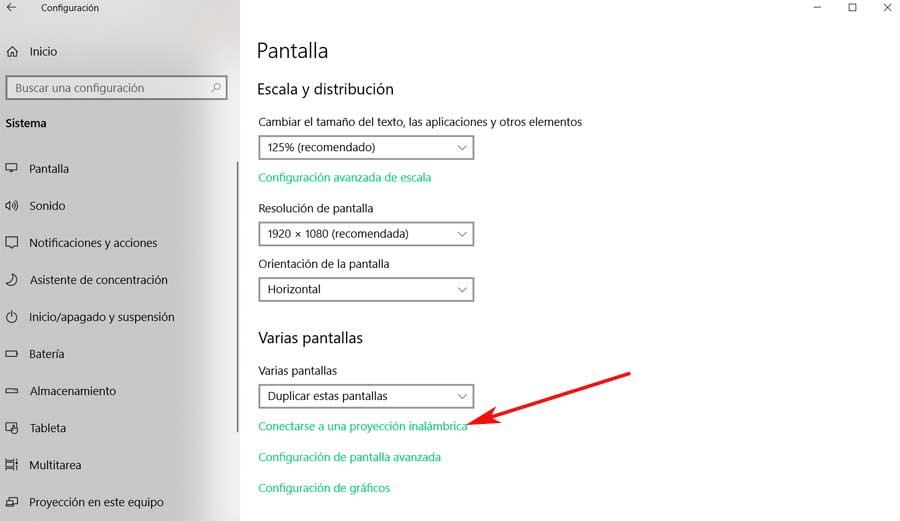 Well, once the system itself has detected it, we can work with two monitors at the same time. Say that here there are several modes of operation, but the most common is called as extended mode. Therefore, to activate it, we will have to select the Extend these screens option in the Multiple screens drop-down list.
This is actually going to allow us to be able to share the same desktop across the two screens. Therefore it is not difficult to imagine that we will have a much larger display space in which to place different open application windows. But of course, as we mentioned before, it is possible that, as we do when using a single monitor, we want to customize this desktop with another background. Well, that is precisely what we are going to help you in these same lines.
Stunning wallpapers for two monitors
When it comes to the functionality and aspect of using desktop backgrounds on one or two monitors, it is similar. But of course, what will change will be the necessary format to be able to adapt those images that we are going to use on multiple screens. It is for all this that below we are going to show you some of the best that you can find right now on the Internet to give a more personal look to your extended desktop.
With this, what we achieve is to have a large desktop, usually in panoramic format, sharing a single background. This is where we will place the windows corresponding to the applications with which we can work simultaneously in a single coordinated space.
Sunset At Muriwai Beach
Now that we are in summer, although not all of us can be on vacation, being able to decorate the desk with this beach sunset will be a visual pleasure. The landscape belongs to a beach in New Zealand, for lovers of travel. You can download this background from this link.

Bungalows
And continuing with the idyllic landscapes belonging to the sea, you can also download and use this background called Bungalows. As you can see, they are a series of small cabins located on the sea to be able to spend the holidays in the best way, an image more than adequate for the time in which we find ourselves. In order to use it, you download it from here.

Together
But not everything is going to be beautiful beaches, although we are in summer, romance also has a place here. That is why we also wanted to show you this desktop background for two monitors in Windows that is somewhat more nocturnal and personal. Of course, it is worth mentioning that this item is priced at $ 4.79 to download and use from this link.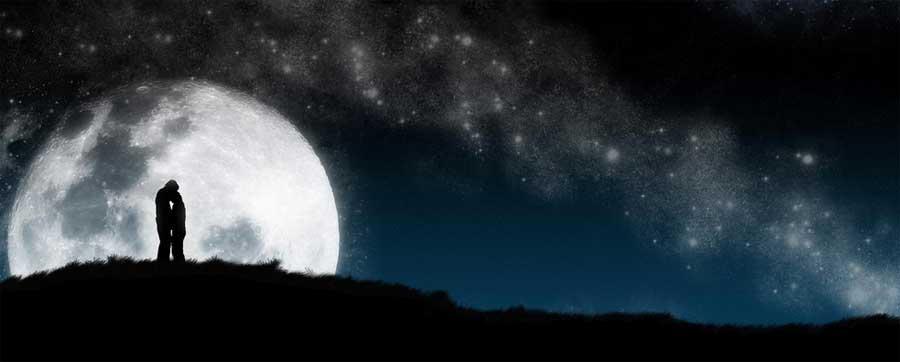 Depth Perception
Also for a price of $ 4.79, as in the previous case, we can also get hold of this attractive fund. Something more country as well as autumnal, it will delight lovers of the countryside on its two screens after downloading it from here.

Wiesner Viaduct & Rhaetian Railway
As its name suggests, this is an element of this type that focuses on trains. Specifically in a Swiss train running on a clearly winter landscape, which will serve as a relief for many with these temperatures. For all this, you can download this from this link.

A Long Way From Home
At the same time we could not put aside the lovers of space and science fiction. That is why we also offer you this spectacular image. It's called A Long Way From Home and it's clearly represented by a space environment in the purest Asimov style that you can enjoy from here.

DualNeuron
In this case we find a somewhat more abstract example, but liked by many. It is specifically about several neurons that could decorate our double Windows PC desktop. If you want to try it first hand, you will achieve it from this link.

POT
Spectacular, that is the one that could correspond to the description of this space wallpaper that we are talking about in this case from NASA itself . You can download it through this link.

Dom Luis I Bridge
At the same time that we have talked to you about natural, winter and summer environments, in this case we have not wanted to leave the city aside . This is another clear example that can also decorate your two Windows monitors by sharing a desktop, all from here.