Windows
Different ways to uninstall programs in windows 10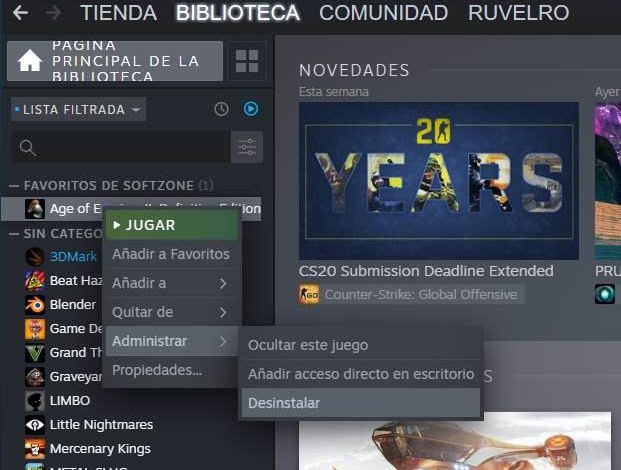 All the applications that we install on our computer must come with an uninstaller that allows us to delete them when we no longer need them. This installer is usually copied into the application's installation folder and, in addition, it is usually linked to other sections of the system to make it easier for users to run. The problem is that, sometimes, some applications may not correctly register this uninstaller, so when trying to uninstall the programs in Windows 10 we can run into several problems.
The most common way to uninstall an application in Windows is from the Control Panel, where the entire list of applications that we have installed appears. In addition, in Windows 10, we can also uninstall the applications easily from the Configuration menu of the operating system.
However, there are other ways to uninstall applications in Windows. Next we are going to see all these ways so that not a single application can resist us.
Uninstall programs and apps in Windows: the classic way
As we have already explained, the most used way to uninstall applications in Windows is to do it from the Control Panel itself. This is how applications have always been uninstalled, and thus they can continue to be uninstalled in the latest versions of Windows 10.
To do this, we simply write "Control Panel" in the Windows 10 search bar and go to Programs> Uninstall a program. Here we will see the entire list of applications that we have installed on our PC.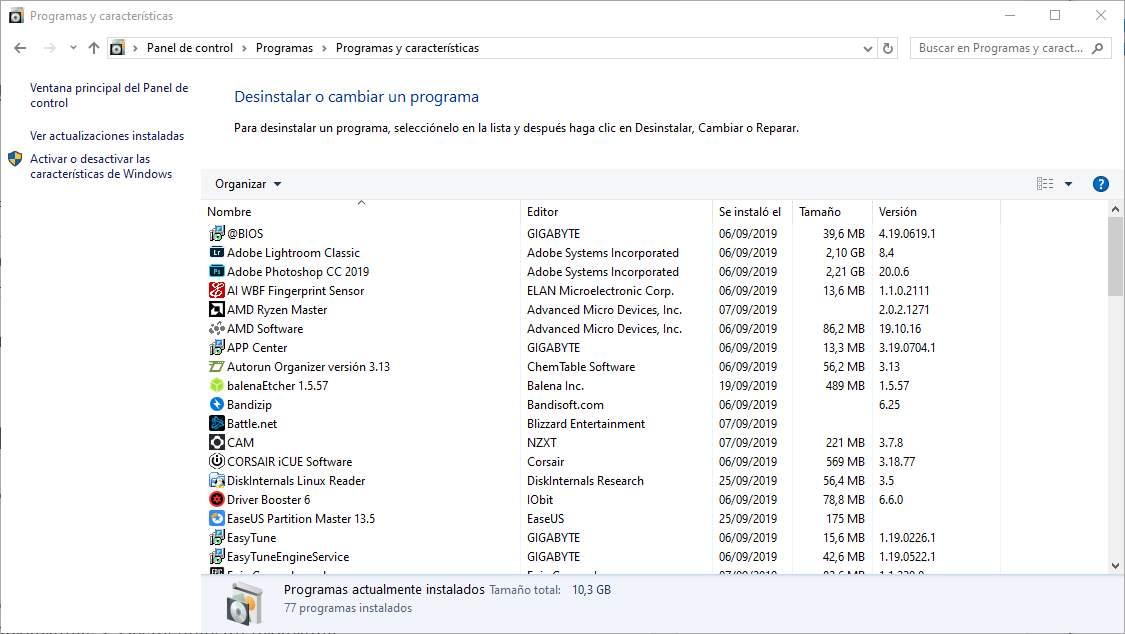 We select the one we want and simply double-clicking it will launch its wizard to uninstall it. We complete it and that's it.
From the Windows 10 Settings menu
The Control Panel will disappear. Sooner or later, Microsoft will bring all its options to the new Settings menu so that all users can have all Windows options centralized there and when it is expendable it will be removed.
Within this menu we can also find a list with all the applications that we have installed on the PC. Specifically, within the Applications> Applications and features section, we can see a list of all the applications that we have installed on the computer.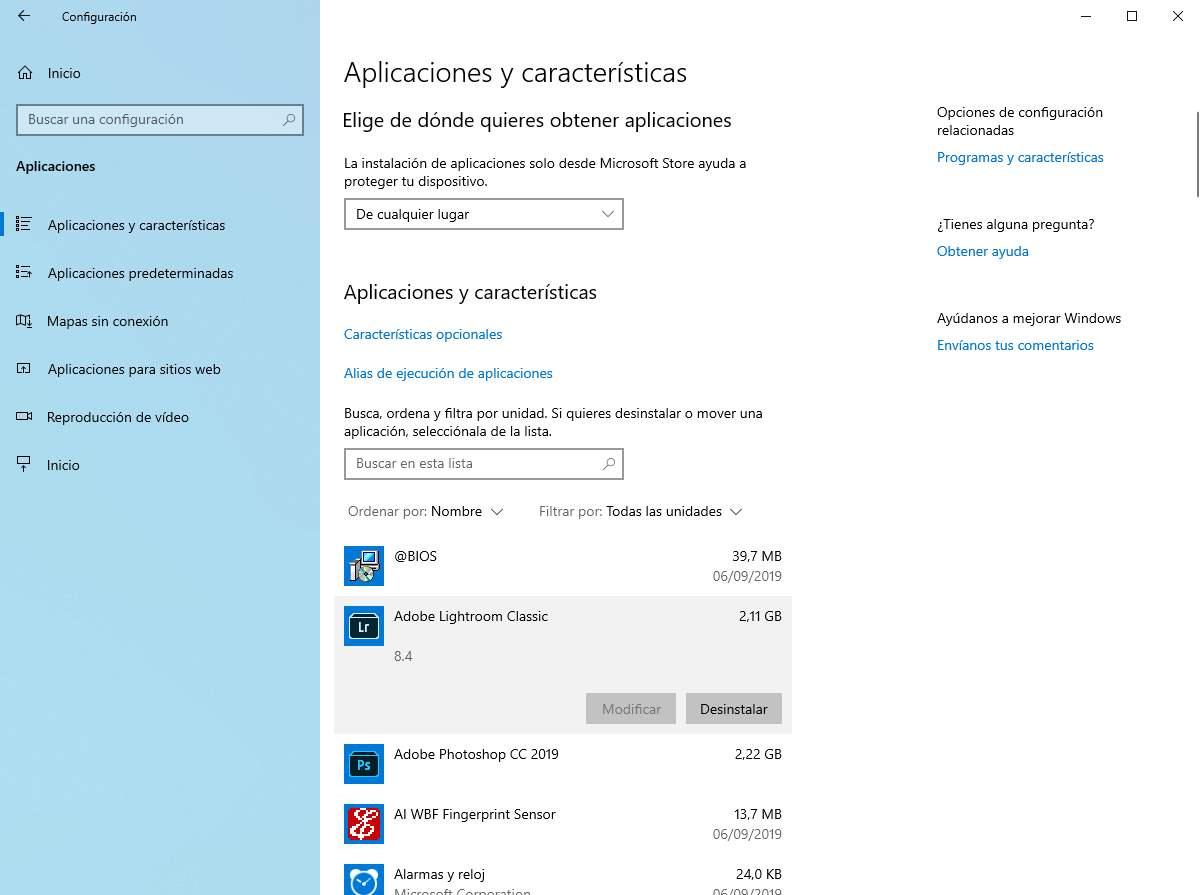 By selecting an application we can see two options that may or may not be available depending on the type of application in question. The one that interests us in this case is to "uninstall". We press this button and we will launch the uninstallation wizard to delete this program from our computer.
From the search engine
It has been several versions of Windows since the universal search engine was separated from Cortana. Now, we can all use the search bar that appears next to the Windows start button without having to use the wizard. This search engine has been improved and allows us, in addition to searching all types of files and folders, to locate any program that we have installed on the computer. And not only that, but also access to a series of functions, such as uninstalling.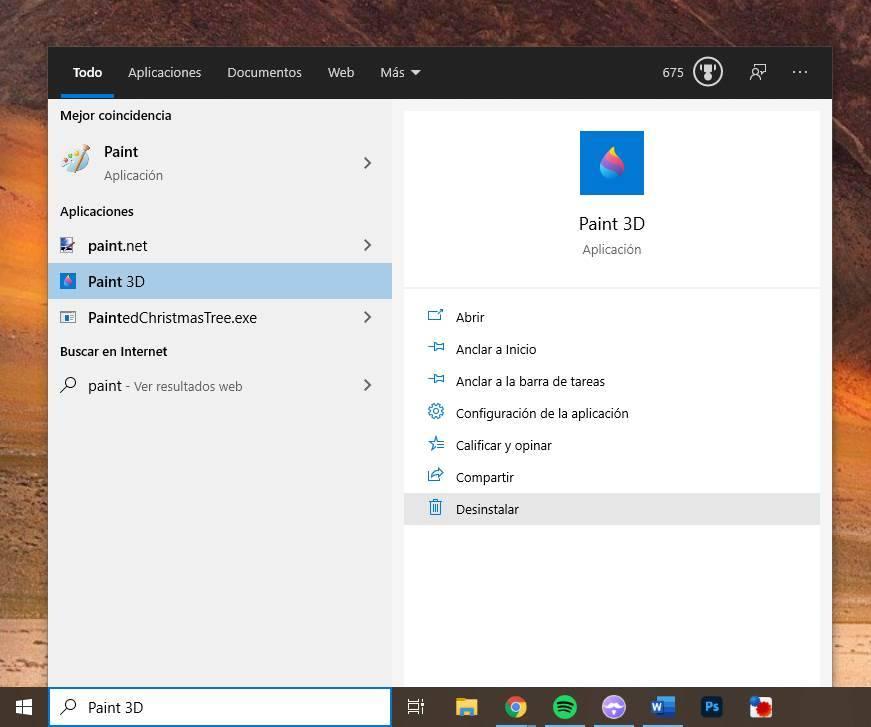 All we have to do is look for the program we want to uninstall and select it to display the panel on the right. Here we will find a series of options that, depending on the program or application in question, will be one or the other. We can find options to open as administrator, anchor the program, configure it, share it … but the one that interests us is to uninstall.
Clicking on it will launch the program's uninstaller. We simply have to follow it to the end to finish deleting the program from our computer. A very quick and simple trick that never hurts to know.
Uninstall UWP apps from Windows 10
Windows 10 introduced a new type of applications, universal apps, or UWP. These applications are similar in design to mobile applications and are intended to provide users with a faster way to install, manage and update the applications. Everything is done through the app store, or Microsoft Store.
UWP applications appear within the configuration menu that we have seen in the previous point, so one way to uninstall this type of application is from here, as if it were any other application.
In addition, from the start menu we can also uninstall these types of applications. If we right-click on one of them we will see the option to uninstall the application, which will allow us to erase it without problems.

Locate the uninstaller in the program's installation folder
If the application does not appear in the previous options, it may be that its registry entry has been damaged. In that case we have two options. The first one is to reinstall the above application to uninstall it, and the second is to find its uninstaller by hand and run it on the computer.
Normally these uninstallers are usually found inside the program's installation folder, so to uninstall it we simply have to look for the application in question (usually within Program Files) and look for the executable to uninstall it.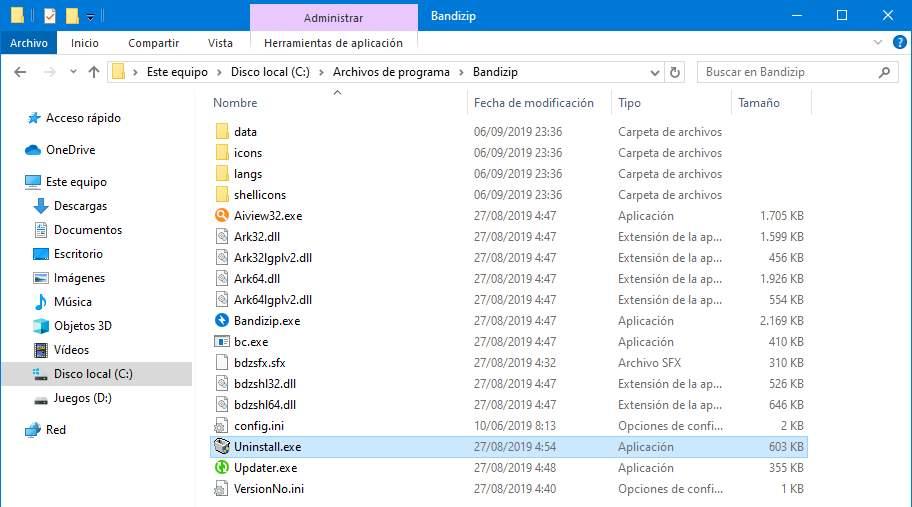 This wizard will allow us to completely erase the application from our computer, just as if we had executed it with any of the previous ways.
These uninstallers are not available for UWP applications.
Use third-party applications to uninstall programs and games
If, for example, what we want to uninstall is one of the Adobe applications that have been downloaded from Adobe Creative Cloud, or a game from Steam, it is possible to uninstall it using these programs directly. Since they were the ones who installed the program or game, they also have the instructions to uninstall it from the computer.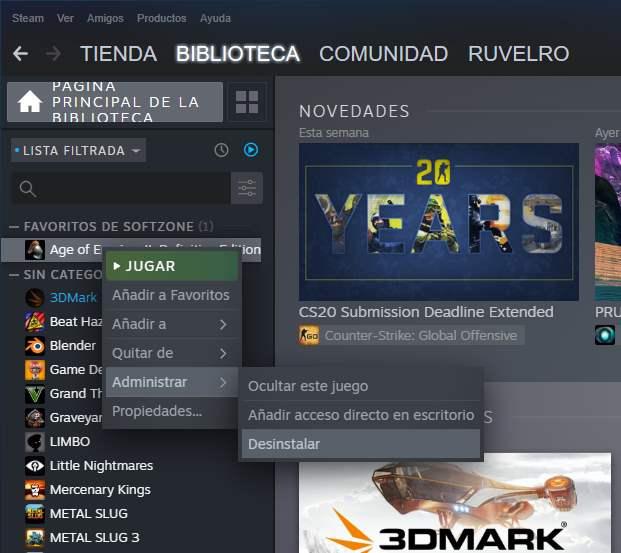 Another possibility to uninstall Windows programs and applications, and also clean all traces so that our PC is clean is to use a third-party uninstaller. We can find on the network several applications that do this, such as
Revo Unistaller
It is one of the best known and most complete options that we can find. This application is responsible for uninstalling programs, removing all files and Windows registry entries left by the program's uninstaller or by the Windows uninstall function itself. Thus, the programs will be uninstalled from the PC and their trace will be eliminated to keep our hard drive clean and free of garbage. This portable tool has a free version that we can download from its website.
HiBit Uninstaller
It is a program that will help us uninstall any application that we have installed on our PC. It will help us to clean all those softwares that we do not need or that we no longer use, being able to eliminate any modification made in the Windows registry, as well as any file or folder related to the program itself. In addition, it has the possibility of uninstalling programs in batches, as well as the applications that we have installed from the Microsoft Store. We can download it for free from this link.