Windows
Customize windows to the maximum: so you can change all sits icons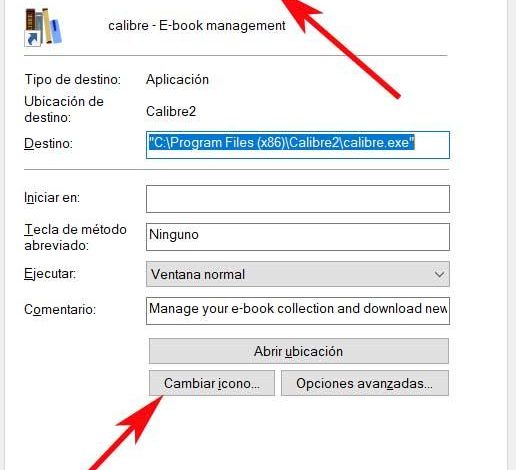 We use Windows 10 daily on our computers, but in many cases we use the operating system with its default settings. However, as we have already mentioned on many occasions, Microsoft here offers us a large number of customizable functions.
We can take advantage of these from some of the many sections and sections that the operating system itself makes available to us. But of course, at this point newer users may feel a bit confused. This is mainly due to all the functions that Windows 10 itself offers us, which can sometimes be a mess. That is why in these same lines we are going to talk about the possibility of changing the icon of a file, something that is extended to the icons of the folders or the shortcuts.
And it is that with the passage of time, the icons that come or are used by default in the Redmond system, can get boring. In addition, this customization task can be carried out in a simple way, as we will see. This, as you can imagine, will allow us to give a much more typical aspect to the operating system as such. More if we take into account that these are elements that we use continuously, for one thing or another.
How to change the icons of Windows itself
First of all we are going to talk about how to change those objects of this type that correspond to some of the basic functions of Windows. Serve as an example, to give us an idea, that these are the elements that appear on the system desktop. Here some as common as the Recycle Bin come into play , which is one of the most veteran. Thus, for this, the first thing we do is click with the right mouse button on the Windows desktop and click on the Personalize option.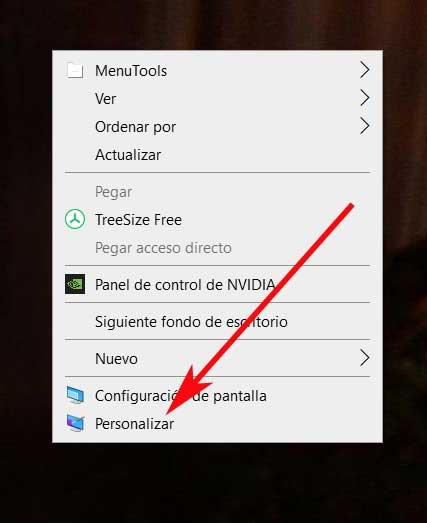 Then we have to go to the option Personalization of the application and click on Themes in the left column. Thus, in the window that appears, specifically in the right part of it, we will see a link called Configuration of desktop icons, where we click.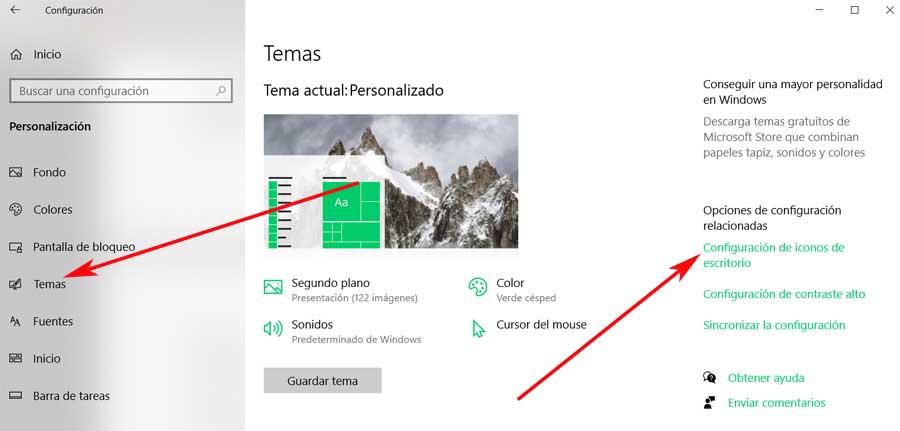 Therefore, we will arrive at the window that interests us in this case. In it we will already have the possibility to change the default icons that appear in this section of Windows. We will only have to select one of them and click on Change icon so that we can choose between those that appear, or search the hard drive for any other that we have saved in advance.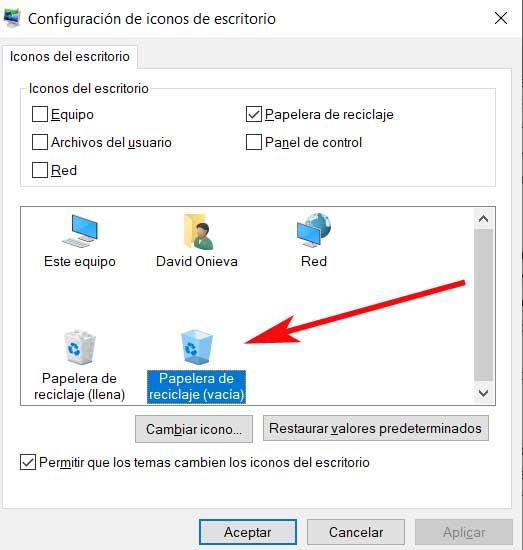 Change Windows folder icons
Another of the objects that we use the most in Windows are folders, something that we open every so often. But all of them are very similar, so let's see how we can change them. For all this, the first thing to do is right-click on it, the one that we are going to modify. Then a new contextual menu will open in which we can choose the Properties option. At that moment we will have access to the menu of the selected folder, so in this case we opted for the Customize tab. We will see this in the upper part of the small window that appears.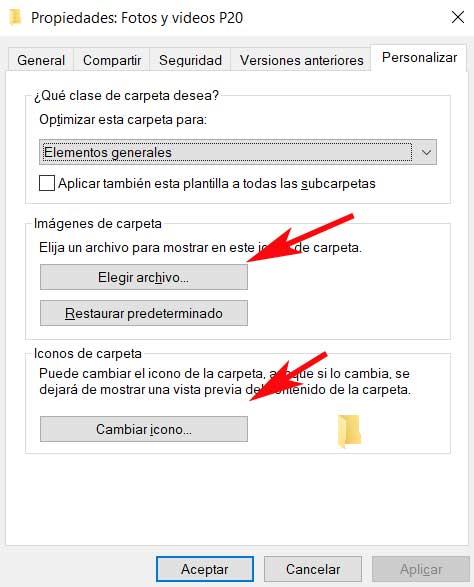 Here we will see several options that allow us to change the appearance of the folder with which we are dealing. Well, in this first one we are going to talk about the button called Change icon, since with this we can change this element. As it happened in the previous case with those of the system, now a window will appear with several samples to use.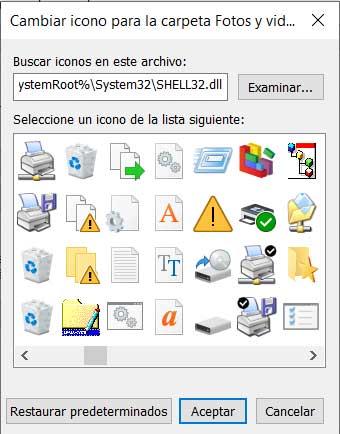 So we can select any of those that appear here, or on the contrary choose any other that we have saved on the computer's hard drive. We achieve this second through the Browse loot located at the top so that we can move through the unit until we locate the corresponding file with an .ICO extension .
Choose representative file for folders
On the other hand, in the main Properties window, we can also see a button called Choose file. What we are going to achieve with it is to choose a specific icon so that it appears within the icon that represents this folder.
This means that we will first see the default folder-shaped design, and inside a thumbnail of the image that we have selected in this section.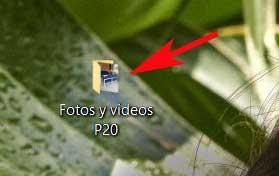 How to change the icon of a shortcut in Windows
On many occasions we place the aforementioned shortcuts to programs or files and call them directly from the desktop. Therefore, these refer to contents of the operating system that we use regularly, so we want them to be at hand at all times. But at the same time we must know that the icons that are used by default here, we will also be able to customize, as we will see.
Thus, the first thing we do is locate the shortcut as such that we want to modify its appearance. Again we click with the secondary button of the mouse and we are located in the tab also called Direct Access. Here we just have to click on the Change icon button to modify this element we are talking about. At that moment, another window opens with several samples, such as the views in previous cases, to choose the one that interests us the most.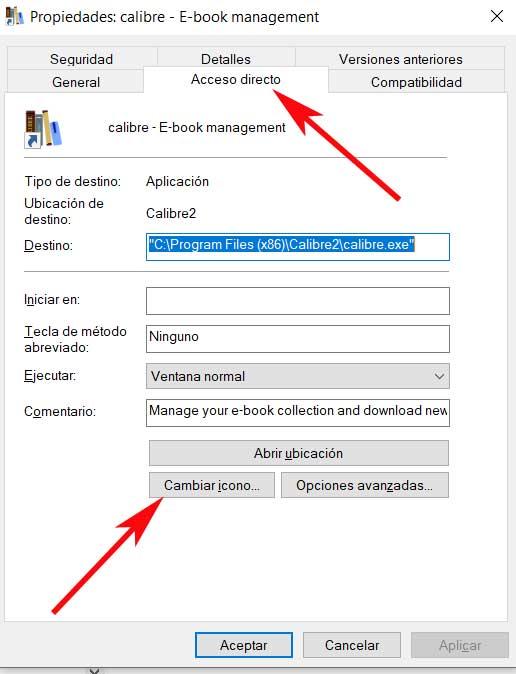 Of course, if we want to do this with an item from the Start menu, we must first access its original folder. To do this, we only have to click on that Start icon with the right button to choose the More option and we will be able to access its folder directly. Then we can carry out the steps previously described.
Alternative programs to change icons
These are the simplest ways that you can use when changing these elements that we have told you about directly from the system. But at the same time there are programs that focus on these same tasks, so we are going to review some of the most representative in this regard.
CustomizerGod
This is a program that we can download from this link. It allows us to carry out these customization work for all types of icons that we will find in Windows. The application has a very simple interface with the types of these elements that it proposes on the left side. What is striking about this proposal is the large number of these elements that it proposes to us.
File Types Manager
Here we see another utility of this type that we can download from this link. It is in charge of giving us the possibility of specifying a certain design for each of the file formats that we use in Windows. This will allow us to distinguish text documents much more easily from photos or videos, for example. Even to distinguish between different image formats from each other.
FolderMarker
We are now facing another interesting application with which we can modify both the color and the appearance of the icons on our PC and that we can download from here. With this program we can perform different actions. For example, we can change the color of the folders to a different tone from the classic yellow color, we can also change the icon for other predefined ones that it incorporates, or change the icon for another that we have in a folder and we want to take advantage of.
Where icons are saved in Windows
In these lines we have been able to see that when trying to change the icons that we have talked about, a series of samples appear in all cases. These allow us to choose the one that most interests us in each case in order to personalize the system. But at the same time we must bear in mind that there are other libraries that have more samples of this type. Therefore, we will only have to change the routes in which to search for these elements.
When the time comes when you need to try more personalization objects of this type, we recommend that you access some of the routes and libraries that we will explain below:
C: WindowsSystem32imageres.dll
C: WindowsSystem32shell32.dll
C: WindowsSystem32pifmgr.dll
C: WindowsSystem32DDORes.dll
C: WindowsSystem32networkexplorer.dll
C: WindowsSystem32netshell.dll
C: WindowsSystem32netcenter.dll
C: WindowsSystem32mmres.dll
C: WindowsSystem32setupapi.dll
C: WindowsSystem32mmcndmgr.dll
C: WindowsSystem32moricons.dll
C: WindowsSystem32gameux.dll
C: WindowsSystem32accessibilitycpl.dll
C: WindowsSystem32wmploc.dll
C: WindowsSystem32wpdshext.dll
C: WindowsSystem32compstui.dll
C: WindowsSystem32ieframe.dll
C: WindowsSystem32dmdskres.dll
C: WindowsSystem32dsuiext.dll
C: WindowsSystem32mstscax.dll
C: WindowsSystem32wiashext.dll