Windows
Create albums with your personal photos in windows 10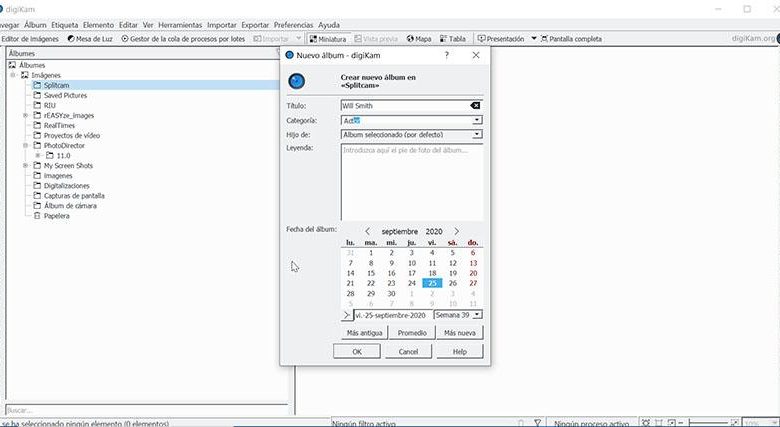 We continually save photos on our computer. The most normal thing is that we organize these photos in folders according to the event to which they correspond, or whatever type they are. However, this is by no means the best way to keep your photos organized. If we really want to have them well, the ideal is to create digital "photo albums", similar to the albums that were bought when a film was developed. So we can easily find the album we want and access all its photos in a moment.
Surely if we usually take photos with our mobile we will have an album already created. These can be created manually, or our phone will create them automatically using AI. Of course, if we are one of those who like to save all our photos on our computer, in Windows 10 we will also find several ways to create these photo collections easily.
Create an album with the Windows Photos app
Windows 10 released a new image viewer: the popular Photos app. This new program is developed in UWP format and mainly comes to replace the classic image viewer that had been accompanying us in the operating system for decades.
The new Windows 10 Image Viewer brings with it a host of options, functions, and features intended to be more than just a viewer. In addition to functions such as a basic photo editor, and a browser, it will also allow us to create collections and image albums,
When we open this program, the first thing we will come across is the "Collection" section. Here all our photos will appear in chronological order. However, we are interested in the "collections" that are automatically created at the top.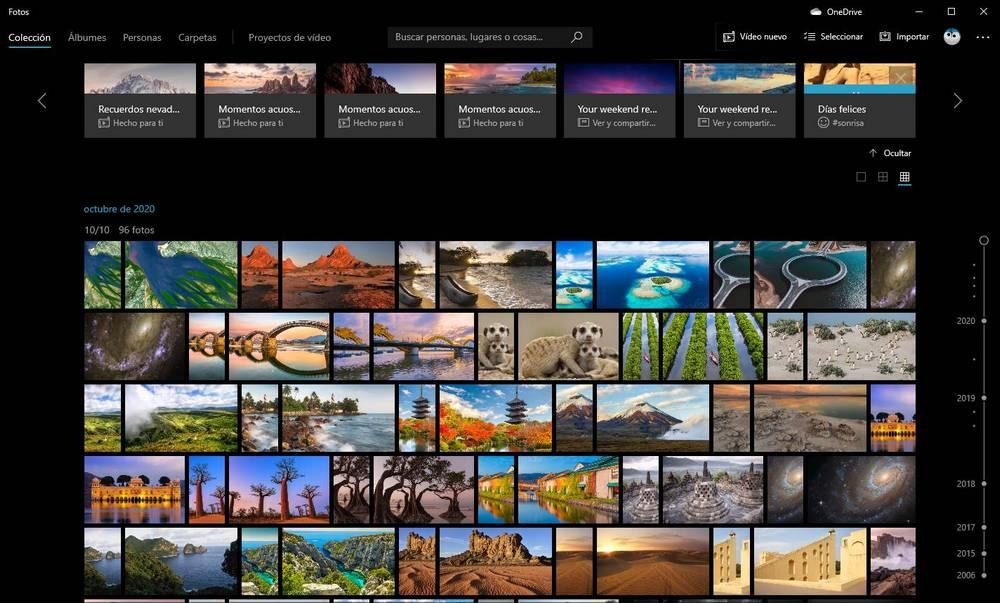 This app makes use of AI to organize our photos according to their theme, date or place to help us find, with a single click, similar photos. All these collections are created automatically based on the photos we have in our library.
But where we can get the most out of this program is in the "Albums" section. From here we will be able to create our own photo albums in Windows, and access all those that we have previously created.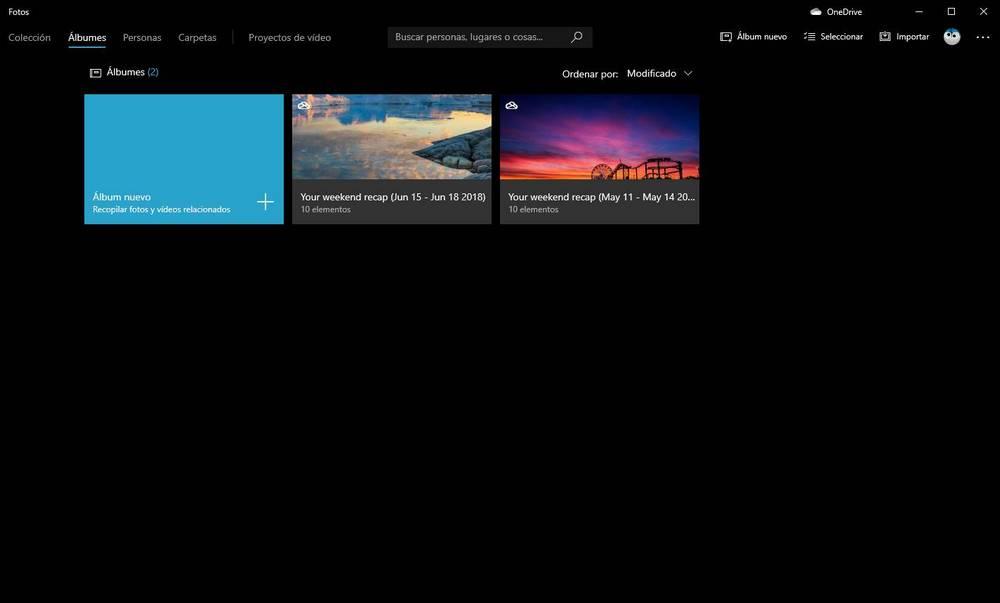 To create a new one, we simply click on « New album «, and a new section will appear from which we can add the photos that we want to be part of it. We can search for them from the chronological list, or add new ones from any folder on the PC.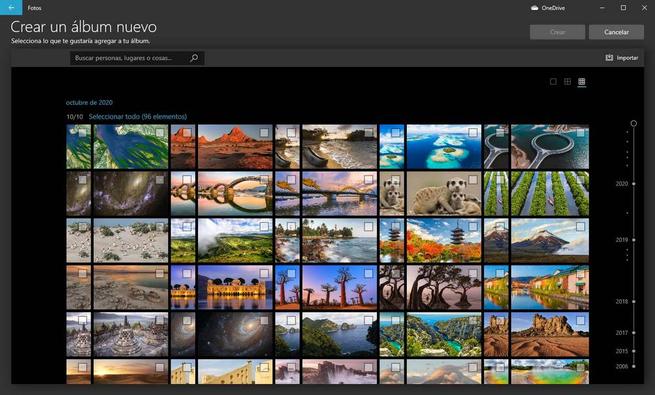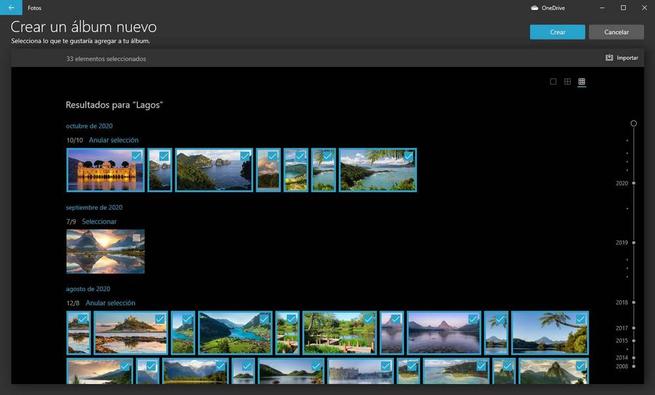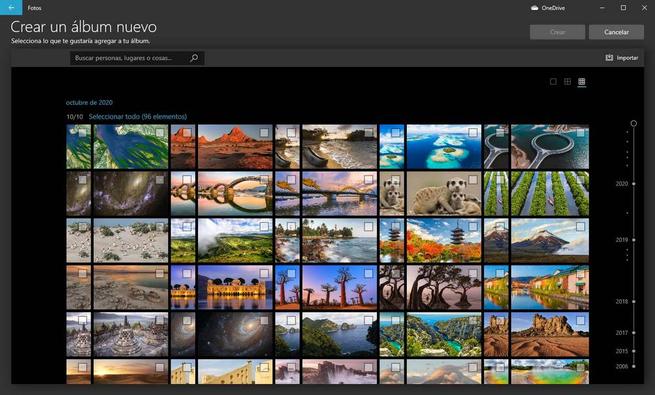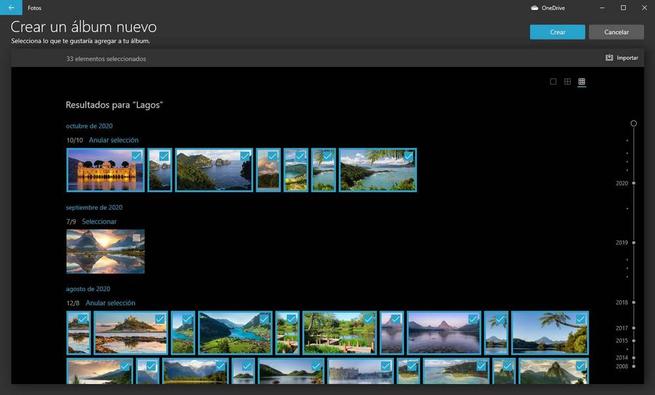 We select all the photos that we want to add to the album and click on «Create». It is done. Now we can see the new album that we just created, and give it whatever name we want. All our photos will appear there, along with a photo slideshow that will be created automatically.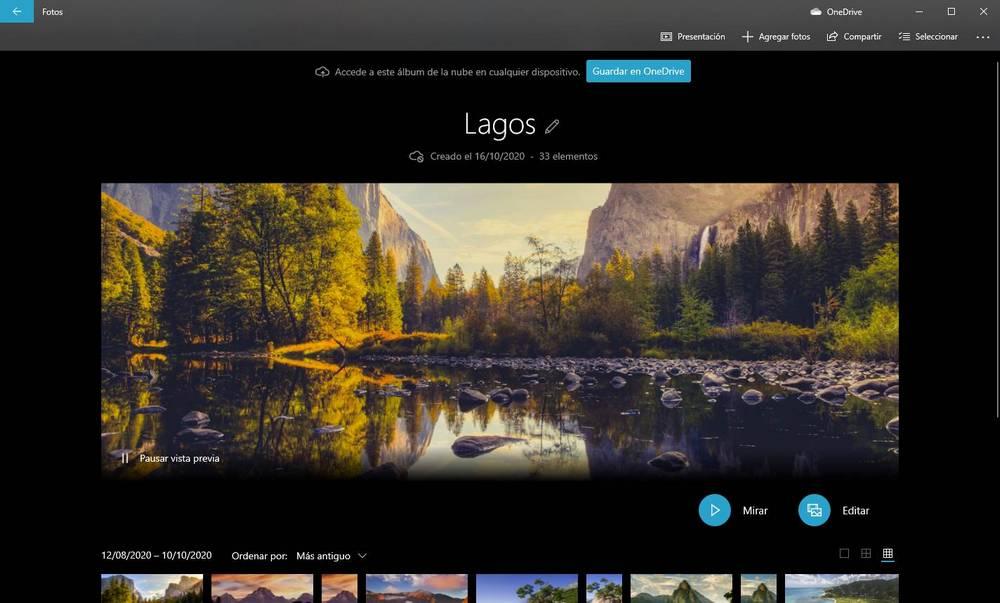 Organize photos by people
In addition to the possibility of creating photo albums with the Windows 10 app, it has a facial recognition system that will allow us to identify the people who appear in all the photos that we have imported into the PC to be able to find them easily .
We select, from the main window of the app, the "People" tab and all the people who have been automatically identified in our photos will appear.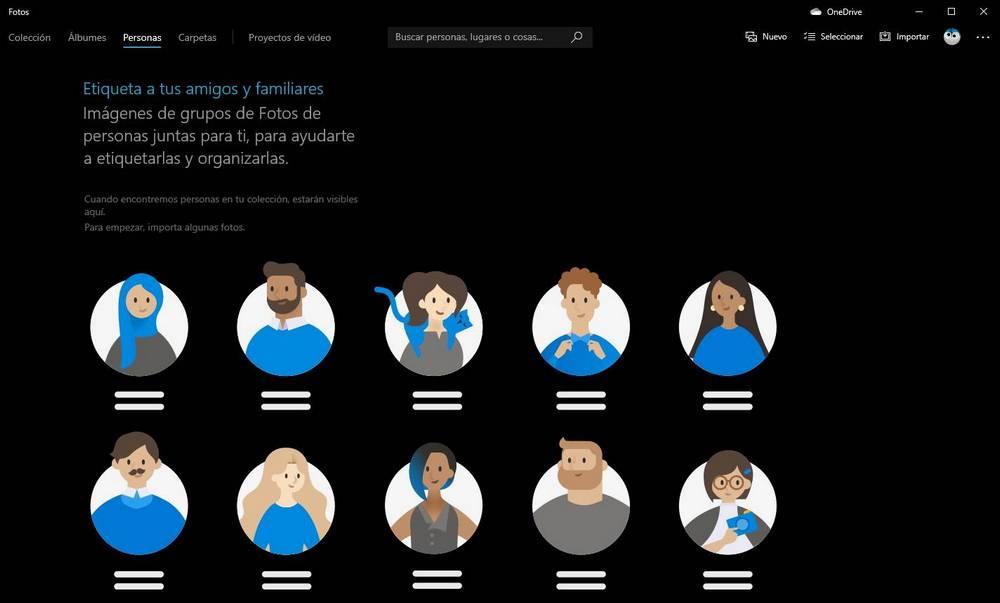 We can give the name we want to each of these people, and the program itself will be in charge of grouping all the photos in which that person appears automatically.
Cloud-based alternatives for cataloging photos
In addition to using the Windows 10 app itself, another way we can organize our images in albums is from the cloud. Today there are excellent platforms to upload our collection of photos to create online albums.
Google Photos, for example, is one of the best platforms for this purpose. The company offers us unlimited storage in its cloud (although of low quality) where we can upload all our photos. Once uploaded to the cloud, Google will use its facial recognition to recognize people, will enhance many of the photos automatically, and will offer us various suggestions for creating automatic albums. In addition, we can also create our own albums with the photos we want. And best of all, these albums can be shared with other people. In this way, the people we want will be able to see our personal albums, and add photos.
If we are Apple users (iPhone, Mac, etc.), we will also be able to use iCloud to save our collection of personal photos in the cloud. In addition, from the Apple cloud we can also create our own albums and manually retouch the photos that we see that can be improved. It is true that iCloud is much more basic than Google Photos, and it does not have free storage, but it is also more private.
Programs to organize, sort and create photo albums on your PC
And if we don't want to use the cloud, there are also excellent photo cataloging programs that we can install on any Windows computer so that we can have our photos much better organized.
Adobe Lightroom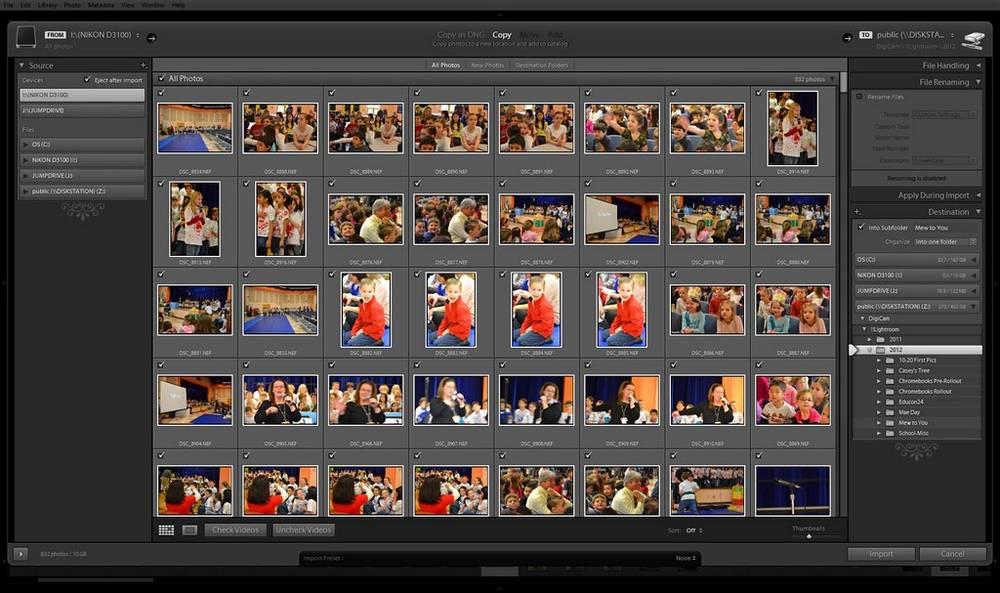 Lightroom is the photo development software that is part of the Adobe photo suite. Although the objective of this program is to help us to retouch and improve the final quality of the photos in our library, it also has a very powerful engine to catalog and sort the photos. This engine is powered by the Adobe Sensei AI, so we can even use the search engine to find what we want easily, be it a person, a landscape, an object, etc.
We can buy Lightroom from their website.
DigiKam
DigiKam is totally free and open source software to organize our photos. This software is capable of working without problems with databases of more than 100,000 images, as well as helping us to edit and retouch them, whether they are in JPEG or RAW format.
Thanks to this program we will be able to create our own photo collections, organize them and be able to search for the photo we want in seconds. In addition to having a large number of labels, this software has a facial recognition system that will be responsible for recognizing the people that appear in our photos to have them better cataloged.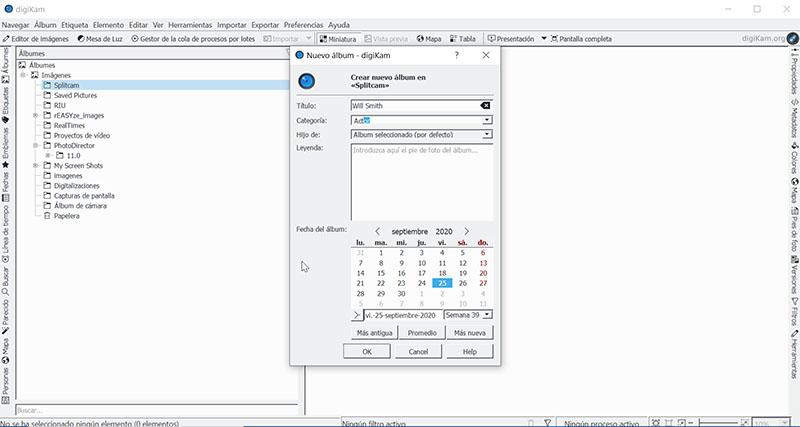 We can download it from the following link.