Windows
Convert windows 10 from a hard drive to an ssd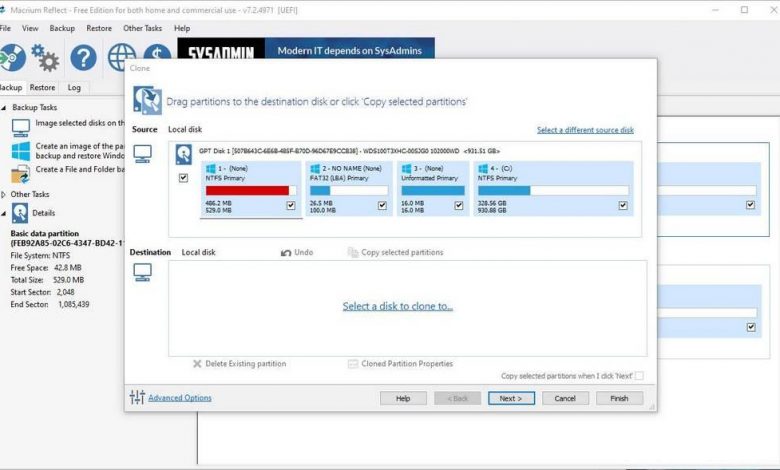 If we are still using an old mechanical hard drive in our computer, it may be the reason why our PC is slow. These hard drives have the best capacity / price ratio, however in terms of performance they leave a little to be desired. Therefore, the best way to update our PC for little money is to buy an SSD, greatly improving the general operation of the equipment.
The main problem of changing the hard drive of our computer and replacing it with an SSD is Windows. The normal thing is that when changing the hard disk we will have to install Windows from scratch, complicating the process, wasting time and doing something that, if our Windows works well, it would not be necessary.
If we haven't formatted the computer for a long time, this may be a good opportunity to do so. However, if we don't want to waste time formatting and reinstalling Windows, then we can resort to another technique: migrating Windows from the old HDD to the new SSD.
We recommend reading to the end to avoid problems, for example, with Windows startup from the new SSD. Many problems can come from the BIOS not using the new drive as a boot drive.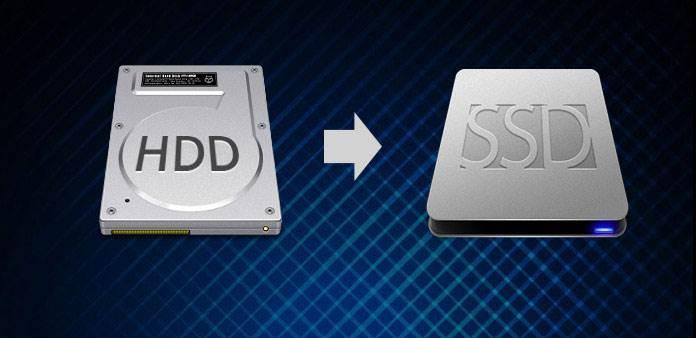 The pros and cons of an SSD (beyond performance)
Advantage
The main advantage, and the one that most interests users, is the performance improvement. An SSD is much faster than any normal hard drive. It can read and write data up to 10 times faster than normal HDDs. And the access times are much shorter.
However, these units also have other advantages. Solid storage units, having no plates or mechanisms, are totally silent. And they also consume less energy by not having to move all these mechanisms.
Disadvantages: an SSD is not always the best
Unfortunately, they also have some drawbacks. For example, some drives (especially NVMe) get too hot. Also, the GB / € ratio is higher than that of normal hard drives.
In addition, the useful life of these units, although now it is well over 10 years, is shorter than that of an HDD.
What SSD should I choose?
If we do a quick search on Amazon we will find a good number of different SSDs. Some are very cheap, and surely we have never heard of them, and others, better known, will be familiar to us.
The difference between a "private label" and a well-known brand SSD is not much. Maybe 10 or 15 euros. Therefore, we recommend you always go to the well-known brands, since in addition to offering greater performance and durability, we will have the option of a better guarantee.
Finally, if your computer has an M.2 port for an NVMe SSD, it is better that you choose an SSD of this type, since although they are more expensive, they offer speeds up to 6 times faster than those of a normal SSD.
First steps: prepare your hard drive to migrate Windows 10
The first thing to keep in mind is that this process is not too risky. Because the process is based on a copy of the data from one unit to another, in case something goes wrong we will always have the original hard drive with the data that will allow us to try again.
Anyway, the first thing we recommend you do is  a backup of the most important files. So, if you screw up a lot, at least our files will be safe.
The next step that we recommend is to prepare Windows for the process. Although it is not required, we recommend making sure to download and install all Windows updates so that nothing is left in the air. In addition, a disk cleaning does not hurt, eliminating temporary and unnecessary files and uninstalling all those applications that we no longer need. The less space our Windows occupies, the faster the process will be. And if we have a good backup and we can delete personal files so that it occupies even less, much better.
How to defragment a disk in Windows, without external programs
Finally, to get everything ready before starting the process that interests us here, we also recommend defragmenting the entire hard drive. The usefulness of all this is evident, as the function as such allows us to glimpse. And it is that in this way what we achieve is that the data blocks are ordered and the sequential reading and writing are faster. It is true that on the Internet we can find a good number of applications especially focused on these tasks that we are commenting on. But with everything and with it, you have to know that Microsoft's operating system, by itself, also helps us in this regard.
And is that Windows has its own tool for this, that is, to defragment hard drives. Therefore, in order to get all the performance out of it, first of all we just have to go to the search box next to the Start menu. Here we write the term Defragment so that we can see the entry corresponding to the functionality, where we click. Thus, a new window will appear on the screen that shows us the available disk units.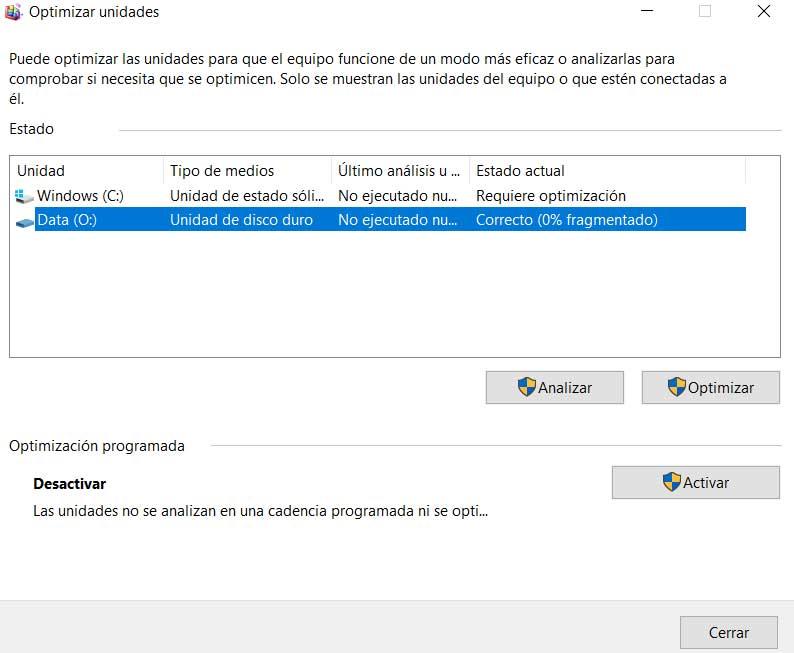 Therefore, to end this, we just have to mark the one we are interested in defragmenting, and then click on the Optimize button .
So we have our hard drive ready. We must make sure, yes, that the SSD is of greater capacity than the space occupied on the original hard drive. Otherwise the data will not fit in it. Also, the sector size must be the same on the source and destination disk, otherwise they cannot be cloned.
Defragment with other programs
Although the Windows file defragmenter itself can help us for this task, if we want a better job we can also resort to other third-party defragmenters.
Defraggler
Defraggler is one of the best known free disk and SSD defragmenters that we can find. It has a very simple interface from which we can see all our disks and SSDs connected to the computer so that just by choosing the one we want to order we can do it. And if we are tight on time, this program has a fast defragmentation mode that will simply group the files (without joining them) so that the free space is at the end and not have problems, for example, when cloning Windows to an SSD.
IObit Smart Defrag
If we are looking for a bit more complete software we can resort to IObit Smart Defrag. The purpose of this software is the same: defragment the hard drive. But it has features that help us do it better. Its main strength is the multi-threaded defragmentation engine, making it possible to access all data more quickly and obtaining better disk performance.
How to switch Windows 10 from HDD to SSD: the best programs
There are several programs designed to accomplish this task. Some of them work in offline mode, that is, outside the operating system (loaded in RAM), and others from Windows itself.
Next we are going to see different alternatives that we have to clone our hard drive to a new SSD to improve the performance of the computer without losing our data.
Acronis True Image
When it comes to data backups, Acronis is one of the most prestigious companies we can find. Acronis True Image is one of the most complete programs that we can find to make backup copies of our data and images of hard drives to recover them or, as in this case, clone them.
The latest versions of this software have a feature called "Active Cloning". This new feature allows us to clone a drive with an operating system (our Windows drive) to a new drive directly from Windows, without having to reboot or boot with another drive.
Active Cloning can work from within Windows itself or, in case of detecting a data access problem, it will automatically restart the computer, perform the cloning and reboot. All this without the user having to do practically anything.
The process is fairly simple. Just use the "Clone Disk" function, choose the type of cloning (automatic recommended), the source drive (our old hard drive), the destination drive (the new SSD) and wait for the process to complete. When it's done, Acronis will tell us to turn off the computer, disconnect the old hard drive, and turn it on again. It should automatically boot Windows from the new SSD. And everything should be as it was before starting the process.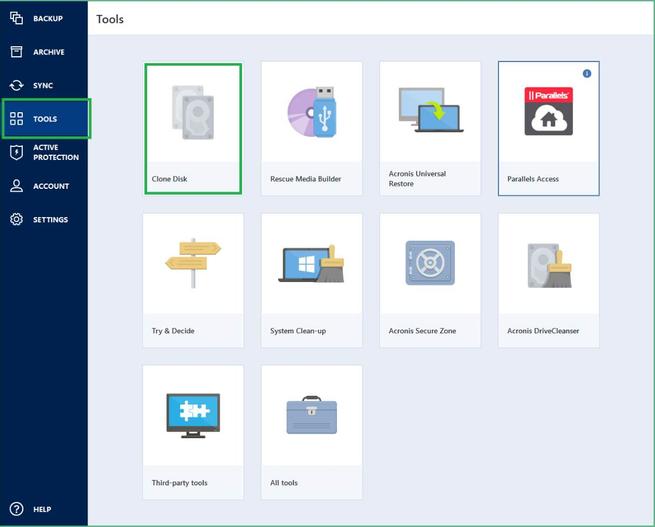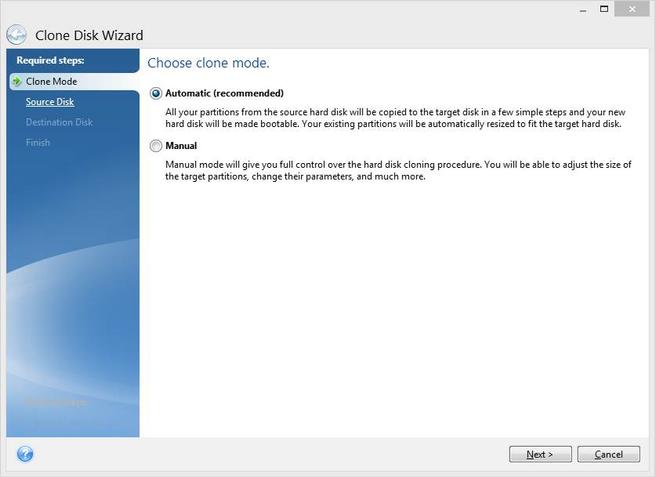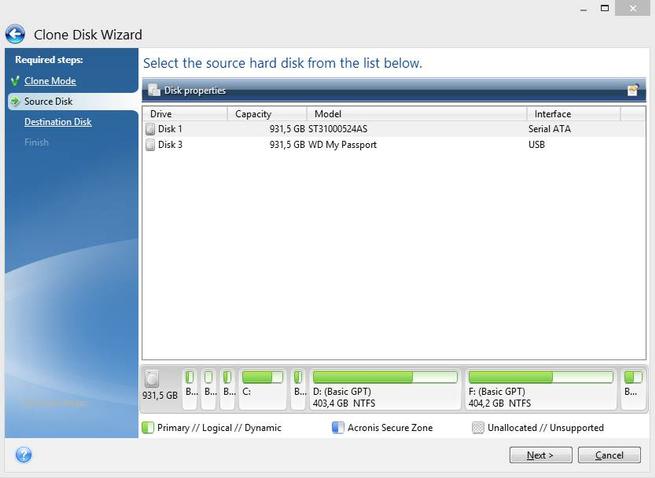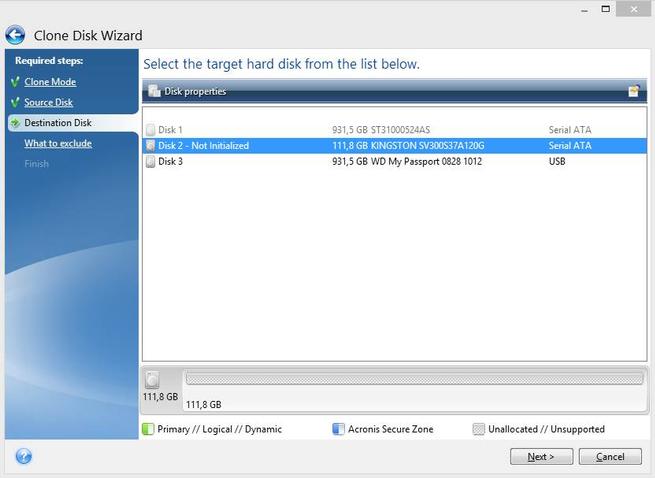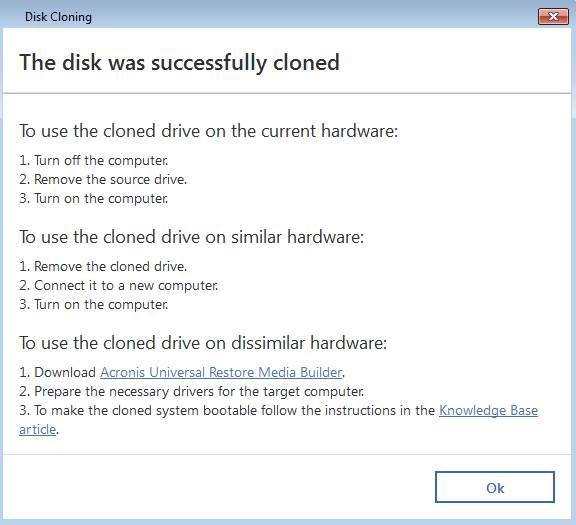 The only problem is that Acronis True Image is paid software. But if we don't mind paying, it's probably the best program we can find to clone our HDD to an SSD. We can buy this program from the following link.
AOMEI Backupper
AOMEI Backupper is one of the free programs to make backup copies and protect the information on our most complete hard drives that we can find.
The Standard edition of this program is the free edition that we can download and use without limitations for home use. And this edition has a function that allows us to clone a hard drive from an HDD to an SSD, or between two equal units.
The clone hard drive feature of this software works similar to the Linux "dd" command. That is, it makes an exact copy of the source disk to the destination disk, including blank sectors. To do this, we will install this backup software on our computer, we will go to the cloning section, we will choose the source and destination disks and that's it.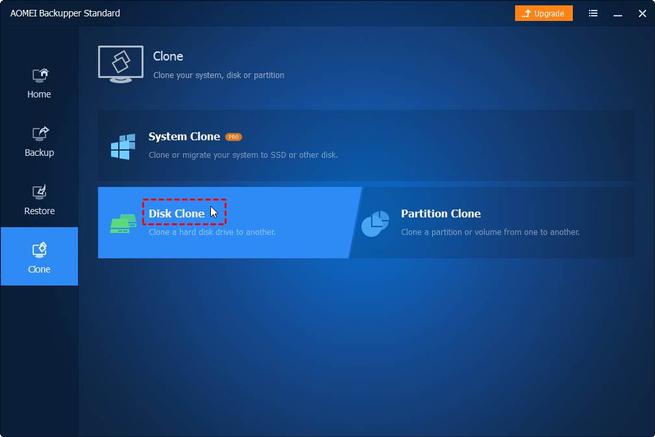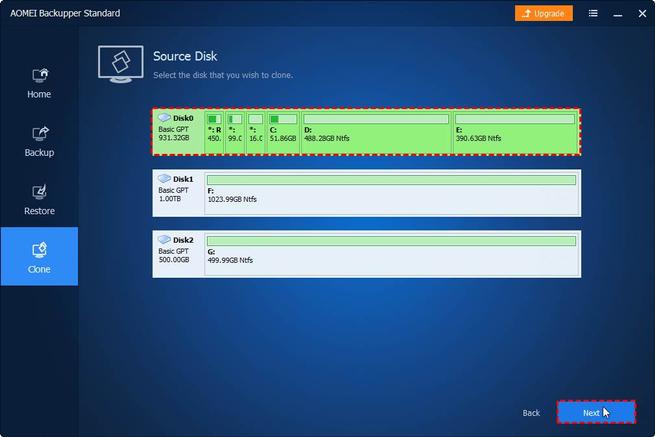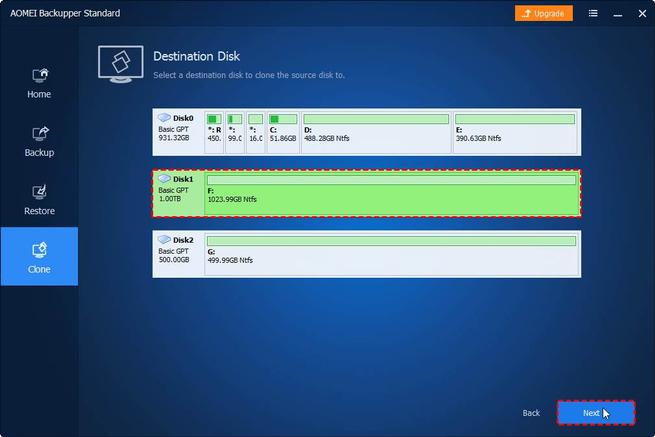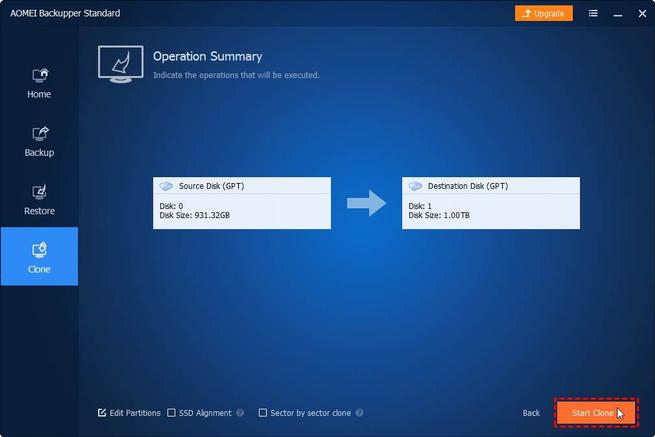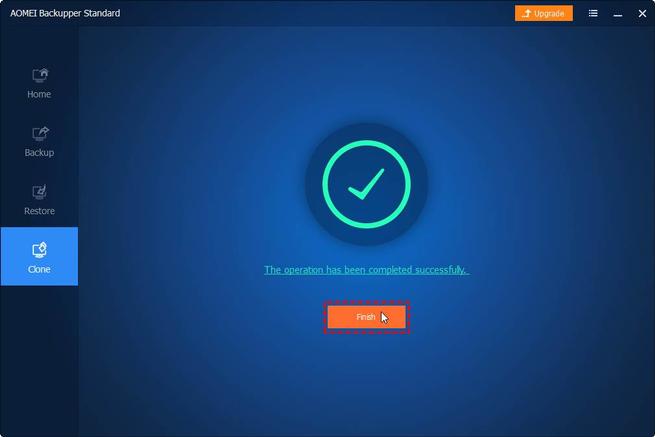 Of course, before starting with the cloning we must take into account several things.
The "sector by sector clone" option is interesting when the destination disk is larger than the source one. If it is smaller, we should not check this option. Thus the program will only copy the data and not the empty space and the other data structures.
If the target disk is an SSD, it is recommended to check the "SSD Alignment" box.
If the source disk is smaller than the destination one, with the "Edit Partitions" option we can adjust the partitions so that we do not have unused space.
When the process is finished we will have all the data from the original hard drive copied to the second hard drive. Now we will only have to turn off the computer, disconnect the old hard drive and turn it on again.
We can download this backup software from the link below.
EaseUS Todo Backup
This is another popular freeware for backing up data, partitions, and hard drives. And how could it be less, it also has the ability to clone hard drives. Thanks to this function we will be able to transfer all our data to a larger hard disk, or what interests us, to go from an HDD to a new SSD.
The process is very similar to the previous program. We must install this software on our PC, choose the option "clone disk / partition", choose the source and destination disk and that's it. Now we will only have to configure the advanced options for the cloning process:
Optimize for SSD: choose if the target disk is an SSD.
Sector-by-sector clone: ​​to copy the hard drive as is, sector by sector.
Create a portable Windows USB drive – to create a portable Windows USB drive.
The option that interests us is the first. And if we want the copy to be identical, the second. The third option has other uses and, in this case, we are not interested. We will check that everything is in condition and we will start cloning.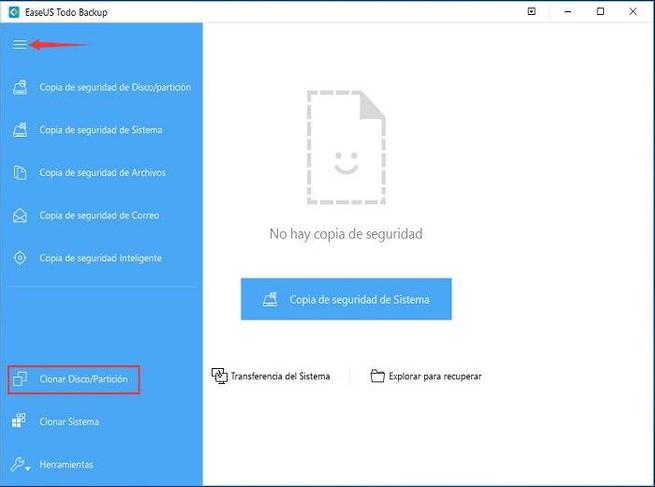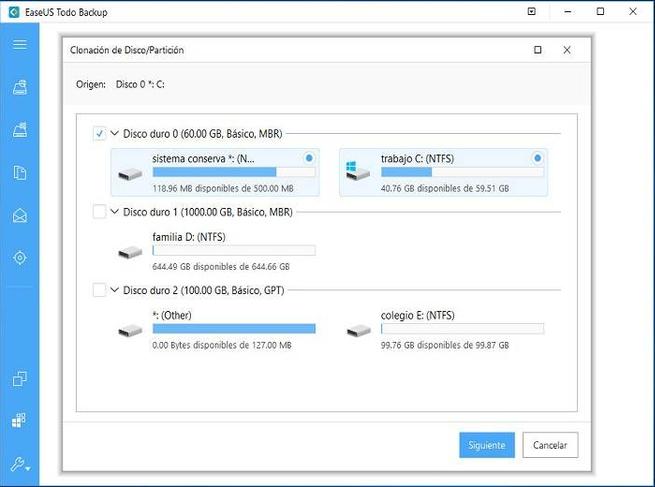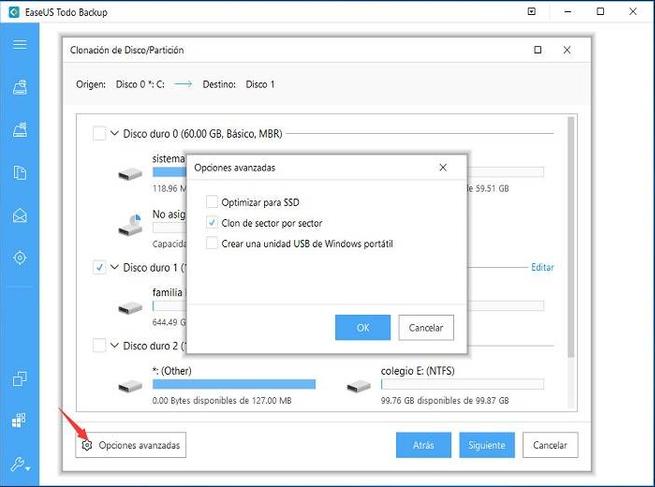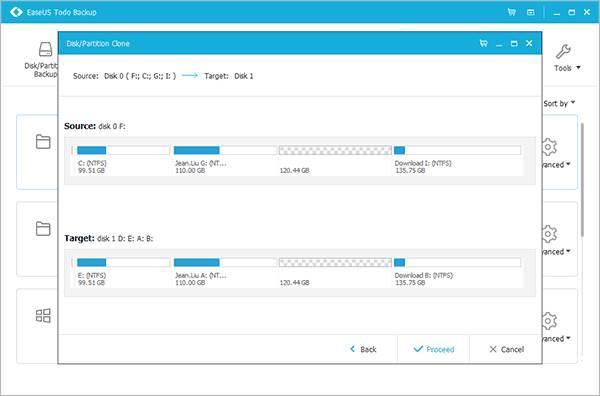 When it is finished we will have an exact copy of our HDD in the new SSD. Now we will only have to turn off the computer, disconnect the old hard drive and boot with the new SSD.
We can download this backup software from the link below.
Macrium Reflect
Another alternative that will allow us to migrate Windows from a hard drive to an SSD is Macrium Reflect. This software, which we can use for free at home, will allow us to clone the operating system from one hard drive to another, being able to change the hard drive without having to format.
When we download this program, the first thing it will ask us to do is download the installer. We must make sure that in this window we have the "Free" option selected, to be able to use it without having to pay.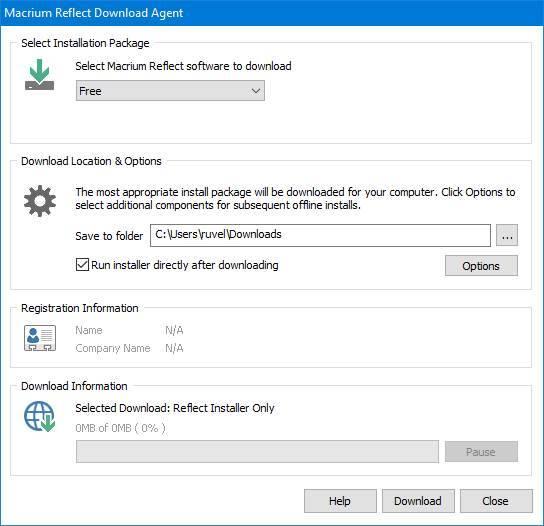 Once the program is installed and ready, the next step will be to start the cloning process. To do this, in the main window, we must click on the button «Clone this Disk».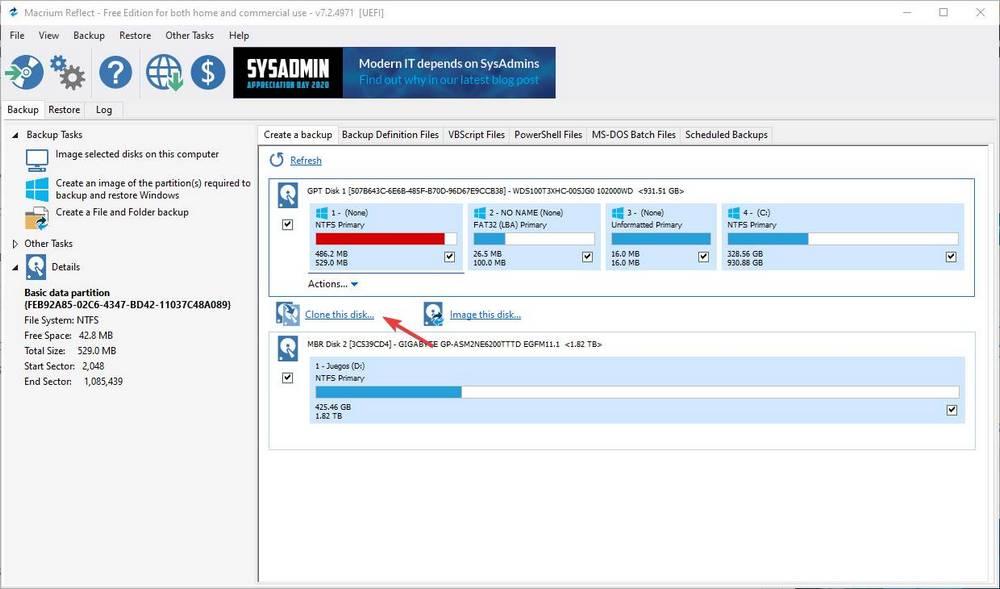 A new window will appear in which we can see, above, the original hard drive. And below, we will have to select the destination SSD where we want to copy our Windows.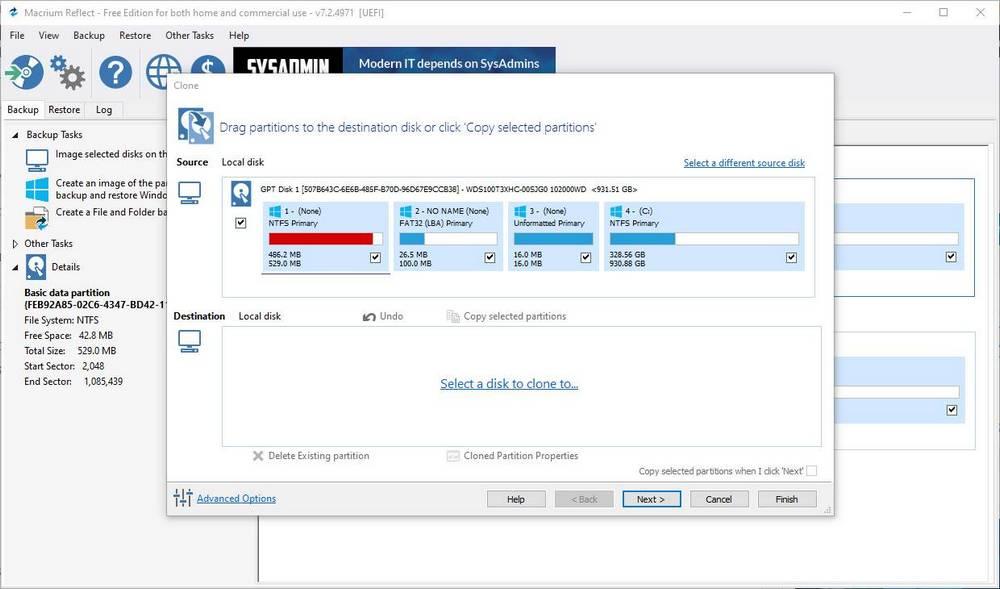 If everything is ready, we simply start the process and wait for it to finish. This process can take a long time, so we must wait patiently. And it is also advisable not to use the PC while cloning, to avoid leaving data on the old HDD that is not cloned to the new one.
When it is finished, we will only have to turn off the PC, change the hard drive for the new SSD and that's it.
We can download this program from its website.
Clonezilla
For users who use Linux systems, or who want to do this task outside the operating system, in Live mode, Clonezilla is the best program for this purpose. Clonezilla is completely free and open source disk cloning software. This allows us to create images of our hard drives to restore them easily, and, of course, create an identical copy from one disk to another.
To use it to migrate from a HDD to an SSD we must follow the following steps:
Download Clonezilla and create a bootable USB.
Start the computer with our Clonezilla Live.
Carry out the initial configuration (language, keyboard layout, etc.).
Choose the option "device-device work directly from a disk or partition to a disk or partition".
Select "Beginner Beginner mode: Accept the default options".
Choose the "Disk_to_local_disk" mode.
Select the source and destination disk.
We confirm the process (checking that it is correct) and wait.
When done, Clonezilla will have cloned our main hard drive to the new SSD. As always, we only have to disconnect the main hard drive and, when we boot, it will do so using the new SSD.
Unfortunately, Clonezilla has some major limitations. The first is that it is a much more complicated software to use than the previous alternatives. And the second is that it can only work with disks of equal or greater capacity. Never with little ones. Although there is enough free space to carry out the process, if the source disk is 1 TB (and we only have 30 GB occupied) and the destination, empty, is 500 GB, we will not be able to clone.
If we still want to use this cloning software, we can download it from the following link.
Final steps: check that everything is in order and enjoy the new SSD
When we finish the process, regardless of the program we use, we will have our Windows and all our data on the new SSD. It would only be necessary to disconnect the old hard drive to start using this new SSD.
In case the computer does not boot, what happens is that it will not have the SSD configured in the BIOS. We will enter this configuration menu, we will choose the new SSD as the primary boot drive and that's it.
When the operating system starts we can check that everything is in place. We will have Windows as we left it before cloning the hard drive, all our programs, settings, personal files, and even the partitions created. And in case something is missing, we will have it on the old hard drive, which is still unformatted and has all our data.
When we are sure that everything is correct on our new SSD, then the last step comes: thinking about what to do with the old hard drive. If it still worked without problems we can still use it. We turn off the computer, we reconnect it and we can format it to use it as a secondary hard drive to save data. And even to keep backup copies on it. Thus, in addition to improving performance by moving Windows 10 to an SSD, we will also have gained storage space to use for whatever we want.