Windows
Control best windows 10 knowing what processes are executed as an administrator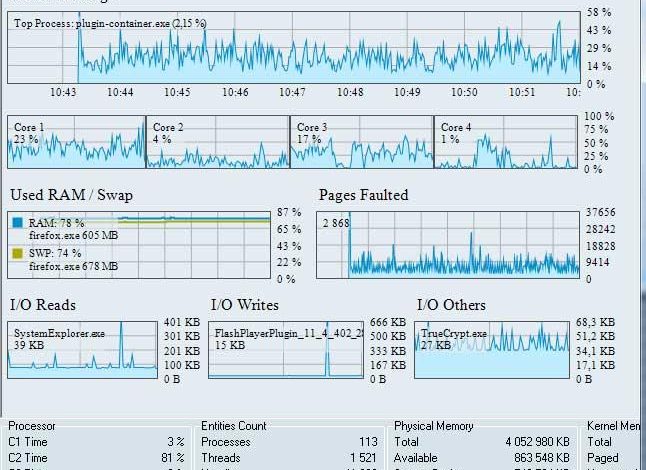 Surely many of you work daily with a PC based on Windows 10, either at home or in the office. Therefore, as you know, depending on the user or type of use, in it we can create accounts of different types.
We tell you this because all the accounts that are used on the same PC with Windows 10 are the same. We can create them normal for the rest of the users of the team, in addition to the one corresponding to the administrator. Keep in mind that the administrator account has many more permissions and privileges than an ordinary user account. In addition, this is necessary and mandatory to be able to make certain changes to the operating system.
Among these we can mention some as important as installing a new application, uninstalling it, or editing the Windows registry. Once we know this, in the event that we are running an application with administrator permissions, or we believe that we are doing it, but we need to confirm it, we will help you.
See the processes you run in Windows 10
To begin with, we will tell you that the verification process is quite simple, but you have to know how to access that information. For this we are going to make use of one of the implicit functions of Windows 10, we refer to the Windows 10 Task Manager. Thus, to access this section of the system that we mentioned, we can achieve it through the combination of keys Ctrl + Shift + Esc.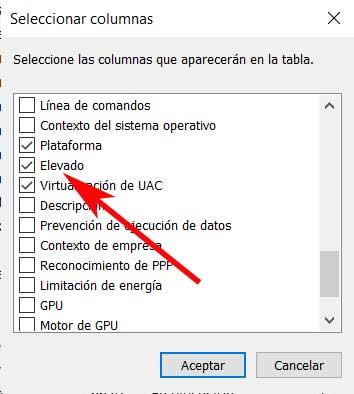 Once located in the new window that appears, we click on the tab called Details. Here we can see all the processes that are currently running in the operating system. In addition, in the different columns that are distributed here, we will see information related to each of them. However, not everything is visible from the outset or by default, as is the case at hand.
Therefore, in order to see the column we want in this case, we must click with the right mouse button on the header of any of the columns in view. After this, in the drop-down list that will appear after clicking on Select columns, we look for the Elevated option. As we can see, at first this entry is not marked, hence it cannot be seen in the tab, so we only have to click on this option.
Know more details of the processes that are executed as administrator
Then a new column with this same name will appear in the Details tab in which we were previously located. In this way we can already know, at a glance, the processes that are being executed with administrator permissions. Thus, in the case of applications that run with administrator rights, the Elevated column will read "Yes". Of course, otherwise, when applications are run with normal user rights, the Raised column will show "No".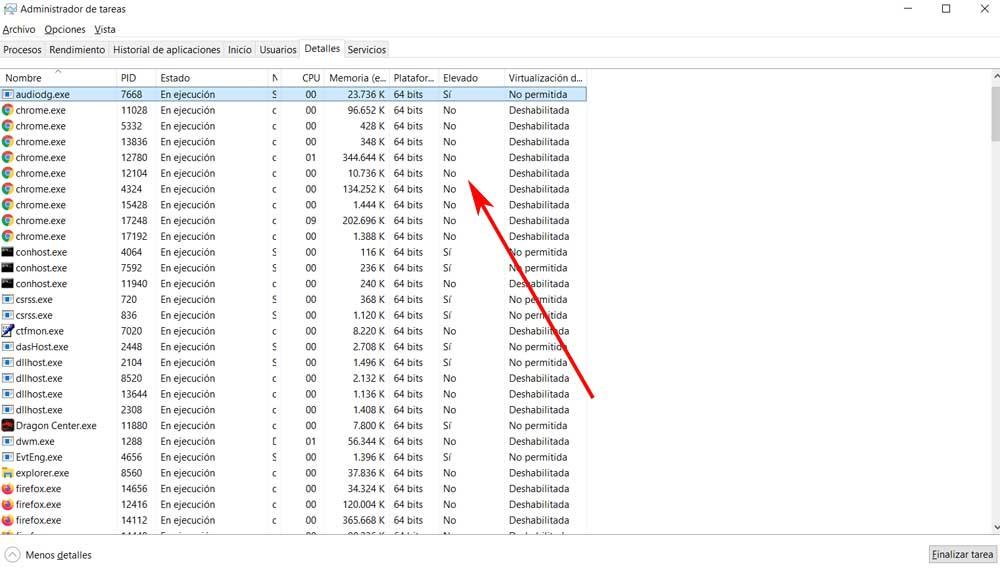 This will be very helpful when it comes to knowing which processes are executed with administrator permissions, and which ones are not. One thing we must know is that the first type will have much more control over the most important tasks of the operating system itself. It is precisely for this reason that if we observe any strange behavior in Windows, let's take a look at them. When we talk about strange behaviors we mean a general performance drop, or sudden crashes, for example.
Keep in mind that from the outset we will not be able to change the way an application or a process runs unless we restart it. Therefore, if we see an application open with normal user permissions and we need to assign it administrator permissions, we will have to close it first.
Control Windows processes from other programs
But this that we have told you is not the only one that we can use to see and manage Windows processes. In addition to the aforementioned Task Manager, we can use other external applications that will help us. That is why we will show you some of them below, in addition they usually present very interesting additional functions in most cases. But of course, something we must know is that to get the most out of these, we must first install them additionally in Windows, while the Task Manager is already integrated.
Process Explorer
In the first place, we do not find a proposal of this type that is actually one of the best known in the sector. This is a program from Microsoft that offers a series of more complete information on the system processes of everything that is running on the PC. Therefore, in its interface we will see a list with all the active processes and with the operating system totals. In addition, each of these entries appears accompanied by data such as the use of the CPU in real time, an ID, the name of whom it corresponds, etc. It also allows us to carry out a multitude of tasks related to all this.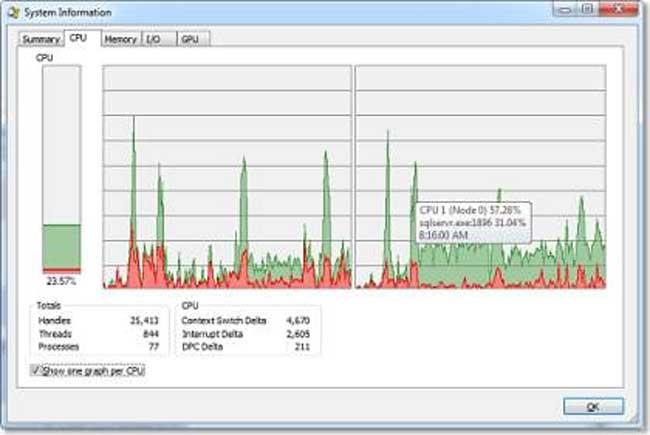 For example, we will have the possibility to end a process, show its tree, change and establish new priorities, restart them, etc. To say that in order to make use of all this, we only have to download the program from here.
System Explorer
Also, on the other hand we find this other proposal that will also serve us for these tasks that we comment on. Actually when we talk about System Explorer we mean an alternative to Task Manager that has been around for a good number of years. It puts at our disposal an intuitive interface that shows us all kinds of information about the consumption of the team's resources. How could it be otherwise, these refer to the processes, programs and services that are running at that time.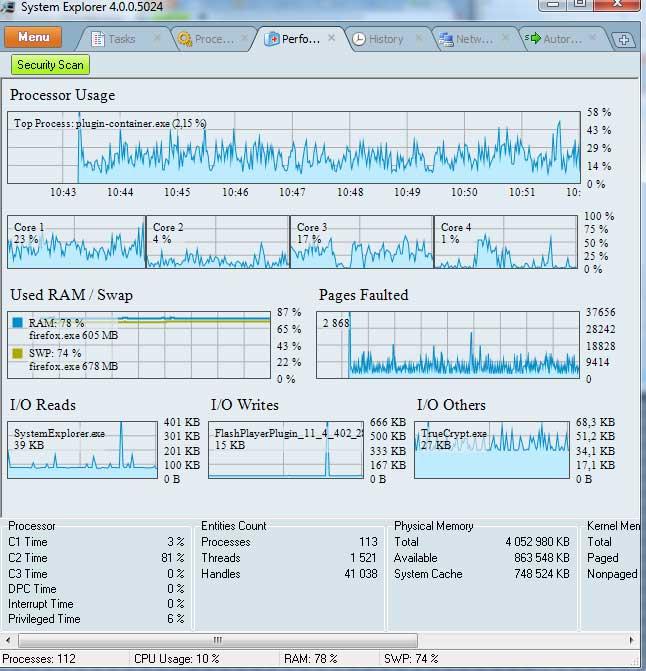 At the same time, if we wish, we will have the possibility of carrying out tasks such as ending processes that we do not want to continue running. Likewise, the program itself also allows us to change the memory access priority of each one of them. Well, in case you want to try all this that we tell you first-hand, you can download the program from this link.