Windows
Check if your programs consume more ram of which they mark
When purchasing a new computer or renewing ours, we take into account aspects such as the RAM it will have, or the processor it will have. In most cases we want Windows 10 and its applications and games to work in the best way on that PC.
But of course, we do not always obtain the desired results in this regard, either because we did not buy powerful enough components, or for other reasons. In fact, there are times when we find that, despite having enough hardware power, Windows 10 does not work well. It must be borne in mind that, with the passage of time, the software we use, both the system and the apps, are more demanding.
This is largely due to the enormous functionality that they offer us at the moment, something that also grows with the passage of updates. For this reason, what at first we thought was a very powerful PC, over time that feeling fades. But in the same way, something that happens on many occasions, we can also notice that Windows 10 and its programs consume more resources than they should initially.
Control RAM usage from Task Manager
This is a fact that can occur for various reasons, among which we find that a component is defective, or that we have malware on the system. But at the same time it may be the case that we do not know how to read well the information that Windows 10 offers us in this regard, as we are going to verify.

In order to be able to see in a few seconds which programs are consuming more RAM, in many cases what we usually do is use the helpful Windows 10 Task Manager. This is an element that we can access through the Ctrl + Shift + Esc key combination , after which the new window opens. Here, with the More details mode on the screen, the first thing we see in the Processes tab are the programs currently open.
Hidden application processes also consume resources
In this way and in a very visual way, we will be able to see which ones are using the most CPU, RAM or GPU memory at that moment, all in real time. However, it may be the case that despite the exposed data, the percentage of RAM consumption is higher than what we see first-hand. This is not due to a failure of the operating system, but rather because we are not consulting the information well.
You should know that many of the applications shown here, in turn, have hidden processes that also consume RAM or CPU. Therefore, to ensure what each program actually consumes, it is best that we deploy it completely in the Task Manager. We achieve this through the small arrow that is located next to each one, so it expands, thus showing everything that is in operation.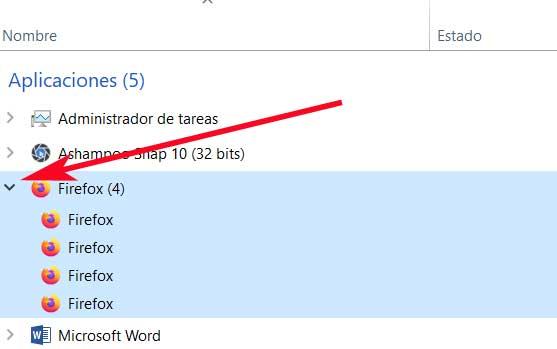 Thus, it may be the case that the initial RAM consumption that we see in a certain app is actually much higher, something that we can verify just by displaying it and adding the consumption of its hidden or background processes.
Other programs to control RAM usage
The Windows 10 Task Manager is characterized by displaying the right information in a very simple way. Thanks to it, any user of the operating system will be able to control the use of resources on their PC without problems. However, if we are advanced users, we may be more interested in resorting to other more professional programs that give us more control.
Process Explorer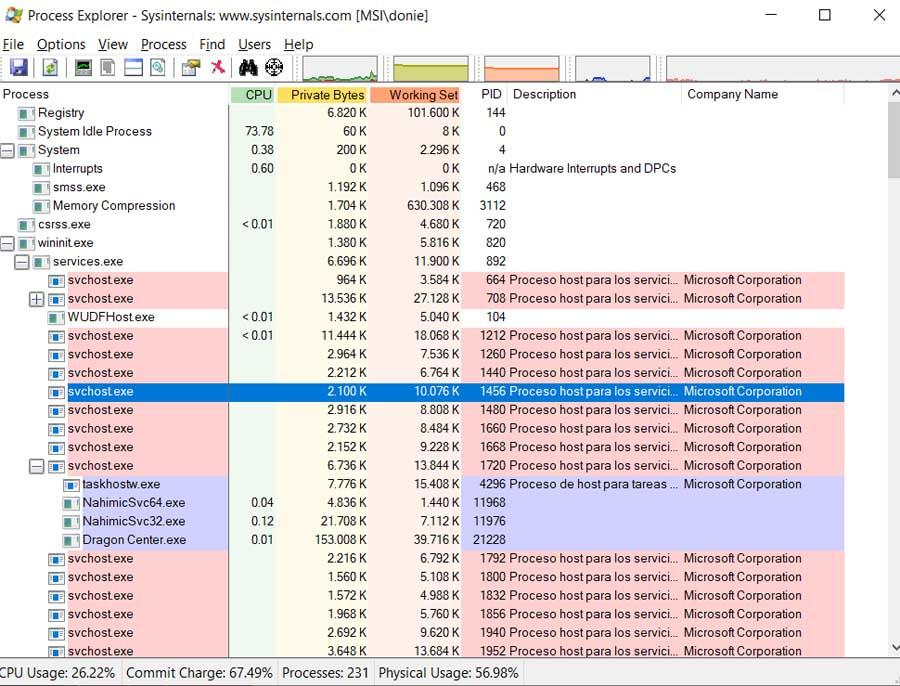 This is one of the most complete alternatives to the Windows 10 task manager that we can find. Thanks to it, we will be able to have much better controlled each of the individual processes that run on our computer and know exactly how much RAM they consume and how much CPU they are using. It is a very powerful tool to control the use of resources of the programs. And not only that, but thanks to its integration with VirusTotal it will allow us to check if the processes we are running are reliable or may hide viruses.
We can download it from the following link.
Process Hacker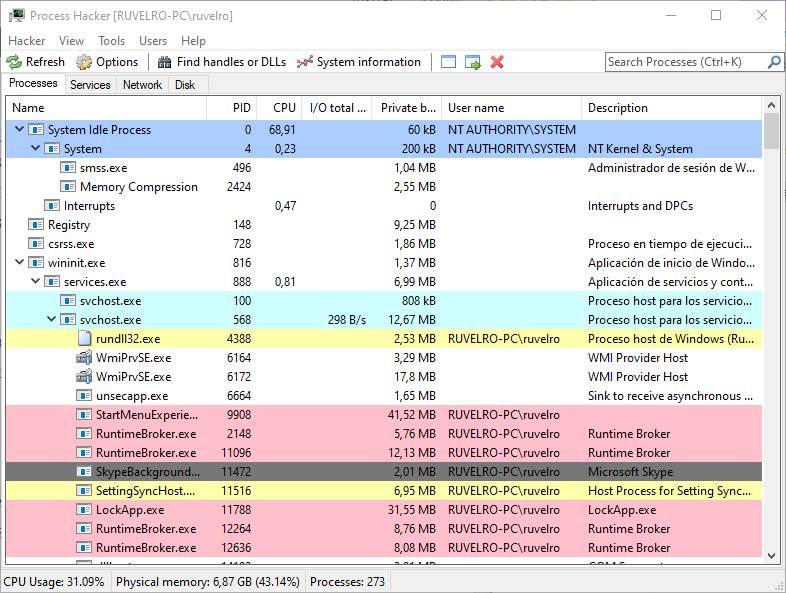 Process Hacker is a program similar to Process Explorer that allows us to control absolutely all the processes that run on our PC. Its main difference with Process Explorer is that it is open source software and it has a large number of keyboard shortcuts that allow us to access widgets from which to control PC resources much better.
We can download this software for free from their website.
Task Manager Deluxe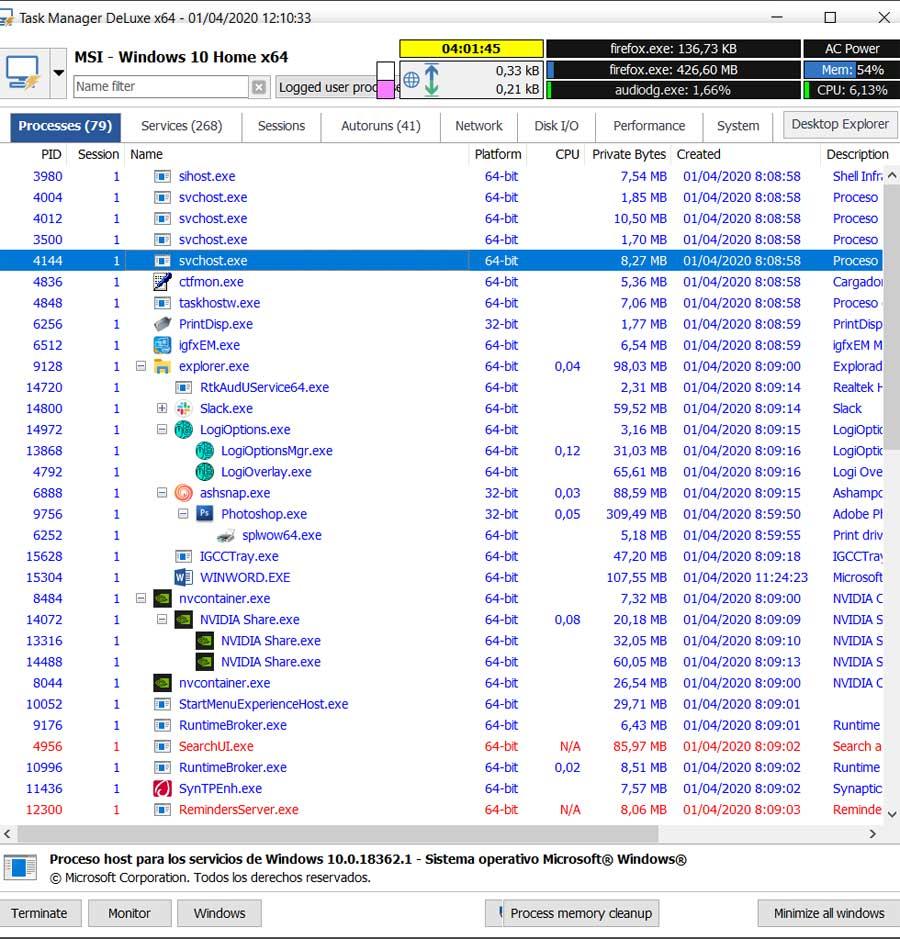 We are now talking about a tool that will be in charge of offering us more detailed and personalized information than is offered by the Windows Task Manager. In addition to the information that we obtain from the Microsoft application, with this program we will have the possibility of seeing the description of each process from its task tree. It is also responsible for providing us with other information of interest such as the exact date each process started, the type of application it is, as well as different options to end, monitor and elevate certain privileges. In addition, this program shows us in the first instance the total CPU consumption, as well as the RAM memory that is being used by what is running in Windows.
We can download Task Manager Deluxe from this link.
Daphne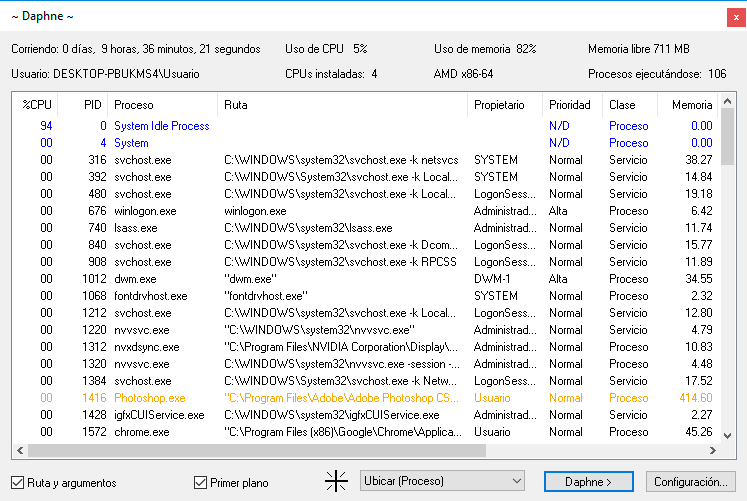 It is another useful replacement for the Windows Task Manager, since it offers us all kinds of information about each running process. It has some different characteristics from other similar applications, as it can help us debug an application, offering us different options when ending a process. It also offers us the possibility of scheduling the task of ending a specific process at a specific time and date. In its main window we will find information about the CPU and RAM, the complete list of open processes and access to the drag and drop tool.
Download Daphone for free from here.