Windows
Build 21296 comes to windows 10 insider full of fixes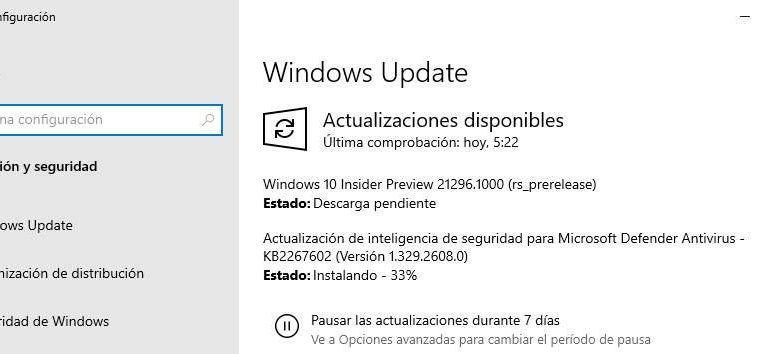 One more week, a new Windows 10 Insider build. Microsoft is working tirelessly to get the new version of its operating system ready as soon as possible and avoid having to delay the update for several weeks or months. Thus, the company has just released the new build 21296 for all Insider users within the Dev channel, a compilation that, unlike the previous ones, does not bring great relevant news, but focuses on correcting bugs and errors in the system. Let's see what it brings.
Before going into detail with the large number of corrections that have been applied in this new version, indicate that Microsoft has taken the opportunity to improve two elements of it. We remember, first of all, that this new compilation You can download all the Insider from Windows Update, regardless of whether they are aimed at the FE_RELEASE channel or the RS_PRERELEASE.
The first of the changes is in the clipboard history. Now, when we press the Windows + V keyboard shortcut, we can see a new design, as well as functions to set, delete or synchronize specific inputs. This novelty is in development, and if we have problems or suggestions we can report them directly to Microsoft through the Feedback Hub.
And the second of the improvements is in the new disk manager. Microsoft has already been working on a new Disk Manager in the Configuration panel for several versions , and this, little by little, is taking shape. From now on, the functions of creating and managing storage spaces will be available.
Bugs fixed in build 21296
Microsoft has taken advantage of the new compilation of Windows 10 to solve a series of bugs detected in previous versions of it.
Call of Duty: Modern Warfare and Call of Duty: Black Ops Cold War are working properly again. Of course, we must update the game, in addition to Windows, to be able to start it again.
The Windows Game Bar no longer opens by itself without pressing Windows + G when playing some games.
Fixed a bug that left the PC unusable when pressing Windows + G and opening the game bar.
Program Compatibility Assistant no longer consumes large amounts of CPU randomly.
Fixed a bug that blocked explorer.exe when mounting an ISO.
Fixed an issue that displayed both a button and a link when checking for updates in Windows Security.
Fixed graphics and rendering issues when using certain applications.
The x64 emulation of ARM64 processors works normally again.
ARM64 C ++ is available again.
Errors still pending to be solved
Of course, these were by no means the only bugs in Windows. The operating system has updated the list of known bugs to fix them in future new updates to it.
Some games, like State of Decay 2 or Assassin's Creed, do not work.
Microsoft investigates that some 32-bit systems lose Internet connection for no apparent reason.
Miracast experiences a drop in FPS in this new build 21296.
Some users experience long wait times when installing new builds.
Some modern applications, and even the start menu, show problems with performance impact.
Aero Shake is disabled by default, and must be activated from the Windows registry.
Live previews are not enabled for all users. Microsoft continues to work to have the new clipboard experience ready as soon as possible.
Users who have installed this build on Qualcomm Adreno processors will have problems with screen brightness.
Improvements in News and interests
Previous builds of Windows 10 came with an important novelty: a new panel, in the form of a widget, from where you can see the weather, news and other relevant information. This panel, still in a very experimental phase, has quite a few errors that must be corrected. And, taking advantage of this new build 21296, Microsoft has updated the list of these bugs:
The default setting has been reverted to "Show Icon and Text".
If we use a digital pen we cannot dismiss the warnings.
The panel uses more space on the left than expected.
The button on the taskbar shows bad information when logging in.
All content is displayed in one column when you open the panel, and it quickly moves to two columns. It is an annoying effect.
Text in the taskbar appears pixelated on high-resolution displays.
The context menu and the news panel overlap.
News & Interests uses 100% CPU when first launched.
When sharing content, the drop-down menu is discarded.
Microsoft recalls that there are many Insider builds that will be discontinued next week. As of January 31, 2021, all users still using build 20262 or earlier should update to this new branch as soon as possible to avoid problems.