Windows
Build 20231 customize your windows according to what you are going to use it for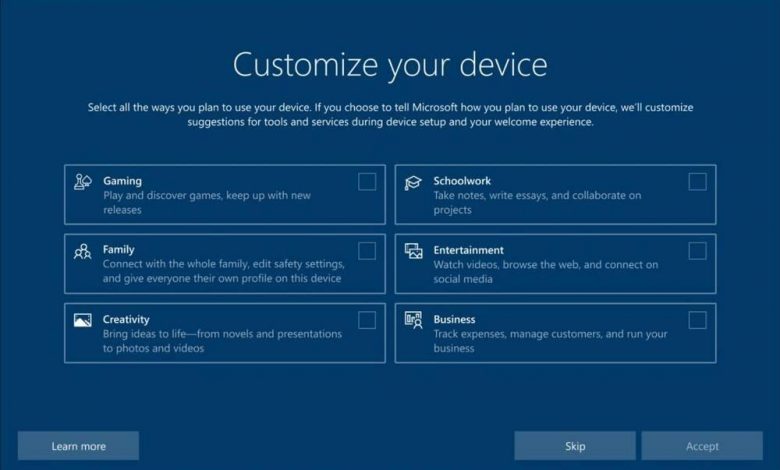 One more week, Microsoft has released a new build of Windows 10, 20231, for Insider users. This new compilation belongs to 21H1, the first Windows update that, if all goes well, we will see next spring 2021. Little by little, the operating system continues to evolve, and one of the latest developments that revolves around it is a new degree of customization. Especially the possibility of choosing what we are going to use the computer for and adapting the desktop, the programs and the taskbar according to that purpose.
The new build 20231 is now available for Insider users who are enrolled in the DEV channel of this testing program. We remember that the DEV channel is the most advanced, but also the unstable of all, and it is not recommended to use it on a work computer because it has serious faults.
Although there is still enough time to update to 21H1 (the October 2020 Update has to arrive first, of which the date is not yet known), little by little we are able to see the news that the great update of 2021 will have. And that of this new compilation, the truth is that it is going to be quite interesting in every way.
What's new in Windows 10 build 20231
Improved experience
The great novelty of this new version of Windows is the possibility of being able to customize the out-of-the-box experience of the operating system depending on the use that we are going to give it. Some compilations ago we have seen some related changes in which, depending on the information Microsoft had about us, it could show some or other icons on the taskbar.
Now, what we are going to see when we create the account will be a new screen, during the initial configuration, which will allow us to choose what we are going to do with the PC.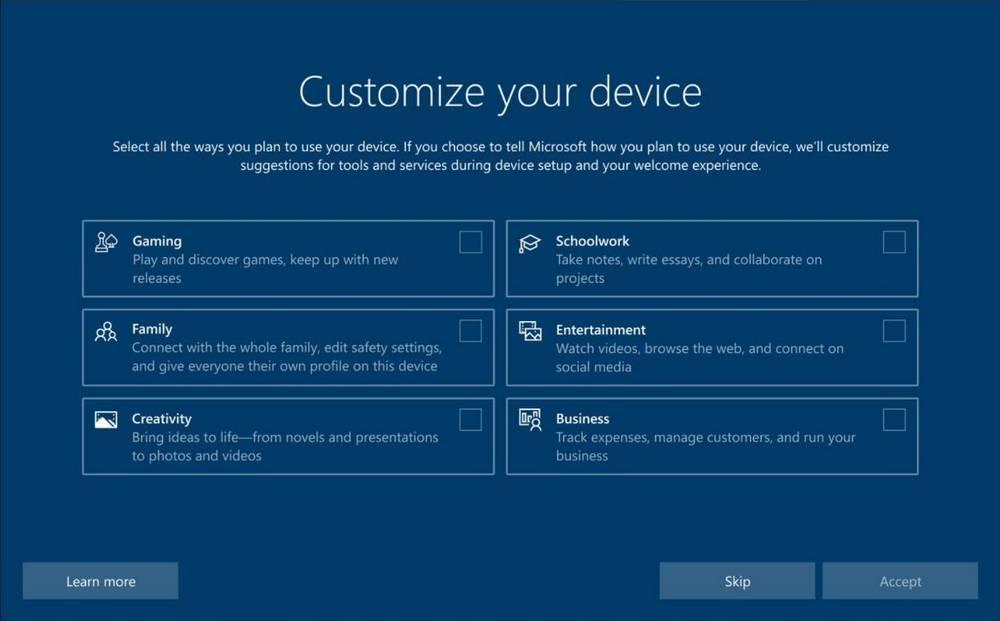 This screen will only be seen when we perform a new installation or if we reset the PC. The different categories Microsoft is testing are:
Games: Play and discover new games, keep up to date with new releases.
Family: connect the family, edit and control their security and create profiles for each member.
Creativity – Bring ideas to life, from novels and presentations to photos and videos.
College: Take notes, write essays, and collaborate on projects.
Entertainment: play videos, surf the Internet and use social networks.
Business: keep track of expenses, manage clients and your business.
Depending on the category we choose, Microsoft will then show one or the other options in the wizard. In addition, you will have one or other applications installed by default, and the taskbar, as well as the desktop, will be adapted to that purpose.
This novelty is still in the testing phase, so we may see some changes soon. For example, we could see a developer category that allows us to install Hyper-V, WSL, and Python automatically.
New options for default file association
This novelty is more focused on business users, as Microsoft has made it easier for system and network administrators to better configure their default programs. For example, with a simple rule we can make all the PCs on a network use Edge to navigate or to open PDF.
The important thing is that now it will be the technicians of the companies who can configure this instead of leaving this task in the hands of the end users.
Other changes
In addition to the above, the new build 20231 also brings other interesting changes:
Meet is now available to everyone on the taskbar.
Information about the GPU will be added in the Settings> System> About section.
We can move the typing cursor using the manager on a trackpad.
Bugs fixed in build 20231
The following bugs have been fixed by Microsoft in this new build and should no longer affect Insider users:
Fixed vEthernet adapter connection problems in Windows Subsystem for Linux.
Fixed an issue that caused the order of Alt + Tab to randomly change and lead to the wrong program.
Fixed a bug that made the Activity Center not visible when switching between high-contrast black and high-contrast white.
Fixed bug where audio alerts were visually not working properly.
Fixed errors in Narrator that caused it to crash or not work correctly.
Fixed an issue that caused audio and microphone glitches over Bluetooth.
Fixed a bug that affected the reliability of the task view.
Fixed a bug with the camera in Windows Hello when setting it to portrait mode.
Fixed a bug that caused settings to hang for many users.
Fixed a bug where the HideRecentJumplists MDM policy was not in effect.
Cloud providers no longer have duplicate entries within the file explorer.
PDFs can now be previewed in the browser again.
Fixed a bug that caused the touch keyboard to close unexpectedly when typing in the browser's finder.
Fixed bugs in IME keyboards.
Errors yet to be fixed
These bugs have not yet been fixed, but Microsoft is already working on them:
Some users run into "temporary profiles" when using the latest builds.
Investigates why the update process takes a long time for some Insider users.
Edge's tab preview still not working. Websites pinned to the taskbar don't either.
An issue is being investigated that causes some of the Office programs to not work properly in these builds.
Microsoft is working on fixing the KMODE_EXCEPTION and DPC_WATCHDOG_VIOLATION errors that affect multiple users.
Investigated a bug showing a "Microsoft Office is no longer available" message after upgrading to build 20231, even though Office is still present.
New bugs in IME keyboards.
Some users cannot see the start menu on the taskbar.
Little by little, these bugs and problems will be solved. Although it must be taken into account that there is still a long time (more than 6 months) until 21H1 will reach all users. Therefore, Microsoft still has time to do it (and, as we will already know, it likes to save a lot of bugs for last).