Windows
Access the history and review the problems you have had in windows 10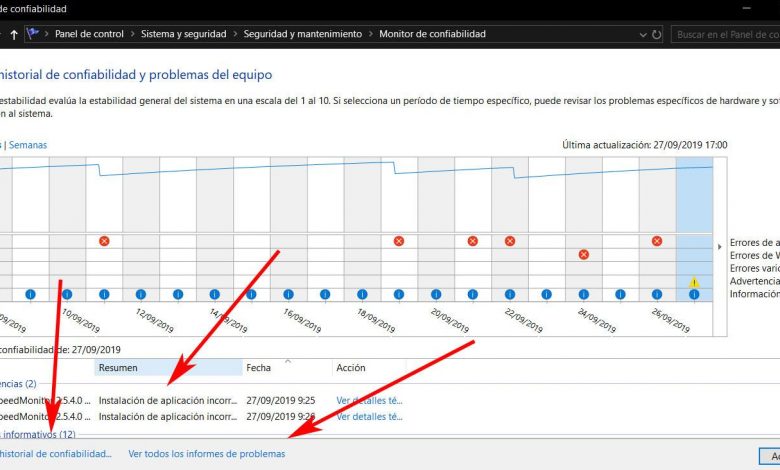 Windows 10 is an operating system that has grown exponentially over the years. In this way, it has become a powerful platform for desktops that Microsoft does not stop improving with updates.
As many of you may already know, these come to our teams, either in cumulative form every few weeks, or as features every six months, approximately. However, despite all the work that Redmond do on one of their flagship products, the flaws are still there. Keep in mind that the software firm has a huge team of testers for some of its programs, known as Insiders.
Problems in Windows are stored over time
As we told you, these Insiders are in charge of testing the previous versions of Windows in this specific case, in search of bugs before its official launch. But with everything and with it, the problems related to the operation of the operating system, continue to appear from time to time, in fact more than most of us would like. In addition to all this and in order to combat them, the system itself integrates a series of internal self-diagnosis functions that also try to solve possible errors by themselves.

Therefore, as we say, Windows 10 over time is becoming more stable and reliable software. With everything and with this, as we work with the software on a day-to-day basis, there are many circumstances that we can find and that affect Windows. That is why the software giant has integrated into Windows 10 a useful function that will allow us to review errors and similar events that have occurred in the past.
Despite all the news that those from Redmond send in order to improve the operating system that comes to our hands, Windows 10 is not an infallible system. Not much less, in fact it seems that upon request that it becomes more complete, these failures increase in terms of their quantity.
Review Windows 10 errors and actions over time
But it is also true that users themselves gain experience over the years, so we are better able to solve it. With everything and with this, it will never hurt that we can have a history of errors and events that have occurred in the software over the months. Well, we will say that this is something that you have at your fingertips in a simple way.
In fact, this is something that we will be able to access from the Control Panel of the system, an element that for example we can search in the search box of the Start menu. Thus, once we are in the Control Panel window, we have to click on the "System and security" section, and then go to "Security and maintenance". In the new window that appears, specifically on the left side of the new interface that we see, we find several options related to this specific section.
How to access the Windows error graph
Well, the one that interests us at the moment is the one called "View archived messages." Say that depending on the PC we have, that report we are looking for will take a while to appear on the screen. We tell you this because in somewhat old equipment, we will have to be patient.
Here will appear the graph to which we referred previously and where the events that we have carried out in Windows 10 have been reflected. As we can see on the screen, these are classified by dates, although we can see everything represented here, well for days, well for weeks. In the same way, below the graphic that commands the interface, we can also consult in detail everything that has happened on the computer, errors included.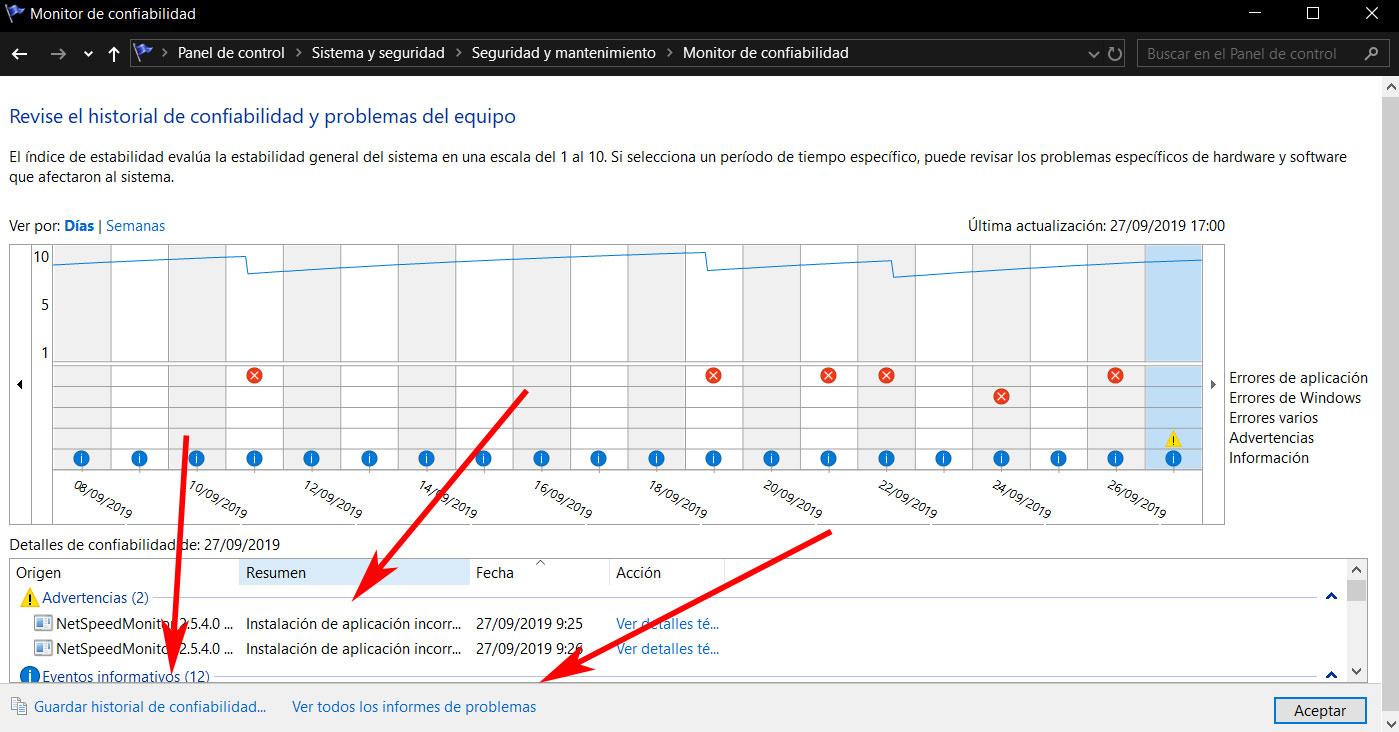 Similarly, at the bottom of the window, we find a series of links that will allow us to save that history at that time, or directly view all the reports related to problems that occurred in Windows 10.
Most common bugs we see in the report
As we have been able to verify first-hand as soon as we access this report to which we have referred, is that the system does not stop recording events. These occur almost constantly, although not all of them are failures, and far from serious. But if we detect certain blockages, or simply that the PC does not respond as it should, it will never hurt to take a look at this section. As we will see, the most common errors that we are going to find here refer to a faulty shutdown of the system, or to errors with certain programs that we have installed.
In the same way, updates of all kinds that are carried out in the background are reflected here , and more if any of these processes fails. In addition, the fact of being able to see exactly the day and time when the error occurred will help us greatly.
Other additional data displayed by the crash report
Keep in mind that the error report that Windows stores here is quite intuitive when interpreting it. In it we will see a timeline of several weeks to view the latest errors that have occurred. In addition, its importance is distinguished based on the colors of the errors that are shown on the screen. It is also interesting to know that we can customize the display mode, either by days or by weeks.
At the same time, just by clicking on a certain event, we will obtain a summary of it to know what caused the failure that occurred. Finally, it is also worth noting that this function integrated into Windows allows us to make a copy of this data to save it. So we can consult all this in the future if we need it.