Windows
5 programs that you can use as an Internet consumption meter on your PC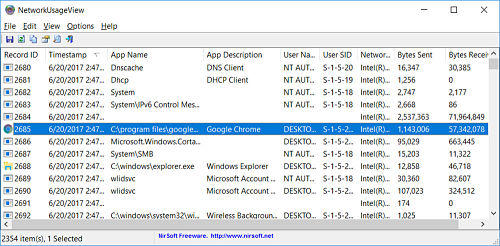 Although it is more common in mobile data for the cell phone, sometimes we have a limited internet plan even for the computer in our home. In these and other circumstances, you should use an internet consumption meter for your PC.
Some websites are heavier than others, and certain devices have higher bandwidth consumption than others. To avoid reaching your internet limit too much, you must control your internet use. In these circumstances you should take action and monitor internet use.
Internet consumption meter for PC
Here are 5 programs that can help you measure and control internet consumption on your network. This is ideal for users with a limited mobile broadband plan.
1. NetBalancer
NetBalancer is a very powerful network traffic monitoring and control program. With this you can monitor the entire system, including multiple network adapters, processes, as well as system services.
This means that you can monitor LAN and WiFi connections simultaneously, for both IPv4 and IPv6 protocols.
Its function to configure priorities and speed limits for processes is very interesting. However, you can set system-wide limits for traffic control, even using the unregistered version.
Additionally, NetBalancer can check network speed, current connections, and do detailed traffic analysis for all applications and services.
You can load traffic rules, priorities, and limits from a network file. In this way, you can group the computers on the local network and synchronize their network traffic settings. It also shows the speed graph in the system tray icon and a mini window.
2. Net Guard
Cucusoft's Net Guard is a free program unlike NetBalancer, but it offers most of its amazing features. It includes powerful bandwidth monitoring and tracking features that help keep an eye on Internet consumption.
You can easily set the global network limit and discover any application that is over-utilizing the bandwidth.
It has an interactive report, with graphs to understand the bandwidth consumption of each program and service. In addition, it includes prediction of bandwidth use, predicting the bandwidth you will need in a month.
Includes limit notification that notifies you when your bandwidth is exhausted and helps you avoid additional charges for excessive use.
Like NetBalancer, it includes a floating window showing real-time network data usage. It also has a speed test that calculates the speed of the network.
3. Bandwidth Monitor
Bandwidth Monitor by Rokario is another internet consumption meter program for PC. Although it may not be as powerful as NetBalancer or NetGuard, it does offer a good set of features.
It tracks network speed and system bandwidth usage, but it doesn't track according to processes and services.
Bandwidth Monitor uses few resources to measure internet consumption on multiple connections. Its themed floating window stands out, which includes customization options to suit your needs.
For example, you can include text, shapes or graphics according to your preference to see the bandwidth consumption on the PC.
Another cool feature is programmable notification that allows you to configure the way you receive notifications. For example, you can request a notification when the bandwidth usage reaches 90% of the total.
Unfortunately, this feature, and the improved and web output tools, come only with their professional version.
4. NetTraffic
venea.net/web/nettraffi is the simplest tool on this list, but not the least powerful. Allows you to track bandwidth data on multiple network adapters or LAN and WiFi connections. However, it does not track users or applications and services, but rather the overall bandwidth usage of the entire system.
Details bandwidth usage in graphical style and shows usage for a day, a month, or an entire year. It details the summarized consumption and curiously, it also predicts the bandwidth quota that you can use in a day, month and year.
NetTraffic is highly customizable, and you can adapt its floating window in real time to show the necessary details according to your preference, just like Bandwidth Monitor. You can change the colors, the scale, the chart type, and much more.
Also, its icon in the notification area shows network activity, revealing the current upload and download rate when the program is idle.
5. NetworkUsageView
Unlike the previous tools, NetworkUsageView is a network usage viewer instead of a network monitor. Since Windows does not collect bandwidth usage data in older versions, this tool only works on Windows 8 and Windows 10.
Although it shows the necessary bandwidth usage information, it does not offer a floating window. NetworkUsageView has the advantage of being faster and less resource intensive than previous tools, as it is basically just a usage log viewer.
Displays complete information about bandwidth usage, including applications and services. With that said, you can see all the network usage activities and find any malicious tools.
Interestingly, NetworkUsageView also shows the user and network adapter for each record. This helps track users who are consuming excessive bandwidth in a multi-user environment, including bandwidth usage from a remote computer.
Furthermore, the tool allows you to export your bandwidth usage data in a CSV file.