MacOS
How to create a free Apple ID account without credit card from PC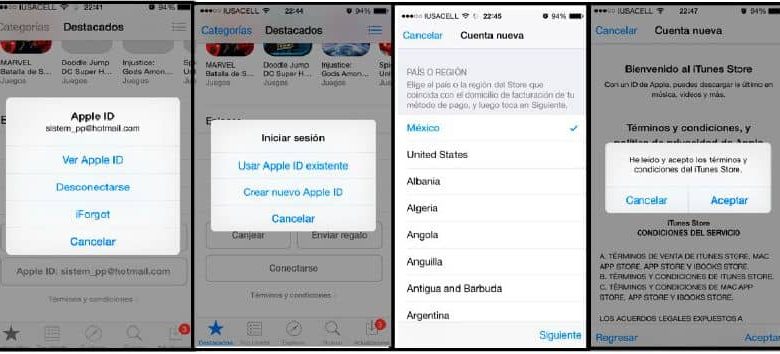 This became a problem for those who did not have the possibility of having a credit card in their own name. That is why in this small guide we will show you how to create an Apple ID account without the need for you to have a credit or debit card.
¿Cómo crear una ID de Apple de forma gratuita?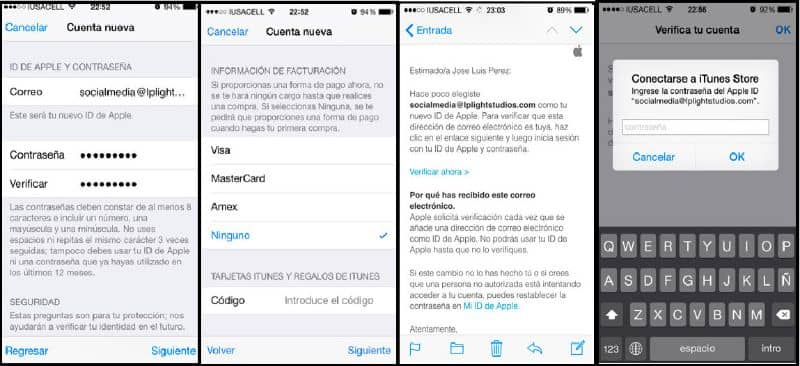 Para crear una cuenta ID de Apple gratuitamente necesitarás cualquier dispositivo iOS, puedes utilizar tu iPhone o cualquier otro dispositivo como un iPod o iPad. Incluso puedes hacer este procedimiento en iTunes pero el menú que mostrará será un poco diferentes. Además de esto, también puedes crear una cuenta de Apple con un nuevo ID. Los pasos a seguir te los mostraremos a continuación:
Paso 1
Lo primero que debes hacer es verificar que no tengas una sesión abierta con cualquier Apple ID, y si vez que es así, entonces debes cerrarla. Para hacerlo debes dirigirte a la parte final de tu App Store, debes ubicar y seleccionar tu ID de Apple y posteriormente debes darle a la opción Desconectar.
Paso 2
Ahora debes dirigirte nuevamente a la App Store y dirigirte nuevamente a la parte de abajo, pero en esta ocasión debes buscar una opción llamada Conectarse y seleccionarla y entonces tendrás la opción de Crear un nuevo Apple ID
Paso 3
Luego de este segundo paso se te preguntará cuál es tu país de residencia, así que dentro del menú debes seleccionar donde vives y luego hacer clic en Siguiente.
Paso 4
Ya podrás ver los términos y condiciones de Apple así que debes aceptarlos si quieres hacer uso del Apple ID. Así que luego de aceptarlos, en la ventana que te aparecerá debes hacer clic nuevamente en Aceptar para confirmar que estás de acuerdo con el contrato de Apple.
Paso 5
Es momento de que ingreses la información que Apple te está solicitando y luego hacer clic en siguiente. Y en la opción donde anteriormente tenías que seleccionar y vincular una tarjeta de crédito, débito o un método de pago, podrás ver una nueva opción que dice Ninguno.
Esta última es la opción que debes seleccionar para que puedas crear tu cuenta de Apple ID de forma gratuita, y a continuación debes llenar alguna información que te pide más abajo.
Paso 6
Now you must go to your email so you can verify the account you just created. You just have to click on the verify button and log in with the account. Then you return to the App Store where you will see a window that asks you to log in with the account you created, enter your password and that's it. In case of forgetting the password, you must recover the Apple ID account.
What if you have a Touch ID?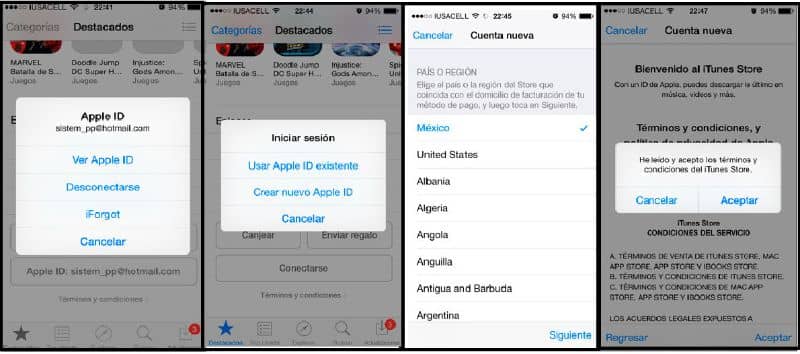 In that case, it will ask you if you want to use it, and if so, it will ask you for the Touch ID code and you will be able to make the purchases you want without the need to put a password all the time.
And that's it, that's how easy you can use your Apple ID account without the need for a card. This method is very good if you have children in your household, since you can create their own Apple accounts for them and you will ensure that they do not make unauthorized purchases of extra content.
Since you will create an Apple ID for free without any card, you will also have the opportunity to download content from the App Store and iTunes for free.
And if you need to buy an App then you can buy an Apple prepaid card and redeem it in your account and that way you will not have limits to make your purchases. You can download the iTunes App and App Store for your Mac pc or Smartphone.