Linux
Get the ultimate gaming experience with gamers linux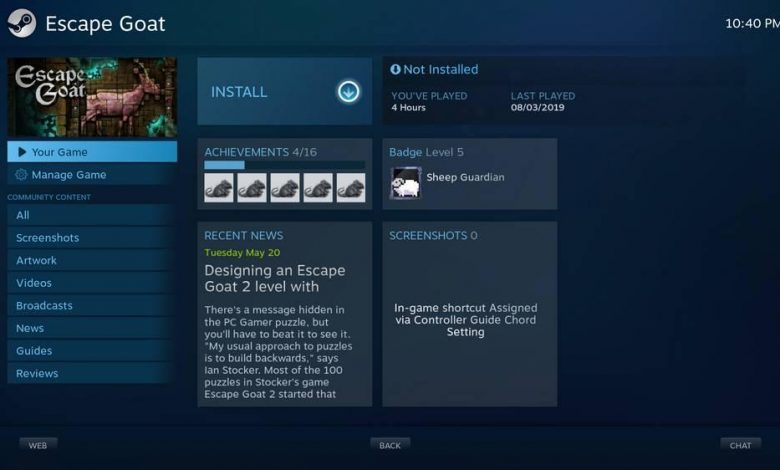 When we talk about gaming, the first operating system that comes to mind is Windows. For him it is for which we will find most of the titles, and the one that, in theory, gives the best performance. macOS has always been in the background when it comes to gaming, and users and developers alike have turned their backs on Linux a lot. However, the latter is capable of giving much more than what users think, both in performance and possibilities. And if we choose a distribution specialized in gaming, such as GamerOS, we can experience first-hand
What is GamerOS
GamerOS is a Linux- based operating system (a distribution, in other words) designed to offer users a totally revolutionary experience when it comes to gaming. Unlike other distributions, which seek to specialize in everything (work, multimedia, programming and games), this distro is very clear about its objective. And thanks to that, it is the best.
This distribution comes to be, roughly, an evolved version of Steam OS. Although it has nothing to do with Valve, what this distro does is take care of configuring our PC so that, as soon as we start up, it turns on Steam's Big Picture mode . And from there we can launch the games that we want.
GamerOS is based on Arch Linux. This allows us to enjoy an infinitely better experience than any other distro to play since the base system has been created using only the packages strictly necessary to function and fulfill its function. Of course, we must bear in mind that we will not be able to do anything else with GamerOS. We will not even have access to the desktop. But it is that, once again, it is a distro exclusively to play. For nothing else.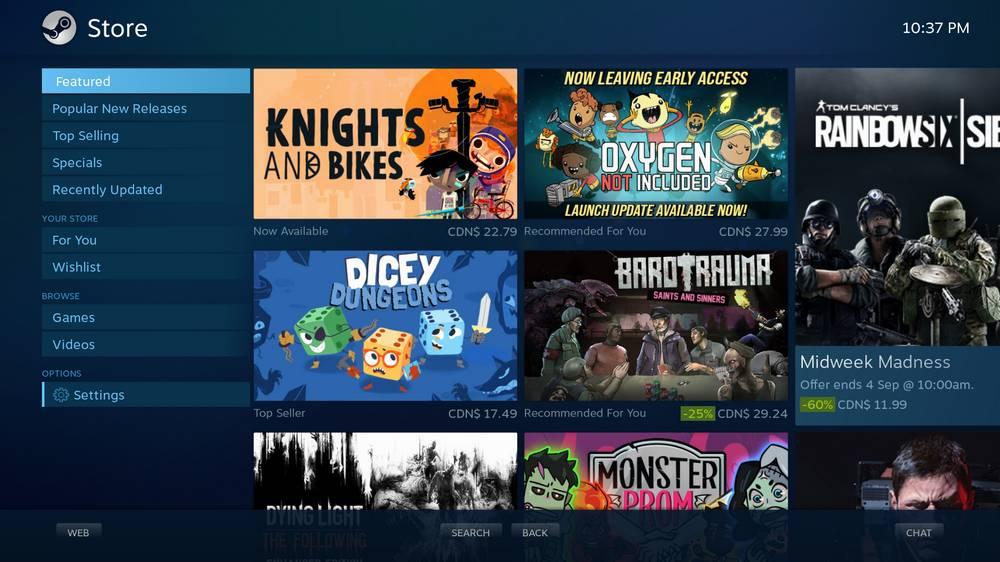 Main features
It has always been said that Arch Linux is a distribution designed for advanced users, with a rather extensive knowledge of Linux. However, with GamerOS things are different. Although based on Arch, this distro has been designed to be very easy to use . From installation, which allows us to have the system up and running in just a few minutes, to how to work with it. In addition, the installation is minimal, copying only what is necessary to be able to play games, nothing more. This helps us get the best possible performance right out of the box.
GamerOS takes care of everything. It comes by default with Steam Tweaks, a series of settings to make the most of the games without having to configure anything else. It also automatically takes care of downloading all the packages and new drivers to guarantee the correct functioning of the distro from the moment we run it. Updates are always carried out in the background, and will be installed on restart, so it will not bother us while we play. In addition, Arch is a Rolling Release system, so it will always be up to date and we will not have to change version.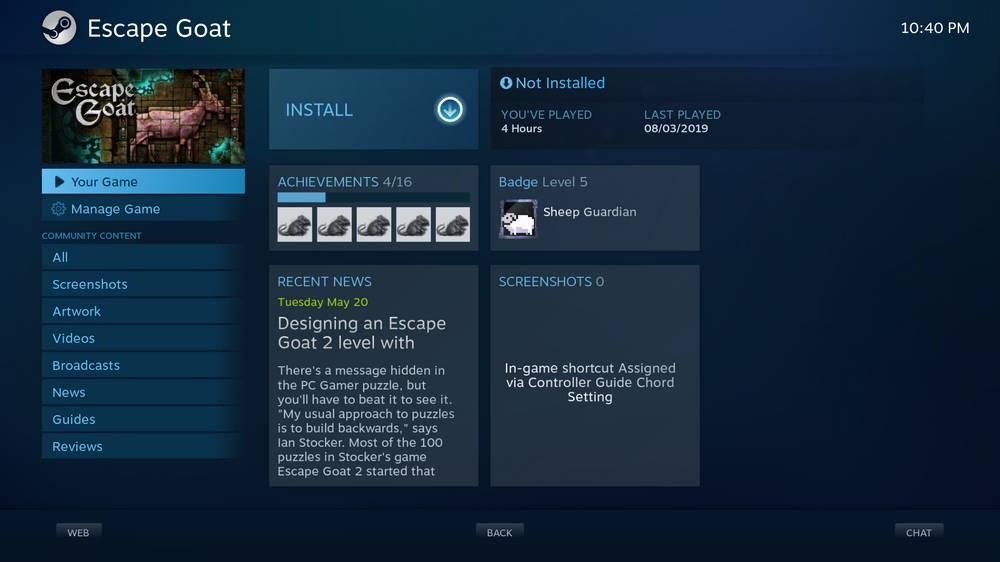 This distro is also prepared to be completely controlled using a controller, but if we prefer to move with a keyboard and mouse we can do it too. As for the supported controllers, practically anyone will work, from Xbox controllers to PlayStation, Switch and even generic controllers.
And what about non-Steam games? GamerOS brings us a tool called "Steam Buddy" that allows us to add non-Steam games to play them. In addition, this tool is also designed to run retro games through emulators, so we can have an excellent game center thanks to this Linux distro.
Finally, indicate that this system is also compatible with virtual reality, VR. Although starting it can be an odyssey.
Differences with SteamOS
Broadly speaking, both operating systems are the same and have very similar objectives. However, in practice we can find a large number of differences, all of them in favor of GamerOS:
GamerOS is much simpler, which makes us have better performance and faster startup.
SteamOS is abandoned, so it is not supported. This other system is updated often (once a month) and is much simpler to maintain. Updates are always in the background and automatic thanks to frzr. And they will never interrupt us.
GamerOS supports 4K and has steamos-composer-plus to improve compatibility with games. It also includes Steam-Tweaks, to offer a better out-of-the-box experience. SteamOS no.
SteamOS is limited to Steam games, while GamerOS, thanks to steam-buddy, supports retro games through emulators and ROMs, as well as games from other platforms, such as Flathub, Epic Games Store and GOG.
Download GamerOS
If we want to give Linux a chance as a platform to play, we can download the latest version available from the following link . This system is distributed in ISO format, like any other distribution. What we must do is download said image, save it to a USB using a tool like Etcher, and start the PC with it.
After following the installation wizard, which is very simple, we can have the system ready. Now we can start playing.
Minimum requirements
Obviously, if we are going to use this system to play games, it needs to have relatively powerful hardware. Otherwise, no matter how much we install GamerOS on our computer, we will not be able to run any game on the PC.
The requirements that we must meet in order to use this distro are:
Intel Core i3 processor or AMD equivalent. Intel Core i5 or Ryzen 5 recommended.
4 GB of RAM. Recommended at least 8GB or 16GB.
20 GB of hard drive space. Recommended an SSD. It does not support dual boot.
Vulkan compatible graphics card. It does not support integrated graphics.
Screen with a resolution of 720p. 1080P or 4K screen recommended.
Keyboard attached and wired internet connection for the first installation.
Secure Boot disabled in BIOS.
It does not support virtual machines.
Alternatives to GamerOS
If for some reason GamerOS does not convince us, we can also turn to other Linux distros specially designed to play.
SteamOS
Without a doubt, the best known, and thanks to which GamerOS is a reality. This operating system was designed by Valve, based on Debian, to show its support for gaming from Linux. However, today it is abandoned. There are rumors that Valve is working on a new version of this system, totally new. But, for now, it's best to put it aside.
If we still want to try it, we can download it from here .
Drauger OS
A much more complete system focused, yes, 100% on gaming. Unlike others, this distro does not come pre-installed other than to play. Therefore, as soon as we install the system, we will only find tools such as PlayOnLinux, Wine, Lutris, Steam, and DXVK, programs that are clearly focused on the gamer market.
We can download Drauger OS  from this page .