Linux
Do you want to use old programs or games? Install free sedos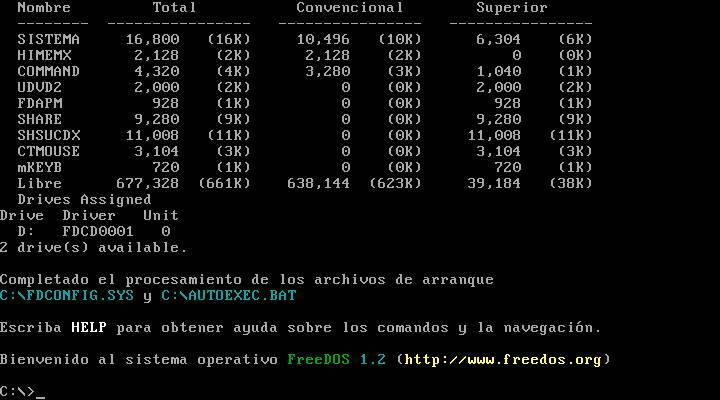 Nowadays, no one would think of installing and using MS-DOS on their computer. This Microsoft operating system has not been updated for decades, and its limitations are such that, probably, we could not even start it. However, there are still programs and, above all, retro games that we may want to use again at some point. And these cannot be executed as is in Windows, and less in a 64-bit system. Fortunately, there is an alternative operating system designed precisely to bring MS-DOS functionality to any modern PC and give old programs a second life: FreeDOS .
What is FreeDOS
FreeDOS is a completely free and open source operating system designed to be a modern alternative to MS-DOS, but removing the restrictions of this old operating system (for example, regarding memory and space). It is, broadly speaking, a free version of DOS, an alternative for all users interested in re-running very old software to do so.
This operating system can also be found when buying a new computer without Windows installed. As manufacturers cannot ship an "empty hard drive" they opt for simple and fast, installing this free version of MS-DOS, reducing the price of the laptop by not having to pay for the Windows license, and leaving it to be the user who decides what OS to install.
What is this system for?
Obviously, being a DOS-inspired operating system, it is not the best we can choose for day to day. This operating system has many limitations, starting with not having a graphical interface, but we will have to use it through commands. Nor will we be able to install the programs or games that we know today, since it is neither Windows nor Linux, therefore, it will not work.
This system is designed, above all, for those users who need, for leisure or professional reasons, to run old software. For example, spreadsheet programs, databases, and even some retro game that we cannot now run on a modern version of Windows. We can also install and use older versions of Windows (from 1.0 to 3.11) that ran on MS-DOS.
But, of course, it is not an operating system that we are going to use in our day to day. Even if our new computer comes with it, most likely the first thing we will do is remove it to install another OS, such as Windows or Linux.
Install FreeDOS step by step
We can install FreeDOS on our main computer (on a separate hard drive, or a partition), or, if we don't want complications, on a virtual machine. The best option is to use VMware or VirtualBox to virtualize this operating system, since if we install it on the main PC we will be losing functionalities.
Download and prepare installation media
First of all, the first thing we will have to do is download the latest version of FreeDOS to our computer. Of course, the download is completely free for all users, and we can download it from here . There are several editions that we can download, and we must choose the one that best suits our needs:
Standard CD-ROM: recommended for most users.
Legacy CD-ROM: Recommended for older PCs and virtual machines.
Boot floppy + CD-ROM: if our PC needs an installation diskette, this is the option.
Full / Lite USB: images ready for recording on a USB.
We are going to use the Standard CD-ROM, since we are going to install it in a virtual machine, and with the ISO as it is worth. But if we want to install it on our PC, the Full USB is much more comfortable since we will be able to record it with any program, such as Etcher.
Install FreeDOS
We start our computer with the medium we have chosen (an ISO, a burned CD, a USB, etc.) and we can see the boot screen.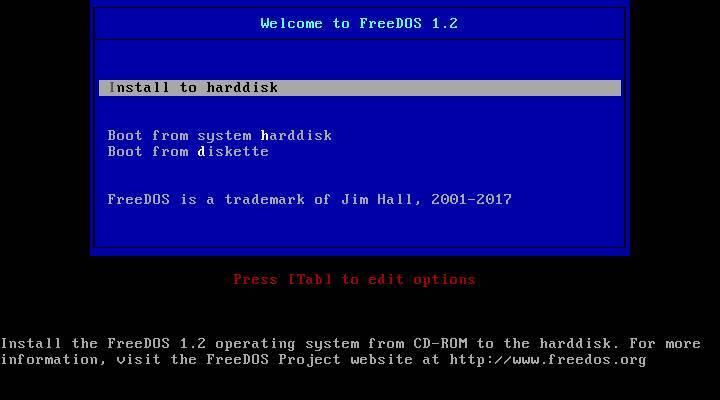 We choose the option "Install to harddisk" and the installation will begin. If during the load we have an "Invalid Opcode" error in the virtual machine, then we must press TAB in the previous menu and add the following parameter at startup: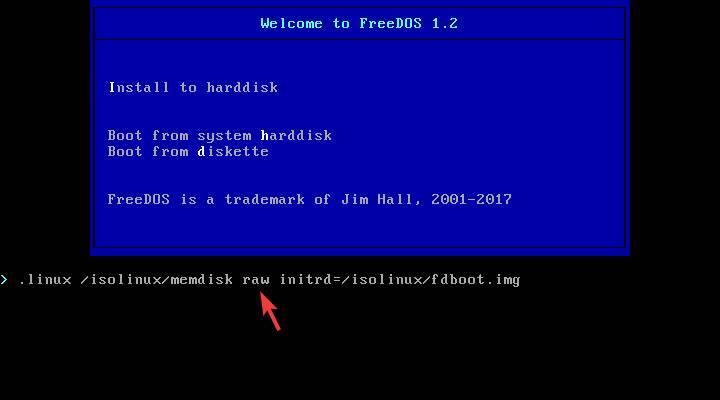 If it happens to us on a physical PC, what we must do is make sure that the hard disk and the CD drive are configured as "Legacy" or "IDE".
The next step will be to choose the installation language of the operating system.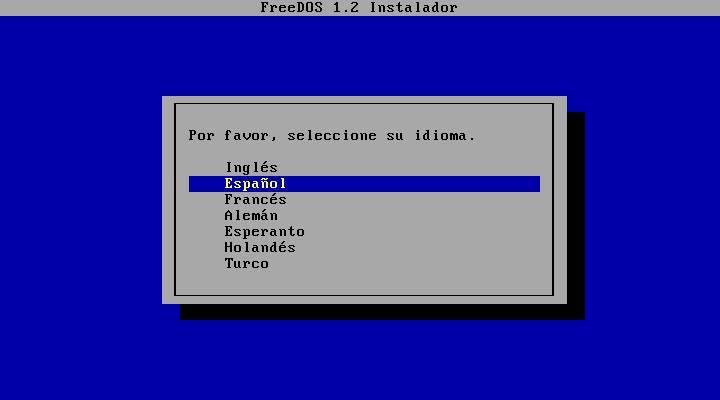 And then we will have to confirm that we know what we are going to do, that we are installing a full operating system on our PC and that, if we are not careful, we can overwrite our main system.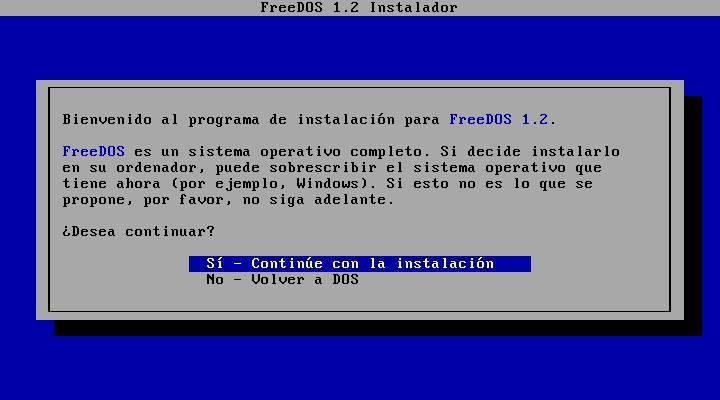 Create partitions
Before we can start with the installation as such we will have to create partitions. If the FreeDOS wizard detects a correct partition scheme, it will let us continue with the installation. Otherwise we will see a message like the following one where it will ask us to create the partition table.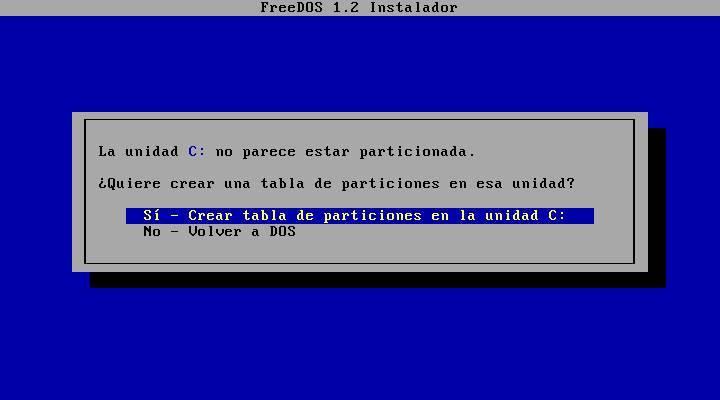 The wizard will take care of partitions on the hard disk alone and, when finished, it will ask us to restart the computer.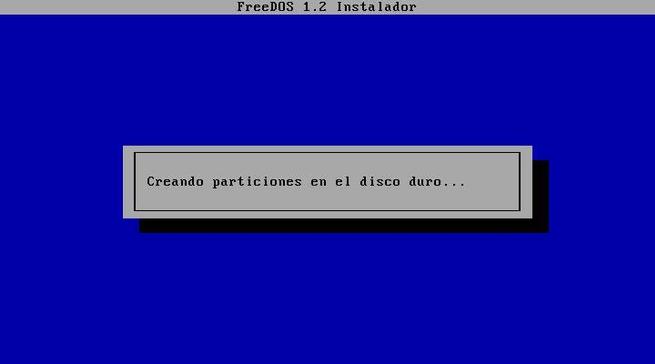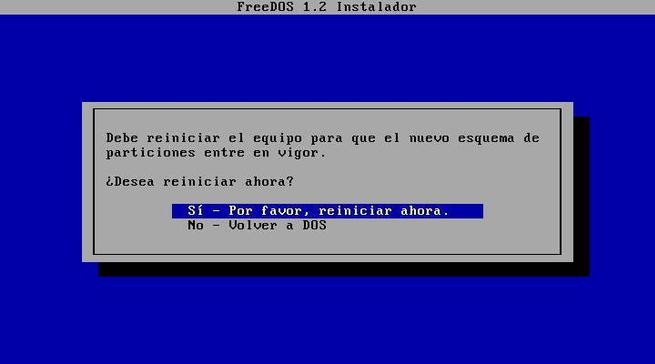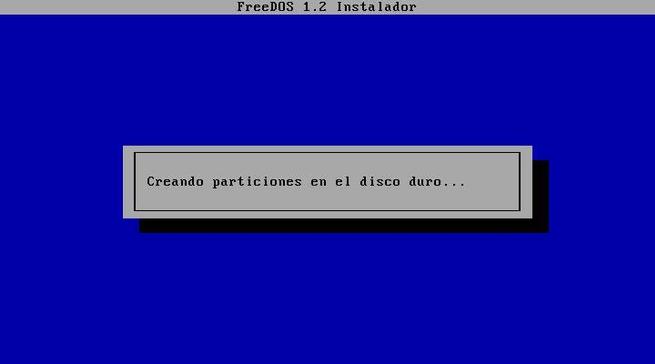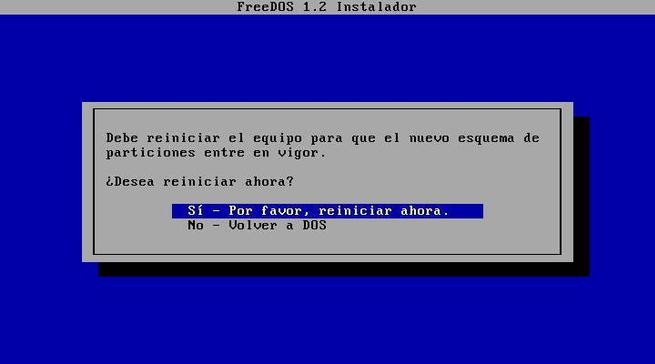 We restart the PC and start the wizard again following the previous steps. At the point where it told us that the drive had no partitions, now it will tell us that it is not formatted. We chose the first option to let the program take care of everything.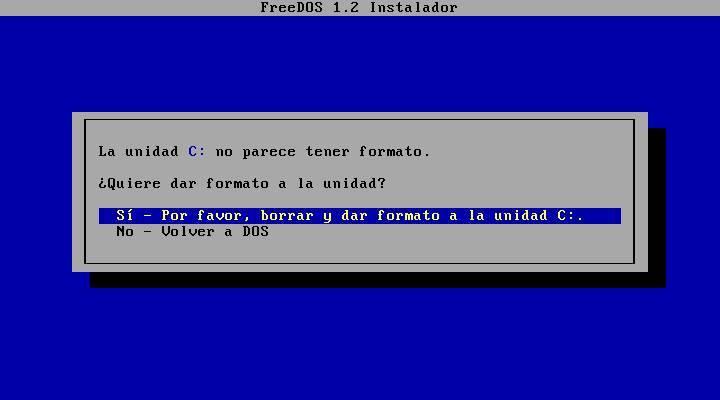 Clever. Now we will see a summary with the new data of the partition. And we can continue with the installation.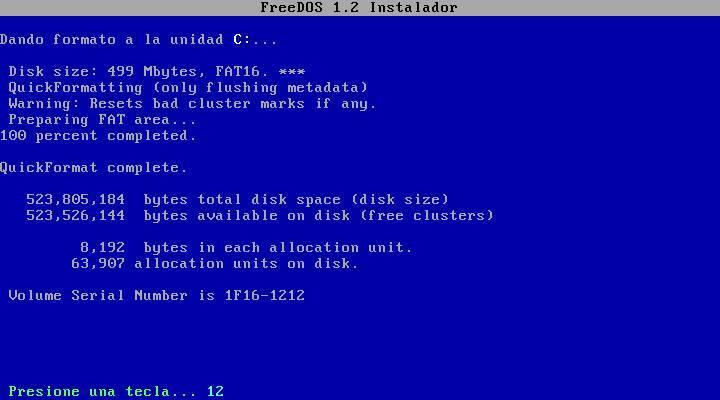 Continuing with the FreeDOS installation
Once the partition is ready we will return to the main wizard. The first thing we will have to do in it is to choose the keyboard layout.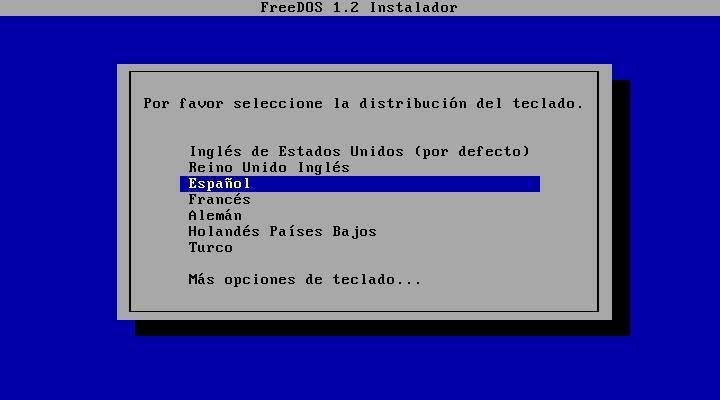 In the next step, FreeDOS will ask us if we want to install the basic packages, or all the packages. We choose the second option, to have the most complete installation.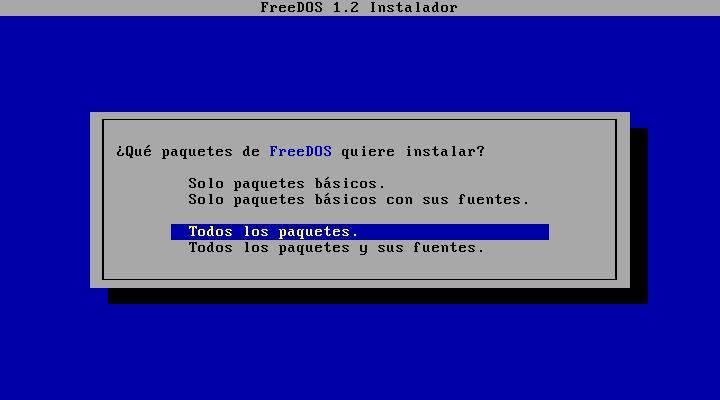 And we will have already completed the initial steps of the installation. Now we only have to confirm that we want the installation to begin and let the wizard carry out its tasks.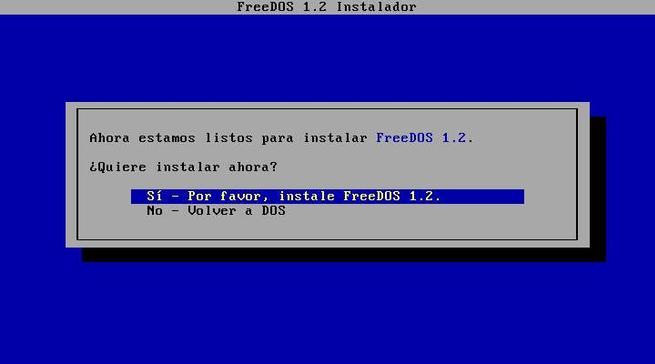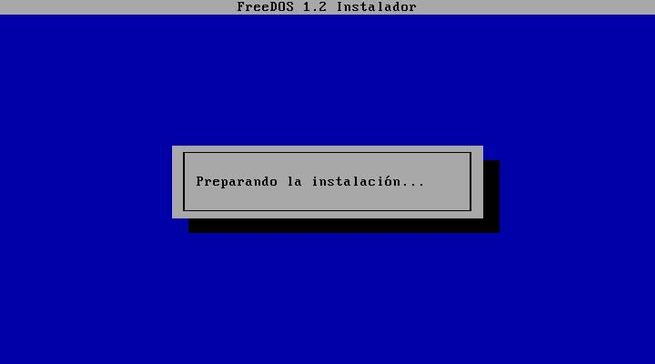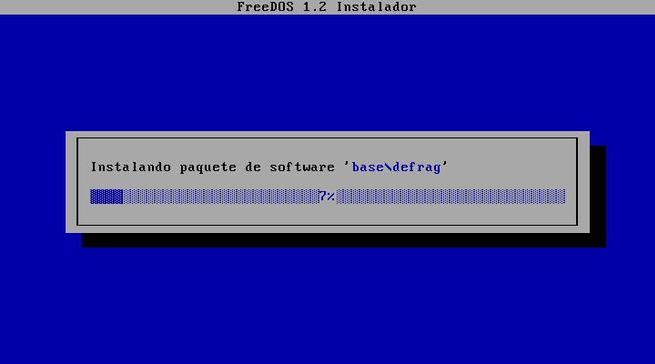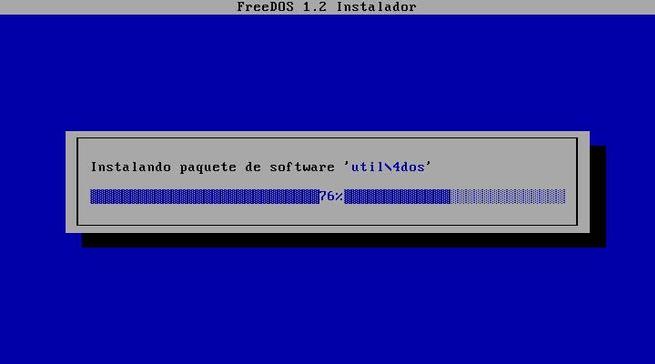 The installation process will not take more than a few seconds. When it is finished, we will be able to see a message that will indicate that the process has finished and will ask us to restart.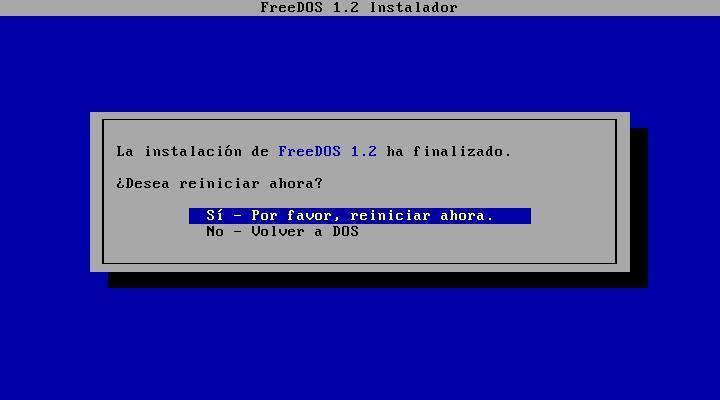 We have now finished installing FreeDOS.
Start FreeDOS
We already have the operating system installed on the PC. After restarting (and extracting the installation disc, don't forget) we will be able to see the boot menu of this system.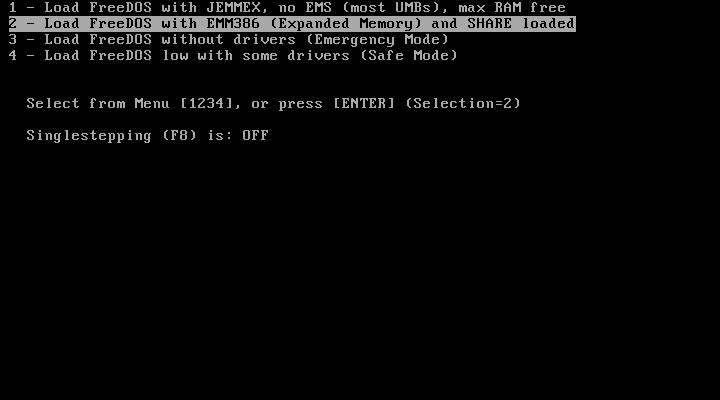 Mode 1 is the reduced mode of the operating system that gives us the greatest amount of free memory, while the second is the extended mode, with more modules and better compatibility. The other two are special modes for recovery.
After a few seconds, we can see the system working, and our DOS console waiting for our commands.