Linux
Do you want to install android 90 on your computer? So you can do it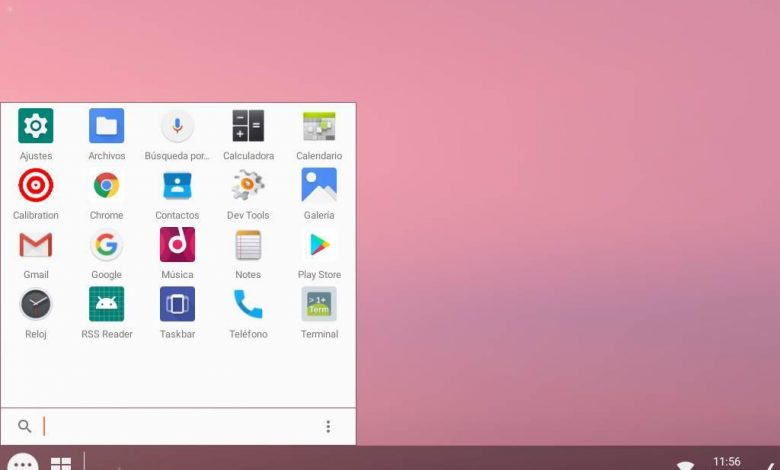 Android is the most widely used operating system in the world on mobile devices. And although we can find this operating system in all types of smartphones and tablets, outside of that market the truth is that things are complicated since Google does not support other architectures. Therefore, it is not possible to install the official Google Android on computers. Luckily, there are some independent projects that seek to bring this operating system to PC so that anyone can install it on their computer. And the most important is Android-x86, which is now updated to Android 9.0.
Android-x86 is a totally independent project that seeks to bring Android to any computer. This is possible thanks to the fact that the core of Google's operating system is open source and, in addition, it uses the Linux kernel . Although its development is somewhat slow, those responsible for this project have taken a step forward and, from now on, it is possible to install Android 9.0 "Pie" on any computer.
What's new and improved in Android 9.0 in the Android-x86 project
The first and most important thing is that the developers have updated the core of the distro from Android-x86 to Android 9.0 "Pie", including all the news and improvements that Google introduced in its operating system.
In addition to this, those responsible for the project have introduced other changes and novelties in this version of Android for PC:
It is compatible with both 32-bit and 64-bit systems.
Linux kernel 4.19.80 has been included with LTS support.
It is hardware accelerated on Intel, AMD and NVIDIA thanks to OpenGL ES 3.x.
Hardware acceleration codecs for Intel HD and G45 graphics.
Support for Secure Boot and installation via UEFI.
Text-based installer with new GUI.
Support for themes in GRUB-UEFI.
Compatible with multi-touch, Audio, Wi-Fi, Bluetooth, Camera and various sensors.
Allows automatic mounting of USB sticks and SD cards.
Taskbar has been added to have the apps that we use most often always at hand.
ForceDefaultOrientation enabled for computers with unknown sensors.
Support for native applications for ARM.
Allows you to upgrade to unofficial releases.
Add experimental support for Vulkan.
Simulates a Wi-Fi over Ethernet adapter to improve compatibility with apps.
Greater integration with virtual machines.
Of course, we must bear in mind that this version is still an RC, that is, it may still have a bug or problem that will be solved in future updates. But roughly speaking, this RC1 is fully functional.
Some known bugs in RC1
Its developers warn of some known bugs in this version of the PC operating system:
Google Play Services sometimes hangs on the 32-bit version.
The suspend and resume function does not work on some computers.
NVIDIA Nouveau drivers don't work well sometimes.
VMware 3D acceleration support is not working properly.
If Vulkan is activated, photos cannot be taken.
How to download and install the Android-x86 ISO on a computer
Download the ISO
All the images of the Android-x86 project are completely free, unlike those of other projects such as AndEX. In order to install this operating system on our computer, the first thing we must do is download the latest version available.
This can be found in the following link on FossHUB, or in the following link to the OSDN repositories .
As we can see, we can find several images available for download. The ones that interest us are the ISO images, since they will surely be the ones that we are going to install and use on our computer. We can choose if we want to download the 32-bit version or the 64-bit version.
We recommend downloading the 64-bit version, as it has greater compatibility and gives fewer operating problems.
Once we have the ISO already on our computer, we must choose how we are going to use it. If we are going to install it, for example, in a virtual machine, then with the ISO image itself it would be worth it. If, on the contrary, we want to record it to a USB memory to install it on any computer from scratch, then we can use the Rufus software to create our  Android 9.0 installation USB .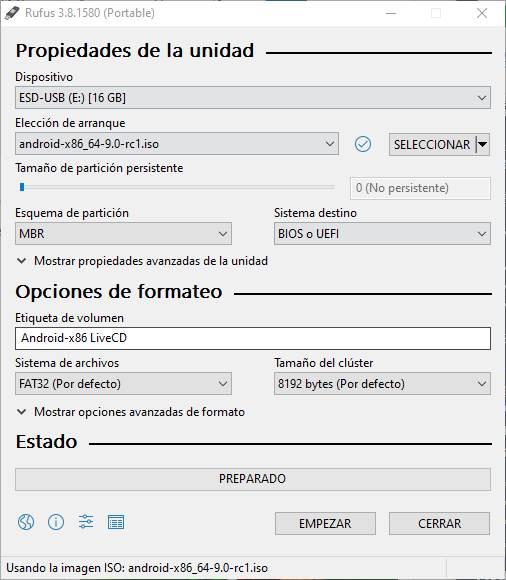 As we can see, we will have to run this program, select the device where we are going to burn the ISO, the partition scheme, the target system and the formatting options. Older we can also choose if we want a persistent partition to be created in memory, that is, one where we can save data without being erased every time we disconnect the memory.
How to install Android 9.0 "Pie" on a PC
Once we have our USB created, or the virtual machine where we are going to install Android, the process is quite simple and will not pose any difficulty for any user. We start the computer (or the virtual machine), we choose that we want to boot from the ISO or the USB that we have just created and we can finally see the boot manager, GRUB, of this system.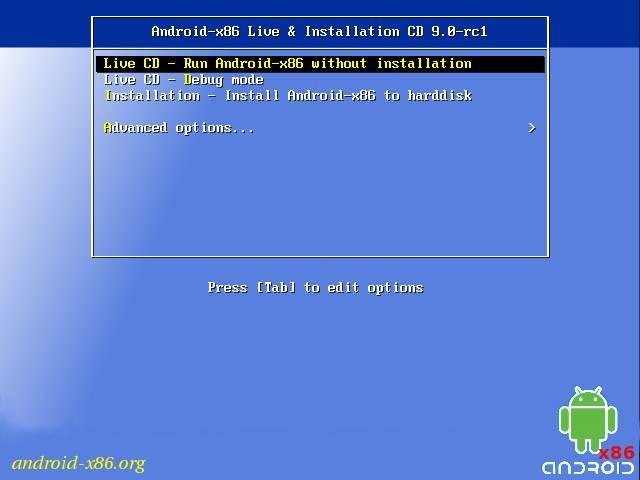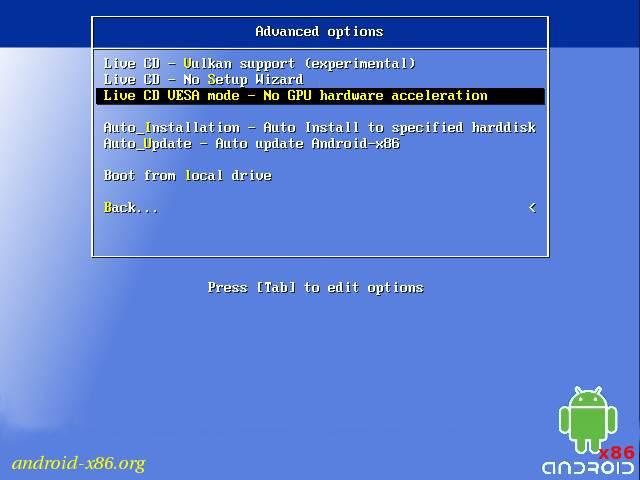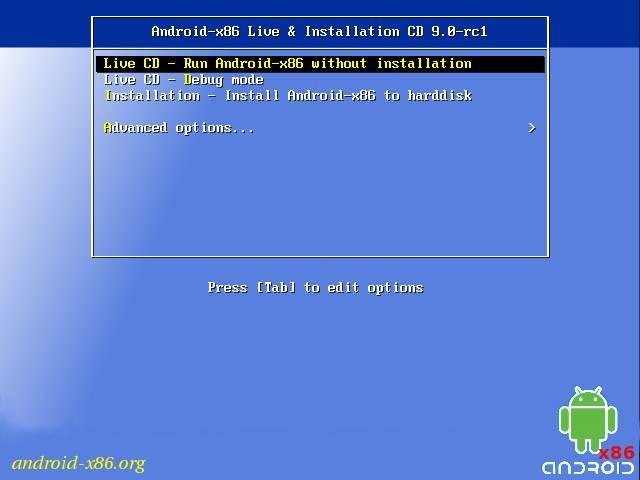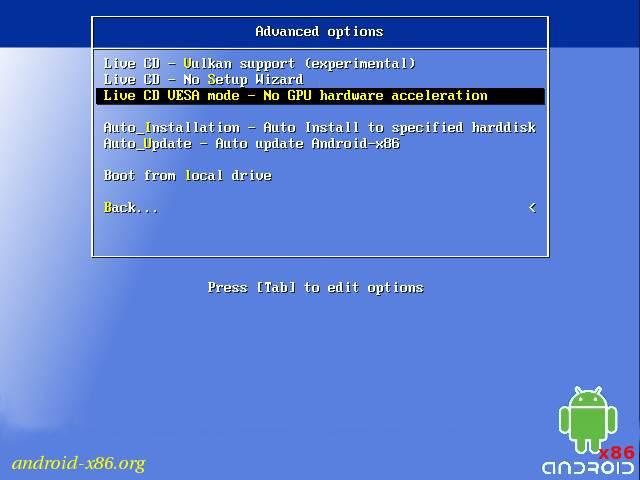 As we can see, we can choose if we want to load Live Mode, that is, load the system in RAM and use it without installing anything on the PC, or install Android on our computer. We are going to see this second option.
We choose the option to install and a simple wizard will begin in text mode that we must follow until the end. The first thing we will do is choose the partition or hard drive where we want to install this operating system. If we do not have any partition prepared for it, from this screen we can create a new partition to do it.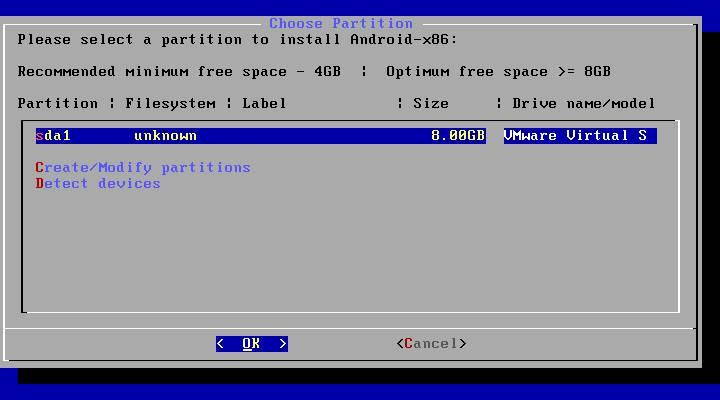 In the next step we will choose if we want to format the partition in question. Since Android is based on Linux, we recommend using the EXT4 file system.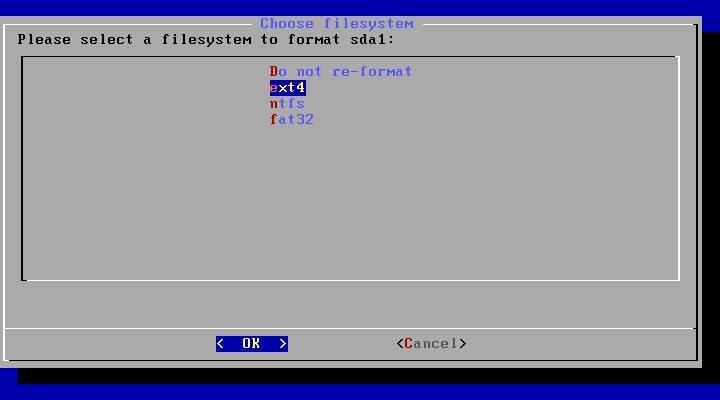 We continue with the installation of Android on our computer and it will ask us if we want to install GRUB as a boot manager. In addition, it will also ask us if we want the system partition to have read and write or read only permissions.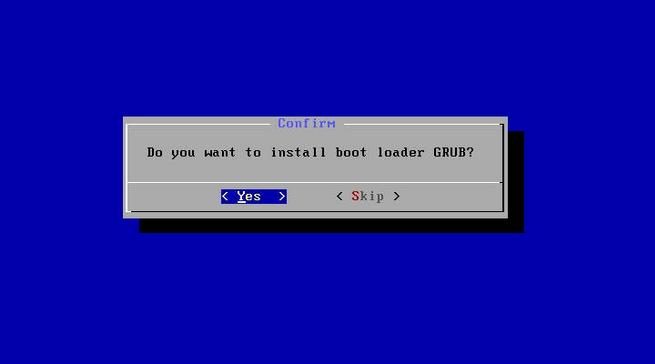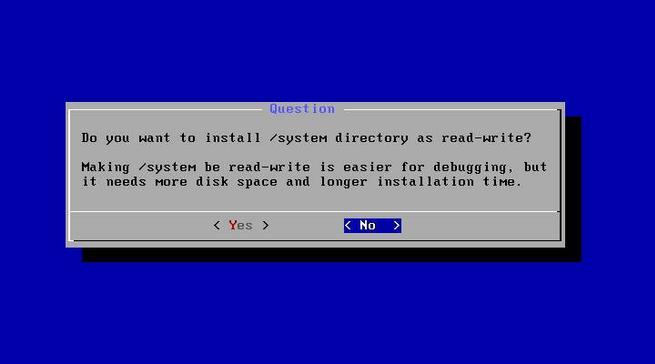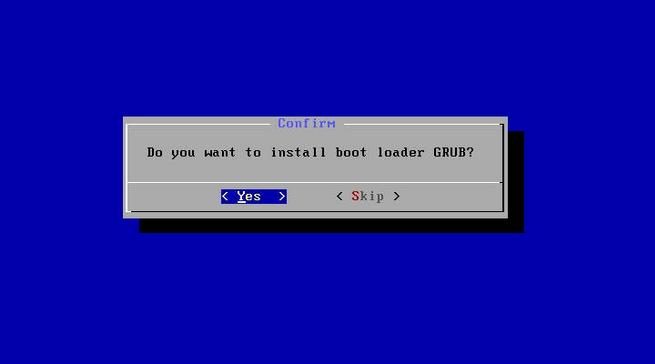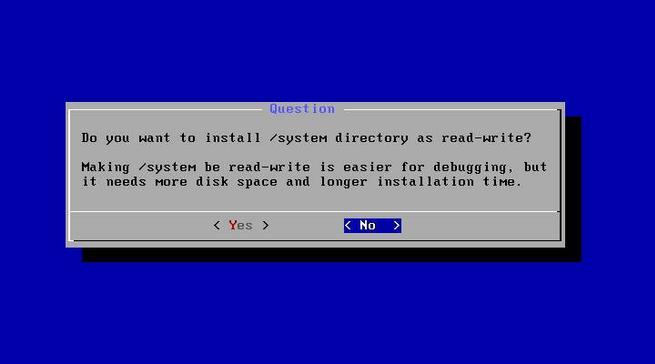 We continue with the wizard and it will begin to copy all the system files to the hard disk. When finished, it will ask us if we want to restart the computer or run Android-x86 on the computer.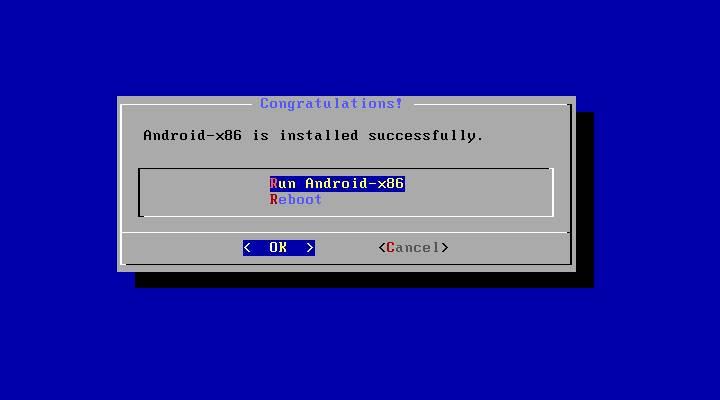 We already have Android installed on our PC. We will have to complete the initial configuration wizard of this operating system (as if we bought a new mobile) and, when it is finished, we will have Android ready and working on our computer.
What to do after installing Android on a PC
Once we have this operating system installed on the computer, the next step will be to start configuring it. Except for very specific cases, we will not have a data network that allows us to make or receive calls and SMS, but we can connect to the Internet through Wi-Fi to be able to make use of the rest of the features of this operating system.
Once connected to Wi-Fi, the next step will be to log in with our Google account. Thanks to this we will be able to synchronize our data with the cloud, and we will also be able to start using Google Play services. We can also access the Play Store, and it is very important, at this point, to update all the apps that are installed by default.
In case the Google Play Store is not available, then we must look for an alternative apks store, such as Aptoide. The important thing is to have a source of applications that we can easily download and install on our Android.
Now we will only have to download all the apps that we are going to use, or need, to start getting the most out of this Android on PC.
Install native Android 9 on PC vs virtual machine
If we want to use Android on the computer we have two ways to do it: installing it as the main operating system, or virtualizing. What is better?
Each technique has its own advantages and disadvantages. For example, if we have an old computer that we want to give a second life to, installing it on it as the main system can be very useful. However, if we install it on a more powerful computer we will be losing many functions and features. After all, Android is an operating system designed to be used on mobile phones, not on a PC.
If we opt for a virtual machine, there are things that will not work well, such as, for example, games that require 3D acceleration. However, if we only want to use some apps, and experiment with it, the virtual machine will allow us to take advantage of this system and, at the same time, continue to use Windows 10, or the system that we use as a base, with all its features. Android 9 "Pie" will run as just another "program".