Web
What are the best plugins and addons for gmail email? List 2021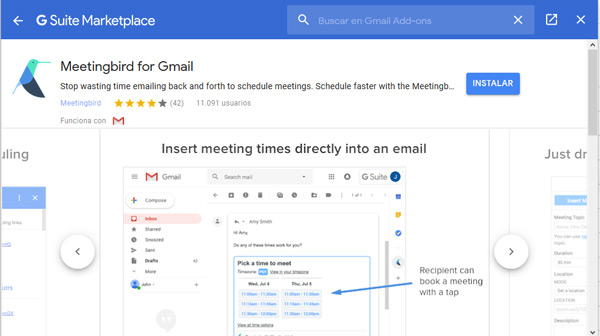 Gmail is considered one of the most complete emails today, thus being one of the most used today around the world. Where, thanks to its excellent functions and tools, each of its users can have an excellent experience when using it.
Gmail is mainly characterized by having a large number of additional add- ons that will make users have a better experience in it, and where they can access them directly from the email web page.
Therefore, this series of add-ons gives a plus to the mail so that it can have new functionalities in each of its services, thus achieving a position among one of the best mail servers . In this way, here we will show you which are the best Gmail add-ons .
Steps to add and install a plugin or extension to your Gmail email and improve its features
Being able to add a plugin or extension to your Gmail email is very simple, in general, one of the main characteristics of this type of tool is its easy handling and installation .
Therefore, to start using this type of extensions, you will simply have to perform the steps that we will explain below:
To begin, you will need to enter your Gmail email .
When you have accessed the main page of the server you will have to click on the "+" sign located on the right side of your screen.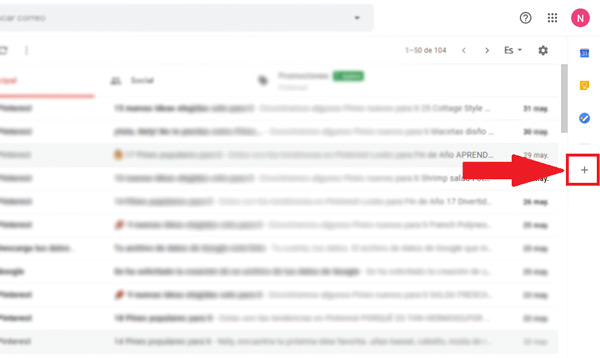 There a new pop-up window will open where you will see a complete list with all the extensions available in the mail. Here, you will have to choose the extension that you want to install completely free.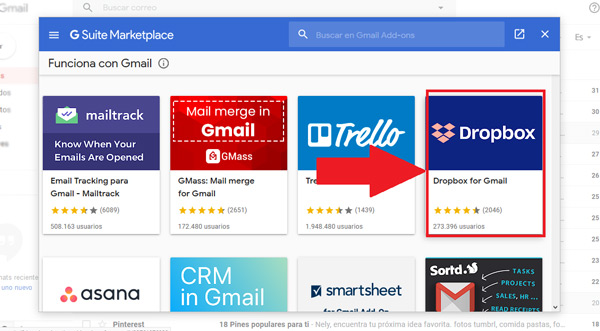 Then the extension you want to install will open with its description and with the rating from other users who have already installed it, this will allow you to know how good or bad the tool is.
To install it, simply click on the "Install" option to start this process.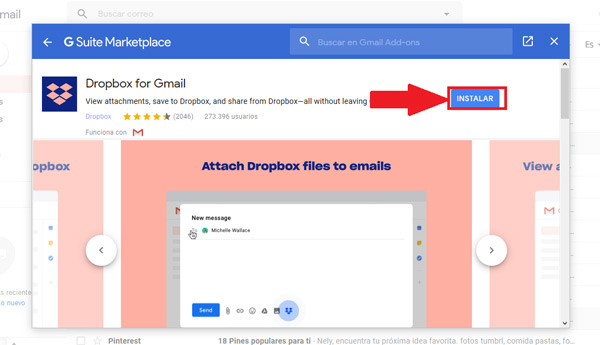 There, different windows will appear that you will have to choose and allow in order to advance with the installation. Among them, you will be asked to choose the email address where you want to install the extension.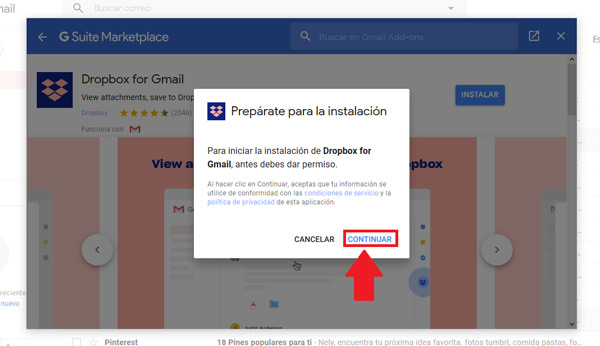 Now you will see a series of permissions which you must grant to the extension so that it begins to perform them in Gmail. This will allow it to work correctly.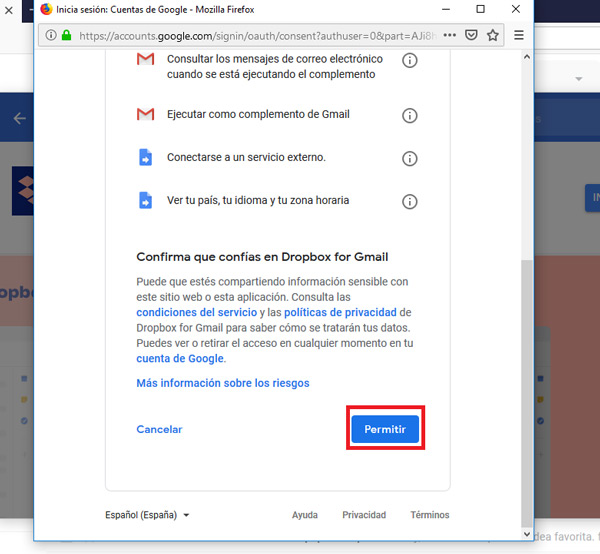 Once you have accepted the permissions required by the extension, a new window will open indicating that it has been installed correctly.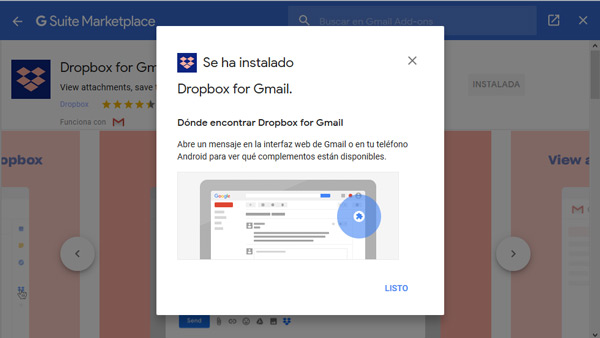 In order to make sure that the extension has been installed correctly in your Gmail, the icon of the tool will appear in the column on the right side of your screen, just above the "+" sign . In this way you can access it whenever necessary and in the same way you can continue installing each of the add-ons you need.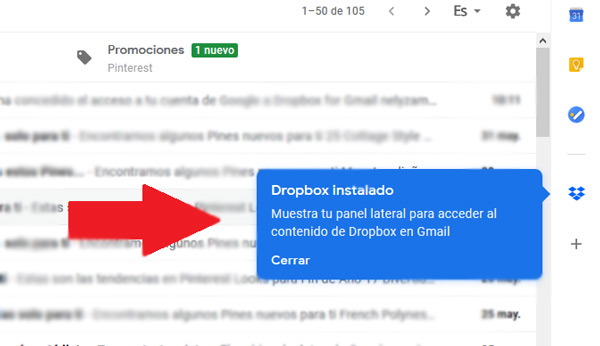 List of the 15 best add-ons and addons to improve Gmail and get the most out of your Google mail
In the event that you want to install add-ons in your Gmail email, but you don't know which ones are the best or which ones will offer you the best performance, then, here we are going to offer you a list with the best 15 add-ons and add-ons that you can start installing in your mail so you can make the most of it.
A way to be able to add new functions in your message box that will make your experience much better. To do this, here we present the best 15 add-ons for you to install for free in your Gmail in a very simple and fast way.
GMass: Mail merge for Gmail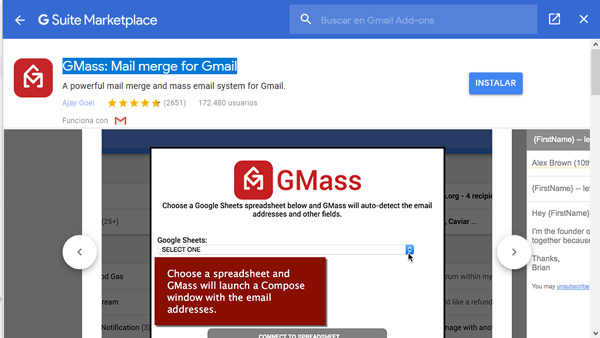 A very powerful tool that will allow you to search for emails that contain recipients to whom you have sent messages lately or that you have received . In this way, you will be able to create mailing lists that will be loaded in a compose window with all those recipients found in most of your last messages. A very good option to be able to send mass messages based on search results in a very easy and fast way.
Therefore, with GMass you can receive messages as new or as a response to your last conversation with each of your recipients. This gives you the opportunity to create existing conversations instead of just having new conversations . A very useful tool for those users who need to send massive messages constantly.
Trello for Gmail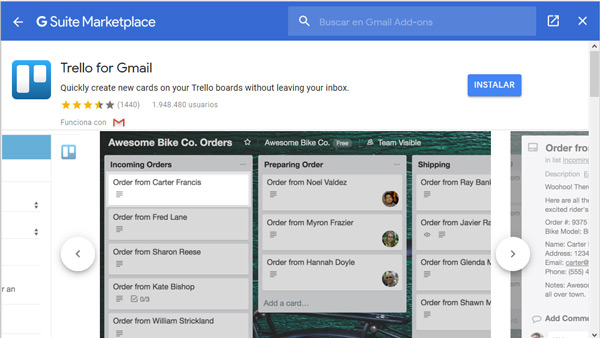 Trello is one of the most popular applications in recent times, it gives you the ability to organize your work teams . With it, you can convert an email into a task so that it can be processed on the Trello platform , in this way, you can give your work team a shared perspective on the work and, if required, the steps to continue to carry it out.
Now it has an extension for Gmail email, where you can convert each of your emails into tasks, or in that case send important messages to the application and thus have access to them in an easier way. Therefore, if you are a user who needs to constantly organize tasks for your work team, you can try installing this Trello extension and thus start taking advantage of each of its tools.
Asana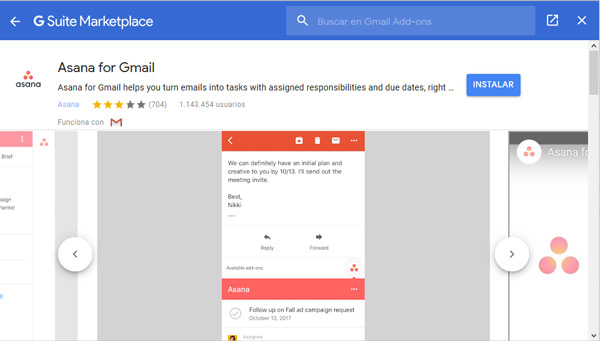 Another addon that you will find available on the Gmail email server is Asana, it is an application whose main function is to notify all available tasks and assignments by email . Therefore, installing this type of extension in Gmail will allow you to do the reverse this time, that is, with this addon you have the opportunity to manage Asana tasks directly from the Gmail platform.
It is worth mentioning that this extension called Asana works very similar to that of Trello, but the integration of this addon is more simplified, which makes its use even easier for users. When you install this extension in your email, you will have the opportunity to convert any element of a message into a new task for Asana, where you will simply have to consult the program to keep track of them, that way you will know which ones have been completed and which ones have not.
Dropbox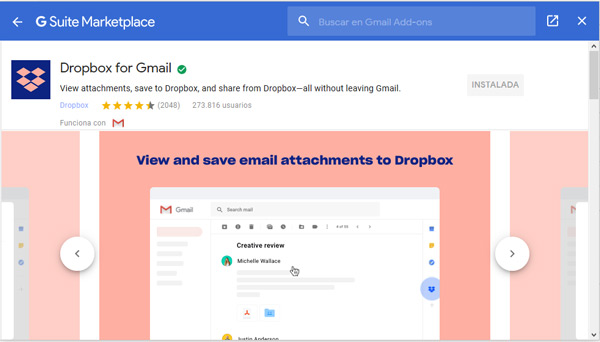 If you are a user who is constantly using the Dropbox application , then you can start using this extension from your Gmail email, which will make it easier for you to use it when you want to see those attachments stored in Dropbox . In addition, you will be able to access them in an easier and more direct way.
Another advantage you get when you install this add-on in your mailbox is that you can start sharing those files saved in Dropbox from your email. Therefore, it becomes a very useful tool to work with both programs simultaneously.
Sortd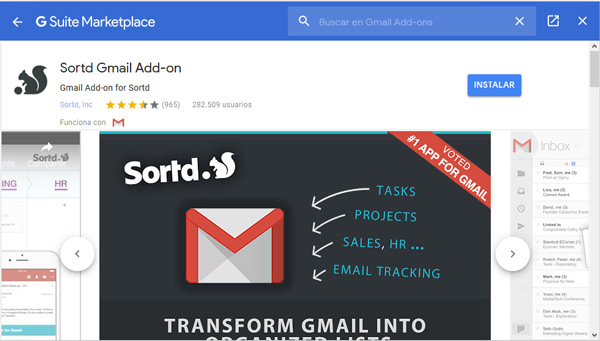 Basically Sortd is known as an extension for the Google Chrome web browser, but it is responsible for offering new features and functions specifically for Gmai l. Therefore, Sortd offers a workspace, with which you will have the possibility to plan and prioritize each of your emails and tasks . It can be said that this extension offers the same experiences as Trello services, but this time, everything will be done from your email.
It is important to mention that this plugin is in its private beta version. Therefore, in order to obtain their services, it will be necessary for you to send an invitation request which may be approved or rejected. In the case that you have been approved to be part of Sortd, you will receive a code in your inbox, you will have to enter it in order to install the addon.
When it has been installed, on the right side of your email inbox you will find the Sortd icon, from there you can start adding and deleting all those tasks that you have available. In addition, every time you receive a new email you have the opportunity to classify it according to your need, for this you have several available statuses, "To do", "Done", "In process", among others.
BEE Templates for Gmail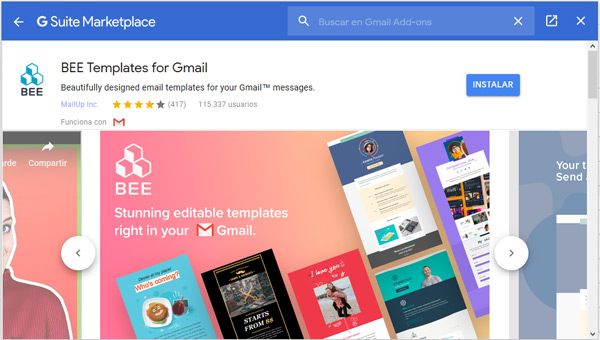 One way to boost your Gmail email with templates is through the BEE Templates extension , a tool that will offer you a large number of outstanding and well-designed templates for you to start using in each of your messages. It has a total of 14 categories available, where you will find almost all the themes, be it notifications, birthdays, invitations, marketing, education, news, among many other topics.
BEE Templetes has been designed to offer new features in email services, where its main function is to provide the opportunity to have different templates that you can use directly in each of your email messages. In addition, they become an advantage for those occasions where you are frequently sending similar messages, since you can translate your ideas into a single template and thus spread them to different recipients.
As for its operation, it is very simple, you will simply have to enter the extension icon in your Gmail inbox and there you can choose your favorite template, which will be added immediately so that you can make the necessary edits for shipment. Therefore, BEE Templates becomes a great tool thus allowing you to save time by using each of its templates.
Analytics Buddy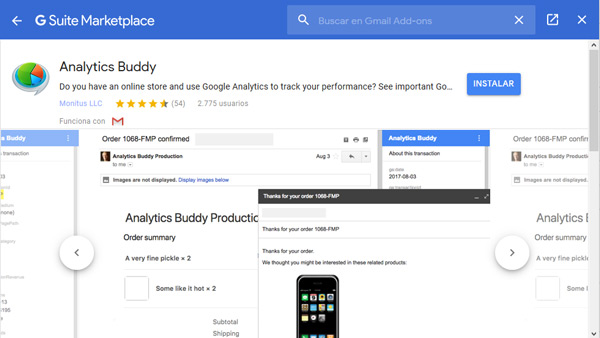 This extension has been designed mainly with those users who have a website or virtual store in mind , where they constantly need to use tools such as Google Analytics, this in order to be able to track each of the online business data .
Therefore, with this extension called Analytics Buddy, you will have the opportunity to start obtaining the most important analytical data about the orders of your online business, which will arrive directly to your email. In addition, you can make use of this tool simply by accessing your email, which will save you time.
It should be noted that Analytics Buddy is compatible with almost all e-commerce platforms , where we find websites such as Yahoo Store, Magento or Shopity . The main function of this addon is to notify you by email each time you have an order, as well as to scan each of the emails to more easily detect the customer's order code or number .
Happay for Gmail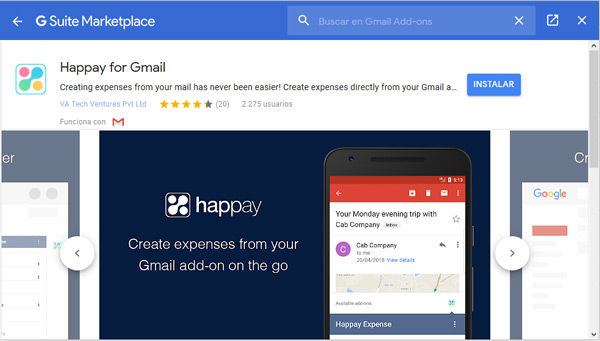 If you are a person who has companies and you need to be able to manage it from your own email, then you can start using the Happay addon , it has been designed and created by a FinTech company , with the aim of allowing its users with companies or e-commerce start managing all your data in a very simple way.
In general, with Happay you will be able to manage orders, commercial payments, control fraudulent expenses, automate expense reports and manage cash flows in the best possible way . You can do all this with this extension, which you can install completely free.
In addition , Happay is able to automatically detect all the company's receipts and in turn manage them as one more expense, as well as attach the emails as received and fill in the corresponding information related to each of the expenses generated.
Meetingbird Add On

If you are constantly arranging meetings with your clients online and you use your Gmail email as a means of communication to inform them of them, then it will no longer be necessary for you to go around sending emails from one side to the other to be able to schedule appointments. With Meetingbird you can start inserting the possible meeting times in each of your emails. This will allow your clients to select the most convenient time for them with just one click.
Therefore, this extension has become a very good option to be able to arrange and book appointments with clients in a much faster way. It should be noted that Meetingbird carefully manages the time zones of each of your clients, taking into account that some of them may be from other parts of the world.
Thanks to all these services provided by the extension, and to its great performance, it has received different awards within the sector, which has led it to position itself as one of
Gmail
Google