Web
Top 25 Websites and Video Editing Programs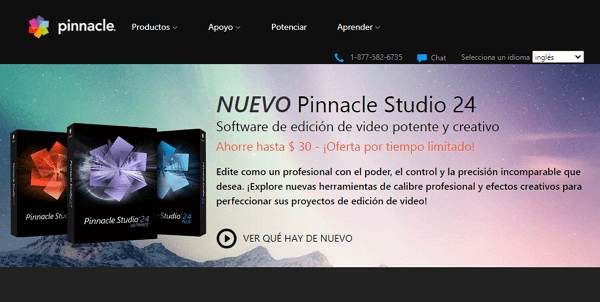 Next, you will see the best video editors. If when you are looking for a program of this type, you come across the difficulty that they are all paid, you have reached the right article. You will be able to use most of the editing tools on this list for free, many of them without the need for installation, since they work online. You will also see that you can go for the free version of some paid programs like Filmora Wondershare.
On the other hand, you may run into problems such as the watermark present in each video. The free features may also be limited, for projects you need to develop. In this case, you simply have to get the paid version of the editing program. Additionally, you will see that professional and paid video editors are presented at the end of the post praised by the community in general, although they do not have a trial version.
Adobe spark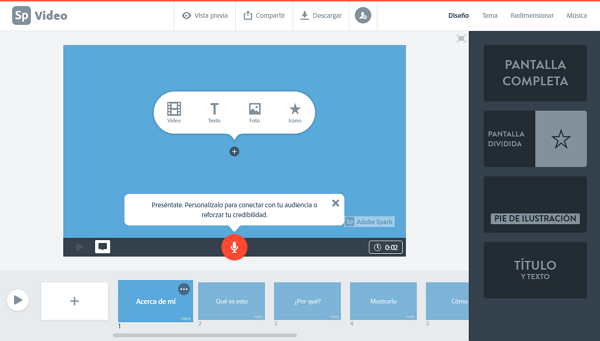 Adobe Spark is a free video editing and production tool for any digital medium. One of the great advantages of this online editor is its wide variety of themes that you can apply to your video. It also has different editing tools that allow you to add text, transitions and organize clips.
Likewise, you can add your own music to give it a more personal touch and make yourself known through this resource. You will have to register to use the Adobe Spark website, edit your videos and share them on social networks.
Official site: https://www.adobe.com/es/express/create/video
Clipchamp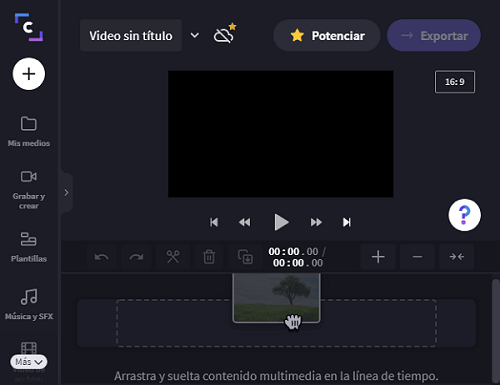 To use this platform you need to have an account or register, which has no cost. This is a free page with which you can upload your videos and edit them with various basic editing tools such as clipping, saturation, brightness and color control, among others. It will also allow you to insert sounds, additional images or music and adjust them in the edit.
Among the disadvantages of the free version is that it only allows you to download the video in a maximum quality of 480p, you also lose access to Premium templates and the downloadable tool for your PC.
Official site: https://clipchamp.com/es/video-editor/
Canva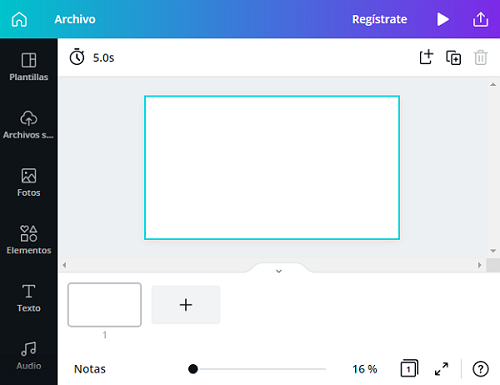 This renowned website not only serves to make different designs and edit images, it also offers the creation of videos. The editor is free with payment options and you can use it without registering, although to unlock functions such as uploading your own resources (Images, videos, etc.) you must create an account. However, you can use the vast majority of its tools and download your videos for free.
Official site: https://www.canva.com/es_es/crear/videos/
Movie Maker Online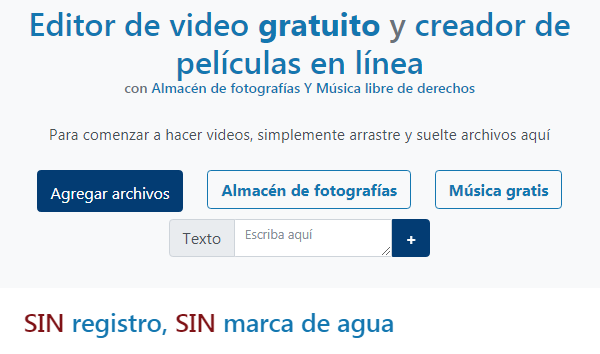 This is a completely free and very easy-to-use editor that will allow you to create excellent videos by combining different audiovisual resources. The downside to using Movie Maker Online is its frequent banner ads and advertisements, as they can be annoying. On the other hand, the download is only allowed in MP4 format.
However, if you manage to put these inconveniences aside, it is a good alternative. The platform is very complete, as it offers different editing functions such as the use of filters and transitions, among others. Another benefit of using Movie Maker Online is that it does not require registration and does not leave watermarks on the video.
Official site: https://moviemakeronline.com/
WeVideo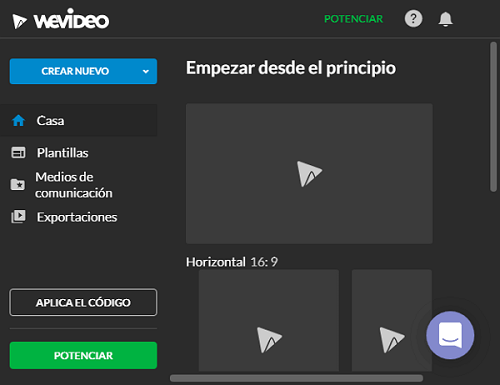 WeVideo allows you to integrate music, videos and images in three different layers within the tool, which will allow you to organize everything properly. To use WeVideo you must register and you will find some limitations in the free version, such as that the maximum supported resolution is 480p and the final file will have a watermark, among others. However, all these limitations can be removed by purchasing the paid version of WeVideo.
Official site: https://www.wevideo.com/
Kizoa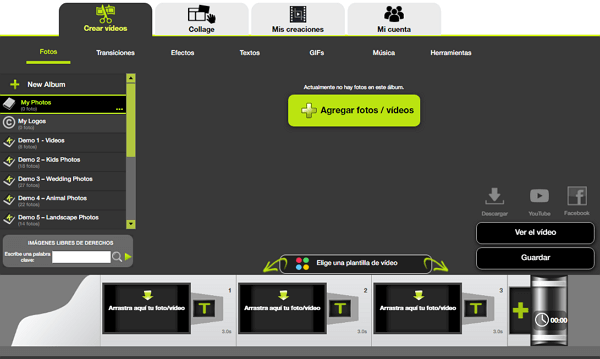 This is a website designed to create funny videos to share on social networks. The main idea of ​​its operation is to combine different images, photos and videos to make a very entertaining final assembly. The free version of Kizoa only offers you a maximum space of 1 GB, plus the files will be watermarked. On the other hand, you can use many functions such as adding text and effects, among others.
Official site: https://www.kizoa.com/
Kapwing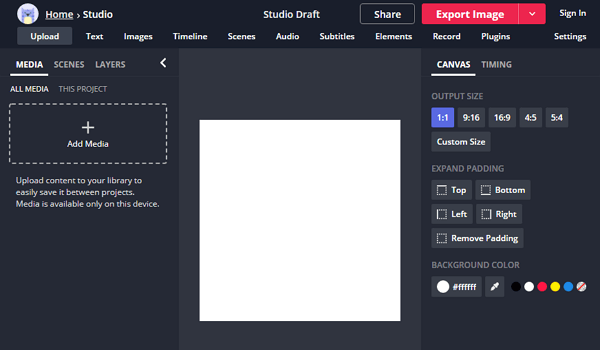 The Kapwing video editor was created to cut your videos both in duration and display and in this way make them compatible with different social networks. Despite this, it has many editing tools which allow a great customization of your files, from adding text, images and audio, to adding subtitles among others.
This service is completely free with the option to subscribe to a Premium version that increases the weight limit for files uploaded to 2 GB, as well as increasing the quality of the final file that is saved or downloaded. It also allows you to upload custom font styles and access many other premium tools.
Official site: https://www.kapwing.com/resize-video
Rocketium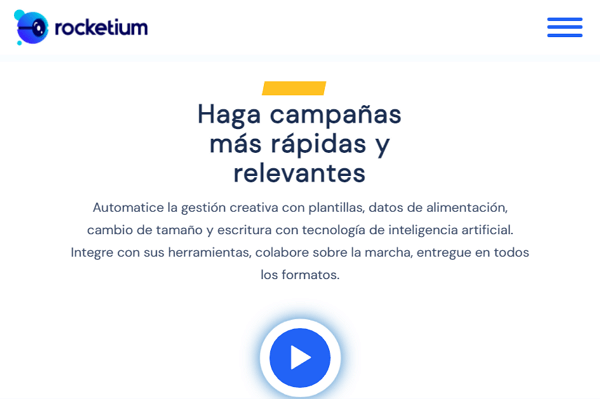 Rocketium's functionality is very simple, what you must do is upload the video you want to edit and then select a predefined style from the list that will appear on the screen. You'll also find hundreds of royalty-free images, clips, and other resources that you can quickly add to your archive edit.
This tool was created to support people who do not know how to edit video. The use is conditional on you registering on the website, but the free service does not have many limitations. The only downside is that a watermark will appear on the downloaded video. To eliminate restrictions and inconveniences you can choose one of their subscription plans.
Official site: https://rocketium.com/
Hippo Video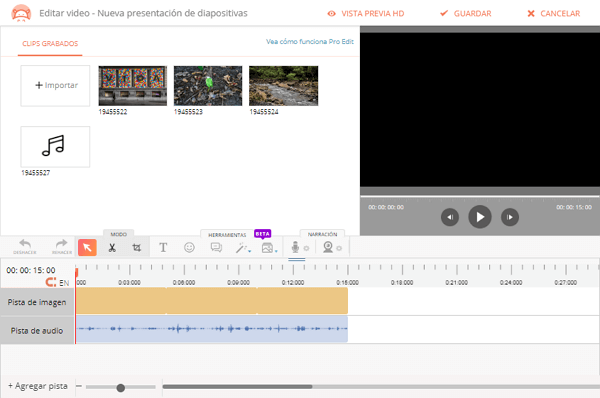 The following tool is one of the most complete to make edits and even to learn how to edit. To begin, you must import a video file that you have in your PC gallery or from Google Drive. Although, you can also add this type of multimedia from the webcam, even to add it later.
Among its functions you can find the video cropping tool and the one to insert audio and voices through the microphone, among other effects arranged in the menu. On the other hand, you must register with Hippo Video to use the platform and it has a size limit of 500 MB.
Official site: https://www.hippovideo.io/
Video Toolbox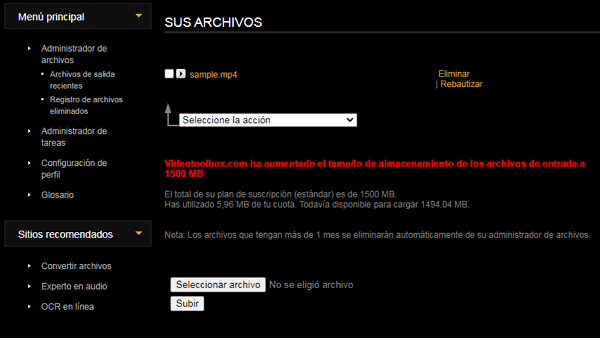 Video Toolbox has a not very intuitive and visually basic interface, for its use it is necessary to register by email and then log in. Once inside your account, you must select the option " File Manager " from the menu located on the left and from here you can upload and start editing your video files. Something important to keep in mind is that the same page will delete files that are 1 month old.
Official site: http://www.videotoolbox.com/
VEED.IO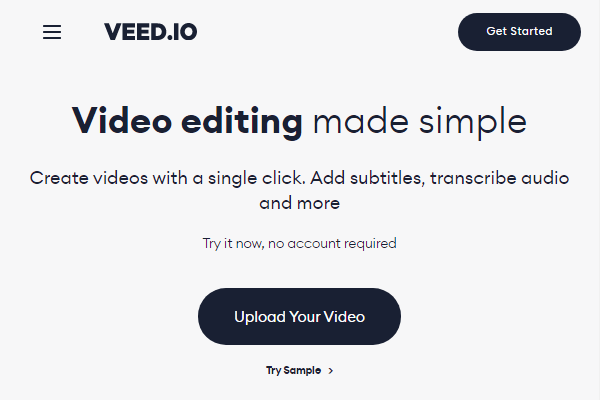 This is a free online video editor with many useful features for content creators. VEED.IO has the basic editing tools, such as trimming scenes, adding text and inserting logos or animations in the video. Another great feature included in the free tool is to automatically create subtitles.
Some other features of the paid version of this tool are the translation and transcription of the content. Likewise, it is possible to obtain a better quality video and edit files of greater weight or duration. In addition, this page has a brand kit to customize the videos as you prefer.
Official site: https://www.veed.io/edit
Wondershare Filmora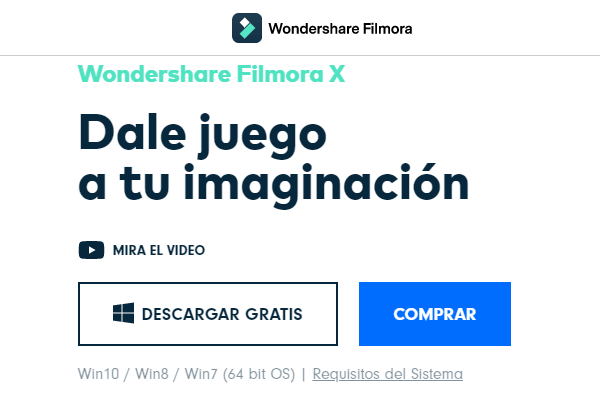 This is one of the most complete video editing programs out there and you can download it for free. Filmora has all the basic functions you may need, such as adding filters and effects, cutting and pasting videos, adding text, and much more. Use the green screen to add the backgrounds and animations you want or the divided screen to convey your messages in a unique way.
Filmora is a professional video editor as it also incorporates advanced features such as color adjustment and audio correction. With these tools, you can get high-quality results by removing unnecessary noise and editing the color settings to get better shots. The only flaw is that in the free version the videos retain a watermark.
Official download site: https://filmora.wondershare.es/editor-de-video /
Freemake video Converter
iMovie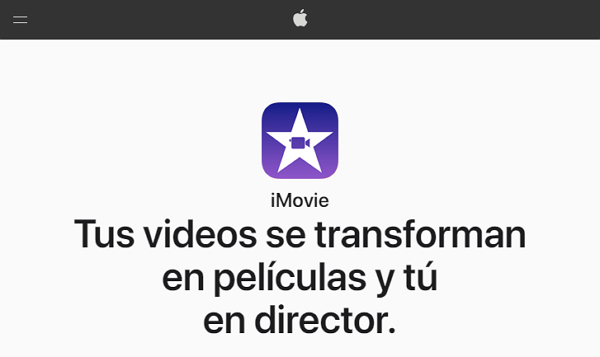 If you are looking for a free video editor for Mac, this is an ideal option, you can install it on your iOS device and have access to your files and editing functions from anywhere. The advantage of this tool is that it is compatible with the high resolution formats of Apple devices, so you can edit recorded videos from your iOS mobile.
Green screen and split screen are some of the funniest features , but this program has a lot more to offer. With iMovie you can cut and paste clips to create spectacular 4K videos if you want. You will have the possibility to add filters and special effects, as well as a soundtrack, to make an action movie or a trailer if you wish.
Official download site: https://www.apple.com/la/imovie/.
Lightworks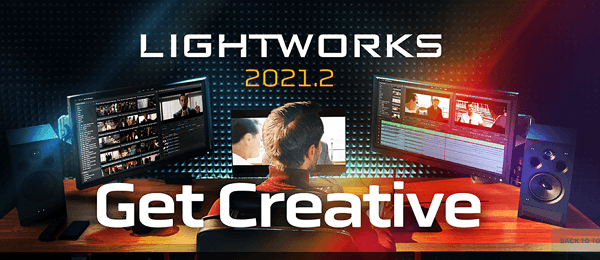 This professional video editor has a paid and a free version, although the latter is slightly limited, it has very good features. It is compatible with Windows, Mac, and Linux, and has been around for many years. Lightworks has even been used to edit motion pictures such as The Wolves of Wall Street, Hugo, and many more.
It is an alternative with many features and benefits such as real-time audio editing, support for SD, HD and 4K videos. It also contains templates for social networks and allows you to export for YotuTube. Plus, it gives you access to royalty-free audio and video content for your edits.
Official download site: https://www.lwks.com/
DaVinci Resolve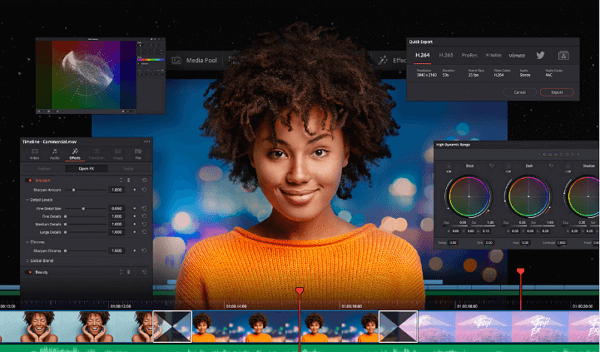 This is another professional tool created for use in the cinema, it was thought as a color correction software, but it has become one of the best editors out there. It has been used in numerous movies such as "Godzilla, King of the Monsters" and in commercials for well-known brands such as Adidas. It has a free and a paid version, with advanced features used by film professionals.
Official site: https://www.blackmagicdesign.com/es/products/davinciresolve/
Blender


This is open development software, meaning that you can even download the code and modify it if you have the necessary knowledge. It is a completely free multifunctional tool for professionals of different branches related to the edition of multimedia resources.
It has a video and audio editor, as well as tools to render, animate and create special effects. Due to its extensive number of functions it can be very difficult for beginners to use. The downside is that the video editor can be limited for users with advanced knowledge, compared to other specialized tools.
Official site: https://www.blender.org/features/video-editing/
Virtual Dub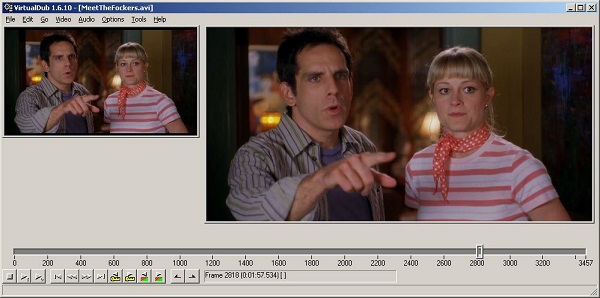 This is completely free video editing software , available for Windows, Linux and MacOS. VirtualDub has a simple and intuitive interface, it is very easy to use so it is recommended for those who have no experience with video editors.
The disadvantage of this tool is that it is considered limited compared to other programs, as it does not have advanced functions. It is used for linear video editing and works only with images in AVI format.
Official download site: http://www.virtualdub.org/
Movavi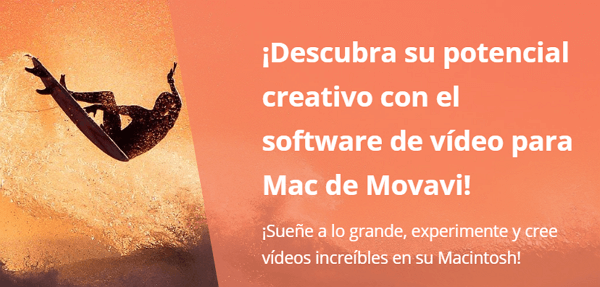 This is a video editing software with basic functions, but it offers very good results. Movavi allows you to improve the quality of the video with its image adjustments, and add titles and effects to customize it your way, ideal for editing videos for YouTube. It is an extremely intuitive software, compatible with Windows and Mac.
Official download site: https://www.movavi.com/es/mac.html
OpenShot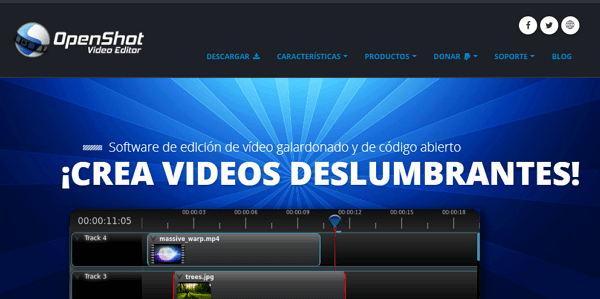 This is a completely free open source video editing program, compatible with MacOS, Windows and Linux computers. OpenShot will serve you to edit practically any type of video, as it has a great variety of functions that you can easily handle in a simple interface.
With this editor you can slow down or speed up scenes, cut and join video clips and insert titles in 2D and 3D. In addition, the tool allows you to add fabulous special effects with animation frames, as well as the ability to edit brightness, colors, background, and much more. OpenShot gives you the ability to create the layers you need to edit the audio, add watermarks, etc.
Official download site: https://www.openshot.org/es/
OBS Studio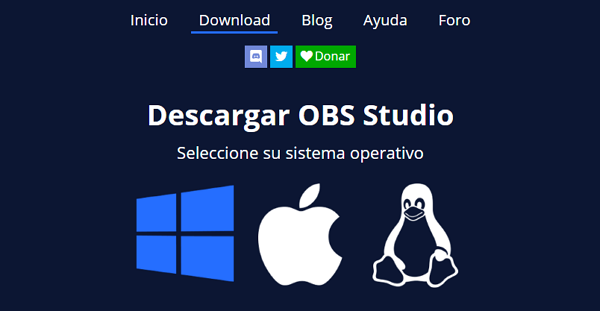 This is another open source software with excellent performance. The interface is slightly more primitive than OpenShot, but it is not difficult to learn to use it. You can cut and join videos, mix sound and much more. It is a tool aimed especially at Streamers, since it allows encoding and transmitting live videos. OBS Studio is compatible with Windows, Linux and Mac.
Official download site: https://obsproject.com/es/download
VSDC Free Video Editor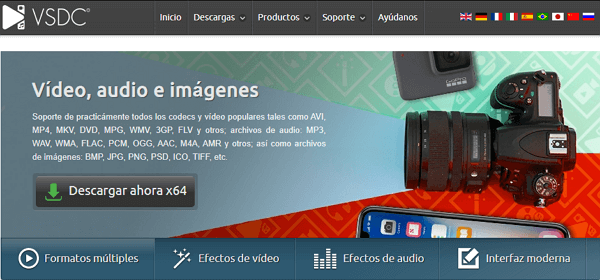 This is a free video editor with which you can quickly make basic adjustments to your projects, it works with the most popular formats such as MP4 and AVI. It is a non-linear editor, so you can make various modifications to your videos. Among the most outstanding functions is the option to apply filters and transitions. Additionally, it has conversion tools and tools to create or burn DVDs.
Official download site: http://www.videosoftdev.com/free-video-editor
Adobe Premier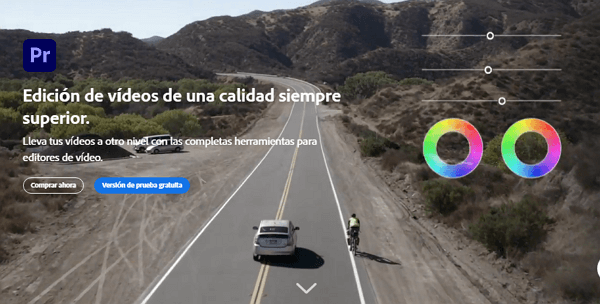 This is a paid tool, but you can try the free version. Premier is considered one of the best video editors in the world. It is widely used in the world of cinema and television, because with its integration with other services such as Adobe Sensei it allows you to create movies and videos of exceptional quality.
This tool is compatible with any camera and video format, you can even edit sequences with 8K quality and virtual reality. Additionally, Adobe Premier has automated editing tools with which it detects color and lighting adjustments that may be necessary. All this among many other functions that make it a very complete professional tool.
Official download site: https://www.adobe.com/es/products/premiere.html
Pinnacle studio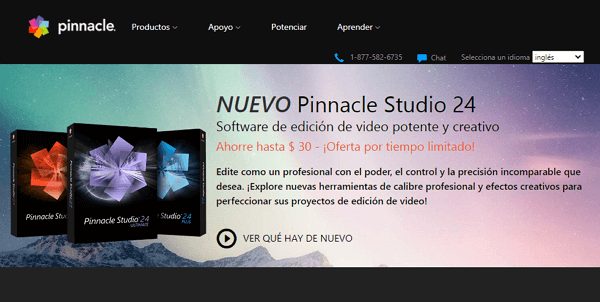 Web