Web
The 35 best websites to download books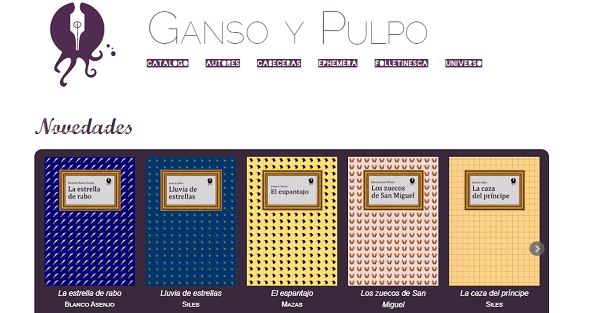 Reading is one of the easiest ways to gain knowledge and spend long hours of entertainment. If you want to carry your favorite stories at all times, you should know that there are digital formats, such as EPUB and PDF that you can download without problem on your computer or mobile devices. To do this, you have a wide variety of websites to read online or download books for free.
The Internet is full of free e-books that you can download to expand your collection with new readings that you can enjoy comfortably from anywhere and in different formats. Below, you will find numerous pages to download books of all kinds, whether they are bestsellers, classics of literature, university texts and even aimed at a particular audience. Find out more about these below.
Google Books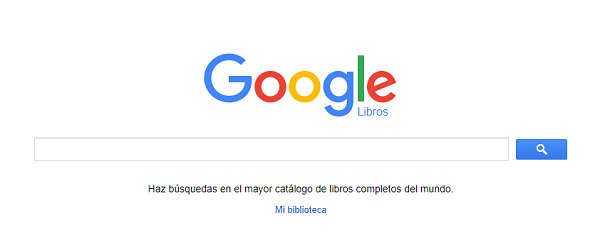 It is a free section where you can search for books in a wide variety of genres. Here you will only have to enter the name of the specimen you want, whether it be classics, bestsellers and many more. All the books are available in different formats, plus you have the option to check ratings and comments from other users to be sure that you made the right choice.
Official page: https://books.google.es/
Open Library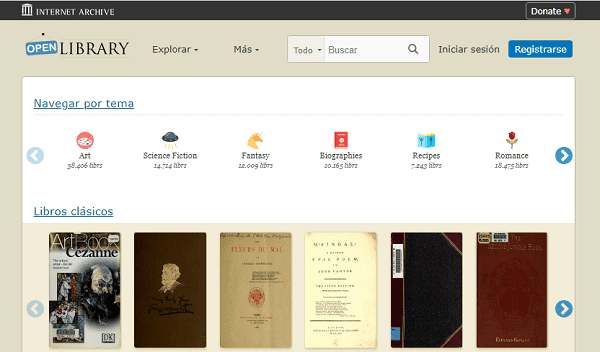 Open Library has more than a million e-books that you can download for free. It is an open project of the non-profit organization Internet Archive, where the data is public, the documentation is open and the downloads are free. Likewise, you have different electronic download formats or the option to borrow them, as if it were a library.
However, the only drawback that is usually presented on this page is that most of the books are in English, although there are sections with copies in Spanish. Therefore, if you handle the language it may be an excellent option for you.
Official page: https://openlibrary.org/
Project Gutenberg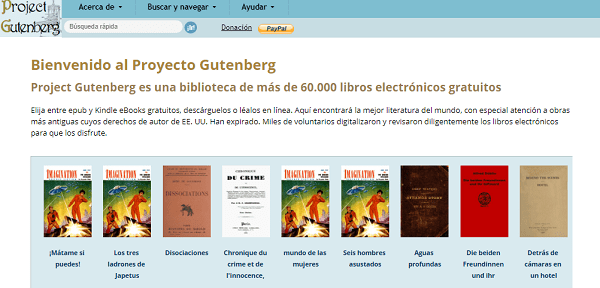 It is a site that has been on the Internet for more than 10 years and offers free downloadable fiction and entertainment e-books for free. With this platform, you will have more than 60,000 copies at your disposal, which you can download in different formats, including PDF. In addition, Project Gutenberg has a reading scale so that you can know the level of complexity that your book will present.
Its interface is not very accessible and its home page is not very attractive, but it has different categories and functions that will allow you to enjoy your readings easily and without problems.
Official page: https://www.gutenberg.org/
ManyBooks.net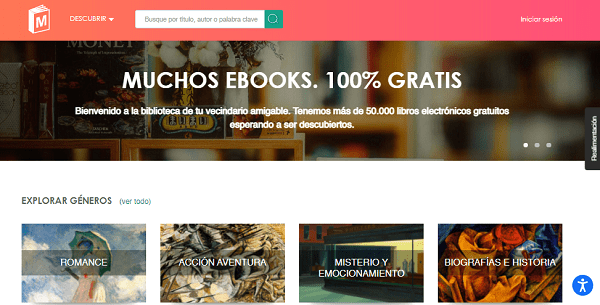 It is a platform where you will find a wide variety of books in English to download for free. In total, the site has more than 33,000 copies organized into categories, although you can also filter and segment your searches by language. In the same way, it is worth noting that the page has different audiobooks that you can enjoy without problems.
Official page: https://manybooks.net/
Europeana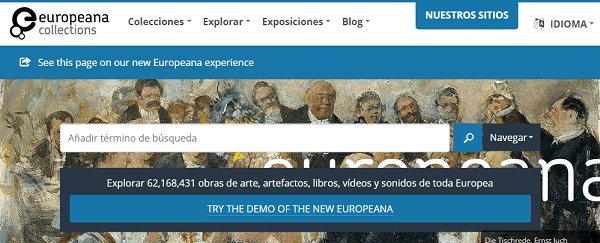 Europeana is the largest digital library in Europe and offers an extensive collection of books in digital format and mostly in the public domain, so they can be downloaded for free. The site is available in different languages, including Spanish. In addition, it offers 62,168,431 content, including books, works of art, songs and videos from the European continent.
Official page: https://classic.europeana.eu/portal/es
Public domain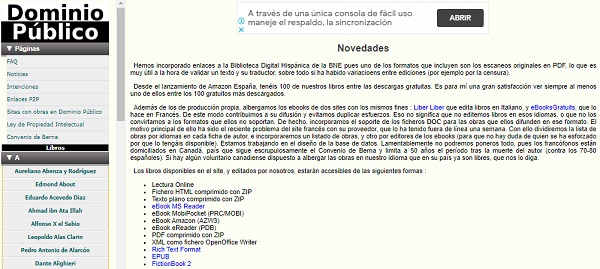 Public Domain is a website where you will find texts on a wide variety of topics in digital format and mostly in the public domain, so they are free. However, before starting the download of the book, the page is in charge of checking the legal status of the copy in each country. With this website you will find books in all kinds of formats, whether in e-book eReader, HTML, PDF, etc. Therefore, it is up to you to choose the one that suits you best.
Official page: http://www.dominiopublico.es
Wikisource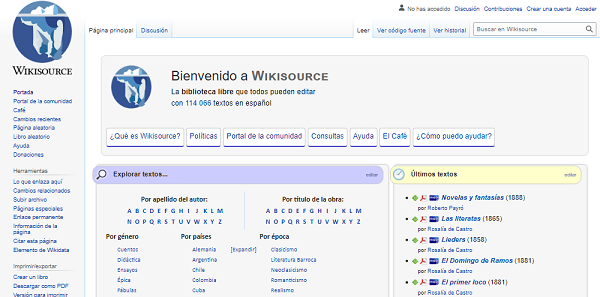 Like Wikipedia, Wikisource is a Wikimedia project that is defined as an online library with totally original books that are in the public domain or have even been published under other licenses. By choosing this page, you will be able to read the titles you want directly or download them in PDF format for free.
Likewise, the platform links to the initial origin of the book in order to provide you with a greater number of download formats. In addition, Wikisource is available in almost all the languages ​​of the world and has texts of all kinds, from didactics to epic stories.
Official page: http://es.wikisource.org
Library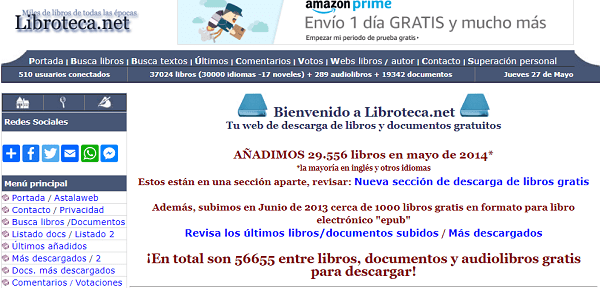 Libroteca is a page that has up to 16 thousand books totally free of copyright that you can download for free. Therefore, the site does not have commercial news, although it does present bestsellers of public interest such as The Art of War and other classic literary gems worldwide. It has different download formats, as well as documents and audiobooks at your disposal.
Official page: http://libroteca.net
Ebooksgo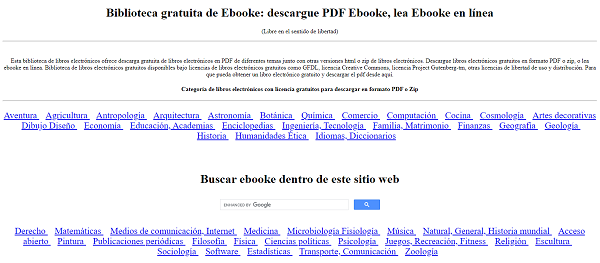 Ebooksgo is one of the best pages to download books for free and free. All published copies are licensed under Creative Commons, GFDL and any that are totally free for distribution. The platform has texts in English that are organized by categories and each work has its download link that is specific according to the type of license.
Official page: http://ebooksgo.org
Freebook Sifter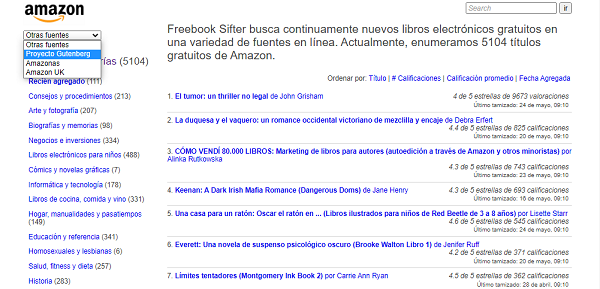 Freebook Sifter is a site that provides a great listing of books found for free on Amazon UK, Canada, Spain and more. It also has copies of sources such as Project Gutenberg and a bar where you can locate a list by genre or subject, as well as the number of books available in each section to find the literary work you want.
Official page: http://www.freebooksifter.com/
Bookyards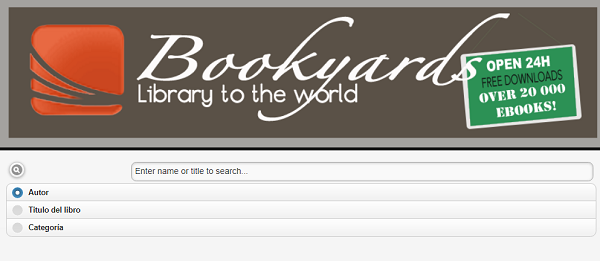 It is an excellent page to download books for free, since it has 20,000 copies aimed at all types of readers, especially science fiction fans. To find them, you have a powerful search engine, as well as options by author and category. In general, it has an easy-to-use interface to find the books you want.
Official page: https://www.bookyards.com/mobile/authors.php
Bookboon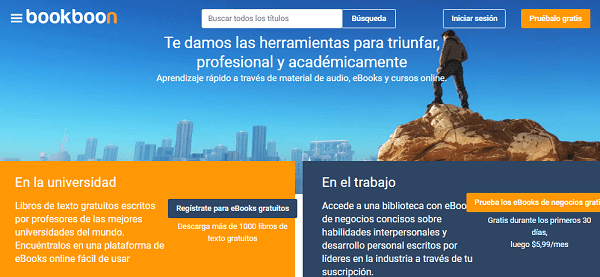 Bookboon is a website and online publishing company that has 1,500 books in two different formats, including e-books and electronic. It is available in different languages ​​and is primarily focused on publishing texts for business, engineering and IT students.
Official page: https://bookboon.com/es
Espaebook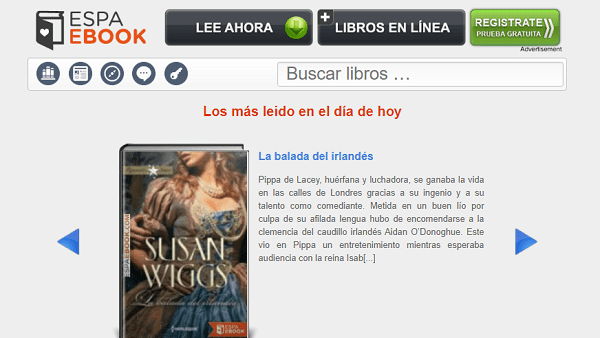 It is a page where you will have access to a huge selection of digital texts that you can download for free without problems. In total, its library has up to 62,200 books of different genres. To find the copy of your liking, you have an efficient search engine to filter them by alphabetical order, genre or through its main page, where the most read books usually appear.
Official page: https://www.espaebook2.com/
OpenLibra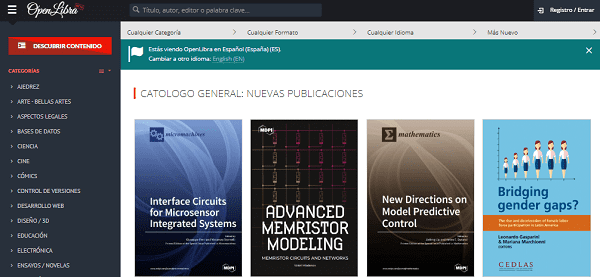 OpenLibra puts at your disposal a huge library of public domain books online. On this page you will mainly find copies on technical and computer topics, including manuals and texts available for download in any format and in Spanish. In addition, to carry out the searches you want, you will have at your disposal a search bar to quickly and easily find the book you want.
Official page: https://openlibra.com/es
Epublibre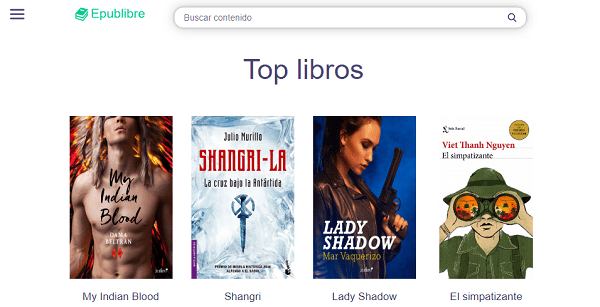 Epublibre is one of the best pages to download books, since it has a very extensive catalog, which exceeds 16,000 copies. It has an exceptional download method, with torrent an
zbigz servers, both of which are very easy to handle. In addition, it does not have invasive advertising.
Official page: https://epublibre.gratis/
ELibrary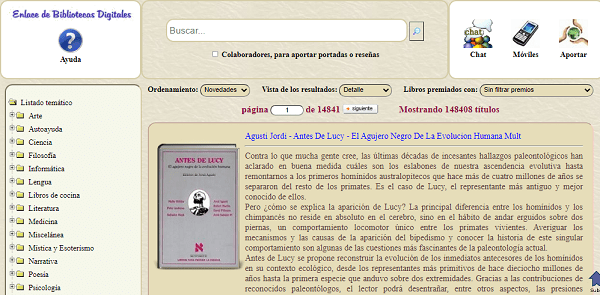 With a slightly outdated interface, Library is positioned as one of the sites with one of the most extensive catalogs of books, presenting up to 100,000 works, including titles in medicine, science, cooking and theater. In addition, to make it easy to search for texts, it has a good search engine located on its home page, as well as sections where the books are organized by theme.
Official page: https://ebiblioteca.org/
BookCrossing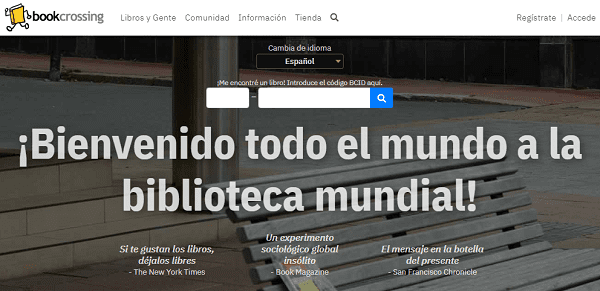 BookCrossing is the best option for reading lovers, as it is a site that combines the dynamics of social platforms such as Facebook with the best literary works in the world to offer good reading and training. The result is a platform that, in addition to allowing you to download books for free, gives you the possibility to establish conversations with other users and even share your favorite readings.
In this way, you will find all kinds of readers with whom you can make friends, share likes or start discussions. If you are looking for a page to download books in an interactive and versatile way, BookCrossing is an excellent option.
Official page: https://www.bookcrossing.com/
ePubFree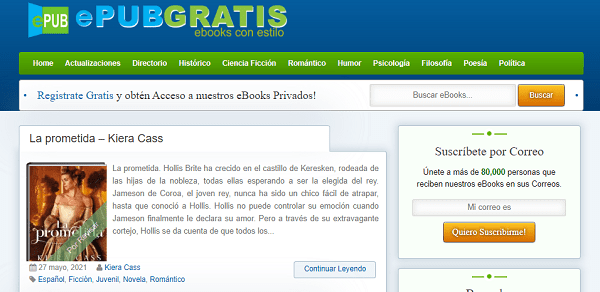 This is a page that will allow you to both read online and download your favorite books. In total, ePubGratis has approximately 30,000 texts to choose from, all belonging to different categories and in Spanish. In addition, the site provides a complete synopsis of each of their books and provides recommendations related to the title you have chosen.
Official page: https://www.epubgratis.vip/
Lectulandia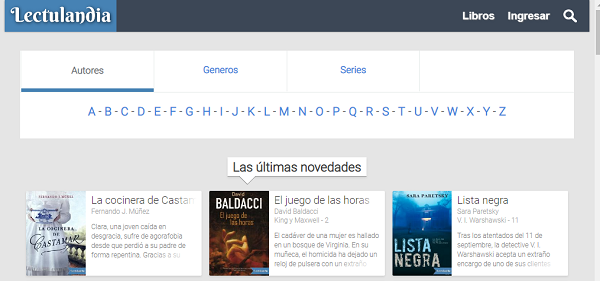 Lectulandia is a very easy-to-use platform that presents an attractive, innovative and interactive design, since it has a search method from A to Z to allow you to locate the books you want quickly. Its download system is efficient and on its home page it has the most prominent and popular works among its readers.
Official page: https://www.lectulandia.co/
BajaEbook s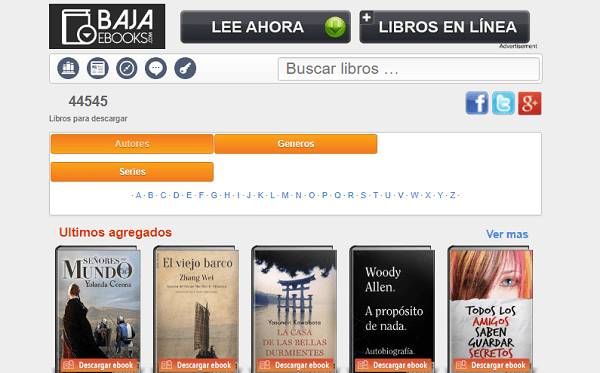 BajaEbooks is a very popular page on the Internet that is aimed at those who want to download all kinds of stories in EPUB or PDF format without problems , since it offers a huge catalog with more than 31,400 books that are housed in its database. And to make your searches easier, the platform has sections organized by categories, series and authors, as well as copies in alphabetical order.
Official page: https://bajaebooksgratis.com/
Online Computer Books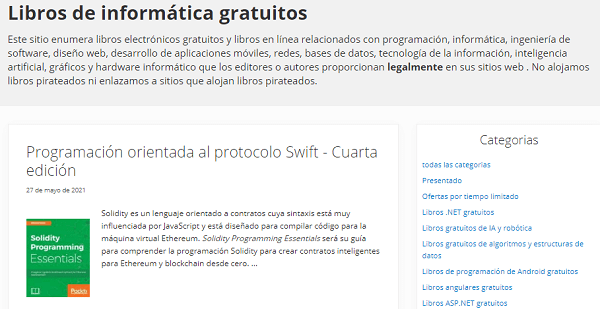 In this platform you will find a somewhat outdated interface, but that offers up to 16,000 electronic books available for free download focused on programming. Online Computer Books is a very good option for those who want to acquire knowledge in this part of computing, since it has all kinds of books of this kind. It also has sections organized by themes in order to help you find all kinds of titles.
Official page: https://www.onlineprogrammingbooks.com/
Books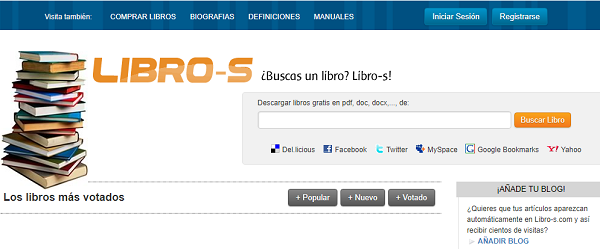 Libro-s is a web page where you can search and find all kinds of titles to download for free. It is a site that collects information from the Internet of the best free books, so all the information it shows belongs to third-party sites. In other words, the platform takes direct links from other websites so that you can download the texts of your choice.
Official page: https://www.libro-s.com/
Inkless Books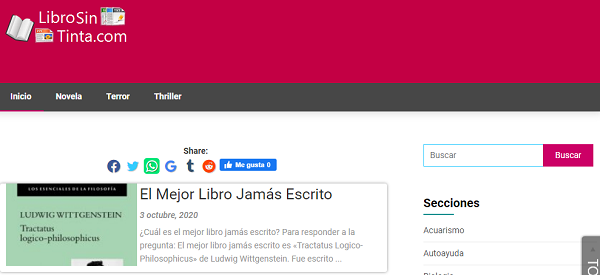 Like other proposals mentioned above, this page looks for books in PDF and other formats so that you can download them for free or read them online. The page has works on various topics that might interest you, including self-help, horror, novels and more.
It has a very simple interface and a very powerful search engine to filter the electronic copies of your liking according to the format you require, be it DOC, XLS, TXT, RFT, PPT, PDF, DOCX, PPS and XLSX.
Official page: https://www.librosintinta.com/
PlanetBook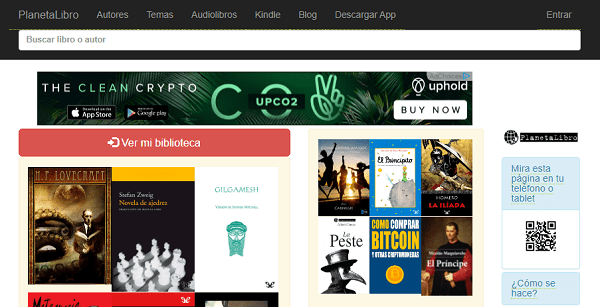 PlanetaLibro has more than 9,000 public domain books that you can enjoy for free on a variety of devices, including Tablets, E-book Reader, Smartphones or on your PC. It has several options to search both by authors and topics and sections that recommend the best free e-books. In the same way, it puts at your disposal a great variety of audiobooks.
Official download page: https: //planetalibro.n
Academic google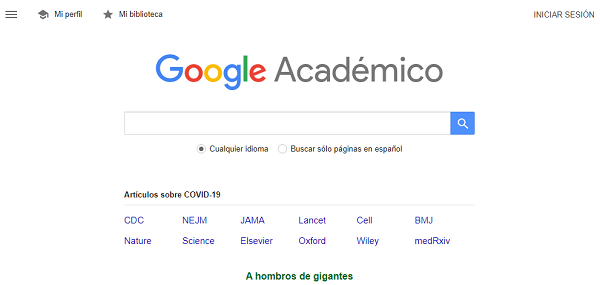 Google Academic is a search engine aimed at students, which is specialized in journal articles and with a database that houses a large number of books and scientific research works in a variety of publication formats for free.
Official page: https://scholar.google.es
Jstor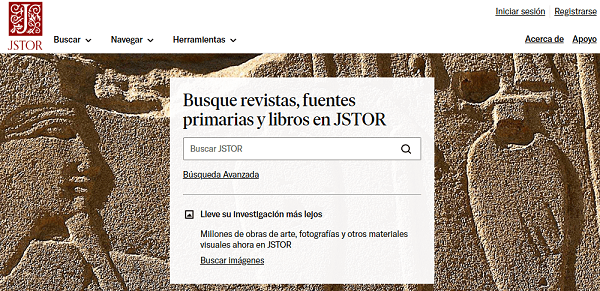 Jstor is the abbreviation for Journal Store, which translates to Periodicals Warehouse and is defined as one of the most comprehensive online filing systems for books and articles on the Internet. With this option, you will have authorized access to universities, publishers and libraries around the world for free.
Official page: https://www.jstor.org/
Mega Epub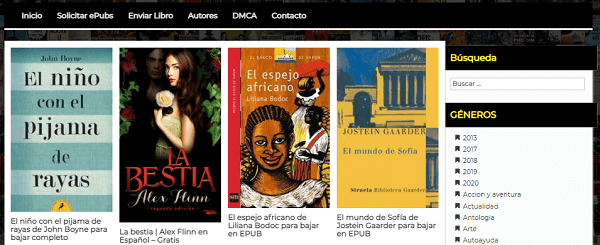 Mega Epub is one of the pages to download free books that has more than 46,700 works of all kinds and available in Spanish. In addition, it has sections organized into categories and an exceptional search engine to help you find the titles you want. Also, the site allows the download of e-books totally free for Kindle.
Official page: https://megaepubsgratis.com/
Free books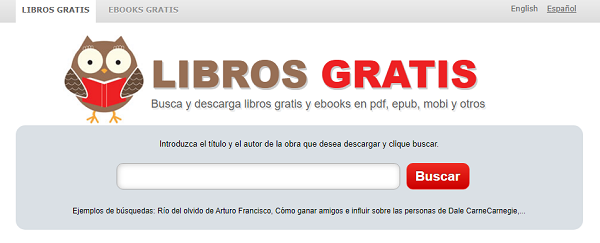 Free Books is a search engine that will allow you to find all kinds of books in MOBI, EPUB and PDF formats to download for free. For this, the platform analyzes more than 700 websites that contain texts of different kinds, whether they are free content, public domain and even audiobooks to make different options available to you.
Official page: https://www.libros-gratis.info/
Goose and Octopus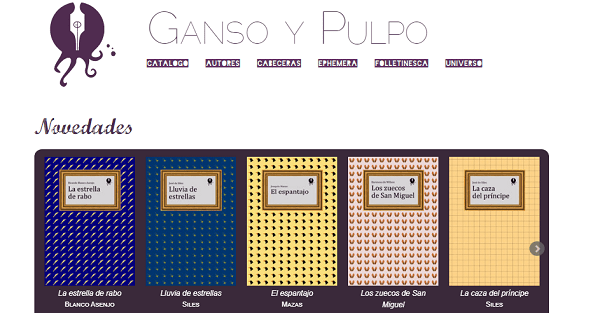 Web