Web
The 20 best websites to watch anime online for free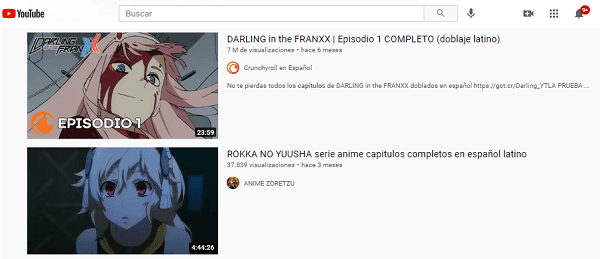 In recent years, the popularity of anime has skyrocketed. As a result, more and more people are discovering the mind-blowing mix of animation, art, stories, and music that Japan has to offer. However, sometimes buying anime movies or series can be expensive, as can the streaming services dedicated to it. However, you should know that there are many websites to view this kind of content for free.
Therefore, in the next post you will know the best websites to watch anime online for free. Here you will find options that offer subtitles in Spanish, dubbed into English, with different servers to reproduce the content, as well as a wide catalog of animes that are mostly organized by category, level of popularity, chapters in broadcast and alphabetical order. Find out what these pages are, below.
Crunchyroll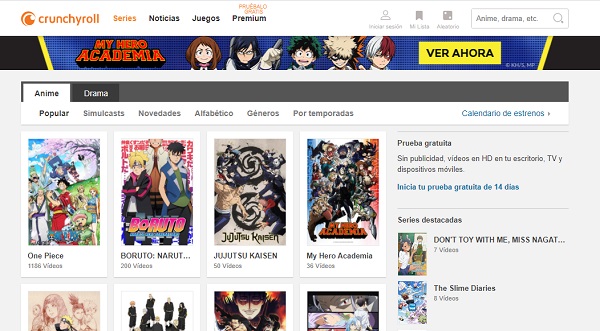 Crunchyroll stands out as one of the best websites to watch anime online for free thanks to a wide selection of content, always being aware of the latest releases and the most popular ones in transmission. In addition, it has a forum for fans to discuss their favorite manga and anime. Most of the content is available in its free version, making it perfect for watching hundreds of anime and even Korean dramas in standard or HD quality.
Its biggest disadvantage is the lack of organization of the content, since the animes are not classified in any order, but take place in the field of the web page. To find the content of your liking, you will need to be familiar with anime to locate it from the thumbnails offered by the platform.
Official page: https://www.crunchyroll.com/es-es
Anime-Planet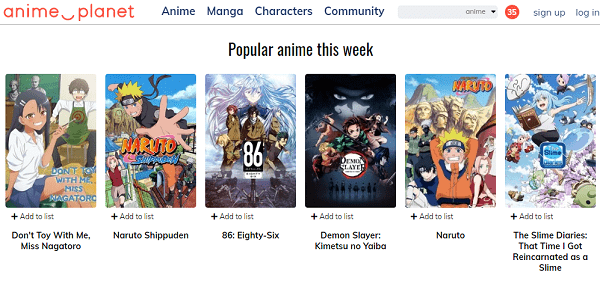 Anime-Planet is a perfect anime streaming site for you, if you are fluent in English. In this you can find all kinds of Japanese animated series and movies based on numerous search criteria. It is a legal page, where you will find the most popular anime online, for free, in excellent quality, and even dubbed into English. It also has a section where you will be free to share your opinion about your favorite anime.
Official page: https://www.anime-planet.com/
Kissanime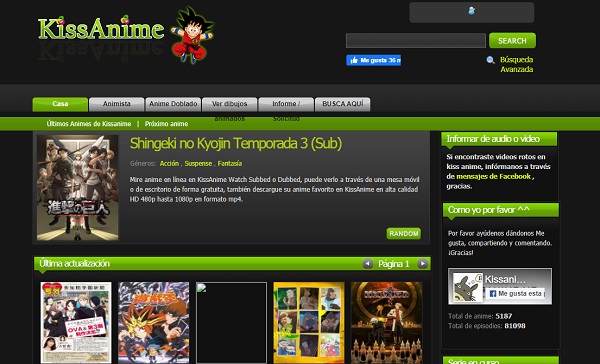 KissAnime is considered one of the best websites to watch anime online for free in English Internet, which stands out for a list of anime organized by the newest on its home page, so you have the option to explore this list until you find the series what do you want. Being a free site, it does not require prior registration, although it usually has small advertisements during content playback.
Official page: https://www.kiss-anime.ws/
Anime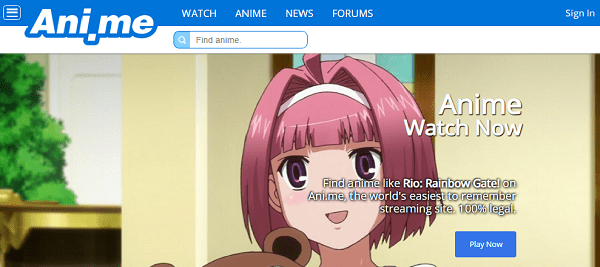 Ani.me is a page streaming anime in English that has little time on the Internet and that features anime movies legally, thanks to its license in the United States. Its design is attractive and does not have annoying ads, so it offers a pleasant and fluid experience to watch the animes you want. In addition, it has an exceptional catalog to find the anime you want by category.
Official page: https://ani.me/
Jkanime.net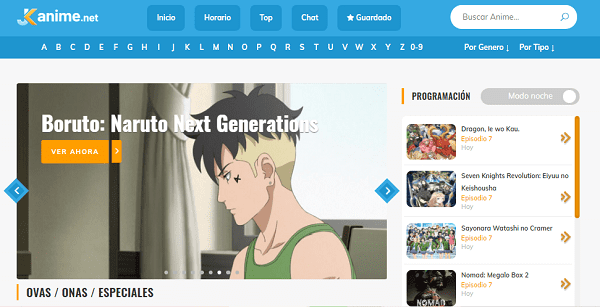 Jkanime is one of the best websites to watch anime online in a way and with Spanish subtitles. This platform has a high level of free resources to satisfy all types of users, whether it is fans of broadcast anime or classics. As a result, the web stands out with a constantly updated library and excellent video playback quality.
Official page: https://jkanime.net/
Holanime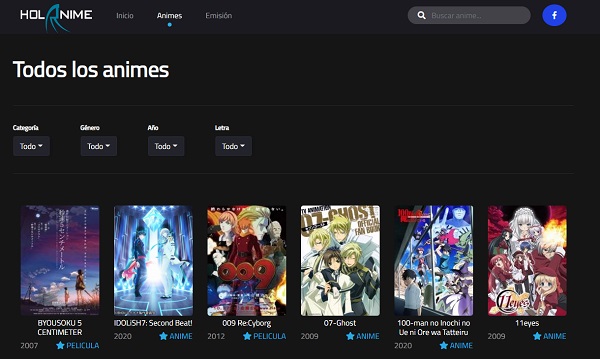 With Holanime, you will have at your disposal a totally free anime collection in Spanish. The platform contains numerous series dubbed and subtitled according to your tastes, which you can download by positioning yourself at the bottom of the site's player. This so that you can enjoy your favorite anime programs at all times, even offline.
Official page: https://holanime.net/
Your Light Anime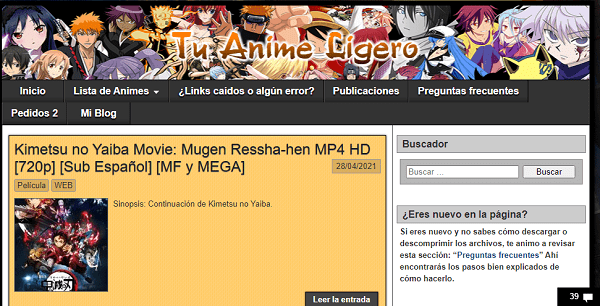 Despite being a Premium service, Tu Anime Ligero has a free ver
ion that will allow you to watch all kinds of anime series and download them without problems. In addition, the site has an excellent interface and is perfect for those who want to see short and light anime. As a result, it is a page that simultaneously broadcasts and duplicates numerous programs of this kind to enjoy long hours of entertainment.
Official page: https://tuanimeligero.net/
AnimeFLV.net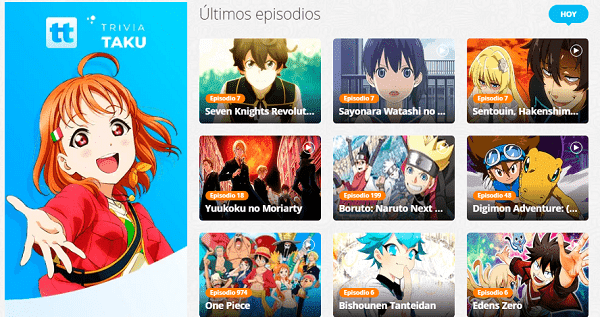 Without a doubt, one of the best pages to watch anime online for free is Animeflv, which stands out with one of the most extensive catalogs of anime programs and movies, and which is organized into categories. Each anime is translated, dubbed and with subtitles in different languages, as the platform is available in several countries. If you want to enjoy new and old anime, there is no better place than this.
Official page: https://www3.animeflv.net/
Anime mobile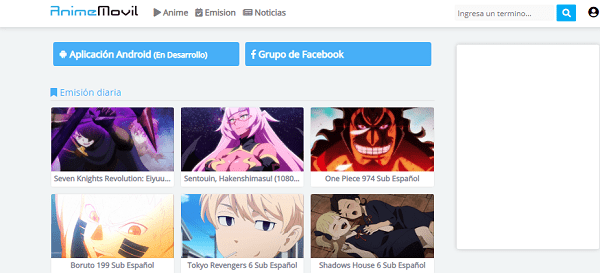 AnimeMovil is an excellent website, where you will find a great collection of streaming and fan-rated anime. With this page, you can browse a wide variety of anime series and movies with subtitles and dubbed into Spanish completely free of charge. The platform has constant updates and is compatible with mobile devices so that you can enjoy your favorite animes at all times.
Official page: https://animemovil2.com/
AnimeBlix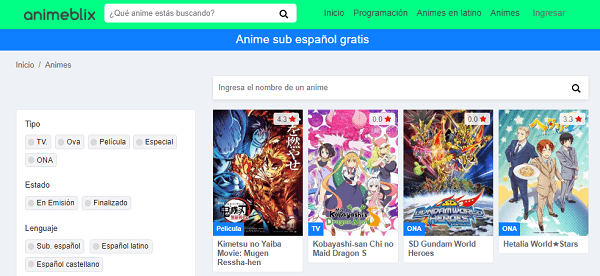 AnimeBlix is ​​a totally free platform to watch anime online. It stands out with an extensive category of anime series to make finding your favorite shows easier, with a total of 25 unique genres to enjoy. Its content library is constantly updated and it is an easy-to-navigate page, counting quality images and non-obtrusive ads.
Official page: https://animeblix.com/
AniChart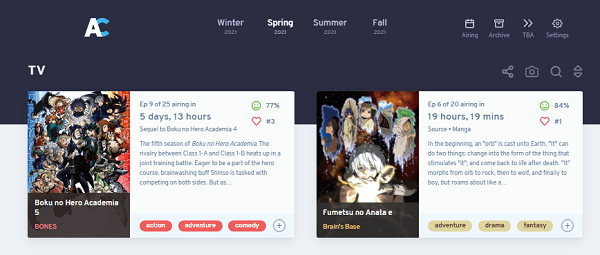 AniChart is a page that stands out with an innovative, attractive and striking interface, where you will find anime content for free and of high quality. In addition, you do not need an account to enjoy your favorite anime movies or series, so you can view the titles you want with exceptional dubbing. You also have a chat to communicate with other users of this community.
Official page: https://anichart.net
Anime fenix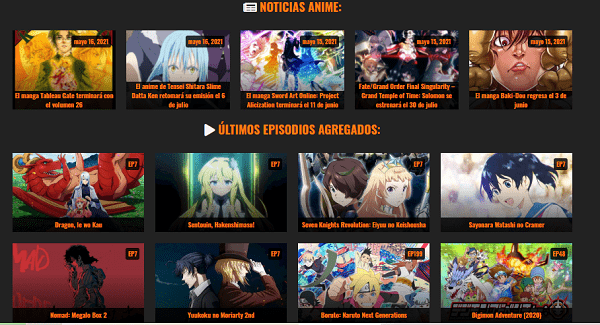 AnimeFenix ​​is ​​another great option to watch anime online for free, where you will find a wide variety of all kinds of shows and movies of this kind. With this page, you will be able to see anime collections based on different sources, and with the option to download them easily. However, the platform features small advertising breaks that are not invasive.
Official page: https://www.animefenix.com/
Monoschinos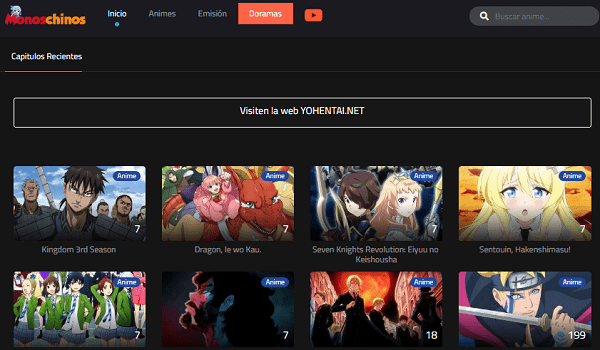 Monoschinos is a page that you can use to watch free anime online. It is an excellent option because it receives frequent updates, so that you will be able to watch broadcast animes with Spanish subtitles without problems. In addition, the platform does not need a registration, although it does present small advertising segments before playing the anime series of your liking.
Official page: https://monoschinos2.com/
Uncle Anime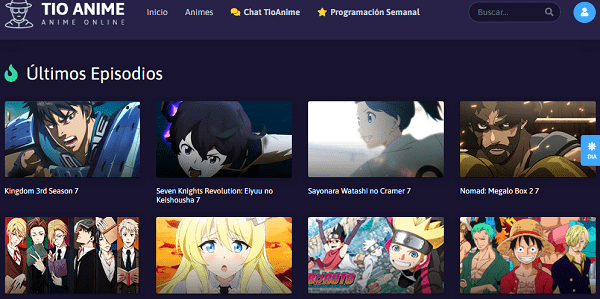 Tio Anime is a good page to watch your favorite anime shows and movies with Spanish subtitles and available for free. In addition, it has a wide selection of content both in broadcast and popular, as it is constantly updated. Also, the page presents a poster in which you will find a poster with the date of the next episode to upload of the anime you want.
Official page: https://tioanime.com/
AnimeYT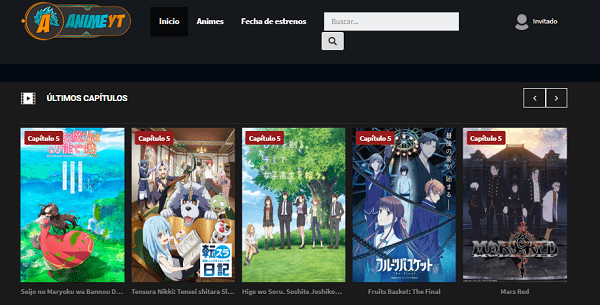 AnimeYT is a platform that offers you a wide variety of genres of movies and anime series in broadcast and popularity among fans of this kind of content. It has an attractive interface and a high refresh rate. Also, the page is available for mobile devices, giving you free access to approximately 2,000 anime episodes.
Official page: https://ytanime.tv/
9Anime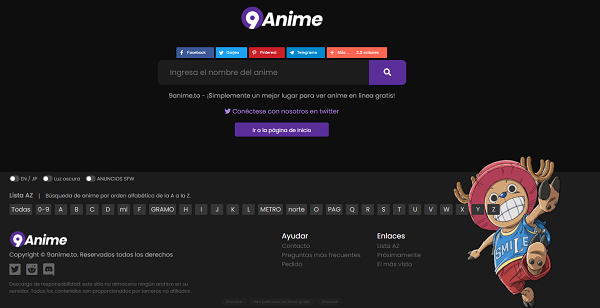 If you are looking for a website to watch anime that stands out with updated and recent content, 9Anime is your perfect option. With more than 40,000 episodes at your disposal, on this website you will find long hours of training with animes subtitled or dubbed in English. If you want to enjoy a large anime library, on this platform you can do it for free just by registering for it.
Official page: https://9anime.one/
HIDIVE


HIDIVE is the perfect platform for those who want to enjoy exclusive anime series and movies, where you will find unique stories that you will not be able to find on other platforms. It also offers extra features that other sites do not usually provide, such as uncensored versions of anime.
Official page: https://www.hidive.com/
AnimeID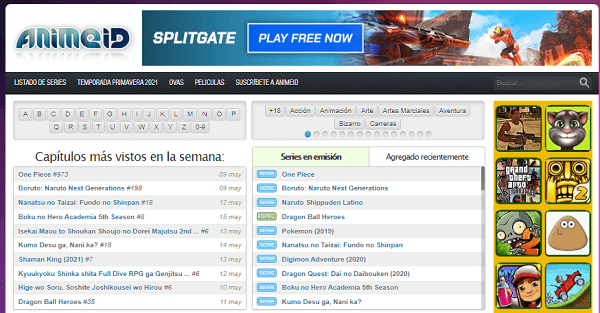 AnimeID offers an amazing collection of anime with Spanish language subtitles and high image quality that you can enjoy online and for free. It is a legal site where you will find series in transmission and constantly updated. It also has sections that highlight recently added programs, most viewed episodes of the week, and programs that are broadcast.
Official page: https://www.animeid.tv/
Youtube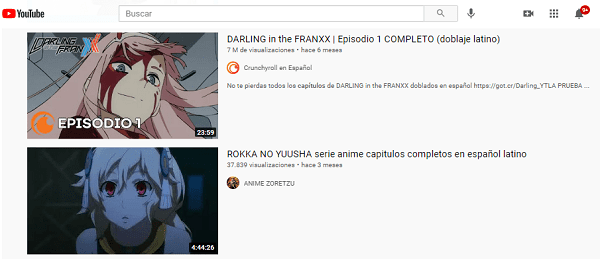 YouTube is the best platform to watch all kinds of videos and when it comes to anime it is no exception. With it, you can find from movies to anime series both dubbed and subtitled in English and Spanish. The most recent series are usually not found, but there is a large selection thanks to official streaming channels that share chapters. Therefore, it is an ideal option to watch anime online for free and in high quality.
In general, the best page to watch anime online for free will depend on your needs when it comes to enjoying movies and series of this type, either because you are looking for sites that offer subtitles and dubbing in Spanish or English or that provide broadcasts. Recent and old versions of your favorite shows.