Web
The 16 best websites to make summaries or summarize texts
In this post you will find the best 16 web pages to summarize texts. The first 11 tools on the list serve to automate the process and include two alternatives for mobile, while the remaining 5 pages are made up of spaces to write without distraction and platforms to create mind maps. In this way, you can make summaries automatically or from scratch, based on your own ideas.
It is important to know that, due to the variety of options to automatically summarize texts that exist, it is advisable to check their operation with some reading that you already know. This way, you can quickly identify the best alternative. When finding the perfect tool, it might be a good idea to combine its use with that of the mind mapping and writing tools to get a unique end result.
Resoomer


This is the most popular tool for summarizing text s written in more than 10 different languages. In addition, it works with scientific or historical reports, as well as argumentative descriptions, among others. Thus, this is a good alternative to summarize practically any type of content and even to change the words or translate them into Spanish.
To use Resoomer it is not necessary to register, you can access the website and use the online tool or install the extension that corresponds to your browser. It is available for Opera, Google Chrome, and Mozilla Firefox. If you wish, you can use a sample text to check the excellent performance of Resoomer.
Official site: https://resoomer.com/es/
Paraphrasist


Parafrasist is used to summarize texts and paraphrase them at the same time or separately as you prefer. The main function of this tool is to facilitate the understanding of the content to be summarized, so it is responsible for locating complicated words and changing them to synonyms that are easier to understand.
Additionally, you can extract text from YouTube videos, summarize and rewrite them. However, this last function is part of the features that you get after registering on the platform. The free version contains ads, while the Premium subscription offers unlimited, ad-free use.
Official site: https://parafrasist.com/
SMMRY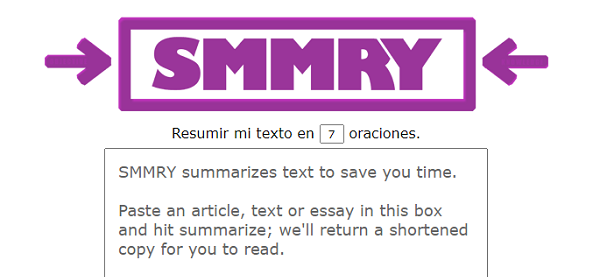 This is an online text summarization tool that works with articles uploaded to websites or documents in PDF and TXT formats. Its algorithm identifies keywords in a text to locate the main idea and display this sentence or paragraph to the reader. In this way, the tool removes sentences that are not directly related to the title.
Official site: https://smmry.com/
LinguaKit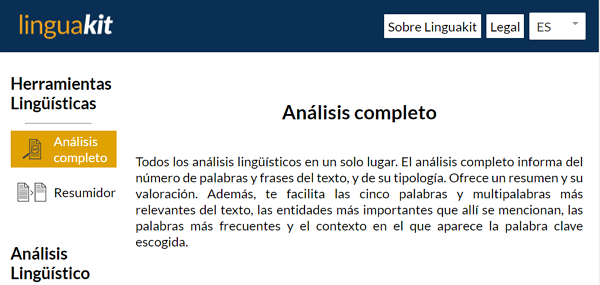 Made by the University of Santiago de Compostela, LinguaKit is a composition of tools for the textual and linguistic analysis of a writing. This Kit is aimed at professionals in different areas such as research or journalism, as it allows you to analyze and improve the quality of writing. It is free and works with texts in 4 different languages that are: English, Spanish, Galician and Portuguese.
LinguaKit has a tool for automatic summaries and a full analysis function. However, some other tools are very useful, if what you want is to quickly know the content of a text. For example, the triplet extractor will allow you to obtain the subject, the relation and the object in order to read the idea to be transmitted more quickly.
Official site: https://linguakit.com/es