Web
The 15 best websites to run or run giveaways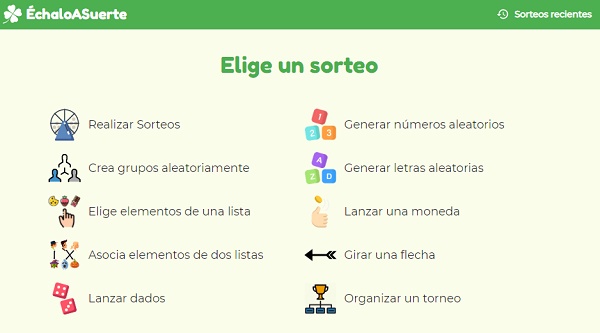 If you are looking for a web page to make or carry out a raffle on a social network, you can go to a free platform such as Comment Picker, Fanpage karma, Sortea2, among others. Similarly, you can use payment portals such as CoolTabs, Wishpond, TriSocial, etc., to use more filters so that the giveaway runs in a better way. Thus, users will observe that the draw is carried out in the most transparent way and the winner is chosen completely at random.
Giveaways on social networks such as Instagram or Facebook allow greater interaction within the community. It is a method used to gain followers and to reward those users who have been loyal to the account. Therefore, if you want to use this strategy, you must have good planning, an excellent prize to offer and a web page that randomly chooses the winner of the draw, according to the pre-established instructions.
Karma fanpage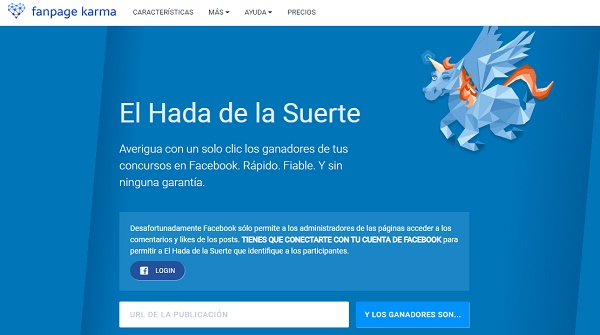 Fanpage karma is a free analytical tool for social networks, however, it has a section called " The Fairy of Luck " in which you can choose the winners of the sweepstakes or the contest you are running on Facebook. To do this, you only have to enter thislink, connect your Facebook account, write the URL of the publication of the contest or giveaway and then press the button "And the winners are …".
Draw2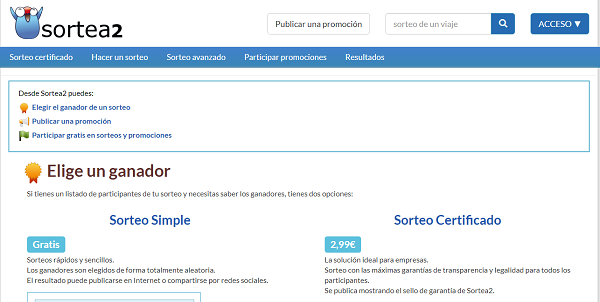 This is a web platform to carry out giveaways on different social networks such as Instagram, Facebook and YouTube. It is free, although if you want to obtain a certificate the price is € 2.99. To use it, you only have to enter its web portal through thislink, register with your Facebook account and choose if you want to do a simple or certified giveaway. It should be noted that any social network you use must be public for the page to work.
SocialTools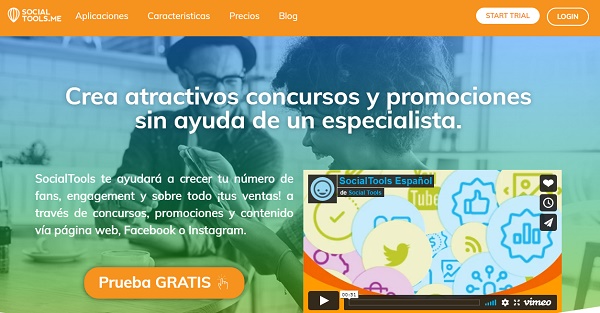 The main feature of SocialTools is that it allows you to carry out different models of giveaways, either by surveys, with multiple options, basic, by voting, etc. Its interface is compatible with YouTube, Facebook, Twitter and Vimeo. However, this tool is recommended to be used only for accounts no larger than 300 Followers. In case you exceed this figure, you will have to contract one of their payment plans. Enter this website from thislink.
Agorapulse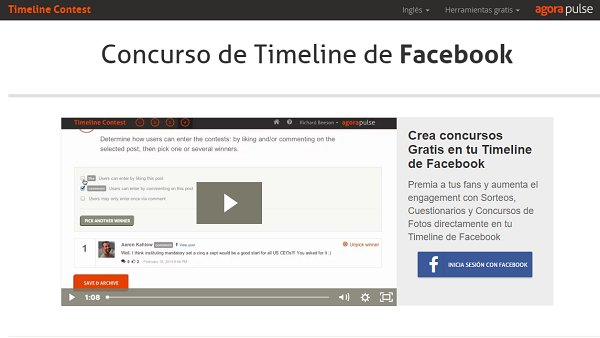 In addition to being a website to manage content on social networks, Agorapulse offers the opportunity to create sweepstakes, contests, promotions and other activities in order to increase followers. The use of this tool is completely free and you will only have to log in with your Facebook account through thislink. If you want to use the functions to manage your social networks, you should have a plan between $ 49 and $ 300.
Comment Picker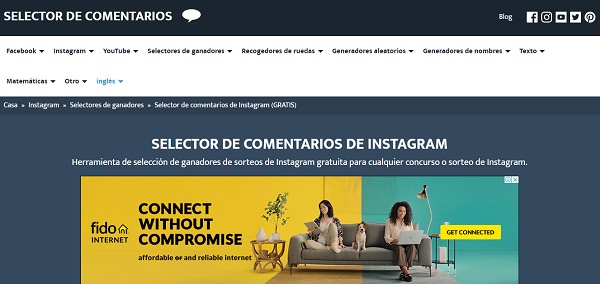 This website is compatible with most social networks such as Facebook, Instagram, Twitter, and YouTube. It is free, but its interface is in English, therefore you will have to translate it with the help of a browser. To use it, you must log in to the social network where you made the giveaway. Then, in the corresponding box, you must enter the link of the publication of the giveaway for the page to choose a winning comment.
One of its greatest advantages is that it has different filters with which you can choose the number of mentions of a comment and exclude followers who did not comply with the instructions. On the other hand, it should be noted that you must have a professional account, since this page does not support personal accounts. To use Comment Picker, press thislink.
Easypromos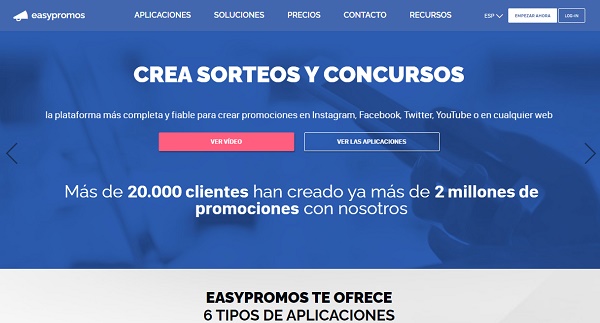 An advantage to highlight is that this tool filters users who did not comply with the regulations of the giveaway. In addition, it has a mobile app so that you can directly enter the URL of the giveaway. However, if you want to run a draw with Easypromos, you should know that the first use is free. Then, you will have to pay $ 29 per month to continue using the service. In case you want to try this web page, press thislink.
Woobox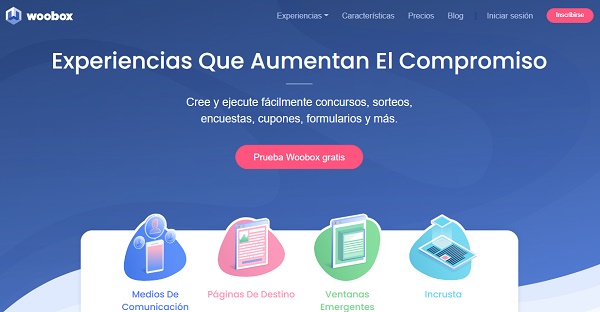 Despite the fact that its platform is in English, Woobox is positioned as one of the best tools to manage your social networks and design contests, sweepstakes or other dynamics that increase your visibility on the Internet. In the same way, you can collect the comments on the social network and choose a winner according to the established instructions. It is compatible with Twitter, YouTube, Pinterest, Facebook and Instagram and you can enter its web portal with thislink.
Shortstack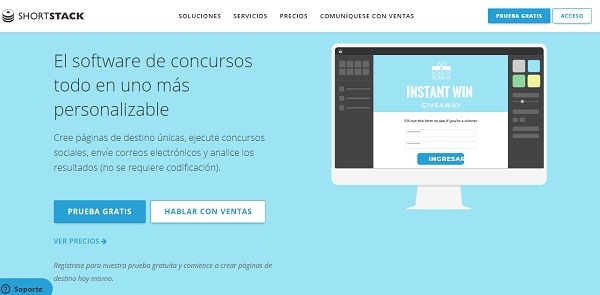 Shortstack is free for Facebook pages with less than 25,000 followers. In case you exceed this figure, you will have to purchase one of their Premium plans. That way you will have access to all the specialized tools for the management of giveaways, promotions and campaigns. It should be mentioned that its interface is in English, so it is advisable to open the page in a browser with a translator. Press thislink to access Shortstack.
App Giveaways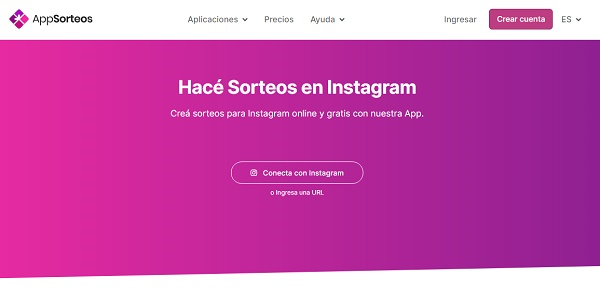 AppSorteos is a website only to create giveaways on Instagram, Facebook, Twitter or YouTube. You must have an account to connect the publication link in which you made the contest and in this way, the platform will randomly choose the winner. In the same way, if you did not do the raffle through social networks, but you need a page to choose the winner through a list of names, you can also access this tool from thislink.
SocialGest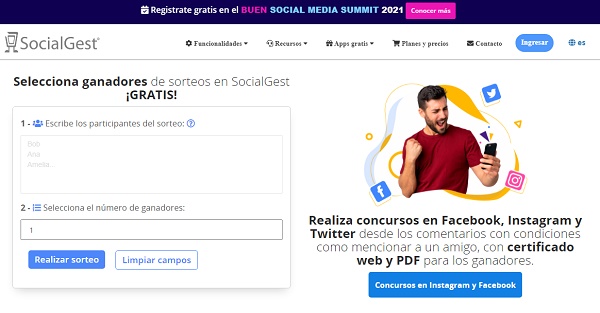 SocialGest is a web portal where you can run free online giveaways on a blog or through social networks such as Instagram and Facebook. Similarly, among its functions you will have the possibility to analyze social networks, schedule publications, manage ads, etc. You can use its free version and it has payment plans with better management tools. To enter its web portal, you just have to click on itlink.
Cool tabs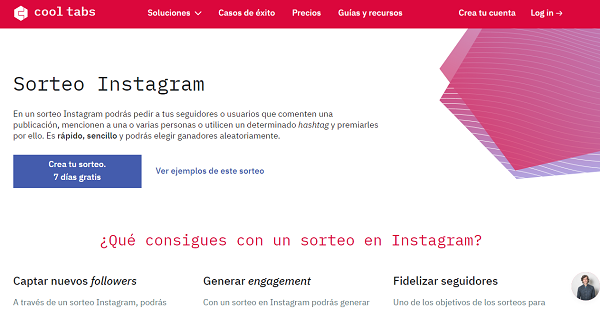 Cool Tabs offers 7 free days to use the Instagram giveaway app. At the end of this trial period, you will have to purchase a subscription to continue using all its special tools for managing social networks or conducting contests and promotions. It is one of the favorite platforms thanks to its excellent performance and the basic filters available.
Similarly, it is worth mentioning that the first use of the page will be free, but with slight limitations. To use this website you must have a professional account on Instagram or a Facebook profile with "Fanpage" since it does not allow personal accounts. Once these characteristics are clarified, pressure islink to access Cool Tabs.
Trisocial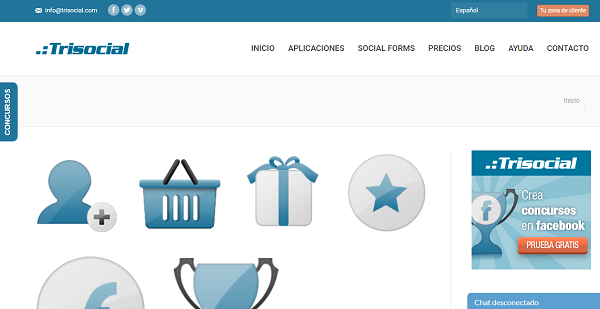 Trisocial is a payment platform to create contests or giveaways on blogs or through social networks such as Twitter, Instagram, Facebook, YouTube and Pinterest. Similarly, they provide management services to increase followers or fans within the network. You can use it on any smart device, be it a Tablet, Smartphone or computer. Enter thislink to enter the Trisocial website.
Wishpond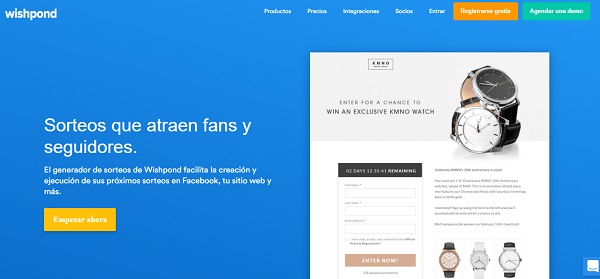 Wishpond has a free 14-day trial, then you must purchase a payment plan, which can range between $ 49 and $ 199 per month. In addition to allowing the development of contests and raffles, you will also have the possibility of creating promotions or events and managing campaigns to increase the number of followers on any social network.
All the marketing strategies can be achieved if you hire one of Wishpong's plans. If you are looking for a tool that is comprehensive in terms of professional management of social networks, you should use this platform. To enter its web portal and register for free, you just have to click on itlink.
Antavo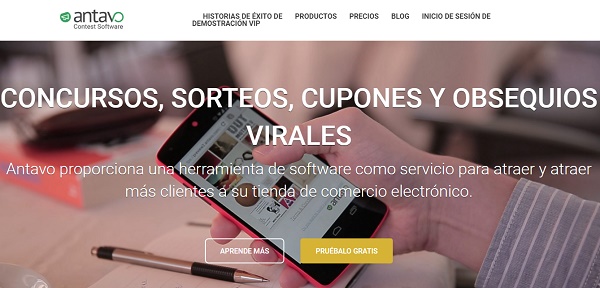 Antavo is also a payment tool in which you will have the opportunity to carry out contests, raffles, surveys, votes, gifts, among others. It also has a system for measuring, evaluating statistics and managing advertising campaigns that optimize the operation of the social network. It is recommended for small or medium-sized companies that want to increase their visibility.
It is worth mentioning that its web portal is in English (enter through thislink ) and the payment rates are between $ 19 and $ 499 per month. The best thing is that it also has various modalities to choose the winner quickly and efficiently. It is easy to use and also has downloadable software for Windows.
Good luck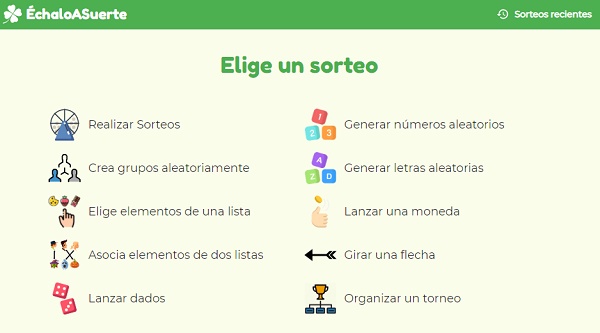 This is a simple but quite comprehensive tool when it comes to conducting giveaways online. Its interface is in Spanish and all the tools are free. You can run raffles through a list of names or using your Facebook account. One of its main advantages is that you can use various raffle modalities to offer greater interaction between users.
Another of its benefits is that to use this website, you will not have to register. You can use any of their services to generate a giveaway. In addition, it will also choose the winner randomly. To use ÉchaloASuerte as a web page to create or run a giveaway, press the followinglink.
As you have seen, you have various web pages to do or carry out giveaways on any social network, be it Instagram, Facebook, Twitter or YouTube. It is advisable to use more than one platform so that you evaluate its operation and select the one that best suits what you want to obtain. Also, you can set it as a default web page to carry out sweepstakes eventually.