Web
Sign in to Google and enter safely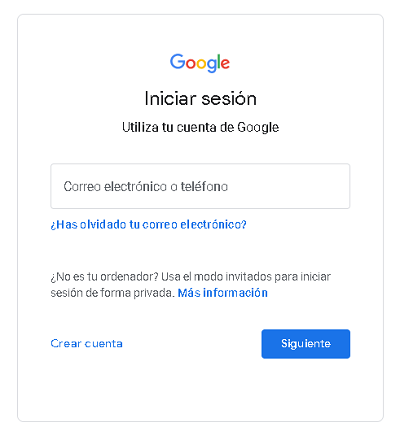 Logging into Google and entering safely is a really simple procedure. Much will depend on the device from where you are trying to enter and, if you do it from a mobile, the Operating System that it uses. Whatever the case, in this post you can learn with a step-by-step guide how to access or enter Google, both from mobile and PC. In addition to this, you will be able to see possible problems that do not allow you to enter and their respective solutions.
Due to the amount of services that Google has to offer, millions of users every day enter Google in search of logging into their accounts and taking full advantage of all the services of this giant. And it is that Google offers hundreds of services that have become essential for anyone who browses the Internet. If you want to know more about how to enter Google, continue reading this text until the end.
Note : To log in to Google, an account is required. If you don't have one yet, you can read the post on how to create a Google account.
From PC
One of the most used services on the computer is the Google search engine, which offers benefits when logging in with an account. In addition to this, by having your session started, you will be able to enjoy other services that Google offers you. To log in from your computer, you have to follow these steps:
Login to https://accounts.google.com/ServiceLogin?hl=es, you can also go towww.google.com and then press the blue " Sign in " button.
Enter your email address or, failing that, only your username, if you have a Gmail email (the user is what is before @ gmail.com). Then press " Next ".

Enter your password and press Next again.
Clever! Your session was started.
Typically, logging in will take you to the main page of your account (https://myaccount.google.com/ ), but your session will already be started and you will be able to access all Google services just by accessing their respective sites. For example, with the Google session started you can access YouTube.com and you will see that your account will already be open.
From Android or iOS
To log into Google from Android or iOS, you just have to download the respective mobile applications for more direct access to basic Google services: