Web
Pages to register a web domain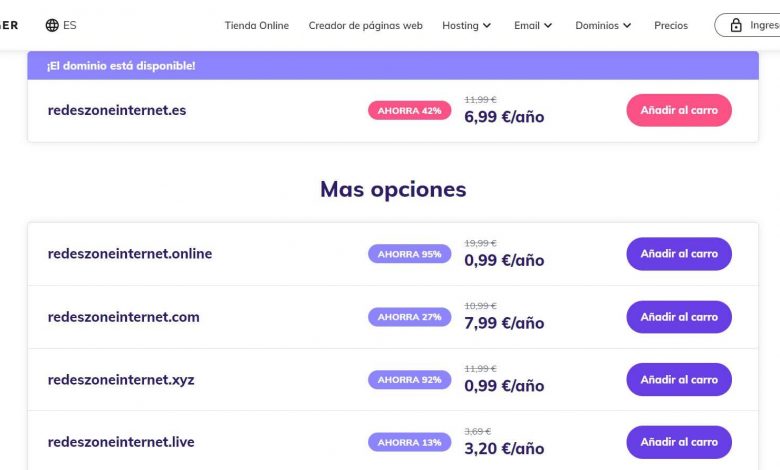 One of the first steps that we must take when we are going to create a web page is to register the domain. It basically consists of reserving the name of our site and preventing others from using it. It is the name that we want to give to the page, such as RedesZone, in addition to the extension, which would be .com, .es, .net … We are going to talk in this article about some pages where we can register domains.
What is the process to register a web domain
We have the idea, we want to make a web page and we know the name we want to put. Now what remains is to see if that name is free or not. If we have in mind something that is very common, a page that refers to something that is popular and known, it is normal that it is already busy.
Therefore, when creating a web page we must make sure that that name is free. We even have to see if the alternative extensions to which we are going to choose are also. If it is a private brand, a company or something very specific, it is likely that it is free and we will not have problems.
We must, first of all, check that this name is free. We have already chosen which one we want to use and we simply have to confirm that it is free. We can see if the extension that interests us is busy or not, such as .com, but also others and thus be able to register several.
On the Internet there are many pages that allow you to register domains, but also to see if it is free or not. An example is MrDomain . We can enter your site and access the search engine, where we will put the name that we are interested in registering. In our example we have looked for "mywebsite", a fairly simple name that is logically taken in most extensions.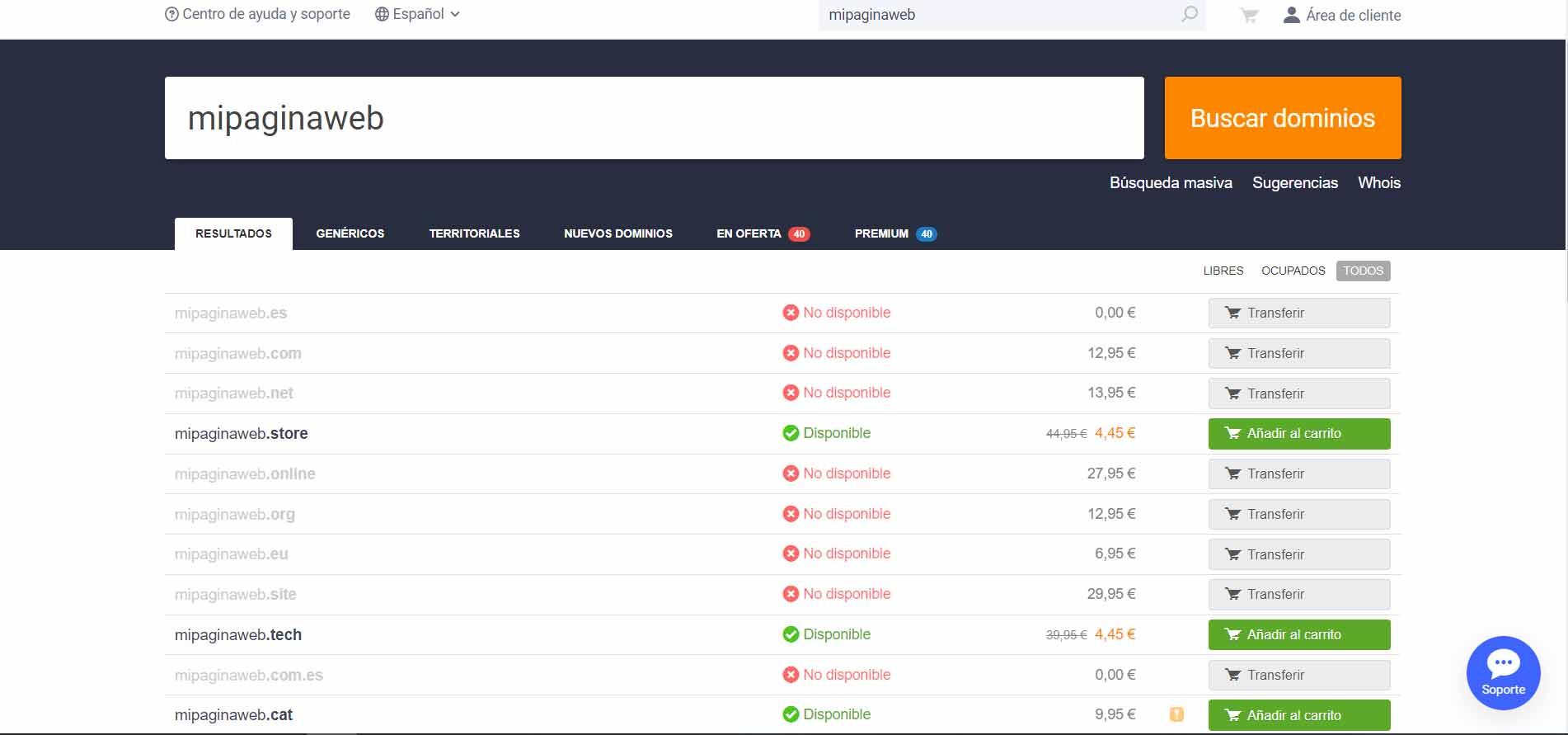 The idea is that, at a glance, we can see which extensions are busy. This will also help us to choose the name of our page, since it could happen that one that we had in mind we can no longer use.
Pages to register a domain
We have seen the initial process to register a domain, which would be to check if it is free or not. Now, to actually register it, we must use some page for it. There are many available and we can find some that have differences in price, as well as in services offered. We are going to name some of the most popular ones.
Mr.Domain
One option that we have available is Mr.Domain . It is the same page that we showed previously to see if it was free or not. Here we can register our domain in a simple and fast way.
It is a company that has more than 10 years of experience. It offers competitive prices, WhoIS protection, redirection and of course SSL certificates.
One of the most remarkable points of MrDomain is that it offers a wide range of possibilities. We can register generic domains, such as .com, .org, .net … But also a long list of extensions by country, each with its price, since not all cases are worth the same. In addition, it offers other less known domains such as .music, .shop …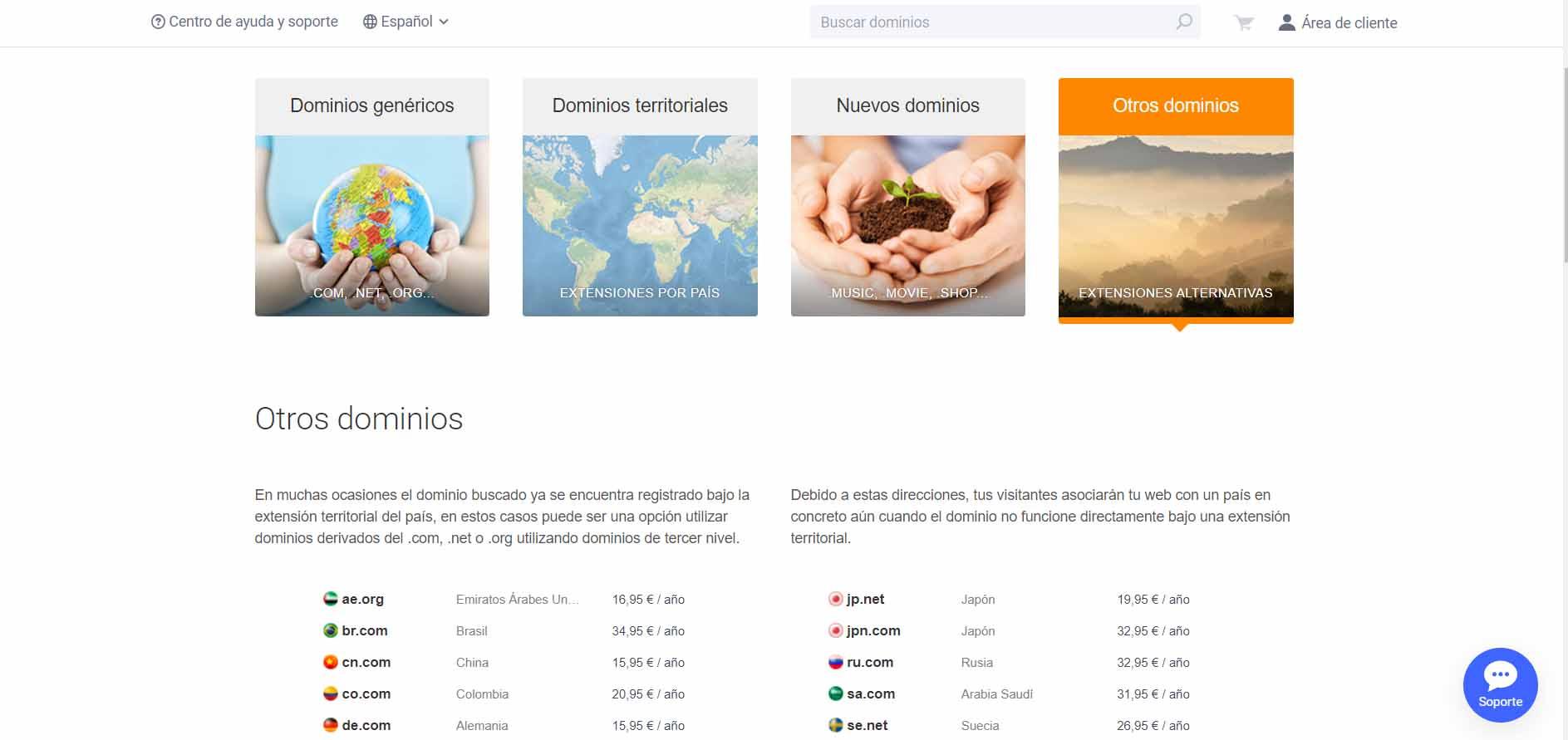 What does it offer to users? We can mention some aspects that it offers to those who sign up for its service. For example, automatic renewal, modification blocking, full DNS control, transfer blocking, etc.
Namecheap
At an international level, one of the options that also has many users and good prices is Namecheap . There we can find many domain extensions available. We will see from the typical ones like .com, .org … to other more varied ones. There are also differences in cost.
We simply have to use the search engine they have and look for the domain name that interests us. All the options that we can register and the corresponding price will automatically appear.
It offers privacy protection, has a simple and intuitive purchase process, as well as technical support at all times to solve possible problems both in the domain registration process and later.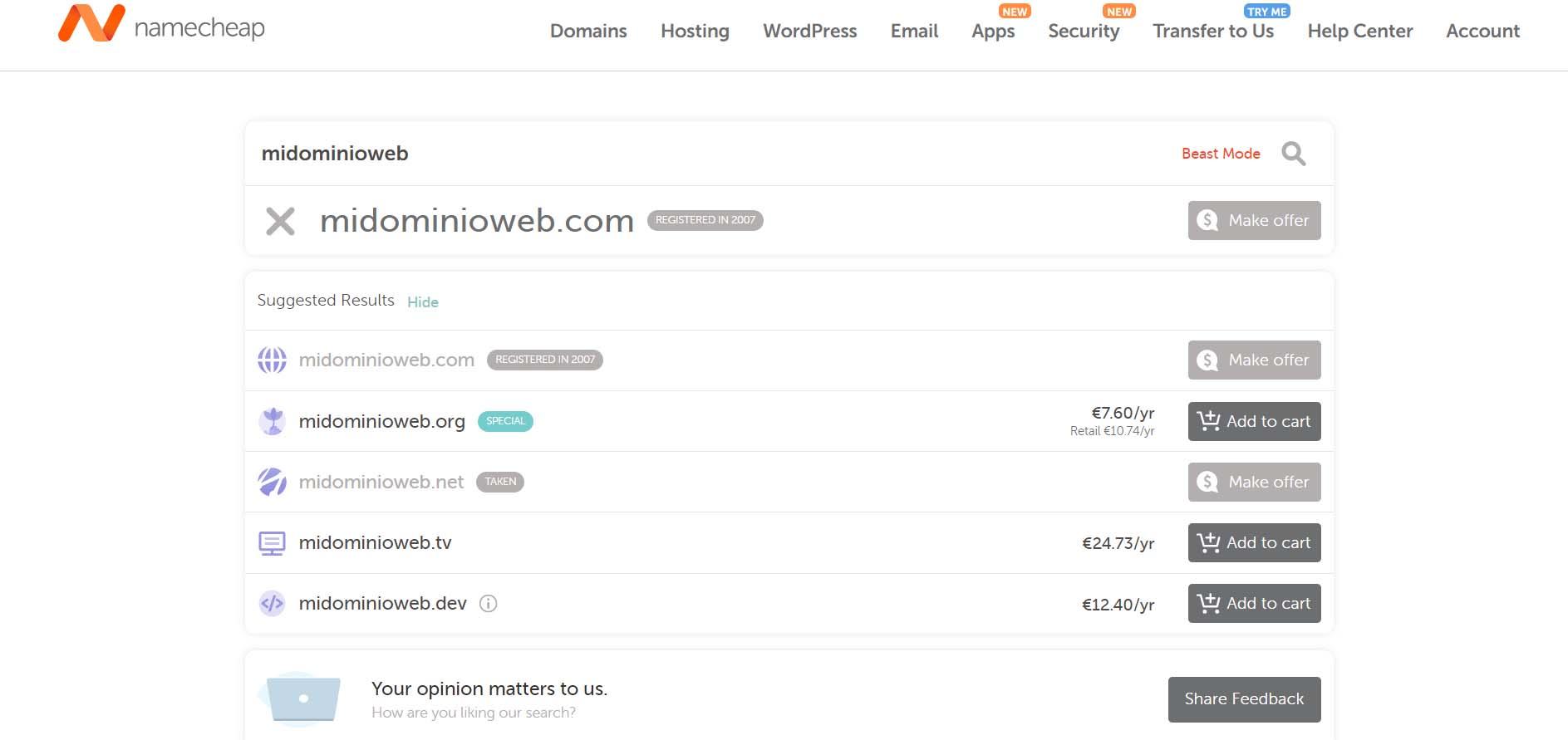 Godaddy
GoDaddy's is also a very popular option . It is a service that allows not only to register a web domain, but also to create a page. It has almost two decades in the sector and many options to register a site.
At the top of your website we will find the search engine to register domains. There we will see if the choice that interests us is free or not, as well as the corresponding price in each case.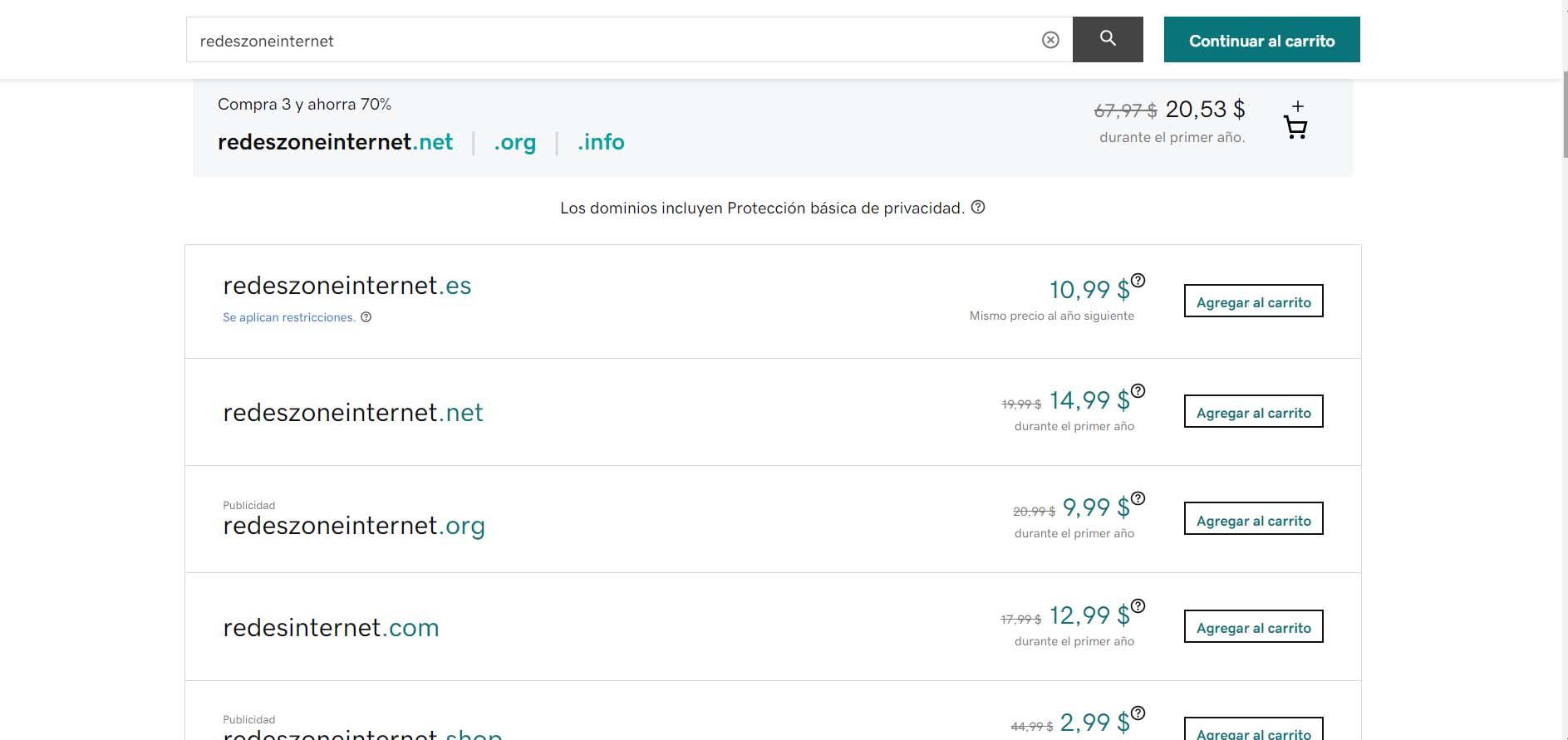 Hostinger
In the case of Hostinger we can find extensions from € 0.99 per year. Logically the price varies depending on the type, since not all cost the same. As in the previous cases, as soon as we enter we will see a search engine to put the name that interests us and see the extensions that are free.
It also has a website builder. It is a service that allows us to fine-tune the creation of a site according to the idea we have. It is ideal for those who have less experience and prefer to opt for a tool of this type.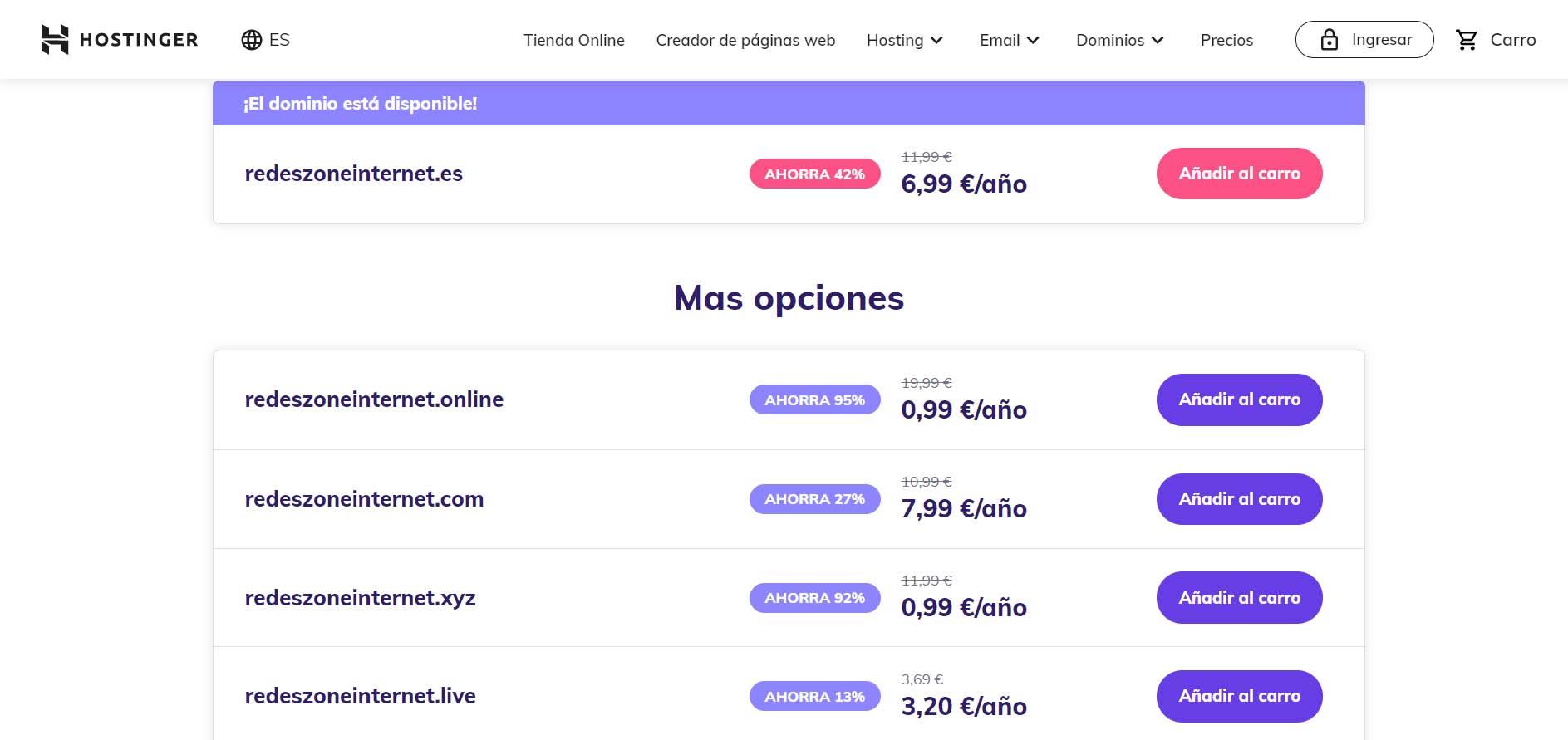 Hostalia
Another page to register domain that we want to show is that of Hostalia . It includes a free SSL certificate and is one of the easiest platforms to use. They have offers from € 0.49 for a .com domain for the first year.
Once again, we can find a wide range of possibilities in terms of the extensions that we can hire. They also inform us of which sectors are more oriented to each other. So less expert users will be able to choose correctly.
In short, these are some web pages that we have available to register a domain. We must choose the one that best suits what we are looking for, but especially correctly choose the extension that we are going to use.