Web
Las 15 mejores páginas web para hacer o crear infografías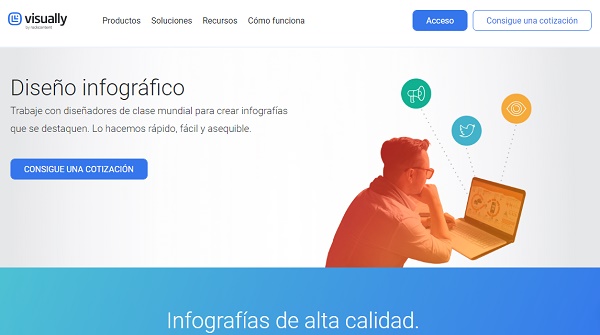 If you are looking for web pages to create infographics, one of the best options is Canva, Infogram, BeFunky, PicMonkey, among others. Many of these websites offer different tools that will allow you to develop your creativity on a large scale in order to obtain a good result. Most are in Spanish and have an easy-to-use interface. In addition, you will have the possibility to save the infographic design in different formats such as PDF, PNG, JPG, etc.
Infographics are graphic and creative representations of particular information. Currently, they are widely used to improve the understanding of content, since it is a visually attractive resource. Therefore, in this article you will observe the best 15 web pages to make or create infographics, either from your computer or smartphone. This way you will have an excellent tool both in the academic and work areas.
Canva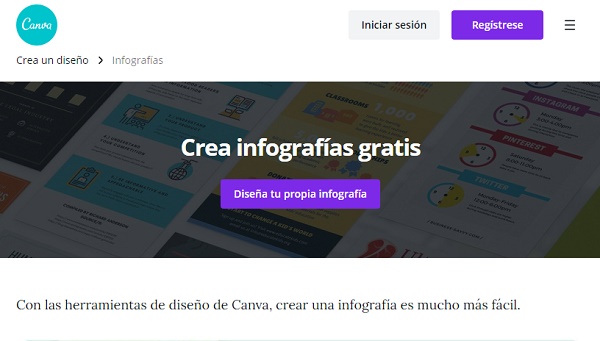 Canva is one of the best tools for creating infographics and other creative designs for any project. Different customizable templates are available according to your tastes and preferences. The page is free and offers the possibility of downloading the infographic in PNG, PDF, GIF and JPG formats.
To start using this website, you must register with a Google account, Facebook or your email. In this way, you will save the designs that you have created and you will be able to download them as many times as necessary. To enter Canva, you just have to click on this link: https://www.canva.com/es_es/crear/infografias/
Infogram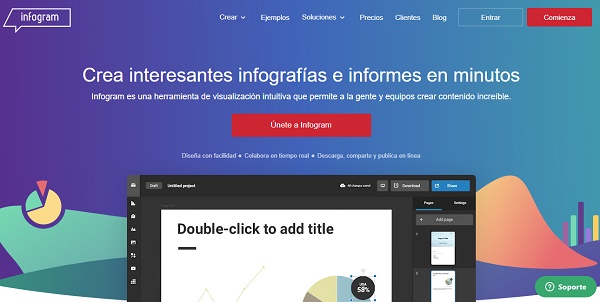 Like Canva, to use Infogram you must create a user with an email, Google or Facebook account. Once you sign up, you can start using all the special design and animation tools to make your infographic. Similarly, you will have a personal library to store the designs you have created.
Its interface is quite simple, attractive and is in Spanish. It is optional to acquire a paid membership, although its free version also has a wide variety of templates and diagrams that you will customize to your liking. You can export your designs directly to your website, blog or social network. To go to Infogram, click on the following link: https://infogram.com/es/
PiktoChart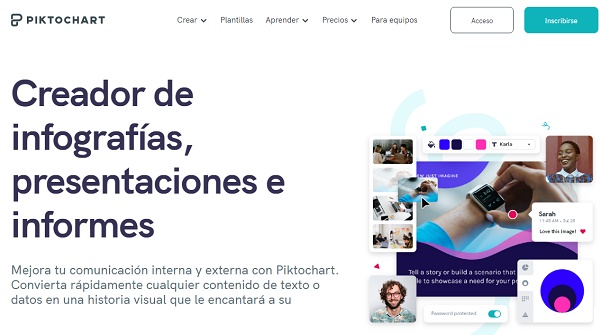 PiktoChart is an online platform that has more than 500 customizable templates to start creating the infographics you need. It has a fairly complete free version, although it also has its Premium version with prices ranging between $ 14 and $ 29. It is worth mentioning that it has a blog in which you will have a tutorial to start designing your infographic. If you want to observe it, enter through this link.
Its interface is in English, but it is quite intuitive and easy to use, you can also translate it in the browser of your choice. To start using PiktoChart, you must register on the portal and create a user. This way you will have all the tools available for the creation of the infographic. If you want to use this website, click on this access link: https://piktochart.com/
Befunky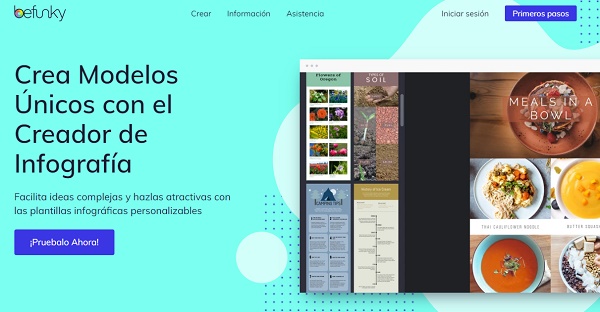 BeFunky has a design similar to Canva, since it offers great facility to create infographics thanks to its pre-designed templates. To use this web portal, you only have to enter the BeFunky designer, select a template, add images and elements to customize the design, add text and save it as a project to edit it in the future or export it in the format of your choice.
In the same way, you will have the possibility to design your own infographic from scratch and store it in your account library. Its interface is attractive and is in Spanish, plus you can download the designs created in various formats. Click on this link https://www.befunky.com/es/opciones/creador-de-infografia/ to access the website.
Easelly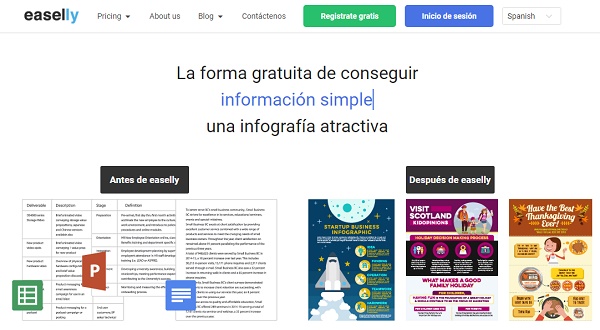 Easelly stands out among other web pages for the possibility of creating infographics from scratch. Likewise, it offers the option of using pre-designed and fully customizable templates to adapt them to the content you want to expose. Once you complete your designs, you can download them for free and without a watermark.
Additionally, its website is configurable in more than 6 languages. Another advantage to mention is that it does not require registration to prepare the infographic. You just have to click on the template you want to edit and customize it as you like. With that said, click on this link https://www.easel.ly/ to enter Easelly.
Genially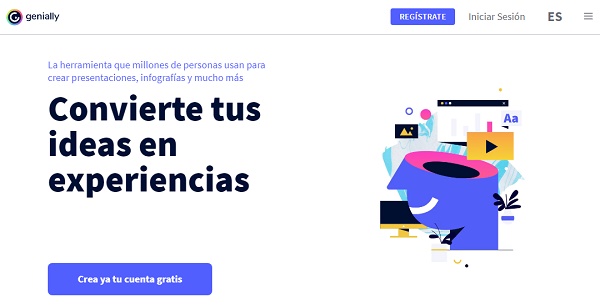 Genially's platform is configurable in Spanish, English and French. With this tool you can design presentations, infographics, video presentations, curriculum, among others. Its main advantage is that you will be able to design horizontal and vertical infographics, as well as other sets of interactive content.
On the other hand, it also has the option of incorporating animated creations to offer a better visual experience. Like other platforms, its registration is free and you can do it through your email or social media accounts such as Facebook and Google. Click on the following link https://www.genial.ly/ to enter the Genially web portal.
Visme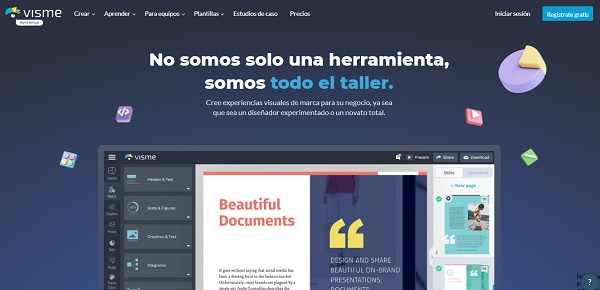 Visme is an attractive page that is in English, but it has a fairly intuitive and practical interface for the user. In addition to creating infographics with creative designs, you can also create short videos and animations that can be shared directly on streaming platforms such as YouTube or Facebook. It is an excellent tool for both the academic, work or professional field.
Registration is free, but you will need to purchase a paid membership if you want to unlock the most powerful tools. However, without registering you will see all the templates that are available within the platform. Now, if you want to edit them, you will have to create a user. Click on this link https://www.visme.co/ to enter the Visme website.
Creately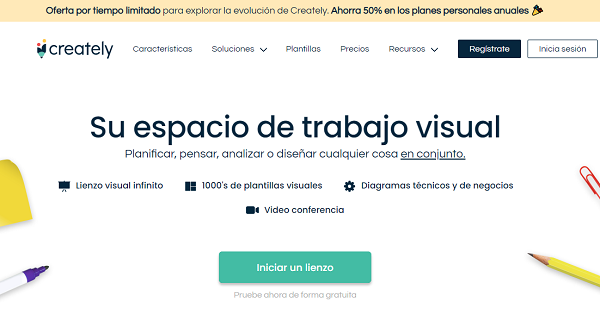 If you want to use customizable diagrams and infographics, Creately is a good option to choose. The main attraction is that you can work collaboratively, that is, you will design the infographic with your team as you will give them access to the editing tools in order to create together. It is a great advantage to work remotely in case you need it.
It has more than 50 types of diagrams and professionally designed templates for effective communication through an exhibition. You can use Creately from its web portal or its downloadable software for computers. To access it, you will have to register with an email. If you want to use this platform, this is the link https://creately.com/es/home/ that you must press.
Venngage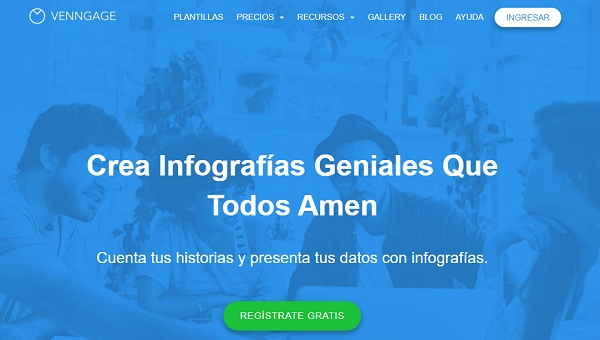 Creating infographics with Venngage is really easy and simple, since it has more than 100 customizable templates. The development process consists of choosing a template, adding the images and customizing them according to your tastes by changing the colors and design fonts. Likewise, you can export the infographic directly to your computer or email.
The best thing is that it also offers the possibility of creating posters, reports, Curriculum Vitae and advertising photos for social networks. Its interior design is in Spanish and you need a registration to start using its tools. It has a free version (only for students) and a paid version. If you want to access their website, register through this link: https://es.venngage.com/
Crello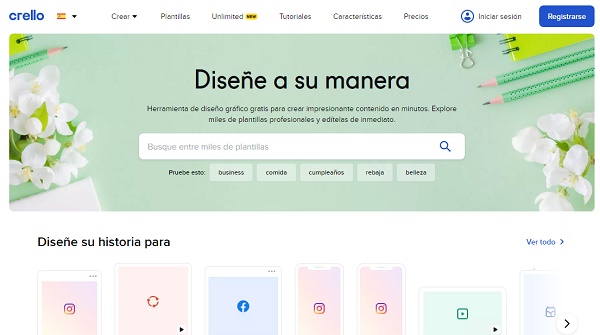 This Spanish page is characterized by having a fresh, creative and quite simple design. Crello has outstanding templates to make infographics, logos, publications or stories for social networks. It also offers image editing tools and offers the alternative of designing as a team.
It has more than 30,000 professional templates to create advertising, entertaining or informative material. You can use the free version with no time limit or buy a membership ($ 8 per month) to access more tools. If you want to use Crello, you can do it from your Android phone through thislink. If you have an iOS device, use thisdownload link. Similarly, you can click on this link: https://crello.com/es/ to enter its web portal.