Web
How to unsubscribe or cancel a Netflix account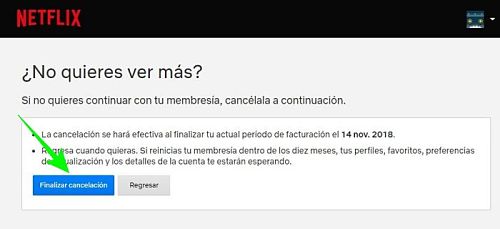 Netflix is ??the most popular subscription streaming service today, where you can enjoy your favorite movies, series and shows. But if you have decided to say goodbye to the service, at least for the moment, here we will see how to cancel a Netflix account.
According to its business policies, Netflix will keep your data for ten months. So, if you wish or regret it, during this period you can reactivate your account using the same email address as the account. This means that to permanently delete your account, ten months must pass without reactivating it after canceling it.
Cancel a Netflix account
STEP 1. To proceed with the cancellation of Netflix, the first thing you must do is log into your account, and then enter any of the profiles you have in it.
STEP 2. Once inside the profile, on the same screen where your content appears, press the profile icon at the top right of the screen. A menu will be displayed in which you can change your profile and other options, click on the Account option .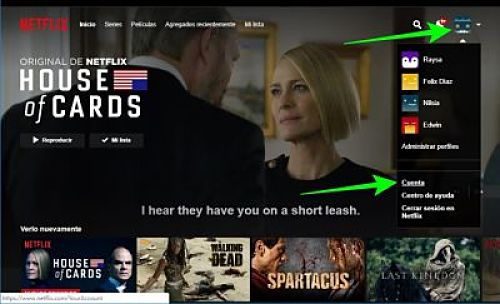 STEP 3. The administration screen of your account will open, in which you can configure different options or make changes to your configuration, such as changing your email, your password, etc. But what interests us this time is how to cancel Netflix. You can do this by clicking the Cancel Membership button , just below the Membership and billing section .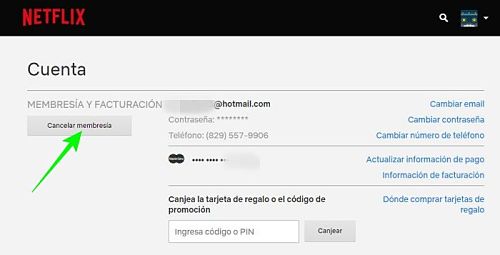 STEP 4. By clicking on the button, on the next screen the service will indicate on which date the cancellation will take effect. It will also let you know that you can come back whenever you want and keep your settings for the next 10 months, as we said above. To complete the process and cancel Netflix, you just have to click the Finish cancellation button .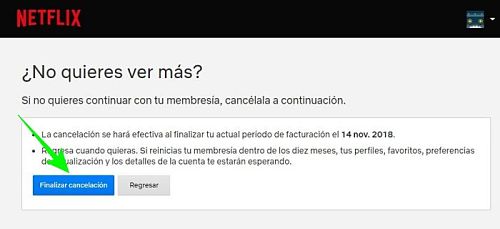 How to cancel Netflix
Well, with this you will have completed your request to cancel your membership to unsubscribe from Netflix. But depending on your billing period, you will be able to continue watching content until your current cycle expires. It will show you a banner indicating that your membership is about to end.
Before taking that last step, the service also offers you to downgrade your plan to a cheaper one so that you do not leave you can continue enjoying content.