Web
How to play the xbox from your mobile or android tablet with project xcloud in streaming? Step-by-step guide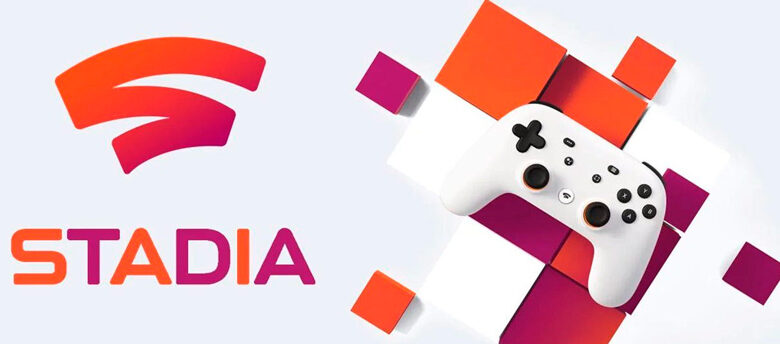 If you want to play your Xbox from your Android mobile with Project xCloud in streaming, you need to read this article to the end . We will explain what features your mobile must have to run the games.
In addition, we will show you the steps to play Xbox from your Android mobile from cloud services in a simple way and with easy-to-understand steps. But this is not all, we will also talk about how to create an account at Microsoft .
Pay attention to all the details in this article because at the end we will make a comparison between Google Stadia vs Project xCloud to find out which one suits you .
What features should my Android have to play Xbox games?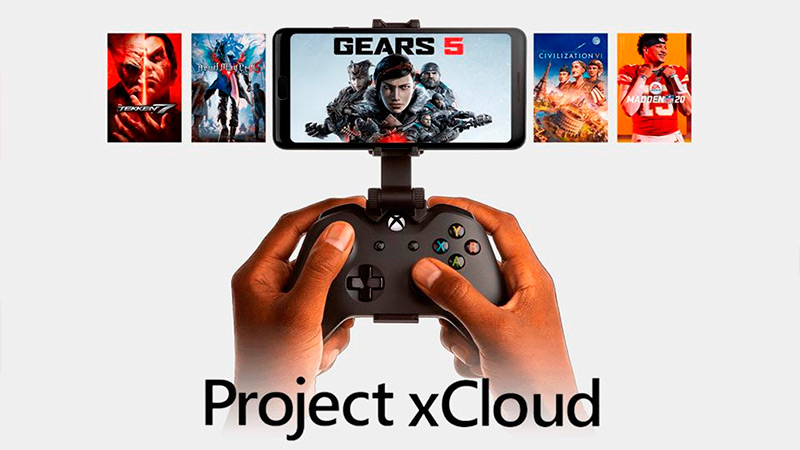 Are you interested in experiencing the excitement of Xbox video games on your mobile? Well, for this you must have at least one device with Android version 6.0 (or one of the higher versions) In addition, the mobile must have Bluetooth features in version 4.0 or more. While in reference to the contracted membership it will be necessary that you have the Xbox Game Pass Ultimate .
Such a plan has all the features of the Gold subscription, it comes with more than 150 games available for free, and new games are constantly being added. Along with this you will have a subscription to EA Play and a 30-day free trial on Disney Plus.
To join you must enter through the console (in the Subscriptions section) or through the official website https://www.xbox.com/es-es/xbox-game-passand click on the JOIN ULTIMATE button . You can also go to the Google Play Store and download and install the Xbox Game Pass app that weighs around 44MB, you must bear in mind that this application needs permissions for microphone, storage and others.
Although mobile data is discouraged, since it would be consumed very quickly, you must have at least 10 Mbps of low speed in the Internet connection . The same applies if you opt for WiFi connectivity . Finally, do not forget to purchase the compatible controller to be able to play in all video games . One of them is the Xbox Wireless Controller with Bluetooth .
Steps to play Xbox from Android mobile in Streaming with Project xCloud
For now, in addition to the technical requirements of the devices, more is needed. The package is restricted to certain countries in Europe, the United States and some others. That is why it is convenient that you verify in advance if your region is compatible with the application (Game Pass), although it is most likely that the allowed locations will surely expand little by little.
Meanwhile, and especially if you are already part of this console, learn how to join this new platform . It doesn't matter if you want to try a new title or the one you just dropped on the console.
The steps you will have to do are the following:
Create an account at Microsoft
First of all, the first thing you should do is register with Microsoft, the company that owns Xbox.
For this, you will have to follow the following process:
If you still do not have a Microsoft account to be connected in the Xbox world, go to the web with your browser https://www.xbox.com/es-esand click on Add account, located in the upper left part of the screen. If you prefer, you can put this aside and go down a more intuitive path shown in the following steps.
In the upper drop-down menu choose the option "MiXbox" .
Next, click on the "Profile" tool .
Under the "Register" section you will see a text that says Don't have an account? , so you will have to click on the button "Create one!" .
It will ask you to enter your Microsoft email . Should not have'll have to choose "Get a new email address" .
Click "Next".
Create a password, if you don't know which one to choose, we recommend that you enter our Password Generator tool .
Click on "Next" and enter the other information, such as name and surname .
Then finish and save your data because this same account will help you to enter everywhere.
Get the Xbox Game Pass Ultimate plan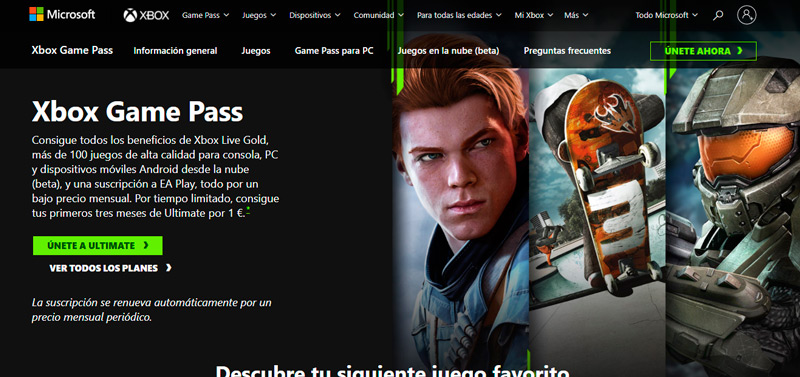 What you will have to do now is have an Ultimate plan .
To do this, you will have to do this step by step:
On the same official site, https://www.xbox.com/es-esgo to the "Offers" button and click on it.
Among the offers is the Ultimate plan where they offer you 3 months for € 1, so you must continue on the link "Join for € 1".
It will redirect you to a new page where you will see all the benefits of the plan . Choose the "Join Ultimate" tool again to proceed to enter the email and password of your Microsoft account .
Complete the payment information and remember that after 3 months you will have to pay around € 14.99 / month.
Download the app from the Play Store
Once you are affiliated with the Xbox Ultimate plan, you must work with your Android mobile .
The process is the following:
Enter the Play Store from your smartphone.
Click on the search engine right next to the menu .
Type in the search engine "Xbox Game Pass" and choose the magnifying glass.
Several options will appear , choose the first one.
Click on "Install" to begin the download and installation.
Wait until it installs and open the app.
Sign in to the Xbox app
Continue like this:
Click on "Sign up " if this is your first time registering your Microsoft account, log in or click on your profile.
Similarly, log into the Xbox Game Pass website through the app's outbound link.
After this, under your profile picture, choose the "Let's play" tool .
Link the remote to the mobile
To improve the experience, it is essential to have a compatible remote with Bluetooth connectivity.
Now you must connect the devices so that you can play:
Turn on the controller and activate the Bluetooth of your smartphone.
Press the "Pairing" button on the controller.
Wait for the Android phone to find and recognize the control.
Link the controller between the accepted devices in the smartphone's connectivity settings.
Select cloud game mode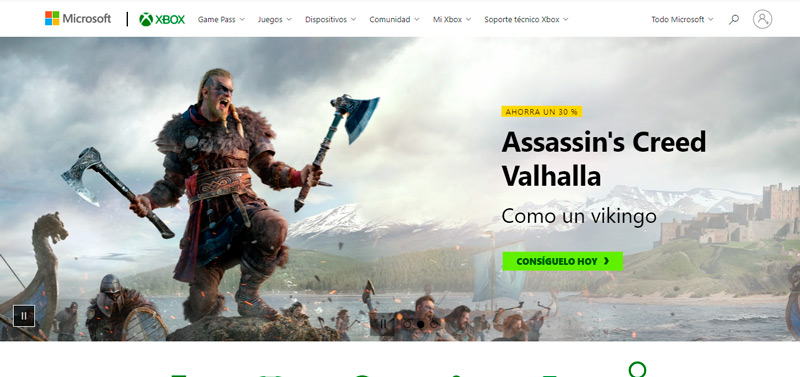 When you log in with your account you will find a wide catalog of games offered by the platform, you will be able to choose in the cloud, those of the PC and those of the console, among others.
So you will have to do this guide:
Of all the available options, press and hold "Cloud" to access the benefits of Project xCloud.
At this point, examine the games that you have at your disposal and choose one.
Click on the "Play" button and voila! You will be online without consuming mobile memory.
Keep in mind that recently this project allowed the use of touch controls from the mobile. Although it is still in its early stages, it is a useful resource if we are far from home.
Google Statia vs Project xCloud Which is the best Cloud Gaming platform?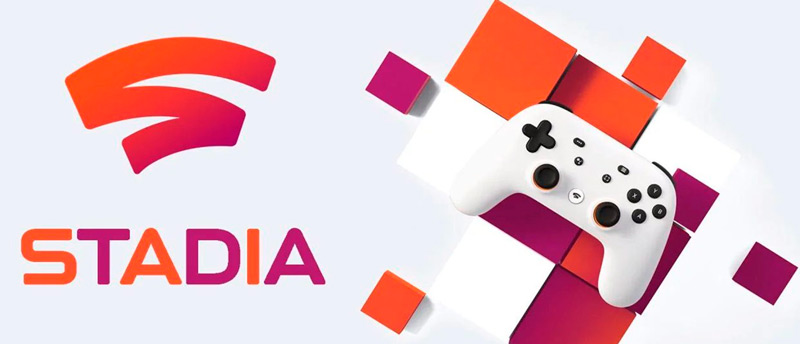 For some time now, the gamer universe is not limited to a console or a PC and a memory, the great empires in video games began to offer robust streaming services in the cloud. With this, the user does not even need to occupy memory on their devices or buy titles, a good Internet connection is enough to launch the game online with truly impressive image quality and details. And the best part of all this is that you do not lose your games or progress in the game.
But what platforms are the best to enjoy Cloud Gaming on mobiles? Well, among the newest and most promising are Google Stadia and Project xCloud (owned by Microsoft). Both have passed the beta phase, although it is to be recognized that Stadia did it first in 2019 a year before its competition. But the best thing is that you can get different benefits in each one . For example, for Google's Stadia you will have a fairly acceptable third-party game catalog.
Among the developers you will find Square Enix or Ubisoft . In fact, so far you can enjoy up to 40 titles, while the number continues to grow. On the other side of the coin is Project xCloud. There are more than 100 proposals with a combination of Game Pass titles and others, all of them owned by Xbox. The company has clarified that it is working intensively on exclusive games for the platform. However, its main focus is on complementing the more than 3,500 titles that are played on consoles and PC.
Here is the differentiator that beats Stadia. For Project xCloud you will not have to buy the games independently, rather with a monthly subscription that starts at just € 1 you can access hundreds of titles for almost free. In fact, with this technology your console works as a streaming server. Yes, the platform has the ability to broadcast multiple titles without modifications from the original developer . This indicates that as soon as updates appear in Xbox One games, they will also work for xCloud.
So a great advantage is to have those games on the console and as quickly as possible to have them the same on mobile. Of course, both streaming services offer multiplatform AAA games . Statia tries to balance its weaknesses by offering monthly giveaways , discounts and promotions. However, it fails to overcome the uniformity that Microsoft proposes in this regard. From xCloud you can enjoy ARK: Survival Evolved Explorer's Edition, Mortal Kombat X and Pillars of Eternity, among others.
Regarding performance, the boot into Project XCloud happens immediately . While it is a bit slower (about 20 seconds) than Stadia, it is quite fast. Much more than, for example, GeForce Now which takes a few minutes. Many users have pointed out that it feels like playing directly with the Xbox One S. And this is exactly the point where the developers wanted to give.
They want that instead of replacing their consoles it is a feature that complements. Of course, adding the benefit to the gamer of being able to log in away from home . If we talk about the Android version, both contestants have the benefit of working with 6.0 or higher. It should be noted that both work very well with respect to latency . That is, there is no noticeable or at least significant delay.
However, another point where it has an advantage is the cost. What does it matter when a streaming service is good if it is not profitable? This is why xCloud has the upper hand with its 3 months of payment of € 1 and open catalog. A clear difference with Google Stadia. On this platform some games are free, but most must be purchased individually in the store. Along with all this we have the issue of controls. Is the control proposed by the Xbox mandatory? Not necessarily.
In theory it works well with other Bluetooth controllers of the brand that players already have. In short, although Google has made the tournament difficult, Microsoft is still leading the battle. A more extensive and well-known catalog, good costs, cross-platform integration are valuable benefits. That's not counting the high-end graphics and other benefits that affiliates enjoy. And you  , what are you waiting to enter your Android smartphone to play?