Web
How to permanently delete a Google account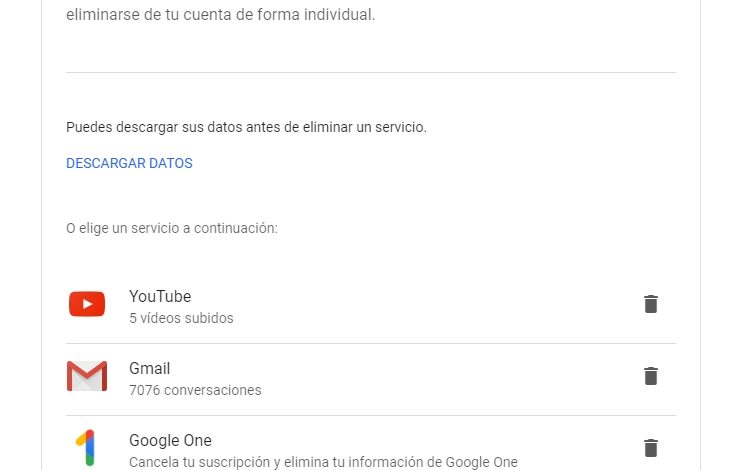 It is a fact that Google has a range of services that many consider essential ; from the search service itself to other services such as Play Store, Google Maps or YouTube. However, this does not mean that there are no users who wish to delete their Google account, a decision that may be due to various reasons, such as not using the account in question or having more than one account and only needing one. .
Whatever the reason, the truth is that Google offers you the possibility of deleting your account in a matter of minutes, being able to even download all the personal information from it before proceeding to the final deletion. Keep in mind that if you only want to delete your Google account from your Android device, it is not necessary to delete the account permanently. In this InfoCuentas article we give you more details about everything related to deleting a Google account, step by step!
Information that will be deleted when deleting a Google account
First of all, you should know that by deleting your Google account you will lose all the information stored in your account. Below we list everything that will be deleted if you proceed to delete your Google account:
All personal information stored in Google services, such as Google Maps, Google Drive, Calendar, Google Play, Google Keep, Google Chrome data and a long etcetera.
If you have a Gmail email linked to your Google account, you will lose access to it. This email address will no longer be able to receive anything and no one will be able to register it in the future. Keep in mind that you will also lose stored emails and possibly access to accounts on other services that you have signed up for using your Gmail address.
Your entire YouTube account will be deleted, including your search history, your favorites, lists, videos that you have uploaded to your profile, among other information related to YouTube.
You will lose the contacts that are stored at contacts.google.com. Make a backup copy of them if they are not saved on your device!
If you have an Android device and a Google Play Store account registered on it, you will lose the purchases you have made in the store, progress in video games and you will no longer be able to download or update applications, unless you create another Google account to use Play Store on your device.
Due to the large number of services that could be linked to a Google account, we may have overlooked some of the services that you will no longer have access to after the deletion of your account. Just keep in mind that everything related to Google will no longer be accessible with your account.
Save the information before deleting the Google account
Before deleting your Google account, you must inform yourself about all the data you have in your account and the Google services that you have registered with since you created a new account. Sincehttps://myaccount.google.com/dashboard it is possible to see a complete breakdown of all the Google services that you are currently using, this information is important so that you do not miss any information that you may want to save or download.
Once you have seen all the Google services that you have used throughout the existence of your account, follow these steps to download the information that interests you:
Login to https://takeout.google.com/settings/takeout, the Google page from which you can download your personal information.
Check the services for which you want to download the information. Generally, downloading the information from YouTube, contacts, Drive and Google Photos is the most requested.
Once you have selected the services from which you want to download the information, press the " Next step " button.
Next, customize the format of the files to download.

Export type : single file or scheduled export.
File type : compression method, you can choose .zip or .tgz.
File size : if the file is very large, with this option you can divide the files into certain sizes.

Press the " Create file " button.
Next, in "File progress" you will see the percentage of completion of the backup in question.
When the file creation is complete, Google will send you a link to your email to download this file. You will have 1 week to do it.
Keep in mind that downloading your personal information does not yet imply the deletion of your account; To do so, keep reading this article.
Delete a Google account permanently
If your intention is to completely delete your Google account and all services related to it, you should definitely follow these simple steps:
Go to https://myaccount.google.com/delete-services-or-account
In the "Delete your Google account" area, click on the " Delete your account " link .
Enter your account password to continue.
The next page describes everything that will be removed from your account. Check the two confirmation boxes and press the " Delete account " button.
Clever! Your account has already been deleted.
With these simple steps, your account will have already been permanently deleted, with no possibility of recovery.
Delete only one Google service
If, instead of completely deleting your Google account, you want to simply delete specific services, such as your Gmail email or YouTube account, you can easily do so by following these steps:
Go to https://myaccount.google.com/deleteservices
Enter your account password.
In the list of services, press the trash icon located to the right of the service you want to remove from your account.
Depending on the service you want to remove, the process will be different and the options for each of them may also be different.
Follow the corresponding steps to remove any of the Google services linked to your account.
Remove or unlink a Google account from a smartphone
Normally Google accounts are linked to mobile devices, whether they are Android or iOS. It is not necessary to permanently delete your account if all you want is to unlink it from your device. The instructions to do it vary between each manufacturer / brand, however, the generic instructions to do it in any device are the following:
Unlink a Google account on iOS : Go to Settings → Passwords and accounts → Gmail / Google → Remove account.
Unlink a Google account on Android : Go to Settings → Cloud and accounts → Accounts → Google → Delete account.
If you delete your Google account from your device, you can add it again at any time from settings, recovering the information that was previously being synchronized.
Reasons to delete a Google account
These days, it is difficult to imagine the internet without a Google account, however, you may still find yourself having to delete your Google account. Some of the reasons could be:
The lack of use of Google services : if you are one of those who do not use other Google services apart from the search engine, you may not need an account.
Need to delete email : If your email receives too many spam messages, the decision to delete it may be necessary.
Have more than one Google account : Generally, it is not necessary to have more than one Google account, which is why you need to delete one of them.
Privacy concerns : do you think Google stores a lot of information about you? It may be another reason.
Migration to other similar services.
Whatever the reason, we hope we have been helpful with this step-by-step tutorial to delete your Google account. Remember that you can create a new account at any time