Web
How to know if I am reported in the DataCrédito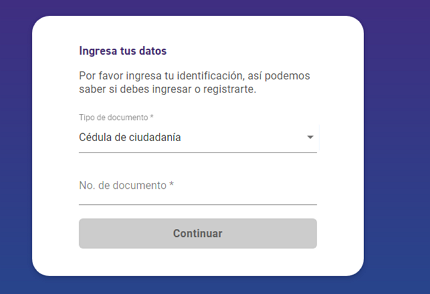 To know if you are reported in DataCrédito, all you have to do is enter the official platform, register with your personal data and log in and check if there is a report in your name due to any credit that you have previously requested. Similarly, you can write to request such information or go to one of their offices during the available hours of service according to the city of origin.
DataCrédito is an institution in Colombia whose purpose is to collect data about the credit reports granted. In other words, it is a tool to identify which Colombian citizens are in arrears with an institution. If you are in this registry, you will not be able to request a future credit until you pay that debt. Therefore, in this article you will observe the steps to take to know if you are reported in DataCrédito.
Steps to follow
You have several means to know if you are reported in DataCrédito. You can choose between going to the website, writing a letter with the request for information or going directly to a DataCrédito office. In the following sections each process will be explained in detail.
By Internet
If you have a computer or Smartphone with Internet access, you will be able to know if you are reported in DataCrédito as follows:
Enter " MyDataCrédito " through thislink, click on " What do you need? "And choose" Sign up "or" Sign in ".
Enter your data and click on " Continue ".
If you have not registered, you must fill in the requested fields to formalize the registration. You will also need to answer personal security questions.
Once the registration is complete, log in and see if you have any reports on the platform.
Some important aspects to mention is the " My debt " section, in which you will see the set of what you owe. If you enter " My Score " you will find the DataCrédito score and in " Diagnosis " you will see a graph that expresses the credit experience. Now, if you want to know the complete information of your financial activity, go to "My complete credit history".
Note: In this credit history you will find a general summary of reports and those acquisitions that you have obtained through a loan or credit. In case you need to know more specific information about the report, you should purchase a plan that you can cancel monthly, quarterly or annually.
Through a letter
You can also send a letter to the DataCrédito offices in Bogotá to make a more formal request. In the letter you send you must attach the following information:
Full names and surnames.
Photocopy of identity document.
ID number or identity document.
Signature authenticated before a notary public of the holder.
A brief explanation about your request or request, whether it is a query or a claim.
Exact address, city and email to receive the answer.
Note: the letter should be sent to the following address "Transversal 55 No. 98 a – 66 local 215 – 216 Centro Comercial Iserra 100. Barrio La Castellana."
Going to an office
You will have at your disposal several Attention and Service Centers (CAS) of which DataCrédito offers to request a previous appointment and go in person to consult the credit history for free. However, due to the global COVID-19 pandemic, this option is conditioned. You can enter thislink and get more information about opening hours.
It is worth mentioning that if you are a natural person, you must carry your identity card. In case you are a legal person, the legal representative must go with the identification document. Anyway, here is a small list of the CAS that you can go to to consult this credit report in person :
Barranquilla.
Bogota
Cali.
Medellin. ont>
Via email
Another more immediate option to know if you are reported in DataCrédito is by writing an email to your official email. To send requests, inquiries and / or claims you just have to write to servicioalciudadano@experian.com. The response time is usually fast, therefore you should be attentive to any response you receive through this medium.
Reporting time
If you have paid the debts on time, they should be erased taking into account the following aspects:
If you take more than 2 years to pay a debt, your credit history will show a negative report for 4 years from the moment you pay the delinquency.
If it takes less than 2 years, you will be 4 years in the list after you pay the debt.
How to raise the score
The credit score is the rating assigned to a person according to the analysis of their history. This is an important piece of information for financial institutions as they inform about the person's credit commitment. Therefore, it is important to raise the score and here are some recommendations to meet this objective:
Build positive credit experience over time.
Use credit cards with awareness.
Do not acquire debts that you cannot pay in the short term.
Try to have a level of expenses consistent with income.
Never use your credit limit or quota to the maximum.
Don't accumulate blackberries.
Pay the debts in the stipulated time.
If you are registered within the platform, the process to know if you are reported in DataCrédito will not be difficult to carry out. You only need to have a computer, Internet connection and your personal data in order to verify if you have any delinquencies that you must pay as soon as possible. In this way, you will have a better chance of acquiring a loan in the future if you need it.