Web
How to know if I am in the Veraz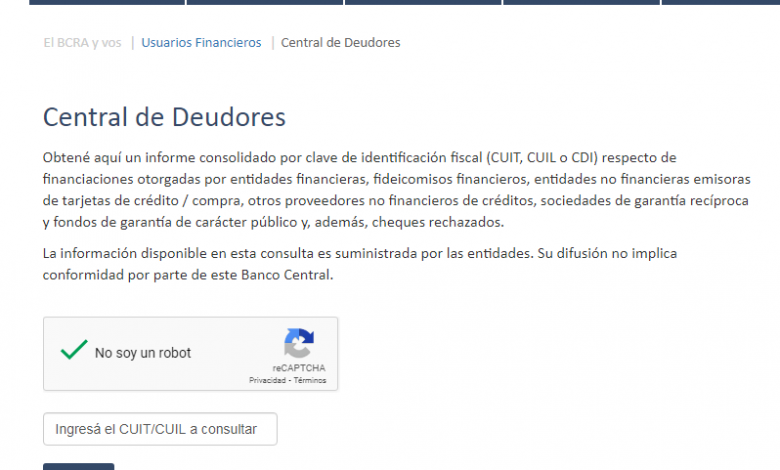 In Argentina, all citizens of legal age with a credit history are listed in the Veraz database. And although this is not a bad thing, many times we ask ourselves, How do I know if I am in the Truthful ? since this is the database that contains all the mercantile and banking antecedents of the Argentines.
In this sense, if you are also interested in knowing your credit history through a Veraz report, then it will be useful to know that, according to the law, this commercial data collection entity can provide you with a totally free report each 6 months. If you do not know how to request your report through a call and other means, do not worry, since we will explain everything you need to know to carry out this procedure safely, quickly and easily.
Request Veraz report
To request your Truth report for free, you just have to make a call to the customer service number of this entity. You should know that you can do it from Monday to Friday between 9:00 AM and 6:00 PM. This procedure is very simple and below we explain the steps to follow:
Dial the Veraz number ( 011 5352 4800 ) and wait to be assisted by the voice assistant.
In case you are a titular person, check option 1. Instead, if you need the report for a third party, select option 2.
Next, your gender will be asked. Choose option 1 if you are a man or option 2 if you are a woman.
Next you must enter the number of your DNI + #.
Then the operator will ask three questions to verify your identity. These questions may refer to bank details or be of a personal nature.
When you do the above, the operator will ask Do you want to assert your right of access and obtain your credit report? to say yes, dial 1.
Once this is done, you will receive a numeric code via SMS or through the same call.
Use this code to access the Veraz reporting platform: https://www.veraz.com.ar/ECOMMERCE/registro-derecho-acceso.ecom#/reporte-5/informe
Here you must fill out a form with your data, enter the code that you have received by phone and you will receive your report for free.

This report is completely free and you have the right to receive it according to Law 25,326, but remember that between one report and another, you must wait a period of no less than 6 months. Otherwise, you will have to pay.
Other methods
In addition to the aforementioned method, there are other alternatives by which you can choose to receive your credit information and find out if you have debts in the Veraz database. Here we explain what these options are and how to take advantage of them:
From the BCRA website
To find out if you are in Veraz, you can also check with the official portal of the Central Bank of the Argentine Republic. In this platform you can make a check for free just by having your CUIT or CUIL number on hand. The steps you must follow to verify this information are the following:
Enter the BCRA page from this link: http://www.bcra.gob.ar/BCRAyVos/Situacion_Crediticia.asp
Once there, start by solving the security Captcha to validate that you are not a robot.
Once this is done, enter your CUIT or CUIL number as appropriate and press Consult.

When you do, you will see a complete report with all the debts that you have pending.
In person
If you reside near any of the Veraz branches that are located throughout the Argentine territory, then you can go to them and request your Veraz report for free and without major problems. Below we show you the exact address of all Veraz offices in Argentina:
Veraz in the Province of Buenos Aires (Mar del Plata) Address: Santa Fe 3489 – Telephone: (0223) 494-8950
Veraz Entre Ríos (Paraná) Address: Alameda de la Federación 379, 8th floor, office B. Telephone: (0343) 423-0450
Veraz Northwest of the Country (Corrientes) Address: Carlos Pellegrini 1036 PB Telephone: (0379) 442-3031
Veraz Santa Fe (Rosario) Address: Corrientes 751, 5th floor, office B. Telephone: (0341) 420-3111
Veraz en Capital Federal (CABA) Address: Bouchard 557, piso 21 – Telephone: (011) 4348-4391
Once you are in one of these offices, wait your turn to be attended by the Veraz staff and request your detailed report for free.
About Veraz
Veraz is an entity that is responsible for storing, updating and supplying all credit and commercial information throughout Argentina. Truthful actions are carried out by the private company Equifax. As a result, when a person requests a loan, makes a purchase with a credit card or pays their debts, all this information is filed in the Veraz database.
In this sense, the importance of Veraz resides in the fact that companies and banks use this information to determine if a person or company has a solvent credit history, since this facilitates the task of discriminating if it is risky to approve a job or a loan to this individual or business entity.
It should also be mentioned that all people are afraid of appearing in Veraz, when the reality is that any citizen of legal age with a credit history appears unfailingly in its database, and this is not a bad thing, since in case of Being a responsible person with their payments and capable of keeping a solvent commercial control of their own activities will also be reflected in Veraz. For this reason, requesting the Truthful report is always important to have a better control of your credit history and be aware of your debts.
How to get out of Veraz?
If you are on Veraz's list of debtors and they are reflected in your credit report, you should know that the only way to eliminate this negative record is by canceling your delinquent debts.
However, according to the Personal Data Protection Law (25,326), after a debt is reflected for a period of 5 years in the credit record of a citizen , it must be eliminated from the database.
In case you have canceled your debts or they continue to appear in your report, then it may be due to an error when updating your information. If this happens, you can make a claim from theVeraz website, by going to any of the Veraz branches, or by phone through the customer service number: (011) 5352 1700.