Web
How to know if I am in Financial Credit Institutions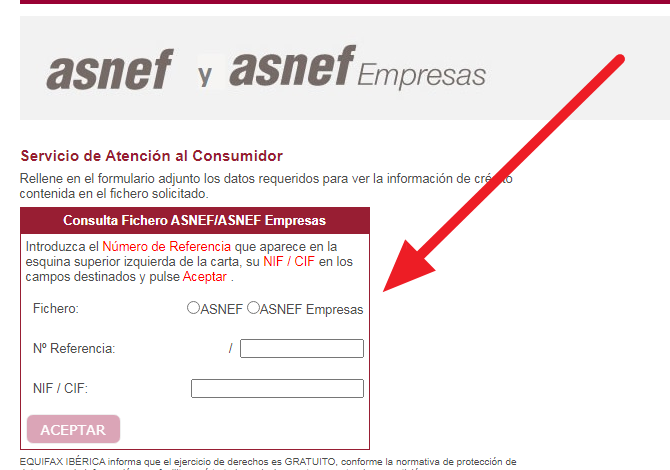 If you have requested a loan from the Bank and it has been rejected, there is a possibility that this is due to the fact that you are on the list of ASNEF debtors. Many times, when this happens, you are not even aware that you have a pending debt, since despite the fact that the Law requires any company to notify us when you have a pending debt to cancel 30 days before passing your data to the list of defaulters of ASNEF.
This entity manages a database with all the credit history of Spanish citizens, and luckily, you can also check your own data for free to find out if you are in ASNEF. If you do not know how to do it, do not worry, since below you will have an explanation of everything you need to know to consult your ASNEF file and go on to have a better control of your financial profile.
From the web
Currently, one of the easiest and fastest methods to consult the ASNEF file and find out if you are on the list of defaulters, is taking advantage of the Equifax online platform. In this case, there are two ways to do it. One of them is counting on the reference of the case of your debt (document issued by ASNEF), while the other is for the case in which you do not have said reference. Here is the procedure on what to do in both cases:
Consult with reference number
When you have an outstanding debt with a business, bank or company, Spanish Law establishes that you must be expressly notified so that you are aware of your pending payment. Then, if a period of 30 days passes and you do not cancel this debt, you automatically become part of the list of defaulters of ASNEF and the entity itself will issue a document that will be sent to your registered residence.
This document brings with it a reference number so that you can consult in detail from its website. If you have this document and want to check the current status in ASNEF, these are the steps to follow:
From your website, access the ASNEF form using this link: https://www.equifax.es/ederechos/Index
Fill in the requested information, including the reference number of your case.

Press Accept and wait for all the information regarding your case to load.
After doing this, you will have a complete report on why you are on the delinquent list, who you owe, the amount of the obligation and other details corresponding to the matter.
Consult without reference number
In the event that a loan has been rejected and you do not know why, it may be because your name is on the ASNEF delinquent file and you have not been duly notified. For this reason, it is more than certain that you do not have a reference number on your case. If you suspect that you may be on the ASNEF list and you want to make a query about your file, you can do the following:
Send an email to sac@equifax.es and attach the following documentation:
* Names and surnames (in case of being a company, indicate company name).
* Number of National Identity Document or NIF.
*Home address.
In this email you must make a request to know the details of your ASNEF file.
Send the mail and wait 10 days to receive a response.
Likewise, you can make use of the Spanish postal service and request your ASNEF report by asking to know your status in the ASNEF file. In this email you must send it to the postal address 10.546, Madrid 28080 and attach the following:
Photocopy of DNI, NIF or CIF.
Indicate the address to which you wish to receive a response.
Put shipping date and signature.
What is ASNEF
The National Association of Credit Financial Establishments (ASNEF) is a file that contains all the credit information of natural or natural persons and business entities in Spain. This association carries out its tasks of storing, updating and disposing of commercial information through the private company Equifax.
Regarding its specific functions, it is responsible for providing a complete report with the history of debts and credit transactions of people or companies at the time they go to a Bank or other company to make a purchase, request a loan or establish a contract.
The importance of knowing ASNEF and what type of information it provides, is based on the fact that your solvency and responsibility at the time of payment is reflected in this database. So if you have outstanding debts when applying for a loan or opting for any activity that deserves solvency, the Banks, companies or contracting entities will see this information and you will run the risk that your application will be denied.
How to get off the ASNEF list
To be able to leave the list of ASNEF debtors, the only thing that must be done is to cancel the pending debts and wait for your file to be updated. If you have already paid your debts and your data as defaulter does not disappear from ASNEF in a period of 10 days, you can request a rectification through the Consumer Service service through any of the following channels:
Via email through the address sac@equifax.es.
Through the postal service at the address 10.546 28080 Madrid.
This request has a response period of approximately one month.
How you have been able to observe throughout this post, knowing if you are in Financial Credit Institutions is really simple and you have different methods for it. You just have to follow each of the detailed procedures and communicate through the channels indicated in this post in order to know this information.