Web
How to install and use pgp on windows computers easily and safely? Step by step guide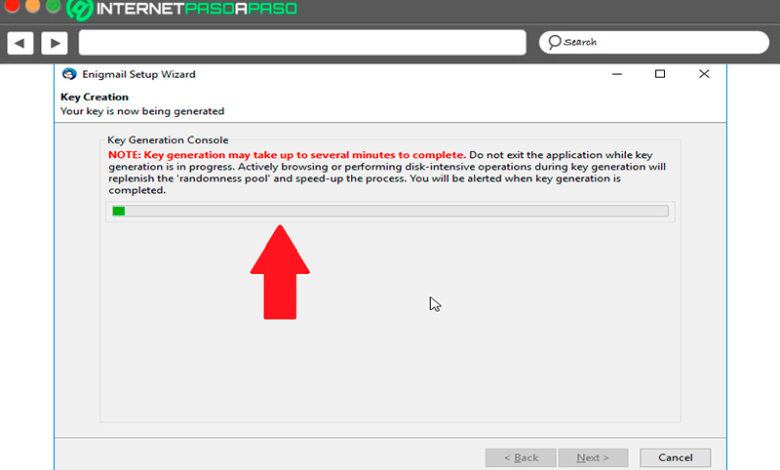 PGP or also known as Pretty Good Privacy is an encryption software that has been designed in order to help increase what is privacy, security and authentication mainly for communication systems such as email . Therefore, this highly qualified software will help you to maintain completely secure communications within the network.
All of this was designed by Phil Zimmerman, who  created this free software and has had a high social demand for privacy . Its objective was to be able to create a program capable of protecting confidential data sent over a network, taking into account all the security problems that this generates . This is how Pretty Good Privacy works by compressing unencrypted data in the first place.
It is also important to mention that this program is available for both Windows and Mac computers, so it is extremely important to have it, especially if you are one of the people who is constantly sharing important information with others through the network. That is why below we are going to show you how to install and use PGP on a Windows PC .
What are the benefits of using PGP to improve your privacy in Windows?
Without a doubt, PGP has become one of the best-rated programs for the security and privacy of communications over the Internet. So being able to make use of it will undoubtedly offer you very good advantages, mainly because all your data will be completely safe and out of the reach of third parties .
That is why here we are going to show you what are the main benefits that you can get when using the software created by Phil Zimmerman:
By having a combined use between what is asymmetric and symmetric encryption, it allows users to safely share all kinds of information and data over the Internet .
Being a hybrid system, Pretty Good Privacy can benefit greatly from the security of asymmetric cryptography and from the speed of symmetric encryption, allowing both tools to be successfully combined.
Not only does it stand out for offering maximum security and speed in its operation, but it also has digital signatures, which allows guaranteeing the integrity of the data and the authenticity of the sender .
Its combination with  OpenPGP has allowed its standardized competitive environment and PGP solutions to now be incorporated and delivered by different types of organizations and companies, allowing you to have a greater reach.
All PGP programs that have the OpenPGP standards are compatible with each other, this means that all the public and private keys, as well as the files generated in one program can be used in another without any inconvenience.
Taking all this into account, this program developed by Phil Zimmerman will help you to have much more protected each of your communications through the network, so it will guarantee maximum security especially with digital signatures, allowing each of the Sent files cannot be manipulated or edited on the go .
Learn step by step how to install and use PGP on your Windows computer
If what you are looking for is to start improving your privacy and security through the network, the best option you have available is to use PGP on your Windows computer . The installation procedure is very simple, although it can be a bit lengthy.
For this, it will be necessary that you follow each of the steps that we are going to indicate below:
Download Mozilla Thunderbird
In order to start with this procedure, you need to download Mozilla Thunderbird, since all this procedure will be carried out from there.
To do this, you must follow these steps:
The first thing you should do is go to the official Mozilla Thunderbird sitehttps://www.thunderbird.net/es-ES
When you are on the main page you must click on the green "Free Download" button, the website will automatically detect your language, in case you want to download it in a special language you must select the "System and language" option and there you choose your preferred language.
To make everything a little easier for you, we leave you the direct download link below .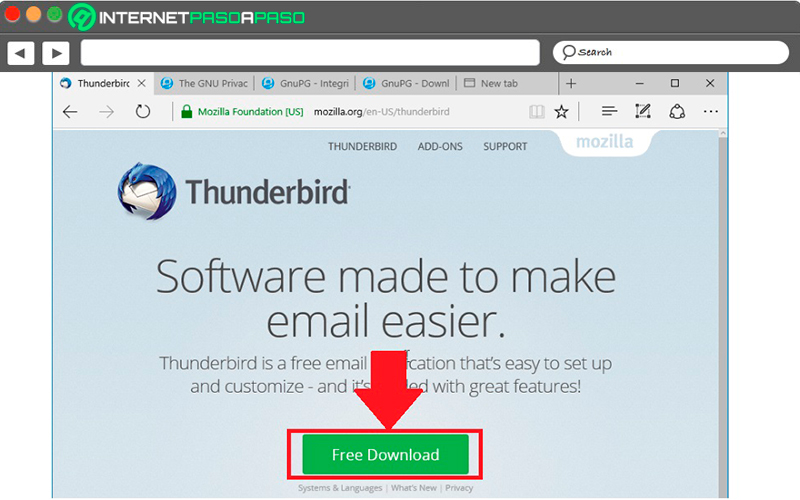 Most browsers ask you to confirm if you want to download this file, in this case it is best to save the file before continuing, for this you simply have to click on "Save". By default, most browser usually save downloaded files in the folder "Download" from the "Windows Explorer".
Installing Mozilla Thunderbird
Once this file has been downloaded to your computer, the next thing to do will start with its installation, for this you must double click on the file that you have downloaded and there you will be asked if you want to execute said file, here you must click on the "Execute ". You will also be asked if you want to allow the browser to make changes to your computer as the installation proceeds, in this case it is necessary to select "Yes".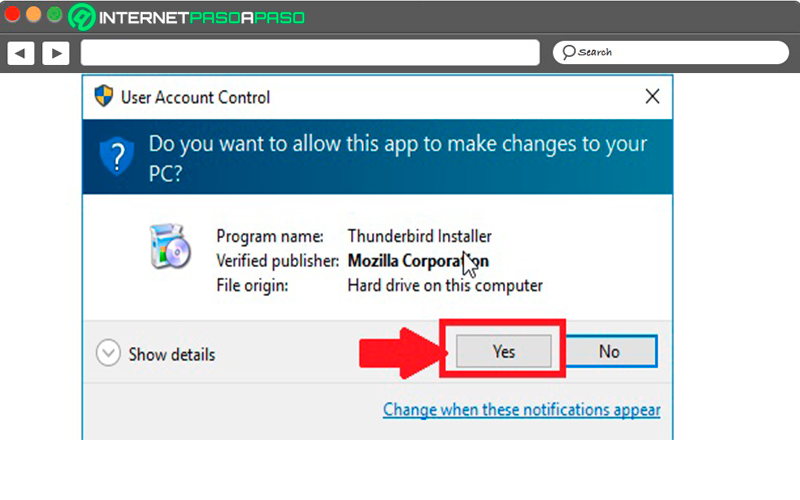 After this a Mozilla Thunderbird window will appear in which you will have to select "Next".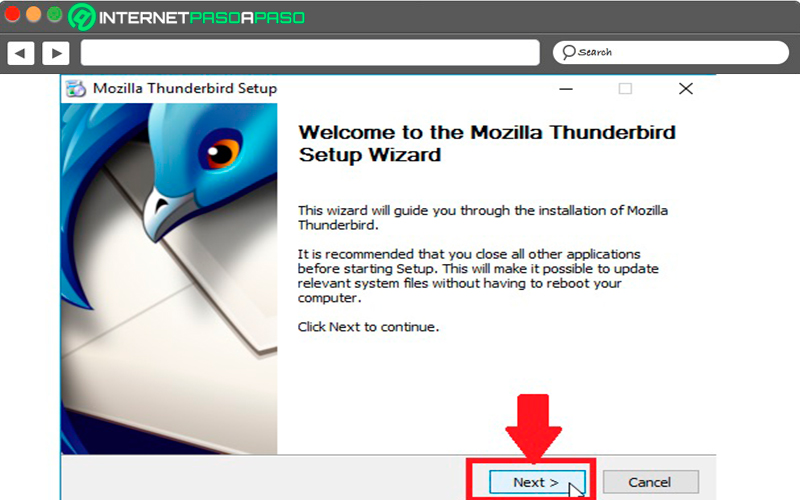 Next you must choose which option to select, whether you prefer a custom or standard configuration . In this case we recommend that it be a standard configuration and then click on the "Next" button .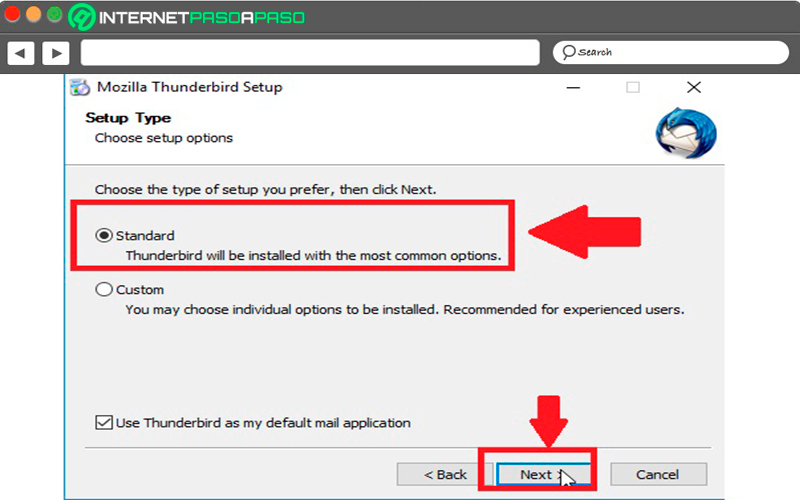 In the next window it will show you the location where the Mozilla files will be installed, there you must click on "Install".
Once the installation process is 100% complete, the final window will appear where you can start Mozilla, to do this click on "Finish" .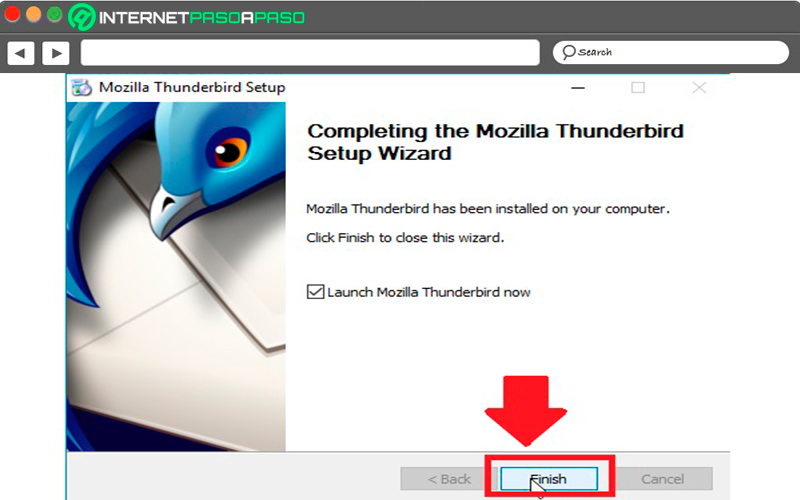 Prepare to install Enigmail
Keep in mind that PGP cannot be used directly on email services, since for this it is necessary to configure it from Mozilla Thunderbird, but in order to obtain a better result in all this it is better to combine it with Enigmail, this way you go to be able to encrypt in an easier way all the content that is in your email.
In accordance with this, here we show you how to prepare the Enigmail installation in order to continue with the procedure:
When Mozilla is launched for the first time, a window will appear where you will be asked about some default settings, in this case you must select "Set as default".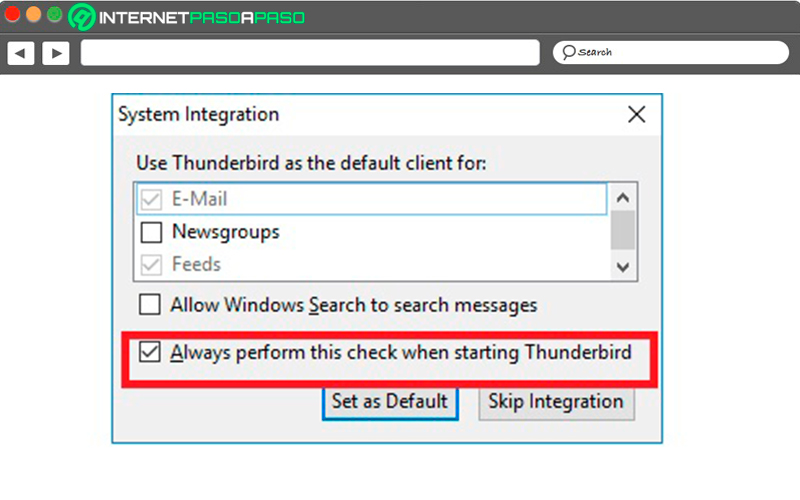 You will also be asked if you want to open a new email address , in this case you must select the "Skip this and use my existing email" box.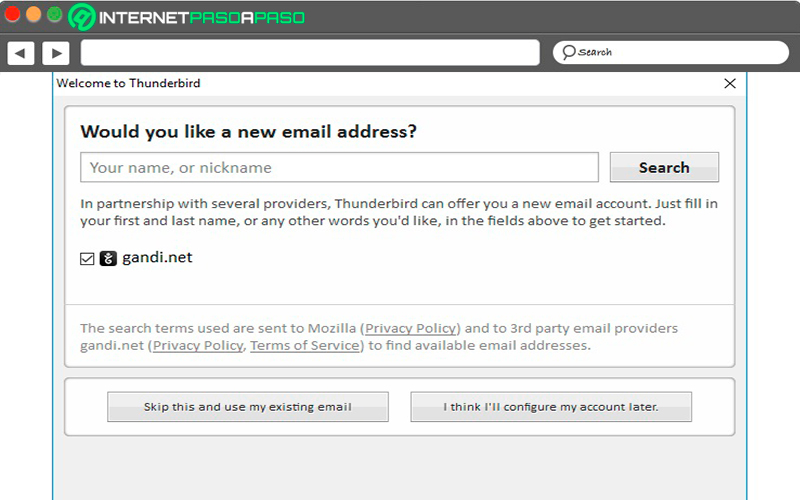 The next thing will be to configure Mozilla to be able to send and receive emails. In the case that you are only used to using these services from platforms such as Outlook, Yahoo! or Gmail, then Mozilla Thunderbird will be a new experience for you, but which will not change much.
Start the Enigmail installation
For the installation of Enigmail, it will be done in a different way from Mozilla Thunderbird, this is because Enigmail is not a program in itself, but rather a complement to this browser .
Therefore, for its installation you must follow the following instructions:  
The first thing will be to access the browser and there enter its menu, for this you must click on the three horizontal lines located in the upper right part of your screen to display the menu, in the options that appear there you must select " Accessories".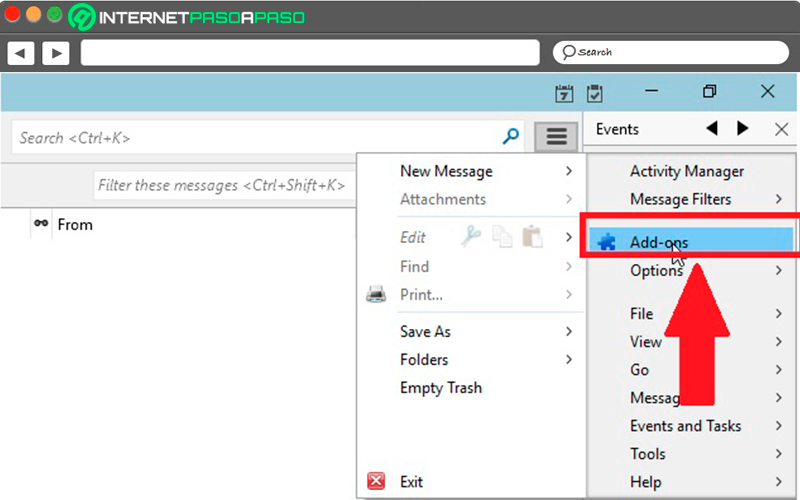 Then the "Add-ons Manager" window will open on your screen .
Now in the search field that appears at the top right of your screen you must type "Enigmail" to run the search for the extension.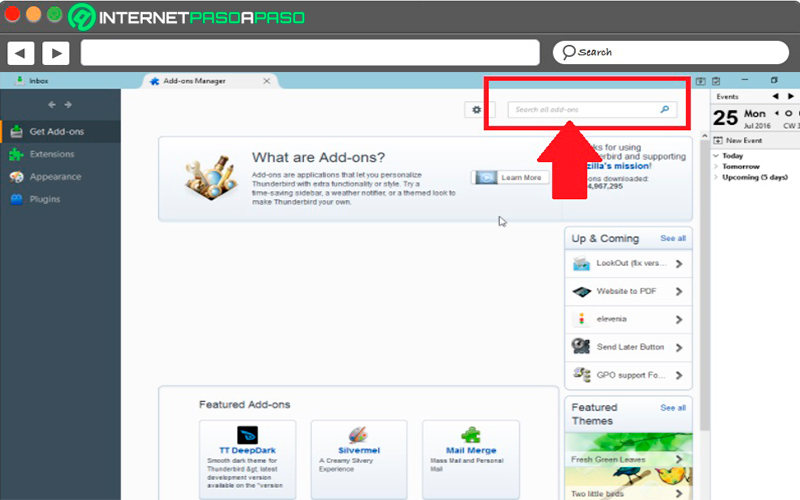 As you can see, this add-on will appear first in the list, to continue with the procedure you must click on "Install".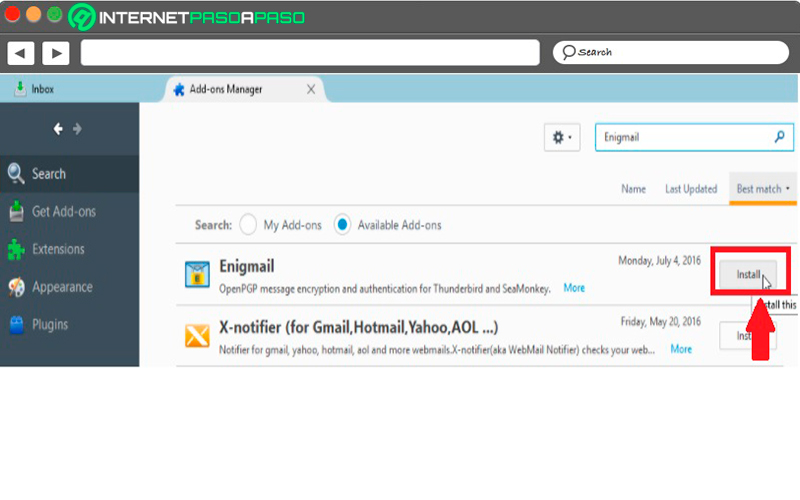 There you will be shown a loading bar that will allow you to see the installation percentage. Once the "Enigmail" add-on is installed , you will be asked to restart the browser so that the extension can be activated correctly. To do this you must click on "Restart now" and the browser will automatically begin to restart.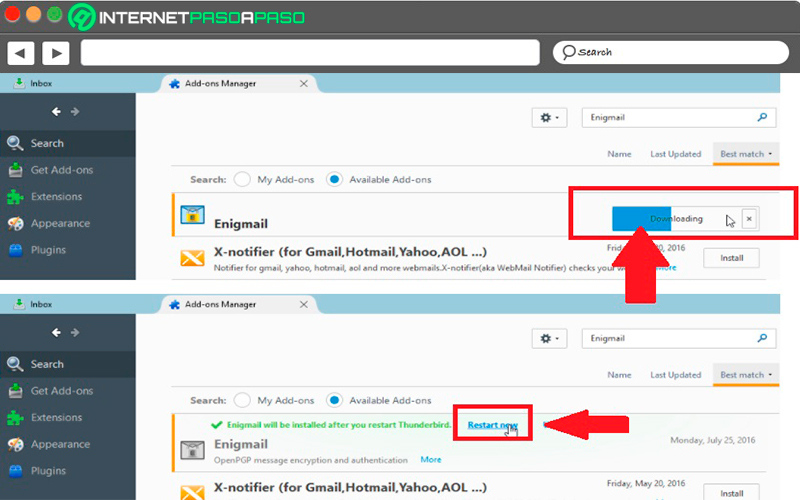 Once the browser is restarted, a window will open on the screen where you must begin the extension configuration process, for this you must select the "Start configuration now" box and then click "Next".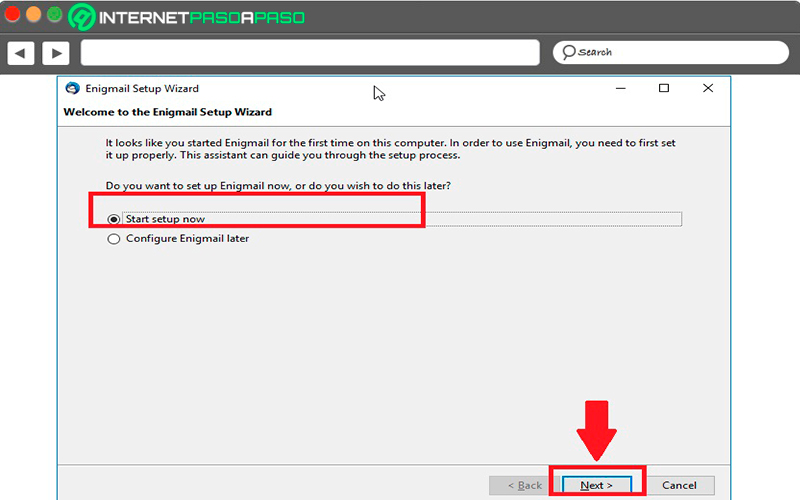 When this point is reached, several aspects must be taken into account, one of them is that currently Internet communications suffer many attacks, this has made Enigmail have to defend itself against many attacks, many of them executed when HTML is included .
This is how the EFAIL vulnerability has shown how dangerous HTML in emails is for user safety. In accordance with this, the most advisable thing in this case is to deactivate the HTML, one way to do this is by accessing "View", then "Body of message as" and finally "Plain text".
So that you can understand this better, follow each of these steps:
Here you must go back to the main page of the browser and access the menu from the button located in the upper right part of the screen.
In the menu that appears on the screen, you must select the "View" option .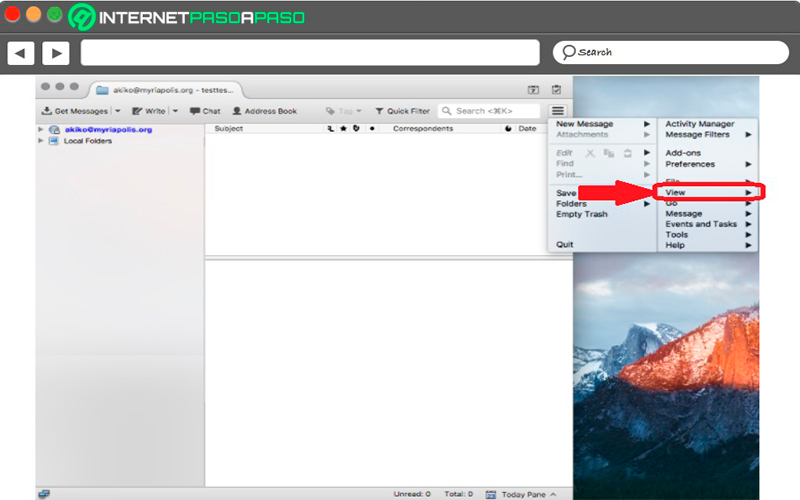 Subsequently you must select the item "Body of the message how", and in the menu that appears you must choose the option "Plain text".
After this, your email will be left with plain text , this is when visibility can be very difficult at the beginning since it can generate usability problems due to lack of habit since some attachments may not appear.
In the case that you do not want to eliminate the HTML option, then you should take the risk of the problems that this may cause you, since activating this option will make you much more vulnerable, so that users who handle important and private information by mail electronics should not take these risks .
Create a public key and a private key
After doing all of the above, the following will be to create a public and private key. If you have already set up an email account then it will appear there.
If you don't, you will have to configure one and follow each of the steps that we will explain below:
Once you have defined the email you are going to use, you must create a secure password for what will be your private key . After creating it simply click on the "Next" button.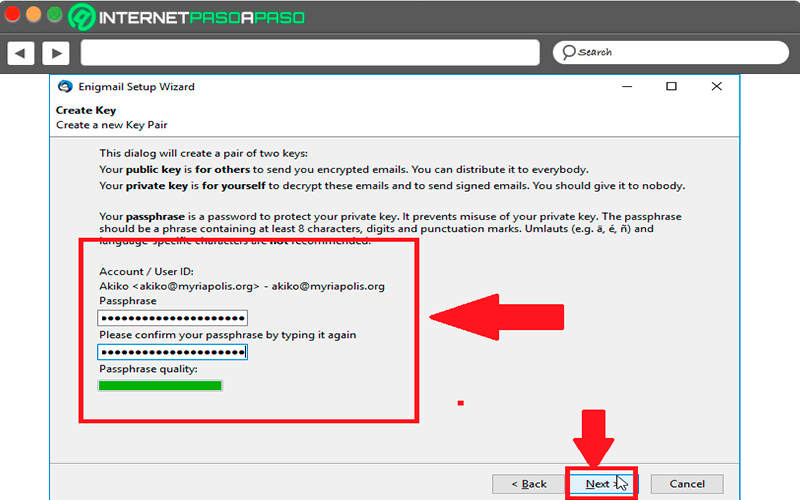 Your private key will automatically begin to be generated, there you will see the progress bar that will indicate how it is going.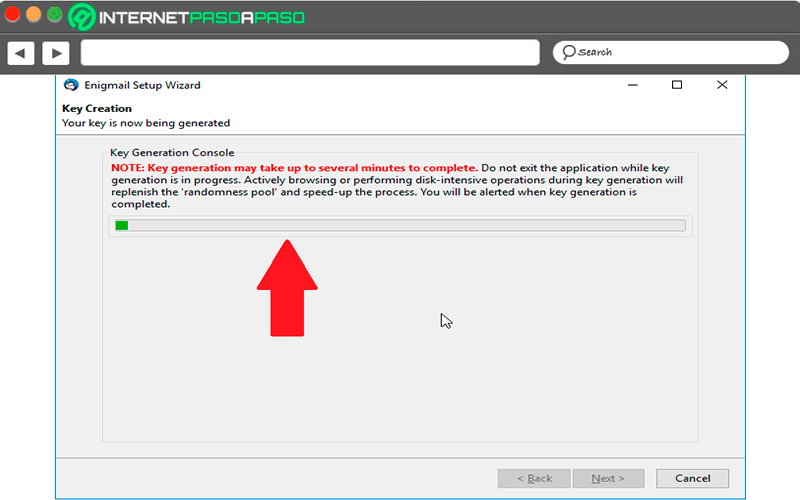 Guides and Tips
Microsoft