Web
How to Convert a PDF File to Editable DWG

If you want to convert a PDF file to DWG for editing, you will have a wide variety of options available. There are various online converters and installable programs with which you can automate this process. The procedure to follow consists of entering the PDF document you want to convert, pressing a button and waiting for the tool to offer you an editable design file that it has automatically converted.
On the other hand, just as PDF is a common format for reading without editing documents, DWG is a default format for drawing drawings in the AutoCAD tool. For this reason, you will be interested to know that you can perform this conversion directly in AutoCAD. Knowing the steps that you must carry out will be very useful if you precisely require the document in DWG to modify it in this program.
Using ZAMZAR PDF to DWG


This is one of the most used tools when it comes to file conversion. With Zamzar you can convert your PDF to DWG online and completely free. Simply upload the file in " Add files … ", select the format and click on " Convert now ". It is a simple, free and easy-to-use alternative, but it does not have advanced features.
Official site: https://www.zamzar.com/es/convert/pdf-to-dwg/
Using Able2ExtractProfessional


You can use Able2ExtractProfessional online, download the free program or license for Premium features. This tool converts your PDF file into DWG and DXF for editing in AutoCAD. In addition, you will be able to find additional functions in the installed application, such as the choice of color palettes and advanced reading.
One of the best features of this program is that it allows you to convert multiple files at the same time. Able2Extract also converts the layout to multiple layers so that you can more easily access text, hatch, or polylines patterns. If you want, you can convert only part of the content and not the entire document.
Official site: https://www.investintech.com/es/pdf-a-autocad/
Using PDF to DWG Converter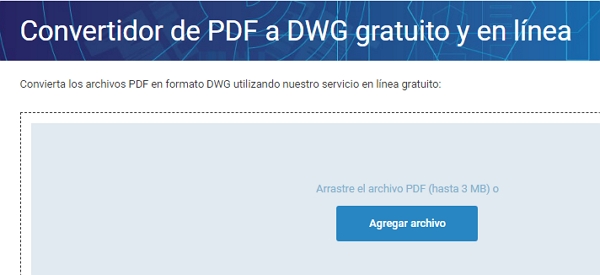 This is a free online tool that, like the previous one, is used to promote a paid program such as ABViewer Enterprise. With this you can access advanced conversion features such as layer extraction. Another benefit of obtaining the program is access to unlimited conversions, since you will only be able to convert the first 2 pages of a PDF file and perform two conversions a day, in the free version.
Official site: https://es.cadsofttools.com/pdf-to-dwg-online/
Using Online Convert Free


This is a page that allows you to convert PDF files to DWG without registering. The main characteristic of this website is that it is compatible with a wide variety of formats, as there are more than 50 and only in the category of documents. Online Convert Free also works with books, files, audios, videos and images, so this can be an ally tool for any conversion you want to carry out.
Official site: https://onlineconvertfree.com/
From AutoCAD
Last but not least, you should consider AutoCAD, one of the best options to convert PDF files to editable from this tool. The steps you must take to achieve this are very simple, a brief description below:
Enter AutoCAD.
Execute the "PDF IMPORT " command .
Click on " File ".
Select the PDF file you want to import.
The necessary conversion will be done practically automatically. Although you will find some additional options to choose from, it will not be necessary to change the default settings. Simply click " Ok " and the file will be imported into the program (this process may take a while). In this way, you can edit the file without any inconvenience.
Among the settings to import the file, you will see " Specify insertion point on screen " which is used to select the location where you want to insert the plan, " Use PDF lawyers " to include the layers of the file and " Import as block " which is for Import as a block, among other basic features. If you are working with a new document, it is not necessary to change the default settings.
Official download site: https://www.autodesk.com/products/autocad/free-trial
As you can see, there is a wide variety of options for converting PDF to DWG, primarily you can convert easily and for free. However, these pages may be limited and if you require advanced features it may be necessary to download a third-party program and pay a license. On the other hand, AutoCAD may be the best alternative for you, especiall
if you already have it installed.