Web
Google Meet: what it is, how it works and what it is for
Google Meet is an application announced in March 2017 by the American company Google LLC. Also known as Hangouts Meet (because it comes from the classic Hangouts platform), it is a tool focused on the business environment and professional clients, capable of creating video conferences of up to 250 people and sharing documents and different file formats in real time without limitations. .
The fundamental characteristic of Google Meet is its interface dedicated to facilitating virtual and professional meetings, therefore it has proactive measures, anti-abuse and encrypted videoconferences, which will guarantee a safe and professional experience for users.
Google Meet is an application launched exclusively for devices that have the operating system Android 5.0 (Android Lollipop) or later versions as support, so it can be used through any account linked to G Suite to take advantage of this platform, which will also be available for devices with iOS support.
As an alternative for professional meetings, Hangouts Meet arises between different videoconferencing platforms to gain weight within distance business relationships, achieving more than 10 million users worldwide.
What is it for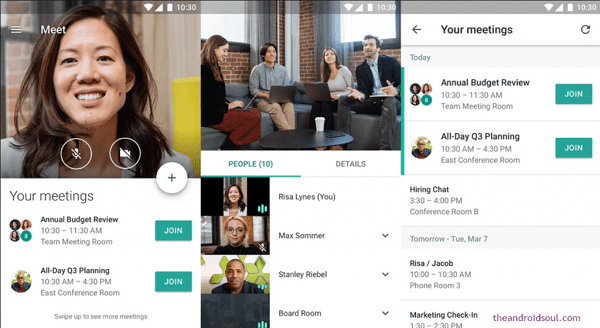 Consisting of a specialized platform for professional clients, whether for educational or commercial purposes, Google Meet is used to create high-quality video conferences, complementing the experience with the ability to share multimedia files, documents and slides.
In the same way, being an application that guarantees constant communication between large groups of people through audio and video, it can also be used by groups of non-business or educational organizations, as a means of communication between specific groups of people, be they families, friendly circles or religious, among others.
The use of these means to hold meetings and consultations in a professional environment has been increasing due to the ease they offer to maintain better communication at a distance, thanks to the quality of videoconferences, the security of the platform and its speed at share various content.
How does it work
The operation of Google Meet is similar to that of the other platforms with the same purpose, such as Zoom, Skype or Amazon Chime. In the case of Hangouts Meet, the person in charge of creating the video conference must have a G Suite account, which can be joined by as many people as the G Suite account they have allows, the rate of which will vary depending on the amount of participants. It should be noted that the rest of the users do not need to have such an account, it is only necessary to have access to the application and that the administrator guarantees the meeting link.
With Google Meet, it is possible to join videoconferences already started, it also brings with it multiple options such as making voice calls, sharing a screen with the other members of the meeting, sending text messages and recording the meetings made in case you want to review certain points after or after a participant has not been available.
It guarantees high image and sound quality, provided that the internet connection and the corresponding device allow an optimal interface, so it is possible to join a meeting on Google Meet even with mobile devices. It also provides an innovative option such as real-time subtitles, thanks to Google technology capable of capturing and transcribing conversations instantly.
Characteristics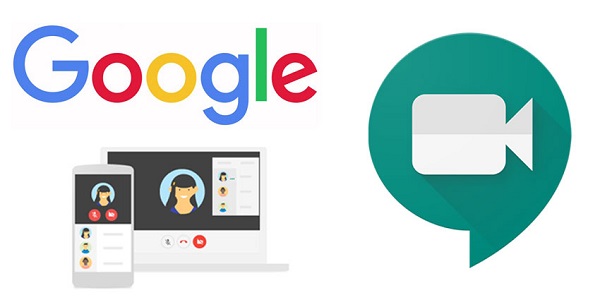 Several of the most important features of Google Meet are:
Depending on your G Suite account, you can create work sessions for up to 250 members.
It offers high quality audio and video for an unlimited time.
Videoconferences can be accompanied by instant captions, immediately transcribing the participant's voice.
It guarantees secure transmissions thanks to the fact that they are encrypted.
It is possible to choose the resolution of the incoming and outgoing video, modifying it according to the possibilities and tastes of the moment.
Screen sharing is possible with the other members of the meeting.
Text can be entered into video conversations and emojis can be displayed by inserting certain codes.
Google Meet is an application designed especially for professional meetings, such as businessmen and academics.
Meetings can be scheduled through other platforms such as Gmail and Google Calendar.
Advantages and disadvantages
Any professional platform for videoconferences and remote meetings is an extremely useful and valuable tool today, which in simple terms brings numerous advantages. Although there are a significant number of these applications for the same purpose, it is important to consider both the advantages and disadvantages:
Advantage
Unlike other competitors, it offers the capacity to create sessions of 100 and even 250 people.
Being an application with paid services, there is no need to worry about advertising during meetings.
Worldwide it has more than 10 million downloads, which gives it sufficient prestige among businessmen and academics for its implementation.
It has the option of sharing screen with the rest of the members to view content such as slides, documents and other files.
It has a simple and practical interface, easy and deductive to use.
Since it is developed by Google, you can count on constantly receiving updates and improvements to enhance your experience when using this app.
In case of missing one of the videoconferences, not being able to fully witness it or wanting to review the important aspects, it is possible to save the sessions.
The security of videoconferences is guaranteed thanks to the encryption of its transmissions.
Thanks to Google technology, it is able to provide real-time subtitles for conversations.
Disadvantages
It consists of a fully paid platform with affiliations to G Suite accounts, which limits its use to a large number of users.
It has few controls to regulate the intervention time of each participant, as well as to control their audio.
The session creator must have an account with G Suite in order to start the video conference.
The number of people participating in each meeting will depend on the rate that is paid periodically to the application.
Story
Google Meet was launched in March 2017 as Hangouts Meet by the American company Google LLC. Many of the services from the giant Google have undergone multiple modifications and changes, Google Meet is no exception. Mainly, the Hangouts Meet service comes from the platform for chats and simple conversations known as Hangouts, launched in March 2013 during the Google I / O event, delving into the area of ​​videoconferences and video calls, services that were very popular during its year launch.
The conventional Hangouts service was much more limited than the Hangouts Meet, starting with the fact that video conferences could only be held with a maximum of 10 people and 25 users for those professional accounts. In addition to the fact that Hangouts is originally a free application, at least within its elementary functions.
Despite the fact that both versions of Hangouts share many characteristics, the classic version has become increasingly obsolete, which is why Google has begun to develop many other options to replace it in the long term, such as Google Meet and Hangouts Chat.
How to start a video conference with Google Meet
Starting a session through Google Meet is extremely simple, it can be accessed through a web browser by entering the page of Google Meet or using the application installed on a device. Once on the platform, all you have to do is log in or join a meeting by means of an invitation, to start the videoconference you must enter a nickname to identify the remote meeting.
After identifying the meeting, select "Join now". Once inside, several alternatives can be used to add other members:
Copy the access data and place the videoconference information in the email or in some other application.
There is an option called "Add people", where you can later select "Invite" other people, by name or by entering email, by clicking on "Send invitation".
The "Call" option can be selected by entering the phone number and the "Call" action is selected.
It is also possible to send the link of the session to third parties not directly related to the professional circle, but there is the possibility that some of the members must first accept access to the meeting of the new member.
Fees to use Google Meet
One of the main characteristics of the Google Meet platform is that the video conferencing service it offers is paid, and the rate is determined by the G Suite service that you have at that time. The G Suite service was previously called Google Apps for Work, which consisted of a set of products and services offered by Google that provided greater facilities than their free equivalent products, and within these services is Google Meet.
According to the preferences and facilities of the client, there are different G Suite rates that guarantee greater benefits as the monthly rate increases, to predispose the Hangouts Meet services, the plans are as follows:
G Suite Basic: For $ 4.68 per month, with the minimum rate you can create meetings with 100 people.
G Suite Business: For 9.36 per month, where a meeting can host 150 participants.
G Suite Enterprise: For $ 23.00 per month, with capacity for a video conference with 250 members.
Main differences between Zoom Video and Google Meet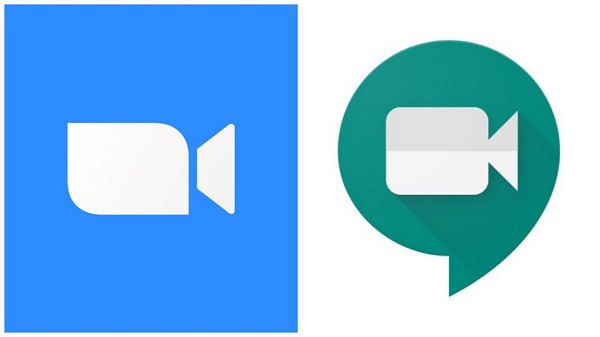 One of the main reasons why Google decided to enter this type of platform is because of the popularity that they were acquiring over time, which is why you can find numerous similar platforms such as Zoom or Skype. Although there are various applications and web pages for the same purpose, they have properties that differentiate them from each other, so it is worth highlighting the differences of Google Meet between one of the most popular products such as Zoom Video.
In principle, it is important to take into account that Zoom has been on the market for much longer than Google Meet, so it has been specializing and adapting to the needs and tastes of its users.
Zoom
It has an interface that allows members to ask to speak whenever they want, showing an icon that notifies them.
It is capable of issuing polls and voting pertinent to the meeting.
It has software such as Touch Up My Appearance, which modifies and improves the appearance of the skin on the screen to have a more presentable image before important meetings.
Google Meet
You can provide live captions for conversations that take place during video conferences.
Meeting notifications can be placed using additional platforms such as Google Calendar.
It has excellent audio and video quality, although this can be modified.