Web
Google games: meet these hidden games!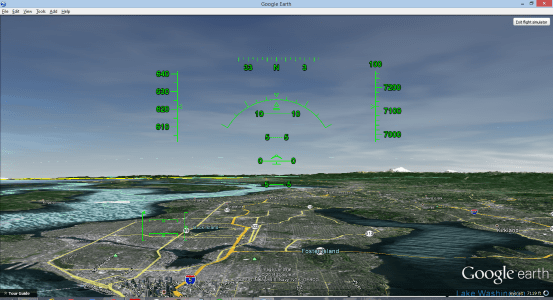 Google has been the main search engine in most of the countries of the world, becoming the most important. But in addition to offering us the answers to all our questions –which is already a lot– it also offers us additional services and of course, hidden games!
Hidden games? Yes! And, since time immemorial, its developers have taken advantage of important dates, global situations or simple bugs to launch some fun tricks without even leaving the search engine. Read on to learn about Google's hidden games.
What are hidden games on Google?
The company has been in charge of hiding multiple dynamics and entertaining games throughout all its services. Not only doing a search on its main page, but also on other platforms such as YouTube, Maps, Earth, Chrome and even on Android.
Also known as hidden tricks in Google, they have been quite popular throughout history and although some are no longer available in their basic accesses, the search giant was in charge of continuing to leave a gateway for you to know them too.
Hidden games in the Google search engine
These games can be found by entering a word, phrase or by typing certain "keys" into the Google search bar. However, you can also click on the links that we will leave in each game. The most popular are:
Snake

The popular snake game has been replicated thousands of times throughout history, but now it is Google who has decided to add it to their search engine as an additional complement to hang out and have fun.
All you need to do is type in the search bar " Snake " and it will appear first. It is not a link but an image of the classic snake and you must click on the [Play] button to start it.
Click here to play |
Tic-tac-toe

We all remember the dynamics of "Tic Tac Toe", a fun game that we used to play on a sheet of paper and with an opponent. Well, now it is also available in the search engine and all you need is to write the name and click on [Search].
The game will automatically be displayed in the answer box, with which you can face the computer or a friend using the keyboard of the device. You will only have to choose to be the "X" or the "O" and then do Tic Tac Toe.
Click here to play |
Lonely

Before internet games or entertainment platforms, computers came with a card game called Solitaire. Now you can enjoy it from a smartphone or on any computer with a network connection.
As with the previous ones, you can play it by typing "Solitaire" in the Google search bar, from where it will be displayed as the first result and you must try to make the master moves to win.
Click here to play |
Metronome

Although the metronome is a device or tool used by musicians, composers and artists to measure time by pulses, Google also incorporated this option in their searches as a kind of " easter egg " that you should know about.
As we have done so far, you will have to write the word "Metronome" in the search bar without the quotes, and the game will appear on the screen, which you can move between higher and lower to speed up or slow down.
Click here to play |
Heads or tails
If you already bet with your friends using the coin strategy, then this hidden game will be very familiar to you. It is the classic Heads or Tails, but this time it is available from the same search engine.
Typing in the bar " Heads or Tails " the mini-game will appear next to the first result of the coin. If you want to repeat it again, then you must click on the [re-launch] button until you get the satisfactory result.
Click here to play |
Minesweeper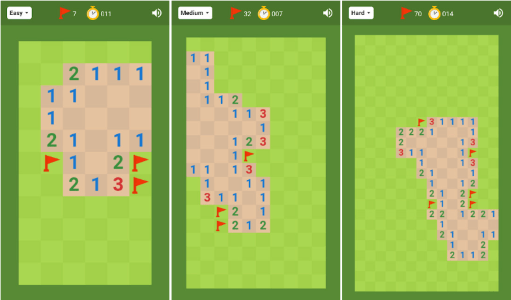 Those who had a Windows XP computer could enjoy this very famous game for the time. Although much did not understand, there are those who spent long hours "looking for mines" and boy did they find them.
Google itself also launched an Easter egg hidden in its search bar, because you just have to type " minesweeper " and the game's cover will appear among the results. Click on [Play] and try to win the game as in the past.
Do a barrel roll

Imagine the screen turning 360 degrees. Well, by typing " Do a barrel roll" in the search section, you will get this result after all the links appear. This stands for "Take a Spin" and it is still available to play.
Click here to play |
MentalPlex

Although the effect is not shown in the search area, Google has organized this game and you must click on the first link after entering that name. You will enter a screen with many brain games and you must follow the instructions to participate.
Click here to play |
Google Gravity

With this hidden game from Google, the results will start to drop and a blank screen will be left. To do this you will have to write " Google Gravity" in the bar and then click on the button [I feel lucky] for it to work.
Click here to play |
Askew

This time, the results will start to skew asymmetrically and everything will be annoyingly messy. If you are obsessive compulsive, you will have trouble doing this search. It also works with the word "Tilt", without quotes.
Click here to play |
Hidden games in the Google logo
Every so often, the search engine updates its logo for a different one, with designs commemorating special days. These are called Doodles and have sometimes used interactive resources, such as quick games.
Pac-man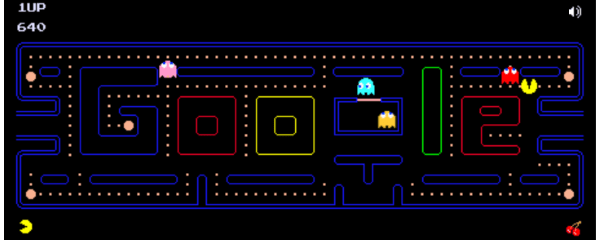 When they released the Pac-man version, you could control the popular character using the keyboard. It was even possible to add multiplayer mode, along with Ms. Pacman. However, this one has already been removed, but you can see it in its Doodles history.
Click here to play |
Valentine 2017

In this dooodle you will have to control a pangolin, which goes a long way to bring the best gifts to his beloved. Only these will be scattered all the way and it is your task to collect them and take them to the goal, while you are raising points.
Click here to play |
The pony express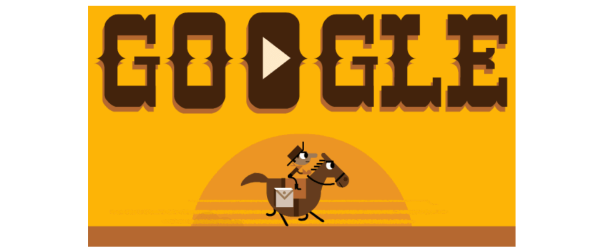 To commemorate postal services via messenger riders, Google added a commemorative doodle featuring The Pony Express game. In this opportunity, you will have to cross the desert while collecting cards and avoid being caught by the ruffians on the way.
Click here to play |
London olympic games

When these events were held, various games corresponding to multiple sports disciplines were published, including boating,soccer,athletics andBasketball. Each game has its respective way of participating and you can try them out by clicking on each link.
Click here to play |
Zamboni

This doodle celebrated the creation of the first ice polishing machine for sports like skating. That is why, in the game, you must leave the track clean and well polished, before the players appear on the screen and you lose the game.
Click here to play |
Scoville scales
Now we will see an ice cream and a pepper facing each other in a battle, where you must use the spice scale designed by Wilbur Lincoln Scoville as you learn about its usefulness.
Click here to play |
Rubik Cube

You can now build your own Rubik's Cube if you never learned to do it in person. Only now you will have to scroll between the interactive Google doodle screen and try to match the sides with a particular color.
Click here to play |
Halloween (2016)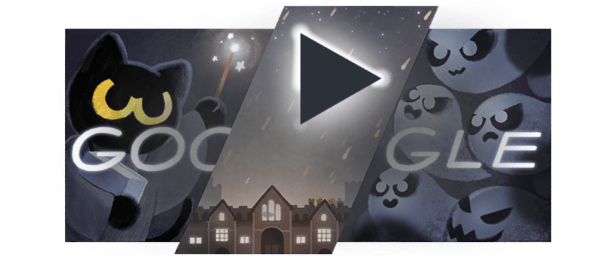 One of the funniest and most complicated hidden games was the Halloween doodle that was published in 2016. Here we will see a black cat casting spells to try to keep ghosts at bay, who want to get close to annihilate him.
Click here to play |
Doctor who

The Google letters have been lost on a map, so it will be your turn to find them and try to return to the lab. This doodle was published to celebrate the 50th anniversary of Doctor Who, so the game is very representative.
Click here to play |
Cricket cricket

Playing cricket with a cricket can be the funniest feat of your life. This video game is very dynamic and you will have to participate from a stadium, where you must dodge the snails that are positioned in front of you. The name of the doodle is a pun on the sound of the cricket.
Click here to play |
Moog Synthesizer

To synthesize your musical pieces in the best style of The Beattles, you must go hand in hand with the Moog synthesizer, a game that was released in commemoration of the 75th anniversary of Robert Moog and with which you can make beautiful musical pieces.
Click here to play |
Hip-hop birthday

If you are a lover of Hip-Hop music, you can now create fun mixes and sounds, combining them with more current genres thanks to this doodle, which was launched in commemoration of the 44th anniversary of the genre.
Click here to play |
Play Les Paul Guitar

Join the 96th anniversary of Les Paul with this fun Doodle, in which the search engine logo becomes an interactive guitar with which you will have to play it with the click of the mouse or by clicking on it. You will make some hilarious tunes!
Click here to play |
Freddie Mercury Anniversary

If you want to see a funny animation about the musical life of the former star Fredde Mercury, just press the Play button available in the doodle and start playing with all the dynamics that this game offers you.
Click here to play |
Charles Chaplin

Silent movies wouldn't be the same without the great Charles Chaplin, so Google celebrated his 122nd birthday with a short animated short of his life and work, as well as his most commemorative works. In the end you can play with the character.
Click here to play |
Alan Turings' calculator

A great precursor of computing is the great honoree in this doodle that will make you think. Alan Turings gives you a game of agility and you must find the numerical answer that best suits the problem on the screen.
Click here to play |
The Muppets

When Jim hensons turned 75, Google updated its logo to swap it out for the fun colorful puppet personals. In Spain they were known as the Muppets and you can move them as you please.
Click here to play |
Particle logo

This interactive game works by hovering the mouse cursor over the search engine logo. On this occasion, Google wanted to celebrate the discovery of the particles, so it decomposed their visual identity into several of them.
Click here to play |
Leagues under the sea

Jules Verne's 183rd anniversary was celebrated in style with a beautiful doodle that shows you a small setting from his famous book: 20,000 Leagues Under the Sea. There you will have to press a lever and move through all the windows of the ship and make them react.
Click here to play |
Hidden games in Google Maps
If we are talking about the best hidden games on google, we could not pass up the most popular map service in all of history. Even when you are searching for your destination, you could run into many fun surprises, such as: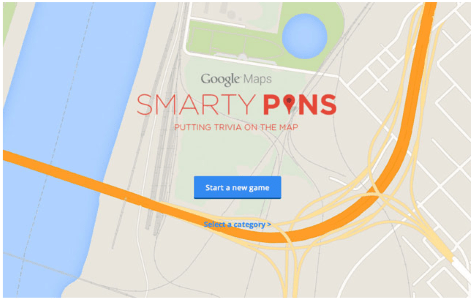 Half Moon Island of Antarctica
This destination has been studied and improved in an intelligent way, so looking for the address in the classic version of maps, activating the Street View option, and dragging the icon of the man, will make it turn into a penguin and you can explore the entire island and make lots of finds.
Sailing with the Loch Ness Monster
To do this, you will have to find " Loch Ness " in the address panel and activate the classic view. You must also put the Street View mode and drag the man to the map, which will become the enigmatic creature and you can travel any corner of the world with it.
The Great Giant Rabbit
Almost similar to the previous two, although this time you can enjoy a strange rabbit with gigantic proportions. You will have to activate the Street View mode and then copy and paste these coordinates 47.110579, 9.227568.
Hidden Games in Google Earth
Even great services like Earth will let you have fun and different times doing some quick searches. The main hidden trick of Google Earth is:
Flight Simulator Google Earth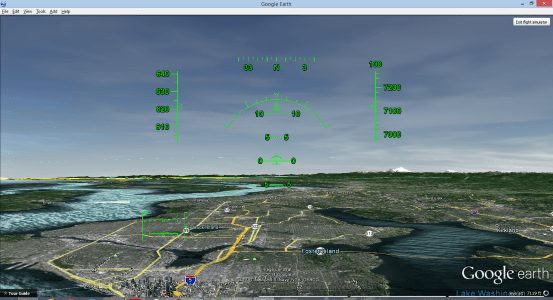 You just have to write the phrase " Flight Simulator Google Earth " in the Google search engine . The first result will show you the map and you must search for an airport. From there, some tools will be deployed and you can fly all over the place without leaving your home.
Hidden games in Google Chrome
This would be the first and best known in the world. In fact, this add-on is reproduced daily on millions of computers and cell phones, because it works without an internet connection and you don't need to do a search either.
Chrome T-REX
The dinosaur google game is perhaps the most popular you will find. This appears in the desktop version and in the smartphone application. When the connection fails, you will notice that there is a T-rex. By pressing the arrow keys you can move it and play with it.
Hidden games on Android
Finally, and because it also belongs to Google, Android has incorporated some games that are hidden in the operating system section of the device. If you have Android oreo you can move a funny cookie octopus, which moves across a blue background.
To find it, go to Settings> System> About device> Android version.
A screen with the system logo will appear and you must press it several times consecutively until the hidden Android game appears . But you can also find the flying bird, the moving jelly beans and even square cookies appearing all over the screen.
However, the game varies a lot according to the Android operating system, so you may run into some surprises.
Hidden games removed
On the web we can find thousands of articles that tell us about several great Google games, although when we try to find them nothing happens. Well, these have been eliminated by the search engine, but fortunately you can see what they were aboutelgoog.
This is a web page that brings together a series of Easter eggs erased by the giant of colors, since, by pressing only the respective button for each game, you will know how to take advantage of all its dynamics and functions. There are even some that are still around, but they are hard to find.