Web
Free online audio to MP3 converter: tools to convert WAV WMA M4A to MP3

Some sound formats are not compatible with the installed player and it may be necessary to convert an audio to MP3. Other times this is done so that the file does not consume a lot of memory space on the computer. That is why you will see a list of the best audio to MP3 converters online. With these you can carry a recording, music or some other audio on any of your devices, without problems with compatibility or memory.
On the other hand, several of these online platforms will not only allow you to transform audio files with any extension to MP3, you can also convert it to other formats such as MP2, WAV, WMA, etc. Likewise, you can convert a video to MP3 with just a couple of clicks and with the same possibility of file extensions. So if you still don't know how to do this, keep reading to find out about all the available options.
Convert audio online

This website has an excellent tool for converting audio files to MP3. Its design is simple and very intuitive, allowing the user to carry out the entire process quickly and without difficulties. It is also compatible with various sound and video formats, to later convert them into any of the extensions MP2, WAV, MP3, M4A, OGG, FLAC, M4R and AMR.
Among its features is the editing of file tags, allowing, for example, changing the name and genre of a song and other information. It also has an " Advanced Settings " where you can make adjustments such as removing the voice from the audio, increasing the volume, inverting the playback, among others.
Finally, it should be noted that the page does not save any of the audios or videos uploaded to its tool, these will be deleted for safety a few hours after their conversion. If you want to go to the platform, enter thislink and look at the following steps to use it :
First select the location from where you want to upload the file to convert.
Once the file is uploaded, you must choose the format and quality in which the audio is required.
After selecting the type of format, all that remains is to click on the " Convert " button .

With these simple steps you can make any conversion of your audio files to MP3. You can also upload and process several files at the same time, the tool will compress them into a .Zip for greater convenience at the time of download.
Converted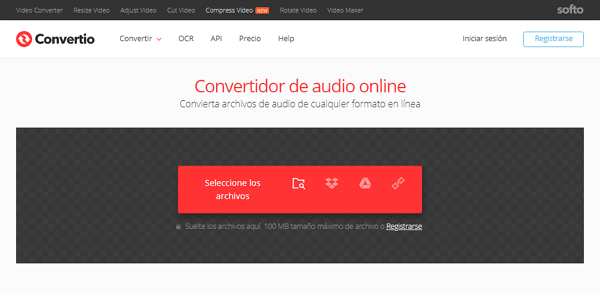 This website has different conversion tools, among which the audio converter to MP3 or any of the other sound formats stands out. Its design is very simple and intuitive, allowing users to use the platform without many complications. You can upload the number of files you want, as long as they do not exceed 100 MB.
Convertio can be used on computers and mobile devices, becoming a versatile tool, even more so for those who need to convert audio quickly away from home. It also has an extension for the Chrome browser that you can download through thislink.
Online convert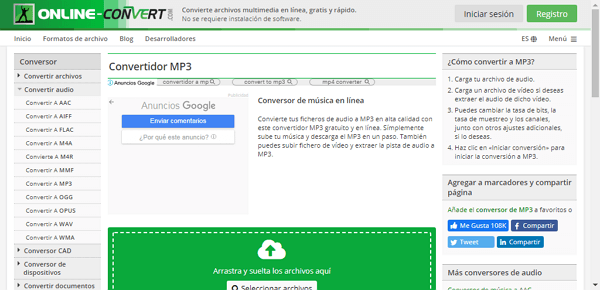 This is a website intended for the conversion of videos, documents, images and sounds to different existing formats. Online convert is one of the best options when it comes to maintaining and improving the quality of the audios. You can also compress the files to save space. It also has aChrome extension that helps streamline the use process.
Using this tool is easy, you just have to upload the audio from the folder on your computer or from one of the compatible clouds. Then press the " Start conversion " button, wait for the process to finish and you can download your new MP3 audio. Enter thislink to use Online convert from its official site.
Audio Trimmer

This is an audio and video to MP3 converter that you can use comfortably from your PC or even from your smartphone or tablet, for this you simply have to follow thislink. One of the main characteristics of this tool is that it has compatibility with a wide variety of formats for conversion to MP3.
The operation of this program is extremely simple, upload the file you want to convert to Mp3 format and press the button " Next! ". Once this is done, you will only have to wait for the conversion to finish and download your newly converted audio. Additionally, you can extract the audio from the videos and insert cover images to the audios.
As you can see, this is a list of the best tools to convert WAV, WMA and M4A to MP3. However, when you use the platforms you will see that they can be adapted to many other formats, including the extraction of sounds in videos and much more.