Web
Convert a Word document to JPEG or PNG online for free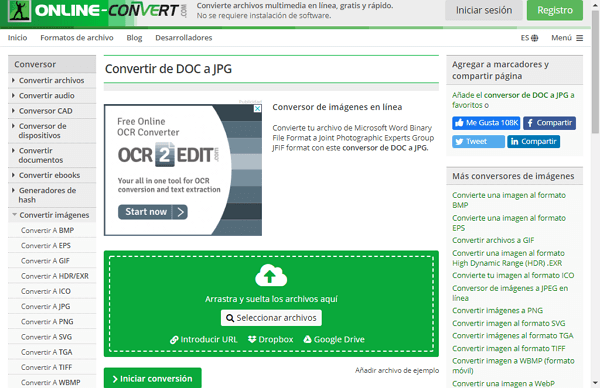 The features of Word are extensive, but the ability to convert to JPG or PNG format is not included among them. To make this change you must resort to third-party programs and sometimes the process is slow. But on the Internet there are several websites that serve this purpose of converting a Word document to another format, be it PNG, JPEG or PDF quickly and for free.
If you need to open a .doc or .docx document and you don't have an application on your mobile device, it is best to transform it into PDF or another extension compatible with your Smartphone or Tablet. Whether for work, studies or other reasons, if you need to have the file in an image format, the pages below have all the tools to help you carry out the conversion.
Converted
This platform offers the possibility of converting different files from one format to another, as in the case of converting an Excel to PDF. Likewise, among these files, Word documents can be transformed into images or even other types of files. Convertio is one of the best tools for this purpose and can be used on computers as well as mobile devices.
Among the features that stand out in Convertio is the ability to convert audio, video, images, documents and even fonts in one place. In addition to this, it allows you to upload the file to be converted from various locations such as Drive, Dropbox, the PC or a link. To use this tool enter fromhere and follow these simple steps:
The first thing you should do is select the location from where you want to upload the document. To do this, click on the icon corresponding to the location of the file to be converted, if it is on your computer, click on " Select the files ".
Windows explorer will open , here find the document you want to convert and press the " Open " option .
The file upload process will start , once it is finished, click on the drop-down menu " … " and select the format you want.
Once you have selected the type of conversion, click on the " Convert " button to start the process.
Once the file transformation is complete, you must click on " Download " to obtain the final result.
This is all the necessary procedure to convert a Word document to JPG or other format. The tool supports several documents when converting, with a maximum size of up to 100 MB. In addition, Convertio has an extension for Google Chrome that you can download from the followinglink.
SmallPDF
Another excellent tool that can convert a Word document into a JPG or PNG image isSmallPDF. The process of this is different from the others, since you must first change from .doc to PDF and then go to the preferred image format. Leaving this aside, the platform is very intuitive and fast, with which you will have your files in a short time and with just a couple of clicks.
The most remarkable thing about using this website is that the images maintain their quality with each page of Word that is converted. This is a great advantage when viewing the document in the new format. The only disadvantage is that having several files you will have to repeat the process with each one separately. SmallPDF also has an extension for Chrome that you can get fromhere.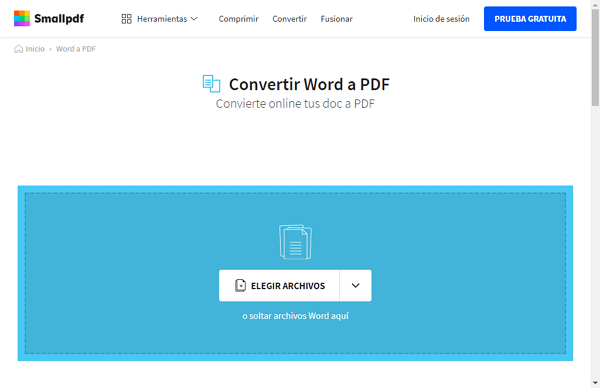 Word to JPEG
Word to JPEG offers the free service to convert your.doc and .docx documents to JPEG format completely online. This platform guarantees optimized image results , providing a better quality than other websites. Unfortunately it does not have an extension for Chrome.
As an additional feature, this page works with conversion masses allowing to add several files with a maximum size of 50 MB. It does all this in a few seconds and has other tools such as converting PDF to PNG, PDF to SVG or PDF combinations and extractions.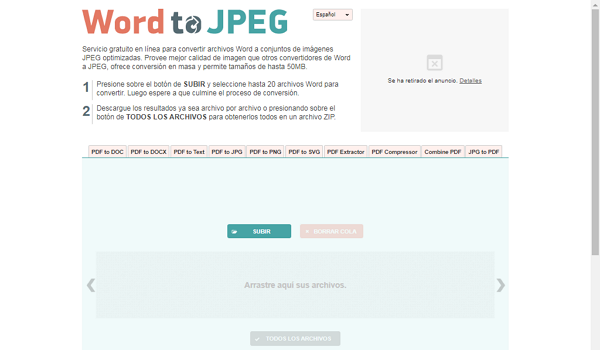 PDF convert online
This website focuses on converting, editing and other tools to work with PDF, but it has an additional section with tools to transform different formats such as Word to JPG. It has a simple and easy-to-understand design, and it also includes a step-by-step guide to guide users through the process.
The platform allows you to upload and convert several files at the same time with a maximum of 40 MB and different extensions such as .doc, .docx, .html or .txt, among others. If you want to check this option yourself, you can enter from thislink.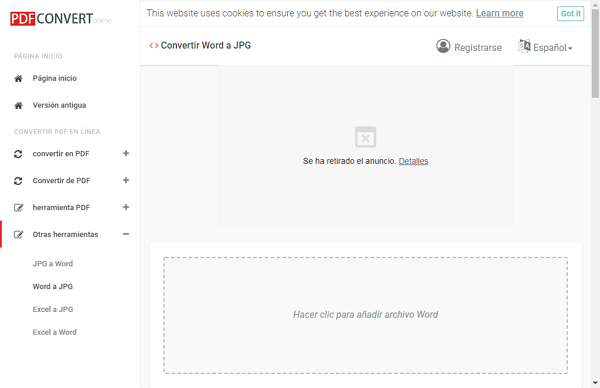 Online convert
Finally, there is a website that contains a large number of conversion tools, including the transfer of Word to JPG or PNG. Files can be uploaded from Google Drive, Dropbox, a URL or from the computer, either with Windows Explorer or by dragging the document into the conversion box.
It has two processes by which you can perform the transformation of the files, the quick way where it is done automatically or the " Optional Settings ". This last form has multiple settings and options to customize the final result. If you want to test this web page enter fromhere, you can also download its extension for Chrome in thislink.
As you can see, this is a list of tools to convert Word files to image format. These web portals differ in their additional conversion features and the quality of the end result. The best thing in any case will be to try each of the tools to find the best option for you.