Web
Configure eMule: download servers with eMule in 2020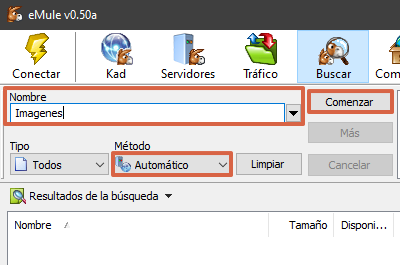 To configure eMule you just have to download the program from its official website and follow the steps indicated for its installation on the computer. eMule works as a person-to-person file sharing program, using open source software, therefore, it is possible to download it for free on computers. It is a suitable option to download, receive and share medium weight files.
In view of this, in this tutorial you will see the necessary steps to download, install and configure eMule. Likewise, you will observe the procedure to download or share files and some necessary tips for the correct operation of the program. Once you connect to other people's computers, the files you select in the folders will begin to download or share.
Steps to follow
The procedure to download, install and configure eMule is simple. Also, there are a number of other steps that are necessary for the program to function properly. By having the possibility of linking different users and servers, it is important to consider adequate security and update processes.
Download and install
eMule is downloaded like any other program for the computer. It has a quick installation process and a desktop icon to instantly start the setup process. In view of this, follow these steps mentioned below to download and install eMule on your computer:
Go to the eMule page and press " Download " on the left side of the screen. The program will begin to download on your computer.
Copy the following link to your browser for direct download: https://sourceforge.net/projects/emule/files/eMule/0.50a/eMule0.50a-Installer.exe/download
Open the download folder on your PC and double click on the eMule file.
Choose the language in which you want the program to be installed.
When the installation wizard window appears , click " Next."
Accept the license terms by selecting " I accept."
Check the two boxes of the components to install, and click " Next ".
An information window will appear indicating how you want to share eMule with other users. Oppresses " specific to the user " followed by " Next ".
Choose a storage folder, and choose " Install."
Click " Next " when the installation is complete.
Check the box for the program to have a shortcut icon on the desktop. Then press " Finish ".
Setting
The eMule configuration wizard indicates step by step the options that you must select so that the program does not have any problems at the time of its configuration. The process is not complicated and you can do it in the following way:
Open eMule by clicking the icon created on the desktop.
If you have Windows Defender Firewall, you will probably see a computer window indicating that the program has blocked some features. Select " Allow access."
When the configuration wizard opens , choose a username and check the corresponding boxes in case you want the program to connect to startup or start with Windows. Then click " Next ".
Adjust the connection ports if necessary. Then press " Next ".
Check the corresponding boxes if you want eMule to control the download and upload priorities. Select " Next ".
Enable protocol obfuscation if you wish.
Choose the networks you want to use and press " Next ".
The pro
ram will finish its configuration process. In view of this, press " Finish ".
Open the program and go to " Servers ".
Right-click on any of the servers and choose the " Delete all servers " option .
Finally, in the confirmation question, click " Yes ".
Security settings
If you want to configure eMule on your computer, you must take into account that its use must be monitored every two or three weeks. This in order to avoid pages that promote or share malicious files that damage the computer software. Being exposed to multiple servers, it is necessary to resort to filters and security methods. Therefore, follow these steps to configure security in eMule :
Go to " Preferences ".
Look for " Security " and check the box " Filter servers."
Enter http://emuling.net23.net/ipfilter.zip or http://sites.google.com/site/ircemulespanish/descargas-2/ipfilter.zip so you can filter the servers that put your computer at risk. Press " Upload ", " Apply " and " OK ".
Server update
When starting to update the servers for downloading or sending files through eMule, it is necessary to enter updated servers that do not contain any kind of virus, Trojan horse, ransomware or malware. In this way, you can navigate and use the program easily and safely. Before indicating the necessary steps to start updating the eMule servers, it is important to make a list of them:
eDonkey server No1: IP – 176.103.50.225. Port: 8369.
eDonkey server No2: IP – 176.103.56.135. Port: 2442.
eDonkey server No3: IP – 91.226.212.11. Port: 2442.
!! Sharing-Devils No.1 !!: IP – 91.208.184.143. Port: 4232
!! Sharing-Devils No.2 !!: IP – 94.23.97.30. Port: 4245
TV Underground: IP – 176.103.48.36. Port: 4184.
GrupoTS.net Server: IP – 46.105.126.71 |. Port: 4661.
La Cosa Nostra: IP – 94.23.97.30. Port: 4242.
eMule Security: IP – 80.208.228.241. Port: 8369.
When entering the servers, eMule will ask for the name, IP address and port number. You must enter them one by one and follow the steps that will be described below to start updating the servers in the program :
Locate the option " Servers ".
Enter the IP of the server, the port, its name and click " Add to list ". Repeat this action as many times as necessary. You can also add http://www.gruk.org/server.met.gz in the " Activate server.met from URL " section.
Now, go to " Preferences ", choose " Server " and check the options " Assign high priority to manually added servers ", " Use priority system ", " Intelligent control of Low ID when connecting " and " Auto-update the server list at startup ".
After that, click on " Edit … ".
Enter http://sites.google.com/site/ircemulespanish/descargas-2/server.met. and close the notepad by pressing the letter X "X" in the upper left bar.
Press " Apply " and " OK ".
Download files
The downloading files from eMule can be made only if others also run the program on your computer. Servers may be offline due to not having enough people added to it. However, if you are on the right server, you can download the files as follows:
Choose a server.
Press " Search ".
Choose the search method and type the name of the file you want to get. Then press " Start " or " Enter."
Once you get the document or file you were looking for, double click to have it added to the download queue.
To see the files being downloaded, press " Traffic ".
Tips to avoid saturation in the program
It is important to start taking into account certain considerations if you want to use eMule as a software to download, receive or send files. Like any program, it requires a good Internet connection, therefore, it is advisable to increase the browsing speed by communicating with the service provider company. Similarly, try not to download multiple files at the same time to avoid the program from crashing due to a low ID.
Disadvantages
Using programs that download and share files will always represent an intrusion to the computer's security. There are various malware or file-cloaked Trojans that can harm and infect your computer. In fact, there is currently a malware called ransomware. This threat infiltrates your computer to access private files and steal information.
It is important to be alert and consult the profiles of people who share suspicious files, since the program does not protect the computer from files with viruses. Likewise, some specialized forums also recommend certain applications and report those that are not beneficial for the computer.
Despite being somewhat outdated, eMule continues to function as a program to share and download files directly between users' computers. Without any kind of intermediary, eMule is capable of synchronizing several servers and computers so that you can obtain the files you are looking for on the Internet.