Streaming
YouTube Red: what is it, how does it work and how much does it cost?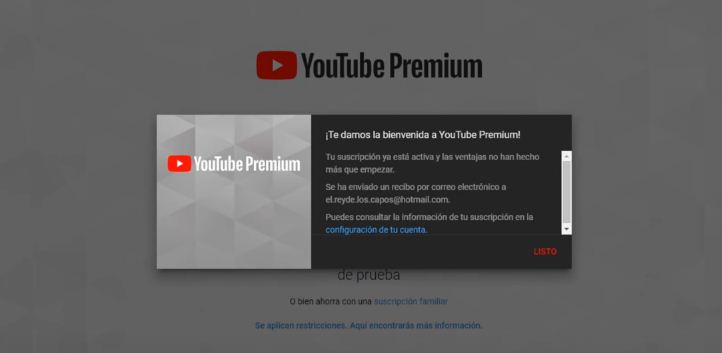 Youtube Red is the old name of Youtube Premium, the YouTube subscription service that offers a series of exclusive functionalities for its subscribers, which they can try for free for 1 month and then proceed to pay a monthly payment. In this article we will tell you everything related to Youtube Red, including its operation and cost.
YouTube Red is a paid subscription service that YouTube has implemented so that you can see all its content without annoying advertising , and you can also enjoy exclusive original content that YouTube develops together with its close collaborators. This subscription allows you to enjoy content without having to be connected to the internet (you can download the content you want) and playback in the background on smartphones. It also uses Picture-in-Picture mode in Android Oreo.
This service was born with the intention of participating in the market with Netflix and Spotify (to compete with the latter it has the additional service called YouTube Music Premium, which transmits music without advertising).
How Youtube Red (Premium) works
First of all, we must inform you that this service is not active in all countries, so you may not see it among the options that appear on your YouTube channel.
Note : in case the service is not available in your country you can use a free VPN. We suggest that you use the Opera browser , which has a built-in VPN that you can activate for these types of tests.
Youtube Red works as follows:
First go to the Youtube side menu, on your left, and look for YouTube Premium. You must click or choose this option.
A screen like the following will appear:
You can save by clicking on " family or student plan ":
You must choose the test that suits you best, for which we recommend that you go to the options "

More information

" and " Restrictions apply. Here you will find more information. "
In this case we will click on the first option of € 11.99, and the following screen will be displayed to make the payment. You can pay by credit card, debit card or Paypal.
You choose your payment option (in this case we choose Paypal) and click BUY.
Now, depending on your payment method, the standard steps will appear for you to make the corresponding payment. You will have one month to enjoy the free service and then you will have to pay the monthly payments or unsubscribe one day before the month expires.
Countries where YouTube Red is available in Latin America
These are the countries in America where YouTube Premium works :
Argentina
Bolivia
Brazil
Canada
chili
Colombia
Costa Rica
Dominican Republic
Ecuador
The Savior
Guatemala
Honduras
Mexico
Nicaragua
Panama
Paraguay
Peru
USA
Uruguay
It is also available in Spain and Portugal.
Youtube Red cost
Currently (2019) it has the following 3 payment options:
Normal payment: € 11.99 per month
Family pay (up to 5 members): € 17.99 per month
Student payment: € 6.99 per month
Now you know how much YouTube Premium costs. The YouTube Red free service is valid for one month. If the test is not satisfactory, you can cancel YouTube Premium before the end of the month so that the next monthly payment will not be deducted from your card or Paypal.