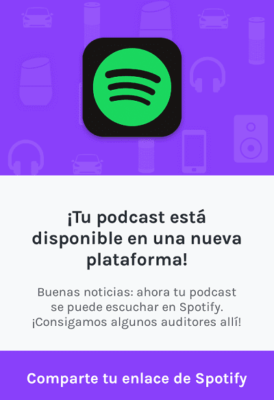 The podcasts are audio and full length videos made by experts or people fond of a particular topic. They can be done individually, in pairs or as a group as a debate, in order to entertain or inform. Before, they were only audios, in today you can listen and see the people who produce the podcasts. Because it is such a widely used and profitable resource, platforms such as Spotify have decided to open a space for these tools.
In this article you will learn how to upload a podcast to Spotify both from your computer and from your cell phone. You will find different programs in which you can edit (with effects) the audios to later upload them to the application. Likewise, you will see how to eliminate them in case you have uploaded the wrong audio, or the reasons why the platform has decided to reject your podcast.
Steps to follow
It is a simple process that can be done from the PC or your Smartphone. To start uploading a podcast to Spotify and create entertainment content for your friends or community, you just have to choose if you want to add audio previously prepared on another platform, or if you want to upload it directly from an application linked to Spotify. The steps to follow for any method you choose are:
Enter to Spotify for Podcasters and press "Start" to access your account.
Accept the terms and conditions of the page.
Click on " Start ".
Enter the link of your podcast from the platform (Facebook, Youtube, SoundClouds, etc.) where you have previously uploaded it.
An 8-digit code will be sent to your email, which you must review and verify. Once done, you just have to click " Next ".
Write down the requested information about your podcast.
Confirm the data and click on " Send ".
From the phone
You can also upload a podcast to Spotify from an app downloaded on your phone. It's a useful option in case you don't have a website or blog domain. Later, a list of functional apps for this type of tool will be left, but for now, the process will be shown with Anchor : an app to create podcasts from your cell phone. To do this, follow these steps:
Find and open Anchor on your Smartphone.
Create your podcast.
When you have prepared it, click on " Save ".
Write a name for the audio.
Click on " Publish ".
Enter all the necessary information about the podcast and select " Post Now."
Choose the tags to categorize the audio.
The podcast will be published on Anchor. To publish it on Spotify, click on the option " Share this episode."
Select " More " and look for the " Spotify " icon .
Done these steps, you see the notice of publication in your cell.
Reasons to reject a podcast
In case Spotify rejects your podcast, it is important to observe some reasons why this action can happen. It should be noted that these audios require an image, a unique description and the email of who uploads it. The acceptance process can take up to 24 hours to study and evaluate the following aspects:
The audio cannot have offensive or terrorist content.
It must not contain copyrighted images or music .
The podcast title must be without special characters or numbers. Also, it is prohibited to put the account username as the audio title.
The name, description and images of the podcast cannot be profane, offensive, explicit or censored.
Platforms to send your podcast to Spotify
Anchor is not the only program to start creating audios and sharing them on Spotify. Here a list of applications that you can manage from your computer or from your smartphone will be detailed . The process for sharing podcasts on the platform is similar to those explained above, so you will have no problem publishing your content:
Anchor.
Whooshkaa.
Spreaker.
Blubbry.
Audioboom.
Podigee.
Simplecast.
Podomatic.
Fireside.
Buzzsprout.
PodBean.
LibSyn.
Ivoox.
Delete a podcast
Removing audios is a somewhat complicated task due to the various protocols to follow. You may have duplicated the podcast or uploaded it by mistake. To delete Spotify audio from Anchor, you must contact support@anchor.com and request the removal of the audio so that it can later be removed from Spotify.
On the other hand, in case you have uploaded the audio through a podcast hosting, you should only get the support contact in Spotify. To contact your account, just enter Facebook,Twitter or pagefrequently asked questions. When contacting them, you must send them the link of the audio on Spotify.
There is no doubt that podcasts have been widely received by different communities, and therefore, there are many applications that are expanding their landscape to accept and create this type of content. Platforms recognize the scope of audios and therefore decide to be complete and adaptable for all tastes.