Streaming
How to delete a Spotify account or unsubscribe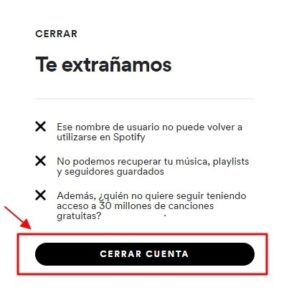 Deleting or deleting your Spotify account is extremely simple, you will only have to follow a series of steps that will be detailed in this post for it. In the same way, if you only want to cancel a Premium subscription that you have in said streaming service, either because you think that the monthly payment you have to pay does not compensate for the extras offered or any other inconvenience, here you will find a guide for it.
To unsubscribe from the subscription you have or delete your account permanently, the only requirement is that you intend to do so, since there are no conditions that mention any extra requirement for this. Keep in mind that, if you want to delete your Spotify account and, with said user, you have a Premium subscription, you will first have to cancel the monthly payment, and then proceed to delete your account on said streaming service.
Steps to follow
To delete your account, Spotify offers simple steps that you can perform in a matter of seconds. Please note that your current username can no longer be used on a new Spotify account ; your music, your playlists and your social profile will be deleted and you will no longer be able to recover it and you will no longer have access to millions of songs available on Spotify (unless you create another account later).
If you have a premium subscription, cancel it
Do you have Spotify Premium? If the answer is no, you can continue to the next step. If you are a premium user, you must first cancel your subscription by going to your Spotify account options.
Head straight to https://www.spotify.com/py/account/subscription/ and sign in if you haven't already, or go to www.spotify.com, sign in and then click Profile > Account > Subscription.
Click the green button that says " Change or Cancel."
Click " Cancel Premium ".
By following these steps, your Premium subscription will have already been canceled and you can continue to permanently delete your account, in the next step.
Delete your account permanently
After canceling your Premium subscription in case you have had it, it is time to proceed to permanently delete your account by going to the corresponding section. Then step by step.
Go to www.spotify.com from your PC or from your Android or iOS mobile and log in.
Once logged in, scroll down to the bottom of the website and in the Company section click " About ".
In the " Customer service and support " area, click on point 3, which indicates " Contact form ".
Choose " Account " and then " I want to permanently close my account ".
In the box that says "We miss you", press the " Close account " button.

Confirm the deletion of your account.
As you have seen in this post, deleting your Spotify account or canceling the Premium subscription is extremely simple. To do this, you will only have to follow a series of steps and that will be it. Now, remember that if you have a subscription to this streaming service and you want to delete your account, you must first cancel the subscription and then proceed to delete your service registration.